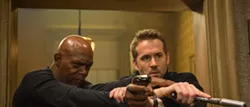 Buddy action comedy, the return of Steven Soderbergh and a crowd-pleasing documentary make for another diverse weekend in Utah movie theaters.
As attempts to recreate the chemistry of
Midnight Run
go, you could do worse than the dueling F-bomb fusillade of Samuel L. Jackson and Ryan Reynolds (pictured) in
The Hitman's Bodyguard
. Confusing messages about the appeal of nostalgia and pop-culture kitsch hamper the clever premise of
Brigsby Bear
. The story of a dance squad at a Baltimore charter school in
Step
becomes the Platonic form for a crowd-pleasing documentary.
David Riedel praises the sense of consequence and the atmospheric whodunnit of
Wind River
.
In this week's feature review, Steven Soderbergh returns to the big screen showing no signs of rust in the caper thriller
Logan Lucky
.