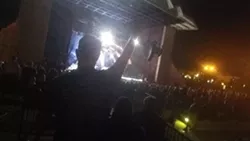 Expanding Horizons and Meeting Strangers at the Foreigner Show
"Let's skip Bonham," I told my friend Grant last Saturday night at his first real rock 'n' roll show. At 25, Grant had seen only two concerts: a nameless, faceless, now-forgotten band in Spain more than a decade ago, and country star Martina McBride a couple of years later. Tonight would be the first show he actually wanted to see, where he'd know the songs. I spent the ride out to the Usana Amphitheater getting him psyched and schooling him on rock show priorities and protocol.
Jason Bonham's Led Zeppelin Experience—even with the scion sitting in on the stool for his father, Zep's late, legendary drummer John Bonham—isn't Led Zeppelin. There's nothing to see here, but there's something to hear while we get burritos and beer. Nourishment is important, I told him. Plus, every young man's first rock concert experience should be magical. The first thing I wanted him to see were rock 'n' roll legends, people he'd only seen rendered in pixels, manifested in flesh.
Power-pop/classic rock foursome Cheap Trick, even at 75 percent original membership, would do nicely. Grant was familiar with a handful of the group's hits—"Surrender," "The Flame," "I Want You to Want Me"—but not the band. I told him about each member, and how they were like Kiss or the Beatles: groups with four distinct personalities that form a powerful whole. Rick Nielsen, the lead guitarist, whose presence and playing both contradicted and confirmed his rock-geek persona; Robin Zander, whose clarion-to-rasp voice truly soars; Tom Petersson, the dude with the long coats and 12-string bass; Bun E. Carlos, the chainsmoking drummer who looked like a '70s TV cop with hints of a sitcom dad who, sadly, due to legal conflicts within the band, only participates from a distance now, while Nielsen's son Daxx wields the sticks.
I pointed out how the band's trademark checkerboard pattern adorned Nielsen's amp cabinets and Nielsen's special edge-of-the-stage staircase, which he sometimes ascends for solos. I enthused about Nielsen's crazy guitars, teasing a very special one that would remain a surprise. And I told Grant how the band tosses out a Kiss record during "Surrender," and how it often gets shredded in the ensuing clamor.
Then came a pre-entrance montage of hit snippets and pop culture clips—including Homer Simpson saying, "I prefer to listen to Cheap Trick" and Kwik-E-Mart owner Apu singing "Dream Police," and a snippet of Trick's
That '70s Show
theme song, which helped fill in the rest of Cheap Trick's story. Then Petersson, Daxx, then Zander emerged from stage left. A woman's voice announced, "Ladies and gentlemen, boys and girls, please welcome to the stage the best *-ing rock band you've ever seen: Cheap Trick." At that, Nielsen raced in from stage right, playing the riff to the band's trademark pump-it-up tune, "Hello There." For a moment, I forgot about Grant; Cheap Trick has that effect.
So does the inevitable encounter with the obnoxious, drunk fan. The guy who likes the music even more than you, and tries really hard to prove as much. This is the dude who blocks your view, the guy who thinks 'cause his seats are closer that anyone behind his can suck hind teat. This is the person who was directly in front of me, and who responded to a request to stop blocking my view with a look that said, "Nah." Then, in words, he said, "Buy these tickets next time" and returned to his ebullient dork-dance.
I sat back down and attempted to evaluate what I was pretty sure was a dick move, and decide how or whether to escalate the situation. I certainly don't begrudge someone standing in appreciation of the "best fucking rock band you've ever seen." Especially when they paid for their tickets—in the VIP section, no less—while I was present courtesy of a grant from the United Concerts Kindness to Local Journalists Foundation. The thing is, the VIP section is terraced so that everyone has leg room as well as the luxury of being able to sit instead of stand. Dude and his Buddy encouraged me to get up; I explained that I had yet to consume the amount of beer required to ignore my barking back.
Dude and Buddy further explained that they grew up with that music. I responded that I did, too. I considered telling them this was Grant's first show—but there was no need to bring him into this. It's too advanced a lesson for a first-timer. Plus, it was
my
beef; Grant could see just fine over Buddy's daughter's head.
The next moments were surreal. Dude turned around and beckoned me to lean forward. He held my head with his hand and put his face in my lengthy and luxurious auburn hair, and proceeded to negotiate. "I'm gonna stand for the songs I know!" he yelled. It sounded like a bad idea; he had to know them all, just like me—but I decided to take him at his word. Then he told me, "You hair smells really good!" and kissed my head.
I figured that's better than fighting. And it's good for my young charge to see things resolve amicably. Then Dude beckoned to Grant, who leaned forward and was also kissed on the head.
So we're all friends now. I learned Dude's real name, but I'll omit it, in light of the fact that he doesn't know I'm writing this yet. Buddy's name turned out to be another word synonymous with "buddy" or "guy" or "dude." His daughter was quiet, but nice and, like Dude said, "a "huge Foreigner fan!" They had stuff, they shared stuff—soon, everybody was happy.
Especially Grant, who ran out after Cheap Trick to buy a shirt—a Foreigner shirt. Now, Foreigner's fine; I dig 'em, but Trick is superior, I said. I also let him know that I wasn't judging him, and I'm glad he liked Foreigner enough to spend that much on a shirt. And he could expect to know pretty much every song on the setlist, which is one of the great joys of seeing a concert. When you know every last song, and so does everybody else, there's a communal vibe that's unmatched.
That's what I really wanted Grant to experience. And we did, all of us, including more new friends (Whuzzup, Sheila?!). Foreigner played nothing but hits—except for a fan-favorite deep cut, "Star Rider," which is just as good as one of those songs that made the band jukebox heroes.
Speaking of that song, "Jukebox Hero" … When they played it, late in the set, before a backdrop of the towering titular machine, I watched Grant take in the spectacle, beer-buzzed and glassy-eyed. I saw Dude and Buddy, alternately silhouetted and spotlighted by the strobing lights, while the band sang, "…with stars in his eyes!," playing air guitar, raising their fists and exchanging bro hugs. I'd reached a point of numbness, myself, and was on my feet. But I found myself watching people more than watching the show. It was then that I realized something.
I've seen a zillion shows in my 45 years, far too many to recall. I can predict the peaks and valleys in a show with decent accuracy. Many shows feel familiar, like I've seen them before. But the real magic is in the crowd. It's the electric effect of the music flowing through us, as conduits, and we channel the current to others, like Grant, or Buddy's daughter. It energizes us and fosters connections that, while perhaps ephemeral, are real.
I let it sink in on the ride home, while we listened to deep Cheap Trick cuts on Spotify and talked about the night. I decided that Grant's next lesson would focus on the communal aspect of rock concerts. But it wouldn't start tonight, 'cause this could be the last time Grant and I hang out for a while. He's going to grad school in Georgia. Instead, I elected to live in the moment and save the lesson for later. (RH)
SUNDAY 9/3
Los Lobos, Ghost of Paul Revere, The Whiskey Gentry, Troubadour 77, Michelle Moonshine Trio, Tom Bennett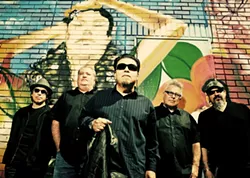 Drew Reynolds
Los Lobos
When it's not offering up some great, under-the-radar skiing in the winter, Snowbasin opens its doors to fantastic summer activities like the Blues, Brews & BBQ Festival. For the past five years, Snowbasin's celebration of cold beer, hot barbecue and hotter blues has lit up the mountainside. East L.A.'s Chicano rock band Los Lobos will be kicking off the final month of the festival's performances along with Atlanta-based Americana outfit The Whiskey Gentry and neo-folk group The Ghost of Paul Revere, out of Portland, Maine. Also on hand to set the stage for Los Lobos is a wide range of local performers such as country-blues one-man band Tom Bennett, singer-songwriter Michelle Moonshine and country act Troubadour 77. It's one of the festival's most diverse and local-friendly lineups, and let's not forget how much better music sounds when you're elbows deep in some baby back ribs. (Alex Springer)
Snowbasin Resort, 3925 Snowbasin Road (Huntsville), noon, free, all ages, snowbasin.com