DW Harris
Fatima Dirie, Salt Lake City refugee community liaison.
In 2013, John Lawrence, a physician originally from Illinois, was stationed with Doctors Without Borders in war-ravaged Syria at a facility that specialized in treating burn victims.
Contrary to expectations, most of Lawrence's patients were not combatants but instead children who had been residing in a refugee camp.
"Many of the toddlers who lived in this confined space were burned by open fires or boiling liquids," he said from a podium outside the Salt Lake City library on Tuesday, where a large display is set up to help visitors grasp a better understanding of the plight of refugees.
Lawrence is now a president of the board of directors of the U.S. arm of Doctors Without Borders—commonly known in the international community by its French name, Médecins Sans Frontières. He introduced a free, traveling exhibit at the Library Square that will be in town until Sunday evening titled Forced From Home.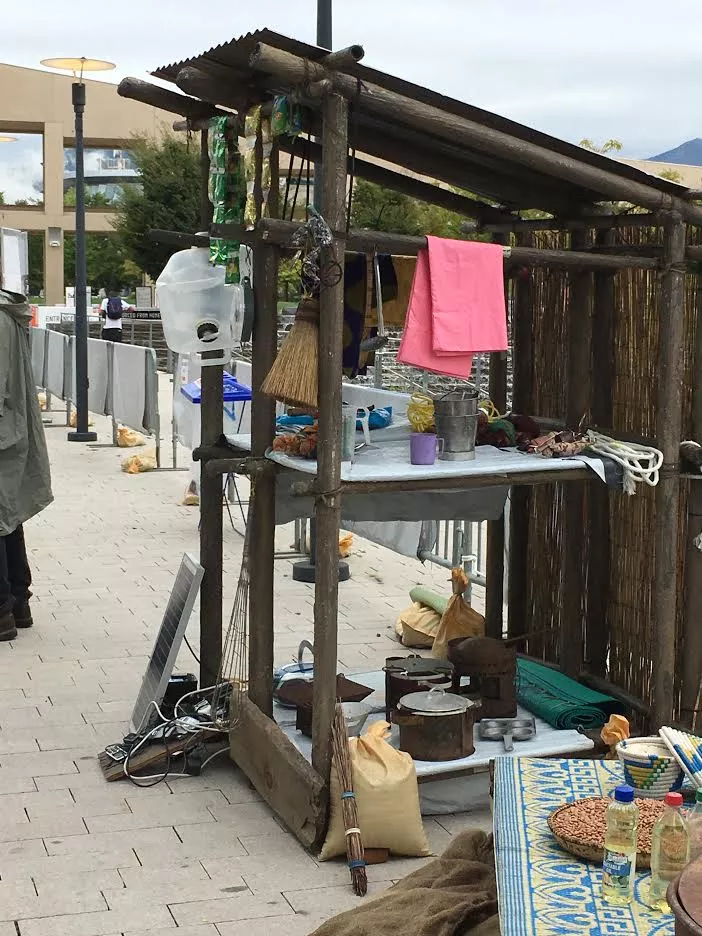 "Through this exhibit, we hope to bring awareness to why so many people chose to flee their homes," he said. "To embark on journeys of peril, be it open water or across unfamiliar or often hostile terrain to seek a better life for themselves and their families."

Policies implemented by nations such as Italy, which supports the Libyan coast guard's efforts to intercept and detain refugees, only add to global suffering, Lawrence said.
"Untold numbers of migrants, asylum seekers and refugees are arbitrarily held in squalid and unsanitary detention centers in Libya—where they are often abused and suffer from a lack of access to medical care," he continued. "They're held indefinitely without charge. As a result of these government policies, some of the most vulnerable people in the world either drown at sea or remain trapped in the most dangerous of conditions."
When asked whether MSF has an official position on President Donald Trump's attempted travel bans, which would temporarily bar all entry into the U.S. from residents of around seven-Muslim majority countries, Lawrence stated the nonprofit hasn't taken one.
"Our more broad response would be we embrace the concept that the U.S., along with all the other countries of the world, should acknowledge international humanitarian law and the standards that have been set up in that regard for accepting refugees," he told City Weekly.
Mark Leirer, a Doctors Without Borders nurse, most recently served on a search and rescue boat, The Aquarius, on the Mediterranean Sea. Last Spring, he met three young Sudanese teens who had been captured en route to Libya and sold as slaves. They were beaten and sold several times before they escaped.
"It is a story of being bought and sold multiple times; it is a story of unimaginable suffering, survival and humanity; it is a reality that the world is having trouble coming to grips with," Leirer said.
He said access to search and rescue boats is now being restricted off the Libyan coast, causing the nonprofit to scale down its humanitarian operations, which he fears will result in more deaths at sea. Leirer said he hopes the displays will help people feel human connections.
"The people you will meet and hear about during this exhibition have needs and wants and desires that are no different than our own," he said. "We are in hopes that with these stories, these pictures and these words, we are reminded that we are all essentially the same."
Fatima Dirie is the Salt Lake City refugee community liaison. A refugee from Somalia, she was raised in Kenya before migrating to the U.S.
Now a University of Utah graduate with a master's degree in social work, Dirie works with Mayor Jackie Biskupski's administration to help refugee communities in the valley.
"Salt Lake City is a welcoming city," she said.
Doctors without Borders is working in 71 countries, delivering emergency medical aid to people who have been displaced by conflicts, natural disasters, pandemics and those who have been denied health care in their own societies.