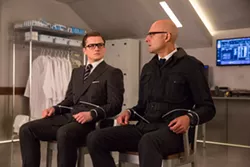 An interesting mix of prestige drama, animated comedy and an action sequel hit local multiplexes, while art house offerings include a biopic of author J.D. Salinger.
Kingsman: The Golden Circle
(pictured) returns to the over-the-top spy hijinks of the 2015 original, only with a lot more narrative bloat between crazy action sequences. Returns on the brick-based features might be diminishing with
The LEGO Ninjago Movie
, but there's still a welcome level of clever fun and playfulness. The life of legendary
Catcher in the Rye
author J. D. Salinger becomes a tediously by-the-numbers Great Artist biopic in
Rebel in the Rye
.
Eric D. Snider appreciates the gently humorous epiphanies of Ben Stiller's whiny protagonist in
Brad's Status
.
MaryAnn Johanson assures that if you saw last year's
Unfriended
, you've seen
Friend Request
, only without the bare minimum originality of sinister social media.
In this week's feature review, the real-life story of Boston Marathon bombing survivor Jeff Bauman becomes a case study in inspirational, non-exploitative exploration of a traumatic event in
Stronger
.