Saturday's rally to demand body-cam footage from the officer-involved shooting of 50-year-old Patrick Harmon wasn't Lex Scott's first go-round. Still, the grief was the same.
"You know what? Every single time it's a new hurt and it's a new pain and it's a new injustice—and you never get used to it," Scott told City Weekly.
Dressed in jeans, a tank top, hoodie and a red baseball cap emblazoned with the message "Make racists afraid again," the Black Lives Matter organizer did her best to play host, get attendees warmed up with rallying cries and coordinate lodging for Harmon's visiting family members over her cell phone.
"I feel like it's a big group, and I'm thankful," Scott said of the small but mighty gathering. "I'm thankful that his family came that far and saw people that cared about Patrick."
Scott addressed the crowd and reminded them of the significance of the rally's location.
"In case you didn't know where you are right now, this is the Public Safety Building—isn't it beautiful?" she said. "This is your taxpayer money at work; this is police headquarters."
She underscored how those same tax dollars are used to equip police officers with body-cams.
"This is about accountability and transparency," she said. "This is about Patrick Harmon's family deserving to see that footage. If [SLCPD] did nothing wrong, wouldn't they have released the footage by now?"
Enrique Limón
Lex Scott
Citing confusion on whether Harmon was carrying a gun during what SLCPD Chief Mike Brown called "a routine stop," the next day, Scott said: "I forgot, do black people have the constitutional right to bear arms? … This is a red state that loves guns, but as soon as a black person is killed by police, the media says, 'He had a gun' in an attempt to dismiss the murder."
Other speakers included attorney Rebecca Hall and Utah Against Police Brutality's Jacob Jensen and Ian De Oliveira.
Microphone in hand, De Oliveira mourned "another lost life, another lost son, another lost father, another lost friend, another lost member of the community."
Utah Against Police Brutality formed in 2014 as a response to the deadly officer-involved shootings of Michael Brown in Ferguson, Mo., and Utah residents Dillon Taylor and Darrien Hunt.
"I feel like we're here too much; too often and see too many of these faces" De Oliveira said. "We shouldn't be here. We shouldn't be doing this. They shouldn't be forcing us to have to resort to these kinds of measures to get what's rightfully ours. But they do, so we're here."
Few details are known about Harmon's death after what one daily described as a "confrontation" with three police officers on Aug. 13. He was traveling by foot on State Street—or was it bike? He was armed with a gun. No, make that a knife. He had a rap sheet and was probably just another vagrant.
The incident, De Oliveira pointed out, coincided with the launch of Operation Rio Grande, and Harmon's death was but a minor bleep.
"No one knew. There was barely any media coverage, no statements, nothing," he said. "It was just another day in America. Just another black man. Just another victim of racist fucking cops."
What is known, is that all three officers at the scene that night had active body cameras on them.
"Why do we want the footage? Because it's ours. They work for us; it is not theirs," De Oliveira continued. "It was bestowed onto them like their badges were bestowed upon them, like their department was bestowed onto them, like their authority was bestowed upon them. It was not bestowed onto them by God; it was bestowed onto them by us."
De Oliveira himself was outfitted with a body cam. Pointing at the building's shut doors, he declared that if a melee were to erupt, video from his device would most likely be made public the same day.
Following Harmon's death, Chief Brown said the footage would not be released until District Attorney Sim Gill determined whether the shooting was justified.
Electronic requests to Brown and District Attorney Sim Gill for comment were not immediately answered.
Scott has been a permanent fixture in the SLCPD's Community Activist Group (CAG) meetings. Brown launched the initiative in the aftermath of the February 2016 police shooting of 17-year-old Abdullahi "Abdi" Mohamed.
"We've created a lot of change. We have data collection now, we have de-escalation training now, we have diversity training, diversity hiring," Scott said of the twice-monthly meetings. "My hope is that the police get the message that we want accountability and transparency."
Along with securing the footage, humanizing Harmon is paramount for De Oliveira. "The less people know about Patrick Harmon, the less Patrick Harmon existed," he said.
After getting word of the event, Patrick Harmon's sister, Antionette, packed the family van and drove from St. Louis, Mo., to attend the protest.
"I really appreciate this movement," she said. "I appreciate each and every one of you that came out to represent Patrick Harmon, because he is a person."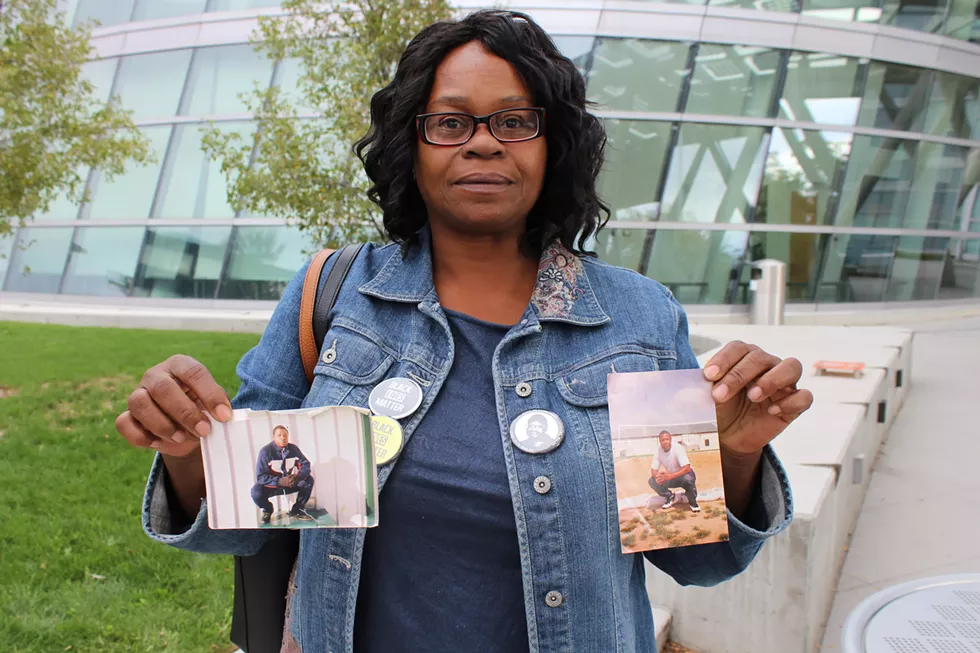 Enrique Limón
Antionette Harmon holds up pictures of her slain brother, Patrick.
She called Patrick, four years her junior, "goofy" and remembered him as "a protector"—someone who defended his only sister whenever needed.
Both siblings moved to the Beehive State in 1998. Antionette left two years later, while Patrick stuck it out. "It's different," Antionette Harmon joked, adding that her brother "loved Utah."
"My brother was a wonderful person," Harmon said, surrounded by eight family members who also embarked on the 1,300-mile road trip. "I really don't know how he lived his life here—what happened—but I want answers."
Patrick Harmon's niece Alisha Shaw saw him as a surrogate father figure. "He stood up for our family," she recalled.
"He was loved," Antionette Harmon said. "And I thought he was loved here."
UPDATE: On Wednesday, Oct. 4, the DA's office sent out a bulletin calling the deadly shooting"legally justified" after conducting an Officer-Involved Critical Incident (OICI) review. Later that same evening, SLCPD released the footage captured by the three responding officers' body-cams.