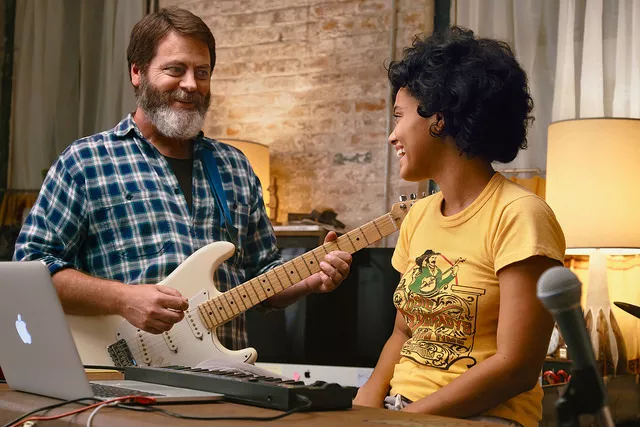 Hearts Beat Loud
[Premieres] **1/2
On the most obvious level, this is a genuine crowd-pleaser; it's also so thin that you can practically see through it. Nick Offerman plays Frank Fisher, a widowed one-time musician who runs a Brooklyn record store, as he readies himself for the impending empty nest as his daughter Sam (Kiersey Clemons) prepares to leave for college in California. Then the song that they record together gains some traction on Spotify, and Frank has visions of a family band. Co-writer/director Brett Haley (
I'll See You in My Dreams
,
The Hero
) clearly loves low-key, adult-appeal character studies, and Offerman shows some range as a doting dad trying to recapture a part of his life that seemed long-lost. But nearly everything here—with the possible exception of Ted Danson, glorious as a stoner bartender—is so wispy that it threatens to evaporate before your eyes, including romantic interests for both Frank (his landlady, played by Toni Collette) and Sam (a bohemian artist, played by Sasha Lane). Virtually all the energy the movie can muster goes into the original songs, and they're catchy enough to convey that the characters have talent. It would have been nice to transfer a little of that passion to when characters were talking, rather than singing. (Scott Renshaw)
Madeline's Madeline
[NEXT] ***1/2
It's a fraught proposition trying to re-create visually the perspective of a character with mental health issues, but Josephine Decker dives in head first with fascinating results. The titular Madeline (Helena Howard) is a 16-year-old who has begun working with an experimental theater group led by Evangeline (Molly Parker). Madeline also has recently spent time in a psychiatric hospital, and her mother (Miranda July) is often concerned about how her daughter is spending her time. Decker spins out a mesmerizing, disorienting approach to telling this bare-bones story, relying less on the specifics of what's happening to Madeline from moment to moment than on emotional impressions, snapping between various ways that our protagonist is seeing either herself or the world around her. This is also a kind of free-form yet self-critical study of the way art is created, and the seemingly inevitable ways that creative people can use the painful experiences of others for their own not-always-altruistic purposes. And somehow Baker also still shapes three great central performances, with Howard in particular beautifully exploring facets of her unsteady character that never feel obvious or exploitative. There may be moments when it's difficult to puzzle out intellectually exactly where Baker is taking us, but it's consistently enthralling to follow Madeline's process of discovering that the only version of her story that really counts is her own. (SR)
Nancy
[U.S. Dramatic] **1/2
Remember how in
The Big Sick
, the film sparked to life when the elder-generation sorta-parents (Holly Hunter and Ray Romano) took the film over from a less-interesting protagonist?
Nancy
has nothing else in common with
Sick
; it's a dour, downbeat American-regional indie about a lonely 30-something woman who makes up fake histories about visiting North Korea or losing a child to feel special or complete. But I was left wanting to see more of Steve Buscemi and J. Smith Cameron as a married couple whose 5-year-old daughter disappeared 30 years ago, and whom Nancy tries to fool by claiming to be the girl. Andrea Riseborough isn't giving a bad performance as Nancy exactly, but it's so opaque and blank-faced—and so clearly what the director wanted—that it's hard to feel anything but the objective moral judgment of her behavior. Buscemi and Smith Cameron, though, steal the minor-key show like the old pros they are, neither playing victim, even when the DNA results come in, but both reacting to the 30-year hole in their hearts. As the initial skeptic, Buscemi is the least Buscemi-ish he has ever been, in a role where Buscemi-isms would've wrecked the movie. And Cameron suggests a wiser doppelgänger to Nancy, a woman who might prefer a lie to a lack. (Victor Morton)
Crime + Punishment
[U.S. Documentary] ***
A powerful monument to some truly brave men and women gets a little sidetracked by a subplot which, if you look closely, actually has nothing to do with the ostensible story. Director Stephen Maing explores the "NYPD 12," a group of a dozen New York City police officers of color who go public and challenge the department's officially illegal policy of ticketing and summons quotas, which disproportionately impacts communities of color. The officers' stories are infuriating, backed up by hidden-microphone and hidden-camera material that proves the wink-and-a-nudge reality of New York City using disadvantaged populations as an easy revenue stream, and showing the real-world consequences of these officers daring to challenge the system. The secondary story, however—about a teenager named Pedro Hernández awaiting trial for a shooting he almost certainly didn't commit—while intended to show emphasize the actual human cost of these policies on the arrestees, isn't really about what the rest of the movie is about, specifically "round up the usual suspects" behavior when no violent crime is at issue. Still, Maing provides an aesthetically insinuating experience with his drone-camera establishing shots of the city, and packs a punch with a tale of what good cops really look like. (SR)
Night Comes On
[NEXT] ***1/2
One of Roger Ebert's most-famous critical claims was that the best movies generate empathy for their subjects. Angel (a superb Dominique Fishback) is freed from juvenile prison at the start of
Night Comes On
, and you
know
she's headed back. She's vulgar, corner-cutting, impulsive, undutiful and contemptuous in just the first 15 minutes, most especially in a scene with her probation officer. The movie doesn't soften her, and yet … I couldn't hate her. Even when it becomes clear her first post-freedom thought is to buy a gun and kill her father, who murdered her mother and is free on legal maneuvers. Once 10-year-old sister Abby (a … yawn … superb Tatum Marilyn Hall) enters the picture from foster care, judgment is impossible. Abby is a budding Angel, mostly in bad ways, and yet genuinely looks up to her. Abby can both brashly call out big sis and hatch a plan of her own so shockingly naïve only a 10-year-old would try it, as
Death Wish
morphs into
Beaches
, while keeping to the forefront how constrained are these black Philadelphia girls' choices. There is a scene involving a tampon that stands for all the ways life on the margins teaches you life habits, big and small, that
keep
you on the margins, or at least foil rehab efforts. (VM)
Beirut
[Premieres] ***
On the eighth day of a film festival—after a steady diet of earnest documentaries, grim dramas, hot-take convo-piece movies and button-pushing exercises—you're just dying for something refreshing. This is that needed spritzer. Directed by Brad Anderson, written by Tony Gilroy and starring Jon Hamm, Beirut is an unabashedly commercial film and a throwback, with frankly nothing about it saying "Sundance film." It's a political spy thriller in the John LeCarre/Graham Greene tradition in which numerous different groups, some within the same governments, play shifting tug-of-war games over the same stakes—here, the kidnapping of an American spy attached to the U.S. Embassy in Lebanon. The PLO, Israel, factions within the U.S. government, Lebanese militias and Syria all have stakes that Hamm, a former Lebanon-based diplomat who now does union negotiations and The Bottle, is brought out of retirement to sift through and negotiate his ex-buddy's release. Hamm gets his best movie-starring role, using a weary version of his Don Draper persona; Rosamund Pike is even better as a "cultural attache" who becomes the dramatic fulcrum; Gilroy's script keeps things moving crisply and (unlike the atrocity
Syriana
) intelligibly. The coda was unneeded though; this semi-fictional yarn didn't earn the right to claim this history. (VM)
This Is Home
[World Documentary] ***
There's not much that could be called "drama" in any conventional sense in Alexandra Shiva's documentary about Muslim refugees in America, but it's plenty compelling watching these subjects confront things that for most of us are just part of everyday life. Shiva follows a few families—mostly from Syria—as they adapt to life in a new country, trying to become independent by the time they reach the end of an eight-month period with resettlement assistance. Some of the elements here are perhaps familiar from other fiction and non-fiction immigrant stories—like the awestruck response to the bounty of an American supermarket, or challenges learning the language—while others draw specificity from the cultural differences these families face, including the expectation that wives might have to work ("over my dead body," one husband responds). Yet these stories are still engaging in their very normalcy, and in portraying people who are here simply because it's their only option for keeping their families alive, not because they want to suckle at the American government's teat. When Trump's initial "Muslim ban" is introduced into the narrative with all of its accompanying uncertainty, it's a reminder of how precarious the idea of the American Dream can become. (SR)