The Miseducation of Cameron Post
[U.S. Dramatic] **1/2
There are times when my propensity for reading source material serves the experience of watching a movie quite poorly—and such was the case with Desiree Akhavan's adaptation of Emily M. Danforth's novel. Akhavan's circa-1993 story dives immediately into high school junior Cameron Post (Chloë Grace Moretz) getting caught in a compromising situation with a female friend, whereupon she is sent immediately by her guardian aunt to God's Promise, a Christian residential camp run by Dr. Marsh (Jennifer Ehle) where teenagers can work on eliminating their "SSA" (same-sex attraction). Danforth's book, on the other hand, spends nearly half of its time before God's Promise—on Cameron's gradual understanding of her own feelings, and the guilt connecting her earliest experimentation with the night her parents died in a car accident. None of that character background is present here, and Moretz spends most of the film generally looking befuddled about everything going on around her—which naturally includes "therapy" that the audience can knowingly chuckle and/or fume over, understanding that it's nonsense. Ehle turns in a nicely chilly performance as the program's zealous overseer, and there are several individual effective scenes that capture kids being prodded to change who they are before they really even understand what that is.
The Miseducation of Cameron Post
simply makes the mistake of throwing us immediately into the efforts to "cure" Cameron, before we get any idea what it is they're trying to "cure" her of. (Scott Renshaw)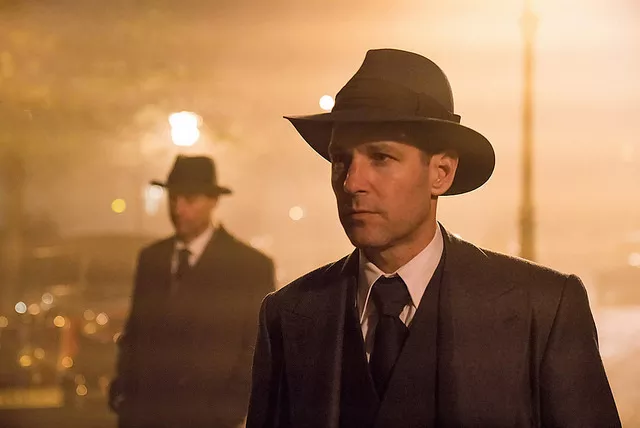 The Catcher Was a Spy
[Premieres] *1/2
Almost Seinfeldian in its determination to be about nothing, this biopic came inherently burdened with the tricky challenge of telling the historical story of a real-life operation that didn't come off: the World War II assassination plot against German physicist Werner Heisenberg, whom the CIA's predecessor feared could be helping build an atomic bomb. But
Catcher
compounds the historical problem on at least two fronts. First, there's the structural choice of starting the film in Zurich—former major-league catcher Moe Berg (Paul Rudd) first seeing Heisenberg and readying his gun—and then flash back to his ball-playing career and forward from there. Every scene from the first half-hour is so obviously irrelevant to the main plot that you wind up seeing the "plants" being made, spoiling whatever little possibility of suspense or thrills the film has. Second, Berg is too opaque to be interesting. An unmarried man in his late-30s can't even bring himself to deny the security question, "Are you gay?" (not quite the 1942 wording), and not because we hadn't already seen him on the piano … doing a passionata with a girlfriend (Sienna Miller in an utterly worthless part, even by the standard of "hero's wife" roles). Rudd is so blandly charming and dutiful as Berg that it effectively rules out a character study. (Victor Morton)
Won't You Be My Neighbor?
[Documentary Premieres] ***
Not gonna lie: I spent about 90 percent of Morgan Neville's documentary profile of children's television pioneer Fred Rogers on the verge of tears. That's not because there's anything particularly engrossing about Neville's filmmaking approach to Mr. Rogers' life; with the exception of some animation occasionally employed to suggest Rogers' own childhood fears and insecurities, this is a fairly straightforward combination of footage from
Mr. Rogers' Neighborhood
episodes, archival interviews with Rogers himself (he passed away in 2003), and talking-head recollections from Rogers' family, friends and
Neighborhood
cast and crew members. But while there's little attempt to dig deeply into Rogers' life before he was a public figure, what emerges here is a portrait of an American hero who built that heroism on something as simple as decency, and believing in the fundamental importance of a child's feelings. There are no skeletons in the man's closet that Neville is determined to expose, and the closest this film gets to dramatic conflict is addressing Rogers' thoughts about parodies of his gentle persona, and conservative backlashes against his "everyone is special" philosophy. But it's hard not to have an emotional response at the way Rogers talked to children about things adults still have trouble dealing with—his literal first episode in 1968 involved King Friday building a wall out of fear of change!—and how the ordained Presbyterian minister interpreted his Christian faith as a call to exalt individual dignity. A beautiful day, indeed. (SR)
Lords of Chaos
[Midnight] ***
The final word spoken is "poseur," and once being a "poseur" (or related terms like "hypocrite") becomes a free-standing vice, where does it end? The Norwegian black-metal band Mayhem and their early-90s cult following took the ever-nascent themes of teen rebellion, nihilistic withdrawal and extremity as a good to their absolute ends. Leader "Euronymous" dismissed heavy-metal songs about sex and partying—identified with Sweden—as "life metal." None of that for us; we'll point guns at each other and have the singer slit his wrists onstage and splash his blood on the audience. Jonas Åkerlund's direction is energetic, and the one extended concert sequence throbs with nervy energy and violence, the crowd ecstatic in the presence of the singer's holy blood. If you can accept a Culkin (Rory, if it matters) as a death-metal frontman—and that
is
a stretch—this is enormously entertaining black comedy. But fantasy and art bleed over into real life, and one of us might slit his throat or blow his head off. That's so f—-ing Xtreme that it'll make a kickass album cover. And why are we only cursing at the church, rather than attacking these oppressive structures? But as Augustine observed, even robbers need justice among themselves, and the anti-revolution eats its young because no one dares be a poseur. Especially those who are. (VM)
We the Animals
[NEXT] **
One good thing about film festivals is the serendipity of seeing two films tackle similar subject matter, each film's virtues and vices reinforcing why one is great and the other isn't. Both
Night Comes On
and
We the Animals
tackle a group of working-class minority siblings with dicey relationships to the law and families wracked by domestic violence.
Night Comes On
is a great film; in this one, the gritty realism in the subject matter and the violent behavior of the three boys, who look to be maybe 8 to 14, sits uneasily alongside the heavy scoring and affectedly arty style. It muffles and evades scenes like shoplifting and the aftermath or throwing rocks at passing cars, played like a lyrical blowing off steam. The rambling series of events is not really a story, include mystifying scenes that don't pay off (digging a grave in the backyard) and distasteful flights into magic realism, in which a 10-year-old runaway turns into a flying drone angel or something. I was also irritated by the handling of underage sexuality, particularly two sudden scene-ending cuts upon a kiss on the mouth, which is poultry-excrement. Show the real-world impacts or effects of, for example, a boy suddenly kissing another boy on the mouth, or make the movie about something else. (VM)
Search
[NEXT] ***
It's impressive that co-writer/director Aneesh Chaganty manages to sustain his gimmick for 100 minutes, in a way that actually makes it feel like something other than a gimmick—only for his plot to sabotage the finale. That gimmick involves a story told entirely through computer screens, recorded videos, text messages and social media accounts, as widowed dad David Kim (John Cho) faces the horror of having his 16-year-old daughter Margot (Michelle La) disappear one night. The narrative device allows for an intriguing exploration of contemporary parent/child dynamics, as David only begins to understand who his daughter is through the electronic footprint left behind by a generation that endlessly chronicles its experiences, yet somehow remains a mystery to those living in the same house. And there's some great, darkly funny material about performative grief, and the off-hand reminders to "never read the comments" as strangers begin to assume that David must be the perpetrator himself. Then the story turns into a conventional thriller—with police detective Debra Messing leading the investigation—and while it's initially fascinating watching the tools at any savvy person's disposal to find a missing person, the resolution is ultimately a hugely disappointing exposition dump.
Search
is a whodunnit where whodunnit doesn't really matter, as much as exploring the scary reality of how much of our lives is now lived virtually. (SR)