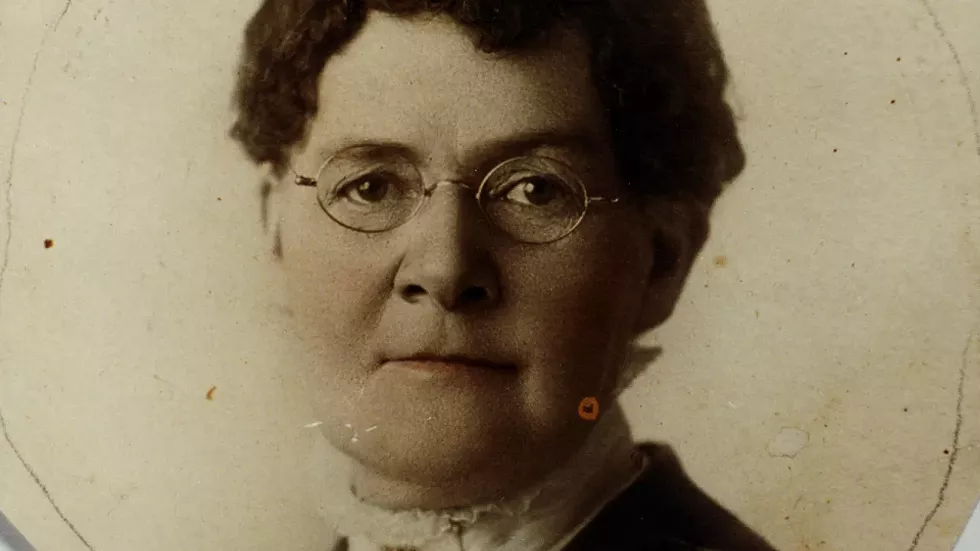 Via pbs.org
State senator, sister wife, women's rights advocate, suffragist and Doctor Martha Hughes Cannon.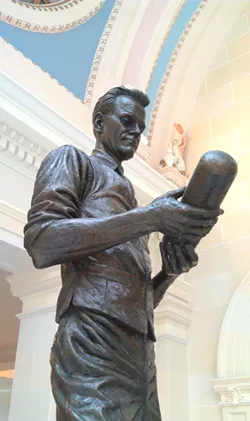 Via waymarking.com
Farnsworth and his nifty Image Dissector.
You're a Utahn, right? You identify with Utah stuff: seagulls, the Jazz, grid systems, equal parts ketchup and mayonnaise, periodically electing to use a blinker when you change lanes and skiing.
So ask yourself: Whose statue would you want to represent the Beehive State? A visionary who helped invent TV, perhaps? Or maybe a trailblazing suffragist who successfully ran for state office at a time when women often didn't.
Brigham Young is a given, of course. His statue is in the National Statuary Hall as one of two Utah figures in Washington, D.C. And the other will continue to be the clever Philo T. Farnsworth unless lawmakers pass a resolution and raise private funds to have the Beaver-born inventor replaced with a bronzed likeness of Dr. Martha Hughes Cannon.
On Monday, Senators debated the accolades and contributions of these two prominent Utahns.
Earning a name for herself as a fearless suffragist, Cannon was recruited in 1896 by Democrats and ran for a spot in the Utah Legislature against her polygamous husband, Angus Cannon. Martha Cannon, who was also a doctor, won handily—becoming one of the first women elected to a statehouse.
But Farnsworth was no slouch. A prodigy who devoured scientific literature, Farnsworth built a working television in his early 20s. He also contributed to the baby incubator and beams that guide airplanes, according to testimony given Monday.
If passed, Cannon's statue would be erected in time to commemorate the 19th Amendment's centennial. Several lawmakers wore yellow roses pinned to their lapels on Monday as a sign of support.
"This really is about women's suffrage," said resolution sponsor Sen. Todd Weiler, R-Woods Cross.
Other lawmakers wanted to make sure Cannon's recognition didn't eclipse Farnsworth's contributions. Democratic Sen. Jim Dabakis, for example, lamented Farnsworth's underappreciated genius. "I don't think there has ever been a Utahn quite as dissed as poor Philo," he said, before running down a sketch of the inventor's biography.
Sen. Curt Bramble, R-Provo, who supported the resolution, called it "ironic" that Utah—with its patriarchal reputation—was considering celebrating a strong and important female. Cannon blazed the way for other women, including the late Rep. Becky Lockhart, he added.
Sen. Lyle Hillyard, R-Logan, prefaced his remarks by saying he hoped he wouldn't be "castigated as being anti-women," when he remembered the amount of research and thought that went into the original discussion to put a statue of Farnsworth in the nation's capital.
"I'm sure that if you go back into the record, Senator Cannon—Dr. Cannon—was one of the many, many people that they looked at before they made that decision," he said.
On a prior trip to Washington, D.C., Sen. Deidre Henderson, R-Spanish Fork, noticed a lack of statues honoring women and said she supported the resolution to display Cannon, an example of a real woman for which the state and country could be proud.
"Philo's a great guy. But we can't exactly bring Brigham Young home, and we get two statues," she said a few moments before the Senate voted for the resolution 21 to 7.