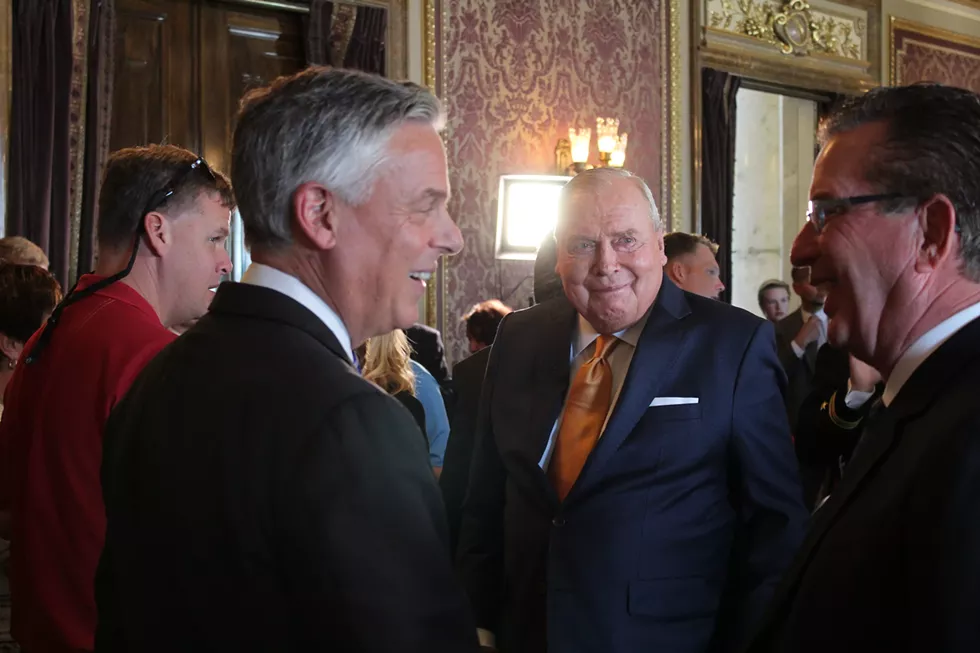 Enrique Limón
Jon Huntsman Sr. (center) at the ceremonial swearing in of his son, Jon Jr. (left), as U.S. ambassador to Russia in October of last year.
Jon Huntsman Sr., a distinguished philanthropist and business leader who battled with prostate cancer, died Friday. He was 80.
A leader at times in both his church and politics—as well as an instrumental advocate for the University of Utah's Huntsman Cancer Institute—Huntsman's influence was felt widely by prominent Utahns.
Sen. Orrin Hatch, who referred to Huntsman as a "dear friend" released a statement shortly after Huntsman's passing.
"Jon Huntsman Sr. was a committed public servant, a visionary businessman and perhaps the greatest philanthropist our state has ever known," he said. "He was also a trusted confidante and a dear friend. Utah has lost a lion today. Elaine and I send all our love to the Huntsman family at this difficult time."
Gov. Gary Herbert remembered Huntsman not only as "a champion of business and philanthropy" but also "a tremendous champion" of the state.
"His loyalty to Utah was remarkable," Herbert said in a statement. "He loved his family and was fiercely loyal to them. You would be hard-pressed to find someone with a more closely knit family than the Huntsmans. In this regard, Jon was an especially good example to all of us."
"A visionary man with a strong personality, Jon was not afraid to wade into the issues of the day," Herbert continued. "That drive was personified in his battle against cancer. Not only did he fight his own personal battle, but through the establishment of the Huntsman Cancer Institute, he gave his vast resources to help others wage a battle against cancer as well. We have lost a giant in our state history. His influence is felt far beyond the borders of Utah. He is one of the greatest Utahns ever to live. Our hearts are with his wife Karen, and the entire Huntsman family."
"Jon and I have been friends for decades; our families have been friends for generations," former presidential hopeful Mitt Romney said. "He generously gave to the Salt Lake Olympics and provided me with essential counsel. He was the first to volunteer financial support for my campaign for president of the United States. Ann and I will profoundly miss our good friend's broad smile, his hearty handshake and his example of faith, honor, and integrity."


House Speaker Greg Hughes said he was "devastated" by the news. "Mr. Huntsman has been a dear friend and an incredible mentor," he stated. "He counseled me often and taught me the true meaning of service. To say I will miss him, his grit and his incredible compassion would be a gross understatement. My thoughts and prayers are with his great family at this time."


Rep. Mia Love also called Huntsman a mentor and friend.


"I know Jon will rightfully be remembered as a giant in the state of Utah, across the country, and around the world. His story exemplifies the American Dream: He came from humble beginnings, and founded one of the most successful businesses in the nation, now known as the Huntsman Corporation," she wrote in a statement. "He was generous and compassionate with his success, investing personally in efforts to eradicate cancer and establishing the Huntsman Cancer Foundation. Thousands of lives have been blessed by that investment. I send my heartfelt thoughts and prayers to his family at this difficult time."


Others, who weren't as close to Huntsman personally, recognized Huntsman's indelible imprint on local residents.


"Jon Huntsman, Sr. had an immeasurable impact on Salt Lake City, Utah, and the world as a whole," Mayor Jackie Biskupski said in a statement. "His personal commitment to philanthropy saved lives and inspired others to do the same. Our deepest sympathies are with the Huntsman family, and with all of those who were personally touched by Jon's legacy."


On its Twitter feed, the University of Utah also released a statement.


"We're deeply saddened to learn about the passing of Jon Huntsman Sr.," it read. "He was a passionate supporter of the U and his generosity and vision will benefit students, faculty, researchers and people throughout Utah and the Intermountain West far into the future."