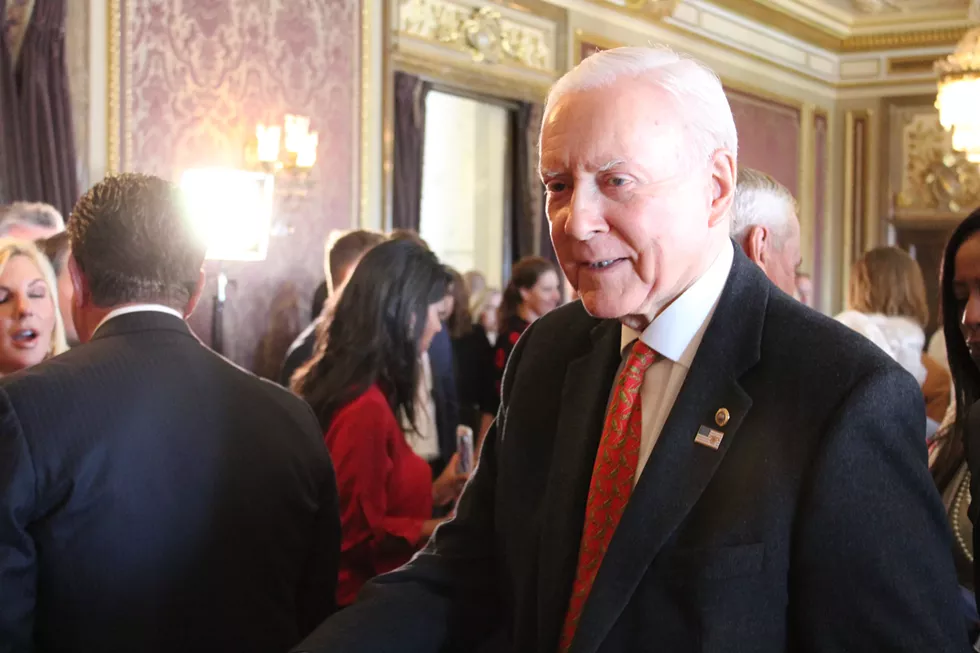 Orrin Hatch: Defender of the Supreme Court's Masterpiece Cakeshop ruling. Supporter of Ben Carson and Betsy DeVos. And … sympathizer for vulnerable LGBTQ youth?
In a speech on the Senate floor Wednesday, Utah's senior senator voiced concern over the growing number of suicides among LGBTQ youth.
"The suicide epidemic has touched all sectors of our society, but the problem is particularly acute among LGBT youth who experience bullying and discrimination at every turn," Hatch said. "In the most devastating cases, these teenagers even face estrangement from their own families. That's why today, in honor of Pride Month, I wish to devote a significant portion of my remarks to them—my young friends in the LGBT community."
The comments were posted on Hatch's social media channels with the hashtag "#PrideMonth."
"The prevalence of suicide, especially among LGBT teens, is a serious problem that requires serious attention," he declared. "No one should ever feel less because of their gender identity or sexual orientation. LGBT youth deserve our unwavering love and support, they deserve our validation and the assurance that not only is there a place for them in this society, but that it is far better off because of them. These young people need us and we desperately need them. We need their light to illuminate the richness and diversity of God's creations."
Studies confirm that LGBTQ youth are as much as seven times more likely to take their own lives than their straight peers.
The Utah Republican has a mixed history with the LGBTQ community. For instance, he voted to confirm cabinet secretaries Carson and DeVos, who "both have clear records of opposing LGBTQ equality," according to Think Progress.
Yet, when President Donald Trump announced he would ban transgender individuals from the military, Hatch said that people are "born that way" and the military should be open to everyone. However, as the Think Progress report noted, when 50 senators wrote a letter to the defense secretary opposing the ban, Hatch's signature was missing.
The senator also voiced his support last week when the Supreme Court voted 7-2 in favor of a Colorado baker who refused to create a wedding cake for Charlie Craig and David Mullins in 2012.


"I applaud today's decision," Hatch tweeted at the time. "Hostility toward religion has no place in government. At the same time, religious freedom means much more than freedom from government hostility [...] Courts must protect the ability of believers to freely live their faith and to express their religious beliefs openly and honestly."
Hatch has also been a vocal advocate of the 2013 Defense of Marriage Act that would have prohibited the federal government from recognizing same-sex marriage.
And as far back as 1988, Hatch called the Democratic Party "the party of homosexuals," according to The Associated Press.
Hatch's remarks Wednesday were welcomed by many LGBTQ allies—like Equality Utah executive director Troy Williams, who told The Salt Lake Tribune the words were "encouraging." Hatch also used his remarks to promote his own bill that would create a national suicide-prevention hotline similar to 911. The bill passed the Senate in November and is currently working its way through the House.

If you are having thoughts of suicide, call the National Suicide Prevention Lifeline at 1-800-273-8255 (TALK) or go to
speakingofsuicide.com/resources
for a list of additional resources.