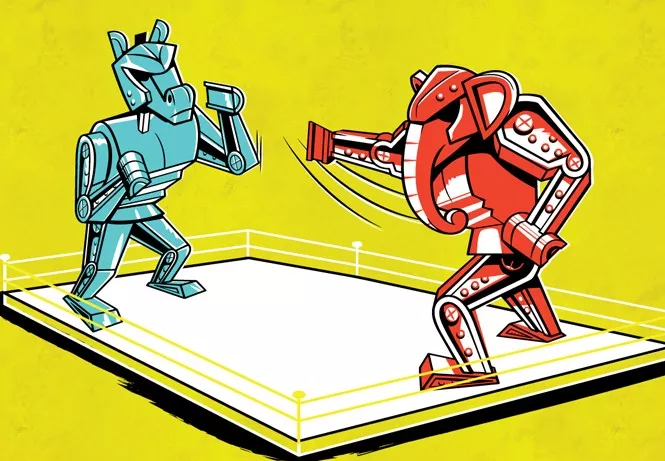 Bryan Beach for City Weekly
Tuesday is primary election day and that means if you haven't already mailed in a ballot, you might be trying to figure out how you can vote.
As usual, if you're not a registered Republican voter, you can't vote in the blockbuster GOP primary between Mitt Romney and Mike Kennedy. But you can follow it to see if Romney, the overwhelming favorite according to various polls, continues on his path to take over Orrin Hatch's senatorial seat come November—not to mention, the many other races impacting Salt Lake City voters this year.
Here's a quick outline of this year's statewide primary races and those covering parts of the Salt Lake Valley:
REPUBLICAN PRIMARIES
U.S. Senate—Mike Kennedy vs. Mitt Romney
Romney is a clear favorite to win the GOP nomination for Hatch's position but was forced into a primary against Alpine Republican Kennedy following April's convention.
According to a recent poll conducted by the University of Utah's Hinckley Institute of Politics and The Salt Lake Tribune, Romney was garnering 65 percent of support from registered Republican voters compared to Kennedy's 23.
Kennedy is a family doctor with a short history in politics, running against a former Massachusetts governor and presidential nominee.
The winner of this primary will duke it out against Democrat Jenny Wilson come November's midterm election.
3rd Congressional District—John Curtis vs. Chris Herrod
Curtis faces off against Herrod in a rematch from 2017 to replace former Rep. Jason Chaffetz in the Utah County-centric district.
According to a poll by the same group that looked into the Kennedy vs. Romney race, Curtis holds a 36 point lead over Herrod going into the primary. Curtis is the former Provo mayor who stepped down ahead of the special election following Chaffetz' departure.
Republican Party delegates favored Curtis at this year's nominating convention, but not enough to let him bypass the primary.
Utah Senate District 3 (Salt Lake City)—Marlin Baer vs. Jeremy Egan
The Murray district represented by longtime Democratic Sen. Gene Davis will pit Egan against Baer in the Republican primary. Egan missed eliminating Baer by one vote at the Republican convention. He earned 59.4 percent of the vote compared to Baer's 40.6 percent; candidates must earn 60 percent to avoid a primary race.
Egan lists himself as an actor. Baer runs a limousine service.
Utah Senate District 8 (Cottonwood Heights)—Brian Zehnder vs. Jaren Davis
For the Cottonwood Heights district, Republican incumbent Zehnder faces Davis in Tuesday's primary. While most GOP candidates won their party's nomination at April's Salt Lake County Republican Convention, Zehnder was one of few Republicans forced into a primary.
Zehnder earned 56 percent of the vote, while Davis earned 44 percent.
Utah House District 19 (Bountiful)—Ray Ward vs. Phill Wright
Bountiful's Rep. Ward faces Republican challenger Wright. Ward beat Wright with 66 percent of the vote at the Davis County Convention, but fell short of the required 70 percent to avoid the primary.
The winner faces off against Democrat Courtney Jones in November.
DEMOCRATIC PRIMARIES
1st Congressional District—Lee Castillo vs. Kurt Weiland
Both Democratic Party candidates have campaigned as stark contrasts to incumbent Republican U.S. Rep. Rob Bishop to represent Northern Utah in Washington.
Bishop is seeking his ninth term and has won previous races handily, so this party's winner will have their work cut out for them if they intend to challenge him in November. Castillo is a social worker who lives in Layton, while Weiland runs a consulting firm in Bountiful.
According to a report from the Associated Press, Weiland is being cited for failing to file federal financial disclosure forms ahead of Tuesday's primary. The Federal Election Commission also said it could take additional action against the campaign, such as a fine. Castillo has not reported any fundraising. Candidates who raise or spend less than $5,000 are not required to file paperwork, according to the AP.
Utah Senate District 2 (Salt Lake City)—Derek Kitchen vs. Jennifer Plumb
Kitchen is a current Salt Lake City Councilmember and faces off against community activist Plumb in the race to replace outgoing Sen. Jim Dabakis.
The Salt Lake district is one of the state's most Democratic districts, and the winner will have big shoes to fill as Dabakis has been one of the state's most outspoken liberal voices at the Capitol.
If elected, Kitchen would replace Dabakis as the only openly gay state legislator. Dabakis endorsed Kitchen earlier this month.
The winner will face off against Republican Chase Winder in November.
Utah House District 24 (Salt Lake City)—Jacquelyn Orton vs. Igor Limansky vs. Darin Mann vs. Jen Daily-Provost
This race features a number of Democratic Party candidates vying to replace retiring state Rep. Rebecca Chavez-Houck for the Salt Lake district.
Orton has worked in various political campaigns and is the widow of former U.S. Rep. Bill Orton. Mann is a political newcomer at age 29 and has campaigned to bring a youthful voice to the state Legislature. Limansky works full-time in Title I schools, and Daily-Provost received Chavez-Houck's endorsement earlier this year.
The winner here will face off against Republican Scott Rosenbush in November.
For a full list of candidates in your district, go to
vote.utah.gov
and enter your address for ballot information.