Gage Skidmore via Wikimedia Commons
On the eve of Christine Blasey Ford testifying before the Senate Judiciary Committee about a Supreme Court nominee allegedly assaulting her when they were in high school, Anita Hill warned an audience at the University of Utah's Cleone Peterson Eccles Alumni House not to discount the role power plays in our understanding of sexual harassment and abuse allegations.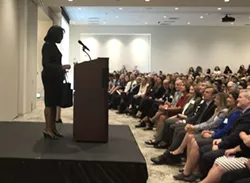 Kelan Lyons
"Access to equal justice was what was at stake in 1991, and it's what at stake now," Hill said on Wednesday.
"Think about how this nominee has the backing of the Executive and the Senate," Hill said of Judge Brett Kavanaugh and the story President Trump and Republican senators have been telling the public since the president nominated him to fill a vacancy on the nation's highest court. "Those things trigger in our mind some respectability and acceptability that someone coming in from nowhere is never going to be able to replicate … We need to become more conscious in how we value power, and people in it, and how that disadvantages anyone who challenges it."
Hill spoke for an hour on Wednesday night, reflecting on her own past and the echoes of her experience in the present. Now the chair of Hollywood's privately funded Commission on Sexual Harassment and Advancing Equality in the Workplace and a professor at Brandeis University, Hill sparked a national conversation after her 1991 testimony to the Senate Judiciary Committee alleging that then-Supreme Court nominee Clarence Thomas sexually harassed her when they worked together. "Access to equal justice was what was at stake in 1991, and it's what at stake now," Hill said.
Samuel Goldwyn Films
Hill testifies against Clarence Thomas during his 1991 confirmation hearings.
Many Republicans, including Sen. Orrin Hatch, R-Utah, have publicly questioned why the women accusing Kavanaugh of sexual assault and harassment did not come forward sooner. "And every time they ask those questions, they answer it themselves," Hill said. "Women who complain are characterized as crazy, vindictive, promiscuous and, or, prudes."
Hatch remains on the Senate Judiciary Committee, almost 30 years after Hill issued her testimony. As he did with Hill's allegations, Hatch has dismissed the charges of three women and defended Kavanaugh. Hill mentioned Hatch during her speech, referencing his suggestion that she lifted one of her stories about Thomas from The Exorcist, a novel about a young girl possessed by a demon. The crowd booed at the mention of the outgoing senator's name. "He will be gone soon, I hear," Hill said, turning the boos to cheers.
Hill's testimony did not prevent Thomas from being appointed to the Supreme Court. But she said good still came from her standing up: public consciousness was stirred, laws were passed, stories were shared, policies were put in place. And yet, another generation of women came forward in 2017 to share their stories and add to the Me Too movement. "What did we do wrong?" she asked.
Hill suggested a few theories, including a lack of clear government leadership pushing for reform, cultural pushback and institutionalized policies and practices that put forth agendas masquerading as "pro business" that ultimately placed women workers at a disadvantage. "We just didn't want to deal with the harshness … or the complexities of the problem," Hill said. "We couldn't face those hard realities, and therefore we continued to act in many ways as we had in the '60s and '70s."
Another issue is the public's assumption they'll know sexual harassment when they see it. Hill said people tend to see major harassers as "monsters" without recognizing the enormity of the problem. "We try to sort of move every harasser into that category, as opposed to thinking that the harasser might be someone who lives and works with us. It might be a neighbor, or someone who we call a friend," Hill said. "We have to acknowledge that it doesn't always come in the forms that we think."
Hill ended her lecture with suggestions on how to ensure there isn't a necessity for another Me Too movement in the future. It's critical, she said, that we get a clear assessment of the pervasiveness of sexual harassment. Also important is recognizing warning signs that could lead to sexual abuse, and instituting universal policies that would allow employees to report a complaint, an especially vital concern because of the growing sector of contract workers who are not covered by existing legal protections. "We must see this as a cultural problem and not an individual behavioral problem," Hill declared.
Thomas was confirmed to the Supreme Court just days after Hill's testimony. "For many people, they would never view the court in the same way. They would never view politics in the same way. And they would never view women's experiences in the same way," Hill said, 12 hours before Ford and Kavanaugh would testify. "We are at a moment now where we can learn."