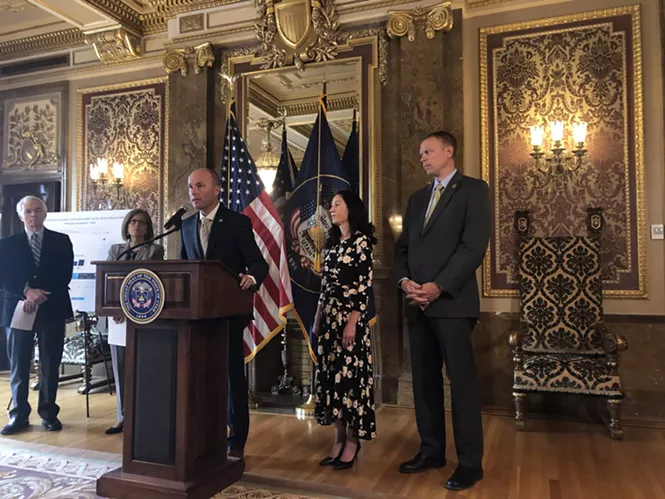 The number of deaths resulting from heroin and prescription opioid overdoses both declined in Utah last year, Lt. Gov. Spencer Cox said in a Monday morning press conference at the Capitol.
"We may, hopefully, have turned a corner here," Cox said. "We still have a long, long way to go, but at least we feel like there's hope now."
Overall, the number of opioid-related deaths in Utah decreased by almost 20 percent in 2017 compared to the previous year. The state's number of heroin-related overdose deaths declined for the first time in six years, falling by 14.5 percent from 2016. Deaths resulting from prescription opioid overdoses declined for the third year in a row, decreasing by 16 percent.
Despite the encouraging numbers, Cox stressed there still is work to be done. "We're still averaging one death per day," he said before reflecting on the state's overdose deaths in years prior. "We were averaging one death per day, and two on weekends. Making that shift is huge."
Representatives from the Utah Departments of Health, Commerce, Public Safety and Human Services also were at the news conference. Francine Giani, executive director for the Utah Department of Commerce, said her agency worked with other departments to enhance the Controlled Substance Database with tools useful to both prescribers and patients. Jess Anderson, interim manager for the Department of Public Safety, said his agency joined federal, state and local agencies to create the Drug Monitoring Initiative, which currently is working to develop an early warning capability for drug threats emerging within the state.
Anne Williamson, Utah Department of Human Services executive director, said Utahns must recognize that addiction is a chronic brain disease that can be treated with medication. She said DHS has helped 438 previously uninsured Utahns to enroll in health-insurance programs, and that the number of clients receiving medication-assisted therapy increased by 31 percent between 2017 and 2018. "Prevention works, treatment is effective, and people recover," Williamson said.
Utah Department of Health Executive Director Dr. Joseph Miner announced that his agency has received a $3.2-million grant from the Centers for Disease Control and Prevention to set up a monitoring system that will track opioid overdoses and share the data with public-health agencies throughout Utah. "This will give the local jurisdictions a more comprehensive and timely picture of how the epidemic is impacting their communities, allowing them to target interventions more efficiently and effectively," Dr. Miner said.
Cox announced he will be a chairperson of the Utah Coalition for Opioid Overdose Prevention, a collaboration of more than 60 experts in the fields of law enforcement, environmental quality, health care, public health and substance-abuse prevention and treatment. Cox also occupies a leadership position on the governor's Suicide Prevention Task Force. "There's no question these two areas are very, very closely related, so much so that we're now referring to them often as 'deaths of despair,'" Cox said, noting that Utah's suicide rate is likely higher than its numbers suggest due to officials not being sure if opioid overdose deaths were intentional. "Every single death of despair is preventable."
Cox ended his remarks with an emotional plea that Utahns recognize addiction and mental illness as diseases and afflictions, similar to broken bones or common sicknesses. "When something inside of us is broken, we feel like we can't share that," Cox said, calling for a change in the culture of secrecy that surrounds mental illness. "We have to be able to talk about these things. Only then will people be able to come out of the darkness and get the help they need, because help is available."