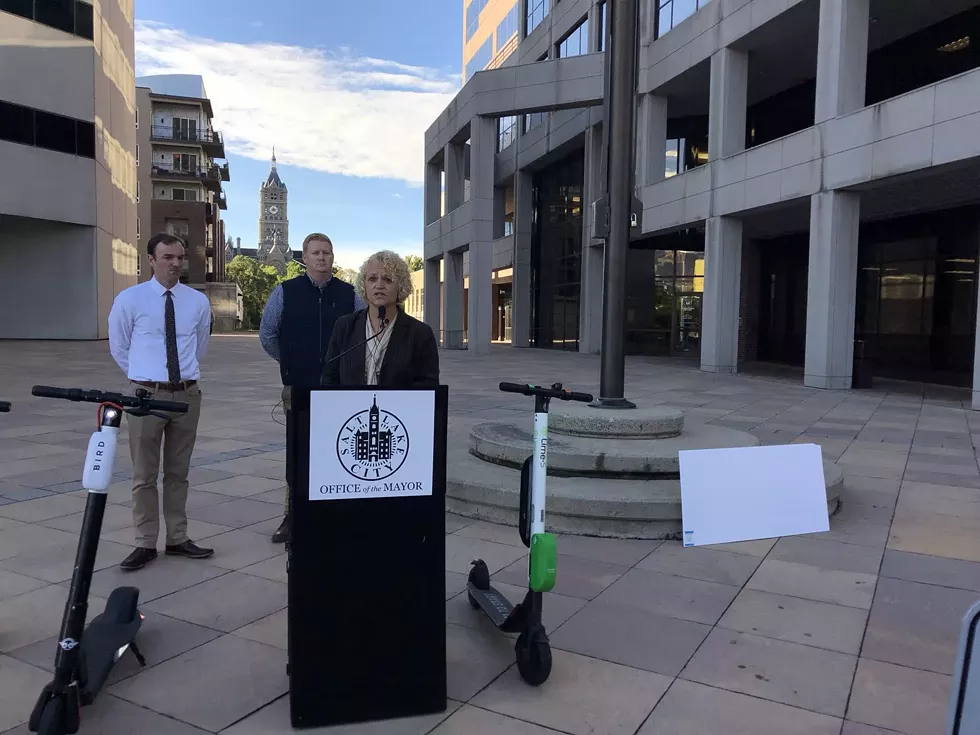 Pedestrians, rejoice! The days of dodging scooter riders as they zip along downtown sidewalks might soon be over.
"Scooters have become a new part of our city's streetscape, and as with anything new there is a need for some education to keep everyone moving safely," Salt Lake City Mayor Jackie Biskupski said at a news conference Wednesday morning.
Bird scooted its way into our hearts at the end of June, when the company unleashed a flock on local sidewalks without much warning to city officials. The company pulled them off the streets a short while later so they could iron out a deal with city leaders. Salt Lake City officials reached a temporary operating agreement in July, stipulating that any scooter company would need to place a certain number of the dockless forms of transportation on the city's west side if they want to distribute the 500 they're allowed to turn loose on Salt Lake.
Officials are currently at work on an ordinance that would solidify the placement and use of the scooters within city limits. In the meantime, residents are being asked until Oct. 31 to complete a survey that gauges how they're using the new technology. In a previous cover story, Salt Lake City Transportation Director Jon Larsen told City Weekly the the principal complaint his office received involved sidewalk-riding. "It's dangerous and unnerving," Larsen said. "There's definitely some education that needs to happen."
Kelan Lyons
Get it?
Three months later, the educating has begun. Biskupski and representatives from Bird and Lime kicked off the "Walk Your Wheels" safety campaign meant inform Salt Lake City residents and visitors that the scooters should be ridden on the street, not the sidewalk. Over the next few weeks, city workers will stencil images on sidewalks that remind bikers, skaters and scooter riders that they are to walk their wheels when they're not on the street. The city will also add images of scooters in downtown bike lanes, to leave no doubt that the street is the appropriate place to ride a Bird or Lime.
Both scooter companies brought along big, symbolic checks pledging to donate $1 per scooter per day to the city. "Bird and Lime are investing back into the city so that we can continue to build more bike lanes, creating a whole safer environment," Biskupski later told City Weekly. The mayor also said her office is in contact with other city leaders interested in bringing the scooters to their streets. "We're trying to create a strategy here, a rules of the road way to operate that other communities feel comfortable adopting as well."
Biskupski praised the alternative forms of transportation for their ability to clean the air. But she cautioned against scooter riders waging war on their fellow climate enthusiasts. "We must remember that those who choose to walk in our city are also a part of the solution, and the sidewalk needs to remain a safe and comfortable space for them," Biskupski said.
Jennifer McGrath, deputy director for the city's Department of Community and Neighborhoods, said 1,400 people have taken the online survey that gauges locals' opinions on the new ways to get around. She said sidewalk-riding remains the biggest complaint, but the responses also indicate people are replacing car trips with scooter rides, an encouraging sign for a city concerned about its air quality.
Potential environmental improvements aside, the scooters are affecting local riders' health in other ways, too. The Washington Post recently reported that the University of Utah's emergency room experienced a 161 percent increase in scooter-related visits compared to a three-month period in the previous year. Half of the 21 people who told the U's hospital they were injured from riding a scooter involved sprains, cuts, fractures and dislocations of shoulders, elbows, wrists and ankles. The Post also reported that physicians treated a few patients for head injuries, and that some people told doctors they'd ridden the scooters without a helmet while they were intoxicated.
The lack of protective headgear is another issue Bird, Lime and city officials are trying to address. Bird representatives will hand out free helmets to scooter riders at 160 East 300 South on Friday from 11 a.m. to 1 p.m. and 5 to 7 p.m., and on Saturday from 11 a.m. to 1 p.m. "We're obsessed with safety," Sam Reed, director of government relations for Bird's central region, said. "It's our top priority to support the well-being and safety of our riders, and the communities in which they ride."
Ian McRee waited in line outside a Bird tent so he could get one of the company-branded helmets. He lives and works downtown. "Sometimes after a long day I'll hop on a Bird and ride home," he said, specifying that he always rides in the bike lanes, not on the sidewalk.