J Christensen
Steve Kilbey of The Church
Local photographer J Christensen shot The Church's sold-out show at The State Room last Monday, Oct. 8, and had this to report about the 30th anniversary celebration of iconic album Starfish: "Steve Kilby's distinctive charm and passion shined through — it absolutely did not disappoint."
Looking ahead, rising star Alina Baraz performs
at The Complex
tonight, Monday, Oct. 15. Baraz effortlessly shifts between dance and R&B lanes, drawing a strong fan base from tuned-in youth (she's amassed 283 million streams) and tastemaking industry veterans alike (Baraz opened for Coldplay last year). Watch her video for "I Don't Even Know Why Though" before the show this evening, which features support from Lolo Zouaï.
On Tuesday, Oct. 16, off-kilter local band Cool Banana headlines a stacked show
at The Urban Lounge
. I still feel like I have a lot to learn about VHS Vic and Jeremy Devine's retro-influenced band, and tomorrow night offers the perfect opportunity. San Francisco's Spooky Mansions open the free show, along with fellow SLC locals Martian Cult and Umbels.
Jake Wayler
Yoke Lore
Although Adrian Galvin's Yoke Lore project presents as electronic, a genuine sense of human connection undercuts his quirky indie pop. Blending the ethereal harmonies of Animal Collective with the organic beats of M83, Yoke Lore builds banjo riffs and echoing percussion into sincere music explores how people are bound together. Catch him
at The Loading Dock
on Wednesday, Oct. 17 with Bay Ledges.
On Thursday, Oct. 18, punk rock royalty descends on
Metro Music Hall
with iconic bands Agent Orange, UK Subs and Guttermouth. Billing themselves as the original California punk/surf power trio, Agent Orange never bought in and never sold out while inspiring thousands of like-minded bands around the globe. The UK Subs formed 41 years ago, when punk rock stormed London in 1977, but frontman Charlie Harper injected the brash new genre with R&B and pub rock roots. Fun fact: The UK Subs are the only band to record an album for every letter of the alphabet, in order, reaching Z (
Ziezo
) in 2016. Finally, anarchic irreverence reigns supreme for Guttermouth, whose lead singer Mark Adkins is famous for outrageous, offensive lyrics layered over knotty math-rock riffs. Don't miss this towering trifecta.
John Leach
Agent Orange
The following night, Friday, Oct. 19,
at the very same venue
, another counterculture pioneer, Wayne Kramer, celebrates the 50th anniversary of his band MC5's iconic slab of proto-punk, 1968's
Kick Out the Jams!
Originally founded in 1964, Kramer, Rob Tyner, Fred "Sonic" Smith, Michael Davis and Dennis Thompson flamed out after eight years, but not before they perfected a
sui generis
mixture of garage rock, R&B and free jazz that served as a blueprint for punk rock's future sonic experimentalism. Kramer's had quite a life since then: a two-year stint in federal prison for selling cocaine in the '70s, struggling to get clean in the '80s in Nashville and Key West. After finally getting sober, Kramer started Jail Guitar Doors, a non-profit that provided instruments to inmates, and began composing for movies (
Talladega Nights
) and TV shows (
Eastbound and Down
). This summer, Kramer released a memoir,
Hard Stuff: Dope, Crime, The MC5, & My Life of Impossibilities
, and a few weeks later set out across North America with a supercharged MC50 lineup—Soundgarden's Kim Thayil, Fugazi's Brendan Canty, Faith No More's Billy Gould, Zen Guerrilla's Marcus Durant, and legendary record producer Don Was—to celebrate the 50th anniversary of
Kick Out the Jams
. Consider Kramer the most interesting man in rock 'n' roll and this show a must-attend.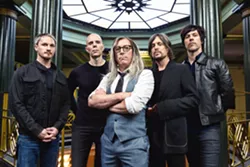 Paul Harries
A Perfect Circle
Finally, metal fans can rejoice over A Perfect Circle's Saturday, Oct. 20 stop
at Maverik Center
. Helmed by Maynard James Keenan of Tool and Billy Howerdel of Ashes Divide, this supergroup celebrates the April 2018 release of
Eat the Elephant
, its first new album since 2004. As
Los Angles Times
said, "
Eat the Elephant
is a moody, sensitive portrait of a band that decided to grow up and make a record that reflects where they are now as artists rather than trying to recapture the past." Considered a pivotal influence on generations of heavy music, Keenan and crew's work as A Perfect Circle continues to astound. Don't miss opener Tricky, who revolutionized trip hop in the 1990s.