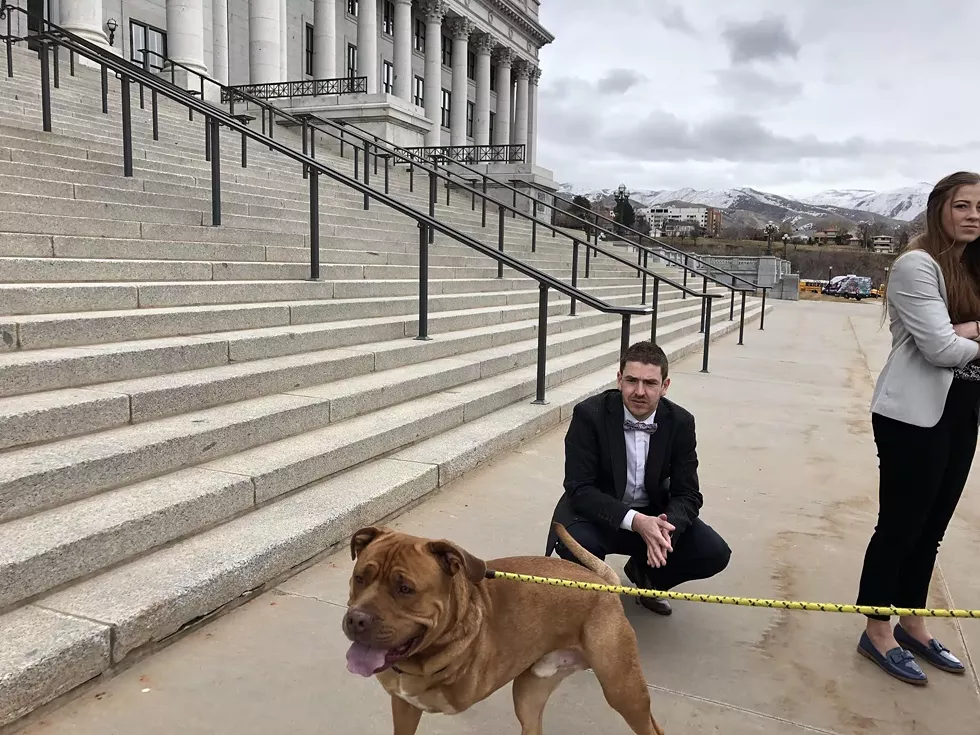 The only thing louder than the buzz of a low-flying drone on the Capitol's south steps Wednesday morning was the bark of a three-legged dog. The tripod doggo woofed as the animal control officer holding his leash laughed, not needing to force a smile for the picture he was posing for.
Local animal shelters and the Humane Society of Utah met at the Capitol to convey to legislators the importance of Senate Bill 142, a proposal sponsored by Sen. Gene Davis, D-Salt Lake City, that would clarify the definition of "shelter" for dogs left outside in extreme, life-threatening weather.
"Right now, the Utah law just says you have to provide food, liquid water and shelter. So you do, by law, have to provide shelter, but there's no definition of what that is," Deann Shepherd, the Humane Society of Utah's marketing and communications director, said. Officers, Shepherd explained, will sometimes try to cite and charge negligible people whose pets have died of hypothermia. "But when it gets to the prosecutors, they're like, 'They were in a box, is that shelter?' I don't know, there's nothing in the law that says it's not."
The bill, Shepherd added, would not create a regulatory framework, nor would it necessarily mean that animal control officers would be taking away more pets after their owners make them withstand the elements. "It's simply clarifying the term 'shelter,' so that everyone can have a consistent definition," she said.
The canines weren't the only animals on Capitol Hill. Shepherd and her furry crew also brought along a potbelly pig, rabbits and cats, so they could meet with members of the public and lawmakers, to better convey what Shepherd and her colleagues do.
"I think there's still a stigma with what an animal shelter is. They still see shelters as the pound and dog catchers as kind of these mean guys with the big net over their shoulders," Shepherd said. "And what we want to bring awareness to is these animal shelters are interested in improving animal welfare. They love animals, that's why they do what they do every day. They're here to protect you from animals at large, but we're also looking out for [their] best interests."
The imagery was appropriate. With a little more than one week remaining in the session, we've reached the dog days of the state's 63rd Legislature. Lawmakers are staying on Capitol Hill until the late evening hours, scrambling to fulfill their legislative priorities in the session's waning days. They're hoping to cut taxes, decrease air pollution and lessen the state's alarming suicide rate. Here are several of the big issues that legislators have tackled in the past few days:
Conversion Therapy
The long-awaited bill to ban state-licensed therapists from practicing conversion therapy on Utahns under the age of 18 passed out of committee on Tuesday. Well, sort of. Rep. Karianne Lisonbee, R-Clearfield, proposed a last-minute substitute that removed gender-identity protections from the original bill. Rep. Craig Hall, R-West Valley City, sponsor of the initial legislation, warned the House Judiciary Committee that the substitute would not prevent therapists from providing such counseling, which attempts to change a person's sexual orientation or gender identity, and is linked to high rates of depression and suicide.
Therapists, parents and LGBTQ Utahns spoke in favor of or against the bill during an emotional hour of public testimony before lawmakers voted on House Bill 399. "The leading experts in this country have denounced conversion therapy," Hall said before joining several of his Democratic colleagues in voting against his own proposal. He reportedly told Fox 13 that he could not support the amended legislation, but hoped it could be improved before it reaches the House floor.
If passed, Utah would join 15 other states that have banned conversion therapy. The legislation would not prohibit therapists and clinicians from using the practice on adults, nor would it regulate ecclesiastical leaders' interactions with young members of their faith. The Church of Jesus Christ of Latter-day Saints has said it would not oppose the bill's first iteration. It's not yet clear if their neutrality will change now that the bill has been substantially modified.
"What happened in the Legislature was a travesty," Equality Utah Director Troy Williams said in a statement after lawmakers approved the substitute bill. "The Committee's new substitute bill would have authorized conversion therapy, instead of protecting children from it."


Williams later resigned from his position on the state suicide prevention task force, in protest of the substitutions.
Hate Crimes
The Senate passed Senate Bill 103 earlier this week, bringing Utah one step closer to strengthening hate crimes laws. The legislation would enhance penalties for perpetrators who target people because of their race, religion, sexual orientation or gender identity, among other immutable personal characteristics. SB103's Senate approval was a momentous occasion, marking the first time such a proposal advanced in years, after similar bills either failed or didn't receive hearings in the 2016 through 2018 legislative sessions.
"When you are targeted not for what you've done but for who you are, that creates two victims," Sen. Derek Kitchen, D-Salt Lake City, the only openly gay member of the Legislature, told his colleagues before they approved the bill in a floor vote. "You, as the individual that's targeted, and also the community you represent."
The proposal has gained steam in recent months after separate high-profile attacks on Utahns because of their race or sexual orientation. Salt Lake County District Attorney Sim Gill previously told City Weekly that his office could not seek hate crime enhancements for a Florida man accused of punching another man in downtown Salt Lake City last month because he said he was gay. The hate crime law currently on the books, Gill said, is unusable for prosecutors. To meet their legal burden, attorneys must show a suspect's intent was to deny a victim's constitutionally protected right. "That's a near impossible standard for us to meet," Gill said. "The end result is it really is an injustice when it comes to hate crime in the state of Utah."
The LDS church has said it will not oppose the bill. One group that is not in favor of SB103 is the American Civil Liberties Union of Utah. In a statement, the group condemned crimes committed because of a victim's gender, disability or race, "But even as we recognize the harm done by hate crimes and the role for some government efforts to confront them, our unvarnished view of the criminal justice system cautions us against supporting lengthier prison or jail sentences to punish hate crimes."
Beer Force
Two long-time Utah Republican values have collided this session: a passion for micromanaging alcohol content and an unvarnished support of big businesses' interests. Sen. Jerry Stevenson, R-Layton, sponsored Senate Bill 132, a proposal that would increase the state's definition of beer from 3.2 to 4.8 percent alcohol by weight (up to 6 percent alcohol by volume), in response to threats from national brewers and retail chains that they'd no longer be able to sell their Utah-approved near-beers in gas stations and Walmarts. The bill passed the Senate before being slated for a hearing in the House Health and Human Services Committee on Wednesday morning.
"This bill is a commerce bill. I find it interesting it's in this committee," Stevenson said in the hearing. "We know the makeup of this committee, and I don't believe it will pass here."
He was right.
The committee approved swapping out Stevenson's bill with a substitute filed by Rep. Brad Daw, R-Orem. The proposal would create a "Beer Availability Task Force," a sort of alcoholic Justice League that, in the bill's language, will "study and make recommendations regarding the availability and distribution of beer in the state."
Fear not, dear drinkers—the task force will not be entirely comprised of non-drinking Mormons. Instead, it will be made up of two state senators and two representatives, an assortment of employees from the Department of Alcoholic Beverage Control and other mental health- and underage drinking-related state agencies, and six Legislature-approved people who represent local beer distributors, brewers, retail merchants, the alcohol addiction treatment community and a drunk driving victims advocacy group.
Asked about the amendment during the hearing, Stevenson said the proposed committee would "study this to death."
The substitution effectively kills Stevenson's bill, though the Senate could eventually amend it closer to its original language, should Daw's substitution pass the House. Dead or not, expect the conversation over
stronger beer
to continue. As Gov. Gary Herbert said at his monthly news conference, "We have to reflect the market. I think that will happen, whether it's this year or next."