Ray Howze
Moana Patterson
In a uniquely Utah moment, Valley View Elementary School students and their parents met at the Capitol on Monday to call on the Davis School District to train their teachers to recognize Catholic students on Ash Wednesday.
"The district needs to follow corporate America and ensure that teachers have diversity training," Kimberly Fadden, whose child attends Valley View, said during the news conference. "If we're going to hold [teachers] accountable, we need to offer the opportunities which they need. We can't assume that they know what they could be exposed to."
With three days remaining in the legislative session, Sen. Todd Weiler, R-Woods Cross, called the conference so a few of his constituents could stand together in support of Moana Patterson, a Valley View teacher who found herself in the public spotlight last week after she told a 9-year-old Catholic student to remove the ashes from his forehead. The boy had received the marker because it was Ash Wednesday, a holy day that kicks off Lent.
"This is something that happens when people aren't necessarily exposed to other cultures, other religions," Weiler, surrounded by schoolchildren burnishing signs that read "We love Mrs. Patterson," told the assembled reporters. "It's not always necessarily mean-spirited. This has been very educational for me."
Patterson was placed on administrative leave after handing a disinfectant wipe to the boy and instructing him to wipe his forehead. She delivered a short speech at the Capitol but did not take questions. "A student came into my classroom with what appeared to be dirt on his forehead. I gave him a Wet Wipe to clean it off," Patterson said, explaining that she was unaware the mark was an expression of his religion. She said she apologized to the student and his family after she realized her error. "It was a total misunderstanding. I hope that we can move forward and build understanding together."
Tiffany Ivins Spence, another parent whose child attends the school, said the incident has created a "climate of fear" at Valley View Elementary, hurting students' education. "If we start threatening lawsuits for any mixup that might have happened, or any misunderstanding that might have happened, then our teachers feel paralyzed," she said.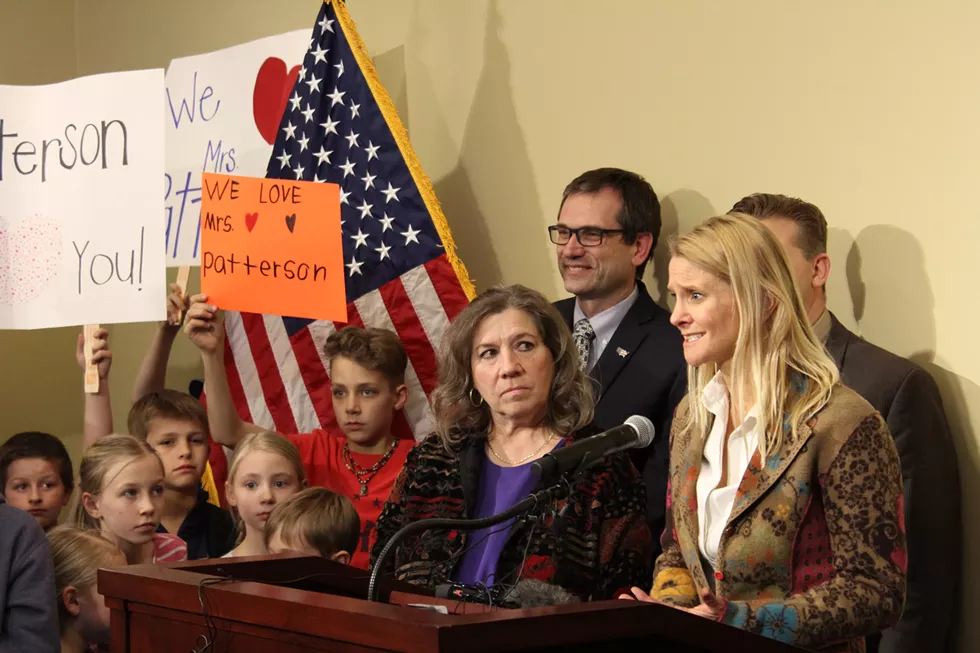 Ray Howze
Tiffany Ivins Spence speaks on the "climate of fear" created at Valley View Elementary following Ashgate.
Amid cheers of support, Fadden encouraged the district to lift its gag order that prohibits teachers from speaking publicly about last week's incident. Children, their families and the community have been speculating about what happened, Fadden said, creating an environment where inaccuracies run rampant. "It would be advantageous to all parties involved for the district to reduce the hype, and make a fair and accurate evaluation of the facts that transpired, rather than letting the media frenzy act as the judge and jury in this situation," she said. She then advocated for "a swift resolution" that would reinstate Patterson this week, "so that we don't further negatively impact the education of these children, who need to have their teacher in a classroom so they can continue to learn, and they can continue to grow under her tutelage."
The theme of holding people accountable for their intolerance continued about an hour later outside the House of Representatives. Activists held a demonstration during representatives' afternoon floor time, demanding Rep. Karianne Lisonbee, R-Clearfield, apologize for homophobic remarks she posted on Facebook several years ago. "I think it's important to put a face to this issue," Ermiya Fanaeian, an activist and student at the University of Utah, told City Weekly. "This is a human issue."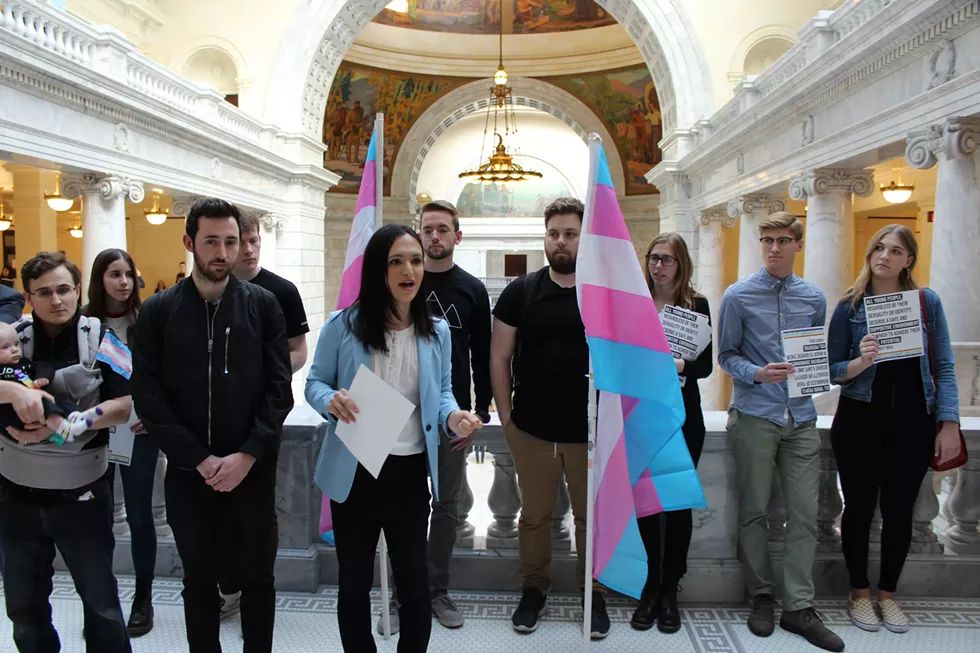 Ray Howze
"It does feel like we're being written out, especially as a transgender youth," Ermiya Fanaeian, center, said on Monday.
Until last week, lawmakers seemed poised to pass legislation that would have banned therapists from practicing conversion therapy—a treatment plan that tries to change a person's sexual orientation or gender identity—on Utahns younger than 18. The stars were aligning, as The Church of Jesus Christ of Latter-day Saints announced it would not oppose the bill, and Gov. Gary Herbert called such treatment "barbaric." But this is Utah, after all, and some Republicans got in the way of progress at the last minute.
Lisonbee, a sponsor of a substitution bill, reportedly expressed concerns the initial legislation would hinder therapists from communicating freely with their clients. Eight legislators agreed and approved Lisonbee's substitution, effectively gutting the original bill.
Chaos ensued. Young LGBTQ activists sat outside Herbert's office to demand an apology. (The guv apologized in writing.) Troy Williams, Equality Utah's executive director, resigned from the state's Youth Suicide Task Force. And AP revealed Lisonbee had made hateful, homophobic remarks on Facebook in the past, drawing a link between depression, suicidal thoughts and "the homosexual lifestyle." One of the posts also said the use of electroshock treatment to try and change a person's sexual orientation shouldn't be considered torture if that person volunteered. "I feel, with 'The Church,' that it is compassionate to recognize the inherent risks, emotional, physical and mental, to the homosexual lifestyle," Lisonbee wrote. "I also feel that therapy should be available to those who want to overcome an unwanted same-sex attraction."
Fanaeian, co-founder of March for Our Lives Utah, and about a dozen others stood outside the House chamber and talked with lawmakers as they entered and exited the floor. In addition to the apology, the group asked legislators to commit to protecting LGBTQ Utahns, and to allow for a broader coalition of LGBTQ people to be present as future bills are drafted.
"It does feel like we're being written out, especially as a transgender youth," Fanaeian, a 19-year-old trans woman, said. "When we're being excluded from such legislation, it feels like they're trying to erase us, and they're trying to ensure we don't receive such protections."