Ash Is Purest White
***1/2
Director Jia Zhangke (
Still Life
) returns to one of his favored themes—the rapid pace of change in contemporary China—with a story that at first seems to have a much more conventional genre hook. It opens in 2001, focusing on Qiao (Zhao Tao), the girlfriend of a local underworld boss named Bin (Liao Fan) in the northern city of Datong; the narrative then spans more than 15 years, including the consequences as Qiao volunteers to take the fall for a crime that sends her to prison. Jia effectively constructs a tragic romance, as Qiao tries to reunite with Bin only to find that much has changed. But much of the story's effectiveness comes from intertwining the tale of Qiao and Bin with other kinds of change: workers facing upheaval as the economy shifts; residents of the Three Gorges Dam area forced to relocate in 2006. And it's no mere dull sociological lecture, with some darkly humorous scenes focusing on Qiao's toughness and ability to survive through manipulation of horny men. Conventionally satisfying resolution might be in short supply, but there's power in capturing people in a world moving faster than they can adapt. (NR)—Scott Renshaw
Hail Satan?
***
Perhaps it's not ideal to lionize a group for what amounts to a fierce dedication to masterful trolling, but this documentary by Penny Lane conveys the principles underlying a delicate-sensibilities-prodding entity. Her subject is the Satanic Temple and its various activities challenging the assumption that American government is fundamentally Christian, including public protests of Ten Commandments monuments on government property. Lane provides some useful historical context—including the generally groundless "satanic panic" of the 1980s—while providing an enigmatic character study of the Satanic Temple's puckish leader, Lucien Greaves. There's also material involving some internal dissent within the organization, which serves to make them more normal than their provocative name would suggest, and bumps up against their stunts like performing a "conversion to gay" ritual at the gravesite of notoriously homophobic pastor Fred Phelps' mother. But mostly, it's an entertaining and engaging look at whether the principles underlying an organization—in this case, tenets upholding reason, compassion and individual liberty—are more important than whatever button-pushing name that organization might choose for itself. (R)—SR
The Hustle
[zero stars]
Rock-bottom on gender-flipped do-overs of boy-centered movies has been hit with this attempt at a redo of the absolute comic masterpiece that is 1988's
Dirty Rotten Scoundrels
. Nasty women we are nevertheless meant to cheer for may be woefully under-representened onscreen, but Anne Hathaway and Rebel Wilson are in no way adequate stand-ins for, respectively, Michael Caine and Steve Martin. Really, though, we should more fairly blame the terrible script and indifferent direction—the feature debut of British actor Chris Addison—for failing to capture
any
feminist rage in this tale of lady con artists on the French Riviera targeting horrible men. The sly feminist undercurrent of the 1988 movie has been lost in the belabored, unfunny comedy here, which denigrates women more than anything else, and never even engages the sneaky charms of the heist movie when it should be making us wonder who is fooling whom. Whoever thought the women's Mark Zuckerberg-esque Internet zilllionaire mark (Alex Sharp) would engage our sympathies was a crazy person. We definitely need more movies about women; what we do not need are men's sloppy seconds. (PG-13)—MaryAnn Johanson
Pokémon Detective Pikachu
***1/2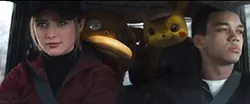 Rarely—perhaps never?—has a clear cashing-in movie turned out so charming, so genuinely sweet, downright adorable, even. A very obvious response to the enormous popularity of the Pokémon Go augmented-reality game, this kiddie
noir
posits a truly lovely world where Pokémon—friendly, cute "pocket monsters"—and humans live in companionable harmony in "Ryme City" (a fantasy alt-London). But intrigue has struck! Human Tim's (Justice Smith) cop dad has gone missing, and so he teams up with Dad's Pokémon partner, a fuzzy yellow Pikachu (the voice of Ryan Reynolds, reining way in his usual smarm), in order to find him. Their task is made somewhat easier by the strange fact that Tim and the Pikachu can understand each other, which is not usually the case with humans and Pokémon. The ensuing mystery is gentle enough for little'uns, but with enough satirical bite for imaginative grownups to appreciate, too. And it all works even if you don't know the first thing about Pokémon. As Detective Pikachu himself might say, you will feel it in your jellies. (PG)—MAJ
Poms
*1/2
When someone asks retired schoolteacher Martha (Diane Keaton) why she moved into the Sun Springs senior community, she responds, "I wanted to simplify my life." That answer makes no sense given what ultimately transpires, but then again, almost nothing anybody in this movie does is built on a character foundation sturdier than, "Maybe this will be cute." Because while Martha initially appears to be a grouchy introvert—the grouchiness being understandable, at least, since she has ovarian cancer—she suddenly decides to recruit a bunch of fellow septuagenarians (including Jacki Weaver, Rhea Perlman and Pam Grier) to form a cheerleading squad. The abrupt 180-degree-turn in Martha's character is as jarring as the shift from "lol olds" montages to the suggestion that this is all about these women proving they're still women, by God. There's simply no attempt to give most of these women actual characters to play; aside from Jacki Weaver's Sheryl, who at least has some libidinous oomph, I'm not entirely sure several of them even have names. The "underdog performance" arc is a foregone conclusion, but almost nothing that happens along the way is funny, or thoughtful, or baseline logical. (PG-13)—SR
Red Joan
**
In 2000, Joan Stanley (Judi Dench) is arrested by MI5 as a longtime KGB spy. Extended flashbacks explain why: During her work on Britain's atomic-bomb project during and after World War II, young Joan (Sophie Cookson) passed scientific secrets on to the Soviets, convinced it was the way to keep the postwar peace. Loosely based on a true story,
Red Joan
features some terrific undercutting of entrenched sexism, from the feminist-ally support young Joan gets from her A-bomb boss (Stephen Campbell Moore) to why women make great spies; "Nobody would suspect us," a coconspirator (Tereza Srbova) snarks. Savvy performances from Dench and Cookson ensure that Joan is never depicted a patsy, but as a woman always fully aware of what she is doing, someone for whom the personal, the professional, and the political are all tied up together. Yet this is a surprisingly inert film; you'd barely know that the fate of the world is at stake. This is solid filmmaking but stolid, too, afraid to give full-throated voice to the emotion and the intellect it just barely touches on, and instead lets slip coolly by. (R)—MAJ
Tolkien
**
See
feature review
. (PG-13)
Also opening this week, but not screened for press: Would-be screen starlet Louise Brooks (Haley Lu Richardson) journeys to 1920s New York with
The Chaperone
(Elizabeth McGovern); an 11-year-old girl must survive alone in the 19th century American west in
Resilience and the Last Spike
.