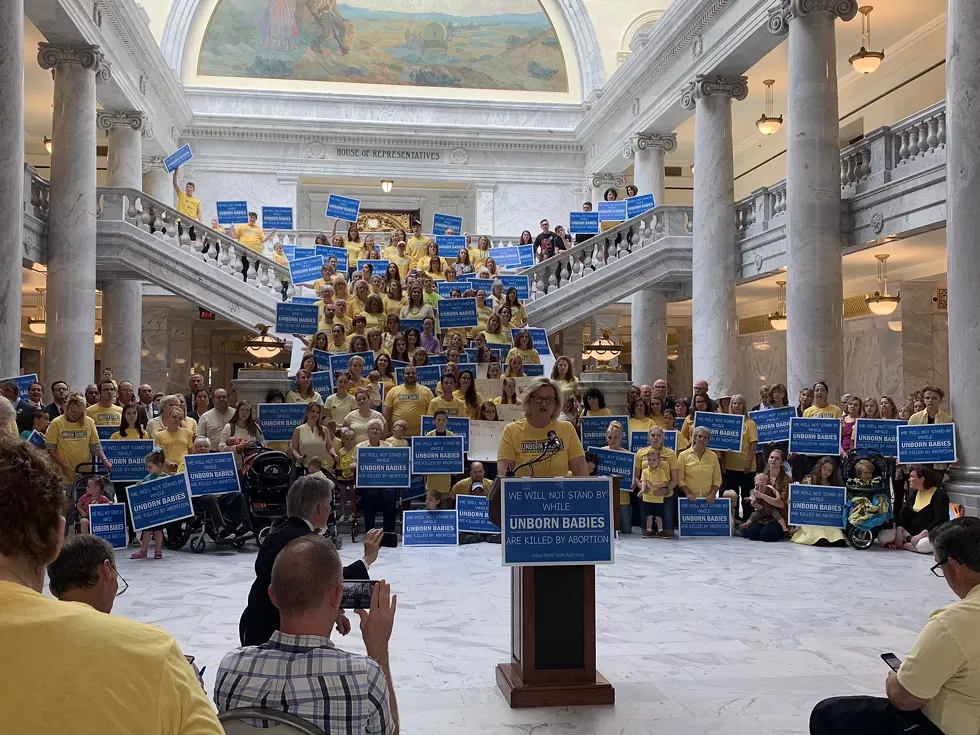 Isaiah Poritz
"We love these sweet, innocent little babies … we love their mommas … they need to know that abortion has lifelong consequences for them," Merrilee Boyack said.
Newly formed organization Abortion-Free Utah launched a campaign on Wednesday to end elective abortion in the state. The group endorsed Sen. Daniel McCay's plan to propose a bill in the 2020 legislative session that would end elective abortions and also called for the removal of Planned Parenthood Association of Utah.
McCay told City Weekly that he is still in the preliminary stages of crafting the legislation and he is unsure if the bill will include exemptions for abortion in the case of rape or incest. He noted that he is looking to add a "trigger" clause to the bill which would automatically implement the law in the case that the Supreme Court finds abortion unconstitutional.
The trigger would resolve issues around timing of the bill's implementation in the case that Roe v. Wade—the 1973 Supreme Court ruling that recognizes a woman's right to an abortion—is overturned after the 2020 legislative session. Without a trigger, the legislature would have to wait until the 2021 session to implement a ban, McCay argued.
"Life is a creation that is brought to us by a divine personage and that life should matter to everyone. We can't hide behind words like 'choices' or 'options' or 'freedom,'" McCay proclaimed to a cheering crowd of about 100 people.
The proposed bill comes after multiple states across the country passed legislation severely limiting access to aboriton. States like Georgia and Louisiana have passed "heartbeat" bills which restrict abortion after a fetal heartbeat is detect, usually six weeks after conception and often before the mother recognizes their pregnancy.
In May, Alabama Governor Kay Ivey signed one of the most restrictive abortion bills in the country which bans abortions at the moment of conception, provides no exemptions for rape or incest and imposes life-time sentences on doctors who perform abortions.
Conservative legal activists argue that these laws will facilitate the reversal of Roe v. Wade because litigation will by pro-choice groups will be appealed to the Supreme Court which holds a 5-4 conservative majority.
Chair of Abortion-Free Utah, Merrilee Boyack, outlined the organization's plans to end elective abortion through legislation, education and grassroots campaigning. She directed her criticism toward the Planned Parenthood Association of Utah, which she argues contributes to the killing of "eight babies a day" in the state.
"We love these sweet, innocent little babies … we love their mommas … they need to know that abortion has lifelong consequences for them," Boyack said. "They need to know that giving their babies life is the healthiest and best choice they can make."
Gayle Ruzicka, president of the Utah Eagle Forum, a conservative interest group, condemned the Roe ruling.
"From the day we got Roe v. Wade I determined that I would never stop fighting to overturn [the ruling], that I would do everything that I possibly could, always, to overturn," Ruzicka said.
Following the rally, Planned Parenthood Association of Utah CEO Karrie Galloway emailed a statement to City Weekly defending access to safe and legal abortion, arguing that "politicians have no place in health care decisions."


"To those who oppose abortion, we urge you to join us in making sure all Utahns have access to affordable health care, including contraception, and the information they need to stay healthy and plan their families, and to fight for pro-family economic policies," Galloway said.
Dubbing Abortion Free Utah a "radical coalition," Lauren Simpson, policy director for Alliance for a Better Utah, issued a news release calling for immediate action.
"Instead of trying to restrict access to abortion, state lawmakers should spend their time on legislation that would actually help women and families," Simpson said. "Utah needs expanded access to contraceptives, comprehensive sex education in public schools, better air quality, which will lower our high miscarriage rates, and pro-family economic policies that make it easier to have a child."