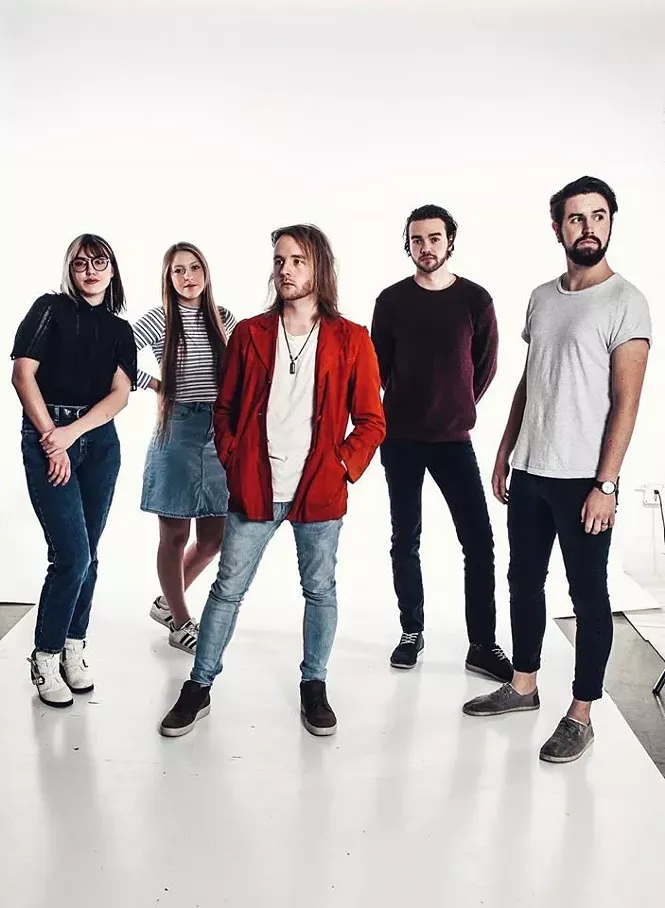 via Facebook
Lunar Spirit
Utah Music Livestream Festival @ The Rise
In these uncertain times, a lot of stuff is up in the air. We don't know how long it will be until we can all go out to bars or shows again like normal, but Orem's venue The Rise is taking this uncertainty in stride. Today kicks off their first ever
Utah Music Livestream Festival
—a creative approach to fostering musicianship that other venues and websites around the country have been taking up—which goes from noon to 10 p.m. tonight and will be repeated every day until … well, we're not sure. With over 50 confirmed acts, The Rise anticipates being able to string this out anywhere from the next five days to even the next 15. And while daily live streams are becoming popular among local and international artists alike (Katie Van Sleen of local act Baby Pink did a short sample set on Instagram Live the other day, and Ben Gibbard of aughts-indie staples Death Cab for Cutie has been doing half-hour- to hour-long sets and taking requests every day online for about a week now), most are free, which is not the case here.
But this is something to celebrate, since so many artists are now out of a way to make money, whether from loss of gigs or loss of the service jobs that many musicians have. There's a $10 minimum charge for access to the entire festival, however long it runs, but one can donate more with knowledge that 65% of the profits will go to the bands, based on the number of viewers each artist brings during their set. This means it pays to get your friends in on watching your favorite local act's set. Purchase of the ticket triggers a link to the private Facebook group where the streaming will occur.
Another way this livestream event is different is that it won't just be recorded on some dinky laptop camera and corresponding mic, but features the expertise of Warren Workman, who helps manage and produce many film festivals in Utah. Along with good audio quality, the stream will feature multiple cameras during the broadcast, making it a more interesting visual experience for those watching, and more flattering for the artists too. In between hour-long sets, the stage and equipment will be thoroughly sanitized for the next act.
Today's opening day kicks off with local act Iris at noon, and is followed throughout the day and hour by hour by fellow locals Sunny Grace, Lemon Tree, Torch Family Music, Soap, Lunar Spirit (pictured), Tuck, Alex Boyé, O/B/A and Winter Spirit. Head over to purchase your ticket and support local artists doing their best to still bring you the music you love.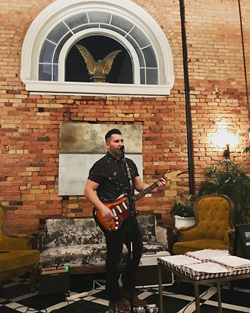 Saani Atsitty
Whisperhawk
SATURDAY 3/27
Live stream with Whisperhawk
One local artist making music happen regardless of the constraints of these strange times is Michael Gross of
Whisperhawk
. While he'd initially planned to celebrate the release of his new album,
Broken Hearts Association
, with a set at Graywhale Entertainment, that was obviously thwarted by the virus. So, he's pivoted to playing a set on his Instagram Live instead, and it will be a likely preview of what the artist has planned for the rest of the year—he's got another album slated for release later on this year in addition to this fresh one. His brand of indie rock is refreshingly clear—classic melodic approach meets clean production that's impressive,yet also unsurprisingly focused for a man who lives a colorful, varied life. He spins these tunes, including the 2018 record that preceded this,
Lark
, in his Clearfield home studio, where he has two children who somehow don't mess with his ability to record such masterful work. A member of the Northwestern Shoshone Nation, he also spends time as a tribal council member. He's also been a member of some very recognizable names in Utah's musical history, including The Brobecks and The Statuettes, and those connections are absolutely evident at certain points in his music.
As the quarantine makes time feel like it's slipping beneath our fingers, hold onto dates like this as something to look forward to. Catch his set at noon on
Instagram
.

Quarantine Playlist #1
Everyone stuck inside these days seems to be hungry for new media to consume, and that includes music. Whether you need something to blast while you deep-clean your apartment for the fifth time, music to get you out on that jog you like,
desperately
need to go on, or, in the worst case, some good tunes to distract you from the paranoia of thinking you have a sore throat, we've got you covered. Below is the first of a weekly playlist from
City Weekly
writers with their top 10 quarantine tracks with links to Bandcamp if you feel like supporting the artists giving you this entertainment.
"In the Dark" - Red Bennies
The noisiness of this local band—and one of the oldest and longest still playing in SLC—is exactly what I'm missing right now about going to shows. Crank up this song (from the 2010 album
Glass Hands
), and pretty much their entire discography, if you crave and miss the discordant sound of a live show in a small, packed venue.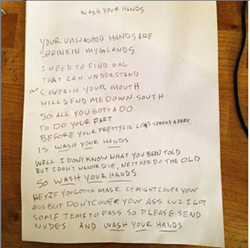 "Gimme Your Hand" - Monster Hands
The fantastic, spooky camp of this Tav Falco-and the Panther Burns-adjecent album is already fantastic, but its hand-centric-ness is particularly fitting given our current climate of obsessive hands-washing. Joey Mayes, who is at the center of the band as the one wearing the monster hands gloves (he actually does this at shows) is also maybe the most outspoken local on the issue of washing hands. Just check his Instagram, oh, and listen to this whole album for a groove and a laugh—and wash those monster hands.
"I-80" - Squirrel Flower
This fantastic and fresh album from the 23-year old Iowa- and Boston-ite Squirrel Flower (Ella Williams) is a weird one—it can't seem to decide if it wants to be classic, melodic indie a-la Land of Talk or Mitski, or if it wants to get in on the Western Americana trend a-la Phoebe Bridgers. It doesn't matter, though, because it's damn good all around. The opening track, however, is a slow-burn build about taking off and getting free, and especially hits hard as I, too, wish I could get on I-80 and just drive away from all this madness.
"Gone" - Real Estate
Sometimes you just need familiarity to fill the space while lazing in your apartment, and I've been doing that a lot lately. I recently read an article called "In the Defense of Boring Music" that references Real Estate, and they're right to. But that doesn't mean I won't turn to them again and again, even when their new music sounds just like their old stuff.
"Living Room" - Andy Shauf
I would probably die for the Canadian artist Andy Shauf and his tender little voice, his uncanny and charming storytelling abilities. His new album
Neon Skyline
is a fitting follow-up to his 2016 masterpiece,
The Party
, and features just as many stories of delight, stress and fraught feelings. "Living Room" details one family's issues of neglect, and the somber refrain "How hard is it to give a shit, to give a shit, to give a shit" on top of lilting clarinet feels especially appropriate for this moment.
"Damned to Love You" - Miserable
Recently, we've seen a lot of references to "Love In the Time of Coronavirus," which is of course a play on
Love in the Time of Cholera
. The uninterrupted infectiousness of releases like this prove that for me, at least, there is still time to feel melancholy about romance, maybe even more so since dating opportunities are moot. Miserable's Kristinia Esfandiari takes a turn from her usual shoegaze and noise tendencies for this tender and minimalist single, and the result is damn good.
"Complainer" - Choir Boy
Our own local wonder boys, Choir Boy, are gearing up to release a new album
Gathering Swans
in May, and have been dropping compelling singles like this for a minute now. "Complainer" is the first official single off the new album, and it takes a decidedly more up-beat, urgent bent than their melancholic last album, 2016's
Passive With Desire
. The song is self-admonishing, as frontman Adam Klopp sings about how "it's not that bad," in his distinct and yearning voice. And while we all self-isolate, missing friends and jobs and stability, we're all kind of complainers right now.
"All Down" - Orchin
When I first heard Orchin, I felt immediately that it was like the wacky DIY artist (Sandy) Alex G, but sexy and even more aimlessly sad. While this is not the most popular song by the artist—who released the album it's on,
Serene
, in 2019—it's the most distinct, departing from strummy-melodic style of the other songs in favor of My Bloody Valentine-esque, dreamy guitar strums and a drip-dropping synth in the back that keeps you fully locked in from start to finish.
"stupid horse" - 100 gecs
A friend of mine has this running playlist on Spotify that tracks pop songs that secretly seem to refer to ska, which anyone who doesn't listen to ska would not notice or care about. While the list is filled with unlikely tracks by Ariana Grande and Carly Rae Jepson, the standout track is the manic hit single by crazy lo-fit experimentalists 100 gecs, "stupid horse." Breakneck at the outset, it launches with a stomping beat and the alien-sounding voice of (I'm assuming) one of the members, Dylan Brady, demanding that we "pick it up!" Ludicrous and insane, this is the kind of music built to distract from anything, even a global pandemic.
"Walk Back into the Sea" - The 8eat1ful5
The 8eat1ful5 (pronounced "beatifuls") are something of a bi-product of the Twilite Lounge lounge set nights, where local artists play soft sets. At the center of this are often Josh Stippich, David Payne and Pearl Laterza. On top of just releasing a rash of albums (three in, like, the same week a couple months back), their music is the perfect cure for bar-sick blues. If you're a regular at the Twilite Lounge like I am, and miss the soothing sounds of Stippich's otherworldly theremin, Payne's meandering and soothing vocals or Laterza's smooth and low accompanying bass, then listen to one of these albums, but start with this song. This is the only song, however, not available for purchase on Bandcamp, but it is available to stream on Spotify.