Warner Bros. Pictures
Keanu Reeves and Carrie-Anne Moss in The Matrix Resurrections
American Underdog **
There's a level on which movies like <em>American Underdog</em> are some of the hardest movies to write about, because while it accomplishes exactly what it sets out to do, what it sets out to do is so … basic. Faith-based cinema stalwarts The Erwin Brothers take on the true story of Kurt Warner (Zachary Levi), who forged an improbable path from Division I-AA afterthought to Arena Football League sensation to NFL superstar. Much of the narrative focuses on his relationship with his future wife, Brenda (Anna Paquin), and their struggles as Warner waits to get his shot. But while the details of their journey certainly provide the requisite inspirational material—and the Erwins take their overt God-talk low-key—the story mostly plods along hoping that it's enough to hope that nice people eventually have nice things (like Super Bowl MVPs) happen to them. Levi's performance rarely finds a register beyond earnest determination, and the Erwins clearly have no idea how to handle their on-field footage in a way that conveys the difference between Arena League and conventional football action. Even those already familiar with the Kurt Warner story might learn a few things here, but that doesn't necessarily take this version beyond dutiful and well-meaning to actually interesting.
Available Dec. 25 in theaters.
(PG)
The King's Man **1/2
It's been weird watching director Matthew Vaughn's
Kingsman
series—adapted from
The Secret Service
comics by Mark Millar and Dave Gibbons—evolve from a laddish, gleefully-problematic paean to Roger Moore-era Bond films into something that's trying, quite awkwardly, to include a social conscience. This prequel origin story takes place in the years surrounding World War I, as British nobleman the Duke of Oxford (Ralph Fiennes) and his team of domestic-servant spies tries to stop a conspiracy to take down the world's monarchies that includes assassin Gavrilo Princip (Joel Basman), Mata Hari (Valerie Pachner) and Russian monk Rasputin (Rhys Ifans). Vaughn's historical revisionism here fits perfectly with the original Kingsman sensibility, as do some of the wilder action sequences, like Ifans' broadly vulgar Rasputin turning into a whirling dervish killing machine. But the story also abruptly decides to get deadly earnest about de-glorifying war, at around the same time that it's questioning Oxford's committed pacifism. The fun stuff in these movies has often bumped against attempts to look seriously at the ethics of extra-governmental action, and you'll just never get a complex geopolitical debate to make sense in the middle of a movie that also includes Rasputin licking a guy's leg.
Available Dec. 22 in theaters.
(R)
Licorice Pizza ***
See
feature review
.
Available Dec. 25 in theaters.
(R)
The Lost Daughter ***1/2
The alchemy of Elena Ferrante's source material, the adaptation by first-time feature director Maggie Gyllenhaal and the remarkable performance by Olivia Colman creates one of the most distinctively fascinating characters to lead a recent film. Colman plays Leda Caruso, a literature professor on a solo holiday in Greece, where her interactions with a harried mother (Dakota Johnson) also on vacation inspires reflection by Leda on her own experiences as a mother (with Leda played in flashback by Jessie Buckley). The story of Leda's past as it unfolds is treated as something of a mystery, and Gyllenhaal's overlapping and backtracking chronology feels awkward only occasionally. Mostly, it's used in service of exploring the Leda of the present, brought to life by Colman with a prickly particularity that absolutely refuses to make her "sympathetic" in any conventional sense of the word. Every choice she makes with her eyes and her body language feel connected to the person we see who is by turns flirty, demanding, petty and haunted. The narrative does a terrific job of exploring the reality of motherhood as experienced by those who see it as a burden as much as a blessing, but wrestling with the consequences of that psychology only emerges from the theoretical because Colman is so phenomenal at presenting both the mother that Leda actually was, and the mother she often wishes she could have been.
Available Dec. 24 at Broadway Centre Cinemas; Dec. 21 via Netflix.
(R)
The Matrix Resurrections **1/2
Where is the line between self-awareness and a flop-sweaty attempt at self-justification, and how far over that line does Lana Wachowski jump in this fourth
Matrix
installment? The premise—just the bare bones, no chance of spoilers—casts Keanu Reeves as real-world game designer Thomas Anderson, creator of the successful and influential The Matrix game trilogy. As his employer begins development of a fourth chapter, Anderson begins to encounter indications that the universe he imagined might actually exist. Or maybe he's having a psychotic break? The mystery holds some interest for a while, until the answers require a whole lot of the philosophical exposition-dumping that fans of the series will recognize, for better or worse. But for a surprisingly long time,
The Matrix Resurrections
seems like it's going to be entirely about making fun of the existence of
The Matrix Resurrections
, all while trotting out "greatest hits" clips from the previous films. And while the climactic action sequence is great over-the-top fun, nearly all of the fighting and gunplay leading up to it feels not remotely up to the original trilogy's standards. Reeves proves game enough at what he's asked to do, Carrie-Anne Moss's Trinity remains a bottomless well of badassery, and some of Wachowski's musings on the "reality" people build for themselves feels depressingly timely. Otherwise, every joke about the difficulty of living up to a legend proves too accurate to be self-deprecatingly amusing.
Available Dec. 22 in theaters and via HBO Max.
(R)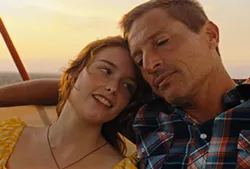 A24 Pictures
Suzanna Son and Simon Rex in Red Rocket
Red Rocket **1/2
Sean Baker (
Tangerine
,
The Florida Project
) and writing partner Chris Bergoch clearly love stories about characters on the margins of society; this is the first time they've focused so much on someone who perhaps
should
be marginalized. Simon Rex stars as Mikey, a down-on-his-luck adult film star who returns with his tail between his legs to his Texas Gulf Coast hometown, hoping to crash with his estranged wife, Lexi (Bree Elrod) while he figures out his next plan—which might include trying to entice a local high-school girl (Suzanna Son) into the porn business. Not surprisingly given his previous work, Baker and his digital video provide a vivid sense of place, emphasizing the local oil refineries and the weathered faces of his supporting cast, while Rex effectively captures the non-stop patter of a guy who's always on the make. But unlike other self-deluding hustlers used to anchor movie stories, like Adam Sandler's
Uncut Gems
character, there's nothing particularly interesting or tragic about Mikey; he's simply an asshole, using his need to separate himself from his small-town roots as justification for sleazing on a 17-year-old and taking advantage of wounded, recovering-addict Lexi. Placing the story in the summer of 2016—with background news coverage of the presidential race—might emphasize that toxic con-artists with sexually-predatory behavior and an ability to weasel out of responsibility aren't particularly good role models, but also that spending two hours with one is a lot to ask.
Available Dec. 25 at Broadway Centre Cinemas.
(NR)
Sing 2 **
Garth Jennings' sequel to his 2016 animated musical is no more or less entertaining, and no more or less necessary, than its predecessor. It simply
is
, repeating the same quest for self-respect that every one of the main characters faced the first time around. Animal-world theater impresario Buster Moon (Matthew McConaughey) wants to take his act to the big-time, so his friends take it on the road to Redshore City—a kind of hybrid of Vegas and Zootopia—where they plan an extravaganza that they hope will include the emergence of reclusive music legend Clay Calloway (Bono, affecting a rasp that makes it sound like he's doing an impression of Ted Lasso's Roy Kent). The other main voice cast (Scarlett Johansson, Taron Edgerton, Nick Kroll, Reese Witherspoon et. al.) returns as well, along with a formula that includes enough needle-drops by Billie Eilish, Coldplay, Prince and more to employ a squadron of music supervisors. The production is colorful and lively, with plenty of bouncy energy to accompany all the tunes, but the absence of any new character arcs makes it clear how shapeless most of these characters are, and how desperate it looks to give the big emotional payoff to the new Bono-played character discovering how important his music is to everyone (and they're all actual U2 songs). Put on the original Sing for the kids instead, and even once they actually watch the sequel, they'll never know the difference.
Available Dec. 22 in theaters.
(PG)
The Tender Bar **1/2
Memoir already faces the tricky issue of making it clear that the writer's own life is worth writing about; director George Clooney and screenwriter William Monahan's adaptation of J.R. Moehringer's memoir feels like an even more desperate attempt at self-justification. It begins with 11-year-old J.R. (Daniel Ranieri) and his single mother (Lily Rabe) forced to move back in with J.R.'s grandfather (Christopher Lloyd) on Long Island circa 1973, eventually transitioning to college-age J.R. (Tye Sheridan) and his experiences trying to find his way in life. The first 45 minutes have a loose,
Wonder Years
-esque vibe, complete with narration by adult J.R. (Ron Livingston), and a fairly satisfying focus on the surrogate-dad relationship between J.R. and his Uncle Charlie (Ben Affleck). But the episodic structure is far less successful with the older J.R. and his flailing about at both career and romance, all pointedly connected with his absentee-father issues. Most distracting of all are the frequent nudging references to aspiring-writer J.R. hearing that "memoir is where publishing is headed," even to the point where someone notes that he must confront his father to have a big climactic moment (which he then does). A few solid character moments can't pull everything together when it feels like the entire point of this story is wishing itself into being.
Available Dec. 22 at Broadway Centre Cinemas; Jan. 7 via Amazon Prime.
(R)
Try Harder! ***
It may be the very definition of a "first-world problem," but the high expectations of getting into a top-tier university still fuels some fascinating character study in Debbie Lum's documentary following seniors at San Francisco's elite, majority Asian-American Lowell High School as they go through the nerve-wracking process of applying for college. The culture of the school itself makes for a great backdrop, conveying the pressure felt by the students to stand out even when they're surrounded by all the people who will be competing with them for slots at Stanford, Harvard and the like. But the strongest material comes from watching the way different parent-child dynamics affect the process, with some of the pressure self-imposed and some of it clearly the result of super-intense parents. It's almost disorienting when serious problems periodically emerge, like a teacher facing a health crisis and a student potentially being homeless, putting into stark perspective how Ivy League admission might be low on the list of life crises. Lum tiptoes a bit around the subject of high-achieving Asian-American students potentially facing a unique kind of discrimination, yet that notion still raises the stakes for kids who believe that everything depends on a "yes" or "no" they receive when they're 17.
Available Dec. 24 via SLFSatHome.org.
(NR)