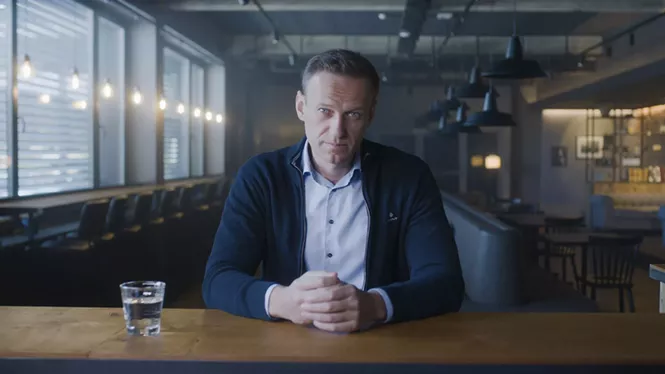 The 2022 Sundance Film Festival began winding down Friday with the announcement of winners in juried and audience-vote categories. The wide-ranging list included only two multiple-award winners: the documentary
Navalny
(pictured), which won both the U.S. Documentary Audience Award and the overall Festival Favorite Audience Award; and
Framing Agnes
, which took the NEXT category's Innovator Award and Audience Award. The U.S. Dramatic Competition Grand Jury Prize went to
Nanny
, while the U.S. Documentary Competition Grand Jury Prize was won by
The Exiles
.
The full list of winners follows. Special virtual screenings of award-winners will take place Saturday, Jan. 29 and Sunday, Jan. 30, with tickets available now for individual screenings and a Festival Winners Package of eight films at
festival.sundance.org
. Our reviews of festival films are also still available on the Buzz Blog.
Festival Favorite Audience Award:
Navalny
U.S. Dramatic Grand Jury Prize:
Nanny
U.S. Dramatic Audience Award:
Cha Cha Real Smooth
U.S. Dramatic Directing Award:
Jamie Dack,
Palm Trees and Power Lines
U.S. Dramatic Waldo Salt Screenwriting Award:
K.D. Dávila,
Emergency
U.S. Dramatic Special Jury Prize, Ensemble Cast:
892
U.S. Dramatic Special Jury Prize, Uncompromising Artistic Vision:
Bradley Rust Gray,
blood
U.S. Documentary Grand Jury Prize:
The Exiles
U.S. Documentary Audience Award:
Navalny
U.S. Documentary Directing Award:
Reid Davenport,
I Didn't See You There
U.S. Documentary Editing Award:
Erin Casper & Jocelyne Chaput,
Fire of Love
U.S. Documentary Special Jury Prize, Creative Vision:
Descendant
U.S. Documentary Special Jury Prize, Impact for Change:
Aftershock
World Cinema Documentary Grand Jury Prize:
All That Breathes
World Cinema Documentary Audience Award:
The Territory
World Cinema Documentary Directing Award:
Simon Lereng Wilmont,
A House Made of Splinters
World Cinema Documentary Special Jury Prize, Verité Filmmaking:
Midwives
World Cinema Documentary Special Jury Award, Documentary Craft:
The Territory
World Cinema Dramatic Grand Jury Prize:
Utama

World Cinema Dramatic Audience Award:
Girl Picture
World Cinema Dramatic Competition Directing Award:
Maryna Er Gorbach,
Klondike
World Cinema Dramatic Special Jury Award, Acting:
Teresa Sánchez,
Dos Estaciones
World Cinema Dramatic Special Jury Award for Innovative Spirit:
Leonor Will Never Die
NEXT Audience Award:
Framing Agnes
NEXT Innovator Award:
Framing Agnes
Short Film Grand Jury Prize:
The Headhunter's Daughter
Short Film Jury Award, U.S. Fiction:
If I Go Will They Miss Me
Short Film Jury Award, International Fiction:
Warsha
Short Film Jury Award, Nonfiction:
Displaced
Short Film Jury Award, Animation:
Night Bus
Short Film Special Jury Award, Ensemble Cast:
A Wild Patience Has Taken Me Here
Short Film Special Jury Award, Screenwriting:
Sara Driver Lewie Kloster & Noah Kloster,
Stranger Than Rotterdam with Sara Driver
Alfred P. Sloan Award for Outstanding Film Focusing on Science or Technology:
Kogonada,
After Yang