AppleTV+
Will Ferrell and Ryan Reynolds in Spirited
Aftersun ***
There's a difference between understanding intellectually what a narrative is trying to deliver, and feeling the thing that it's trying to deliver—and writer/director Charlotte Wells' debut feature, for this viewer, remains just shy of the latter. The veil of memory is clear from the outset as we follow Scottish dad Callum (Paul Mescal) and his 11-year-old daughter Sophie (Frankie Corio) on a summer vacation together in Turkey, likely in some unspecified late-1990s/early 2000s year. There's an inevitably episodic quality to the story, steeped in coming-of-age material as Sophie finds herself fascinated with the tribal rites of the teenagers staying at the same resort, and Corio provides a terrifically natural presence at the center of things. It's also clear that Wells wants to frame this story as something reflected on from a distance, as we see glimpses of an adult Sophie (Celia Rowlson-Hall) and hints at the possibility that this was the last sustained time Sophie and Callum ever spent together. While it's fine that Wells remains coy about whatever specific fate subsequently befell Callum, and captures an adult's inevitable feeling of guilt about adolescent self-absorption not allowing full appreciation of that pivotal time, <em>Aftersun</em> itself is generally more interesting when focused on Sophie's explorations than when focusing on her relationship with her father. This compelling exercise in juxtaposing memory with documentary evidence ironically makes a case for its protagonist centering herself in her own story.
Available Nov. 11 at Broadway Centre Cinemas.
(R)
Bar Fight! **1/2
It's not every day that an 84-minute movie feels padded, but writer/director Jim Mahoney's romantic comedy feels like a half-hour central idea stapled to the pilot for a sitcom. After five years as a couple, Nina (Brooklyn Nine-Nine's Melissa Fumero) and Allen (Luka Jones) agree to an amicable separation, but that good feeling dissolves when they both want "custody" of their favorite SoCal neighborhood watering hole, and agree to participate in a series of challenges to decide who gets to keep hanging out there. There's some decent humor built into the competition, also featuring Nina and Allen's wing-friends (Rachel Bloom and Julian Gant, respectively), all inevitably leading towards the hashing out of stuff they never really confronted while breaking up. But that story keeps cutting away to various subplots involving the bar employees: ineffectual owner Dick (Vik Sahay); perky new barmaid Autumn (Hope Lauren); genial bartender Mason (Daniel Dorr), etc. And while it makes sense in theory to provide a context for why the friendly faces there make it hard for either Nina or Allen to say goodbye, it also feels like the stuff of a
Cheers
reboot rather than anything organically connected to the main narrative. Sometimes you want to go where everybody knows what kind of movie they're actually making.
Available Nov. 11 in theaters.
(R)
Black Panther: Wakanda Forever **1/2
See
feature review
.
Available Nov. 11 in theaters.
(PG-13)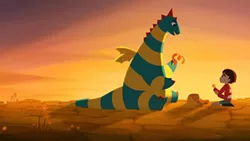 Netflix
My Father's Dragon
My Father's Dragon ***
The folks at Irish animation studio Cartoon Saloon have consistently turned out 2D fables with a perfect mix of distinctive visual style and storytelling savvy; here's another solid hit to continue their impressive batting average. Narrated in flashback (by Mary Kay Place), it opens in a vaguely Depression-era small town, where young Elmer (Jacob Tremblay) and his single mother (Golshifteh Farahani) are forced to move to gloomy Nevergreen City after their family market fails. Crushed by the apparent failure of his mom to come through on her promises, Elmer flees to the coastline, where he begins a magical adventure that takes him to distant Wild Island, and a captive dragon named Boris (Gaten Matarazzo). There's a bit of a <em>Where the Wild Things Are</em> vibe to a story that feels like it might be taking place mostly in our protagonist's imagination, with a variety of creatures—including a happy-go-lucky whale (Judy Greer), a stern ape (Ian McShane) and a kindly mama rhino (Dianne Wiest)—brought to energetic life by director Nora Twomey's animation team. The chemistry between Tremblay's Elmer and his anxious, kinda goofy dragon pal provides a nice emotional foundation, but the story gets stronger the clearer it becomes that it's about the very grown-up notion of making peace with the reality that you'll never have all the answers, and are often just figuring things out as you go. That's a great, unique idea for a coming-of-age story, and getting it in this unique non-CGI package makes it all the more satisfying.
Available Nov. 11 via Netflix.
(PG)
Spirited **1/2
Call me old-fashioned, but if you're going to serve me up a musical, I'd prefer one that didn't seem quite so self-loathing about the fact that it's a musical. This latest variation on Dickens'
A Christmas Carol
takes us behind the scenes at the ghostly realm responsible for an annual holiday haunting of a terrible person in need of a cosmic wake-up call. The current Ghost of Christmas Present (Will Ferrell) selects media strategist Clint Briggs (Ryan Reynolds) as the latest "perp," but finds the assignment complicated by Clint's intransigence and his own possible desire for a return to human life. Director Sean Anders oversees a lively production, built around giving the musical numbers by
The Greatest Showman
/
La La Land
songwriters Benj Pasek and Justin Paul to a cast not known for their singing chops (including Octavia Spencer as Briggs' second-in-command). There's some genuinely entertaining material in those production numbers, which makes it all the more frustrating that Anders and co-writer John Morris can't stop having characters comment on or complain about the fact that people keep breaking into song. And that's part of a general attitude of snarky references—yes, there's a gag based around mocking Buddy the Elf—that doesn't quite connect with the moments when the story tries to get genuinely emotional. Not every musical needs to be profoundly earnest, but it should at least feel like the genre wasn't unwillingly forced upon it.
Available Nov. 11 in theaters; Nov. 18 via AppleTV+.
(PG-13)