Sony Pictures Classics
Bill Nighy in Living
Infinity Pool ***1/2
Brandon Cronenberg keeps leveling up as a filmmaker, to the point where it feels ridiculous to keep identifying his parentage. And it seems even more of a disservice considering the extent to which his latest feature revolves around a self-loathing tied up with privilege. It opens on a fictional resort island called Li Tolqa, where never-was novelist James Foster (Alexander Skarsgård) and his wealthy wife Em (Cleopatra Coleman) are vacationing. There they meet and befriend another couple, Gabi (Mia Goth) and Alban (Jalil Lespert), but a day trip outside their resort compound turns into a fatal accident that embroils them all in Li Tolqa's … unique legal system. To say much more would be cheating, except that you should expect the same brand of graphic body horror Cronenberg fils has made his own in previous efforts like Possessor, and that Mia Goth is turning into one of the most fearless actors in cinema. But it's also true that tangled up in the viscera, body fluids and graphic orgies is a fairly ruthless satire of the extent to which people in the developed world see the rest of creation as a place to fulfill all of their desires, and where money can always grease the wheels of avoiding consequences. "Anti-colonial" feels almost too reductive for what
Inifinity Pool
is up to, as it goes gleefully berserk in exploring a particular kind of dehumanization, without ever once underlining what the title of the film suggests about people who feel that their playground is without limits.
Available Jan. 27 in theaters.
(NC-17)
Living ***1/2
Kazuo Ishiguro might have been the perfect choice to adapt Akira Kurosawa's masterpiece
Ikiru
—not just because of his toehold in both Japanese and British cultures, but because this feels like a spiritual sibling to Ishiguro's
The Remains of the Day
as a profile of the emotionally crippling consequences of following the path of least societal resistance. This version is set in 1953 London, where long-widowed civil servant Rodney Williams (Bill Nighy) receives a terminal cancer diagnosis, and sets about trying to make sense of how to live his final months. Right from the opening credits, director Oliver Hermanus crafts a lush production indebted to the cinema of the time in which its set, including Sandy Powell's wonderful costumes and sweeping music by Emilie Levienaise-Farrouch. And he's masterful at small touches, like a shot focused on Williams' feet that shows him pushing off from his toes in a kind of leap into a new way of approaching his job. Nighy's performance is tremendous, but he has superb raw material to work with in the situations Ishiguro creates for Williams: a getaway to a beachfront vacation town; a growing friendship with one of his former employees (Aimee Lou Wood); the rituals of social deference that shape his existence. The third act falters a bit as the focus turns to one of Williams' newest co-workers (Alex Sharp) and what the young man might learn about not falling into the same trap as Williams' own life. While that might make this a lesser film than
Ikiru
,
Living
proves touching, lovely and life-affirming in its own particular way.
Available Jan. 27 in theaters.
(PG-13)
Maybe I Do **
Longtime readers will know that I hold it as a cherished principle that you should grant a movie its premise—but I'm willing to make an exception when it feels like such a forced way to say what this one is trying to say thematically. It opens with paired couples in three distinct settings: Grace (Diane Keaton) and Sam (William H. Macy) meeting in a movie theater and spending a long night together; Howard (Richard Gere) and Monica (Susan Sarandon) sharing a hotel room as part of an extra-marital fling that appears on the verge of ending; and romantic partners Michelle (Emma Roberts) and Allen (Luke Bracey) butting heads over whether marriage is the next step for them. It shouldn't be considered a spoiler to note that these stories eventually intertwine, as writer/director Michael Jacobs—adapting his own stage play—explores the factors that challenge marriages over time, and why folks remain so optimistic to keep trying it. But the earnest romanticism and pragmatic lessons about what to expect after the "happily ever after" feels weirdly at odds with the farcical elements that dominate the second act, as we wait for a bunch of wild revelations to untangle themselves. And while Jacobs has a solid visual sense that isn't all about shooting scenes the way they'd appear on a stage, the editing breaks up scenes between characters in a way that blunts the momentum of the character interactions and the performances by the loaded cast. Like a relationship, a script is best when you don't overcomplicate things.
Available Jan. 27 in theaters.
(PG-13)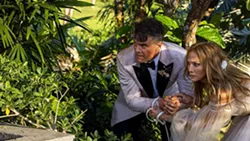 Amazon Prime Video
Josh Duhamel and Jennifer Lopez in Shotgun Wedding
Shotgun Wedding **1/2
When it comes to romantic action-comedy—like last year's
The Lost City
, or a classic like
Romancing the Stone
—casting is almost
literally
the only thing that matters; either the chemistry and the individual talents of the stars work for the premise, or they don't. And this one just can't shake the feeling that the exact same movie would be a lot more fun with different actors in the leads. Those leads, as it stands, are Jennifer Lopez and Josh Duhamel as Darcy and Tom, whose destination wedding in the Philippines is about to go kablooie after a major fight between the prospective newlyweds—shortly before it goes more truly kablooie with the arrival of pirates out to blackmail Darcy's wealthy father (Cheech Marin). As "comedy of re-pre-marriage" concepts go, this one is solid enough, with a couple of promising set pieces like all the wedding guests deciding what facts will "humanize" them with their captors. But while director Jason Moore (
Pitch Perfect
) keeps the pace clicking along, Lopez and Duhamel never quite click, either with one another or with what the story asks of them; Lopez in particular, though she has many gifts, is not a sparkling physical comedian. Nor are they given enough support, between odd casting choices like Lenny Kravitz as Darcy's jealousy-inspiring ex, and completely wasting the presence of D'Arcy Carden. Nearly everything about
Shotgun Wedding
is, you know, fine, except for the sense of missed opportunity.
Available Jan. 27 via Amazon Prime Video.
(R)
You People **1/2

Full disclosure: My tolerance for "cringe comedy" is not extensive, and a little bit of a premise built on people doing the most awkward possible thing at the worst possible time goes a long way. Within those confines, this feature from co-writer/director Kenya Barris (black-ish) and co-writer Jonah Hill loses steam before it loses its edge. In Southern California, Ezra (Hill) and Amira (Lauren London) fall in love, and spend several blissful months together—until they meet their respective parents, and the culture-clash between their respectively Jewish (Julia Louis-Dreyfus and David Duchovny) and Black Muslim (Eddie Murphy and Nia Long) families becomes all too evident. For a while, there's a vibe very similar to a Judd Apatow feature, with loosey-goosey scenes and improvised-feeling gags that are generally entertaining, punctuated by Barris's direction that fetishizes footwear almost as much as Quentin Tarantino fetishizes feet. It's also a movie that wants to say something about the bigger societal tensions that could hinder a relationship like this, and as good as Louis-Dreyfus (as the fetishizing guilty white liberal) and Murphy (as the parent knowing what buttons he can push to unsettle Ezra) are, their scenes hit roughly the same note multiple times over, not funny enough to smooth out the deliberate awkwardness. By the time it builds towards a "why can't we all just get along" climax that feels out of touch with the acidic sensibility previously on display, it mostly matters whether you're someone more eager to roll with the cringe.
Available Jan. 27 via Netflix.
(R)