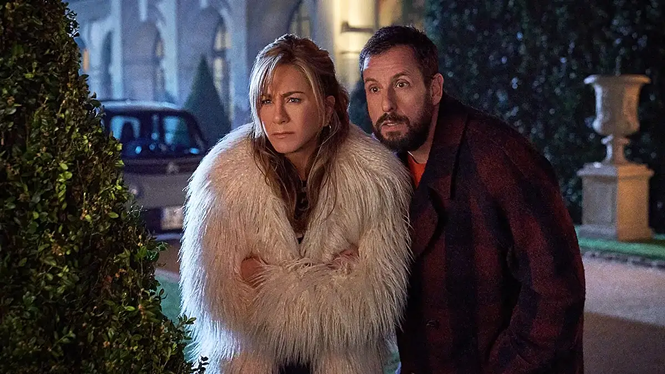 Netflix
Jennifer Aniston and Adam Sandler in Murder Mystery 2
Dungeons & Dragons: Honor Among Thieves ***
See
feature review
.
Available March 31 in theaters.
(PG-13)

Enys Men ***1/2
Because we can't seem to let movies exist without having to attach a genre to them, writer/director Mark Jenkin's
Enys Men
has been described in a lot of write-ups as "folk horror"—but I think it's more fair to Jenkin's distinctive vision not to worry about such matters. To the extent that there's a plot, it involves an unnamed woman (Mary Woodvine) on an uninhabited island off the coast of Cornwall circa April 1973, apparently conducting very basic research on a unique flower that grows there. From there … well, let's just say that things happen. Some of those things are unsettling, set to music stings that suggest a kind of supernatural force at work. Some of those things are intriguing, particularly as we get the sense that past, present and future are overlapping in this place; a radio describes a seafaring tragedy that takes place several days after the date our protagonist enters in her journal, and a boat exists concurrently with its wreckage. Yet
Enys Men
doesn't feel like it exists as a puzzle to be solved, even as Jenkin emphasizes a recurring motif of groups of seven, or a collision between Christian and pagan worlds. Presenting his visuals with a grainy, occasionally overexposed look that feels
of
1973 as much as
in
1973, the filmmaker creates something that casts a spell in the moment, perfectly content to be
sui generis
.
Available March 31 at Broadway Centre Cinemas.
(NR)
Murder Mystery 2 ***

The Netflix phase of Adam Sandler's career was already starting to feel like a Vegas residency—find a comfortable home base, and keep playing the same hits over and over—so the prospect of an actual sequel wasn't promising. But he's found something that clicks in his on-screen partnership with Jennifer Aniston, and this follow-up to their 2019 pairing delivers a surprising punch of fun. Once again they play Nick and Audrey, whose attempt at being full-time professional detectives is floundering when they're invited by their old friend, billionaire "Maharajah" Vikram (Adeel Akhtar), to his destination wedding—only to get caught up in Vikram's kidnapping. As was true of the original, the whodunnit component isn't particularly interesting, despite the constant fake-outs and false leads, nor is there any juice to the notion that our protagonists face the same relationship crisis as the first time around. It's really just a tightly-packed action comedy that gets in and out in 80 minutes before the credits roll, including a particularly effective centerpiece sequence involving armed thugs and a runaway van through Paris. Mostly, it just provides breezy entertainment thanks to a script that allows Sandler and Aniston to bicker humorously through their various narrow escapes. If this is the kind of material Sandler wants to settle into, he could have done a lot worse.
Available March 31 via Netflix.
(PG-13)
Rye Lane ***
The stuff that works in this bouncy, energetic romantic comedy work so well that it's a bummer to see it fall short of greatness by virtue of trying too hard. From a meet-cute that involves adjoining stalls in a unisex bathroom, we meet Dom (David Jonsson) and Yas (Vivian Oparah), Londoners both recently broken up with significant others, who wind up spending one memorable day together wandering through the city and getting into a little mischief. The bones of Before Sunrise are evident in the set-up, but unlike Richard Linklater's earnest classic, this one gets a little wackier in finding odd situations for our protagonists, like a forced karaoke duet to Salt-n-Pepa's "Shoop." And Rye Lane really only stumbles when director Raine Allen Miller seems too determined to push his aggressive visual style with plenty of extreme close-ups and fisheye lenses, and not being content to wink at other rom-com stalwarts like naming a burrito shop "Love Guac'tually," but needing to have a specific actor be the guy at the window. Fortunately, there are plenty of solid gags throughout, terrific chemistry between Jonsson and Oparah (the latter of whom takes a nicely meta approach to the "manic pixie dream girl" trope) and a production that's full of bold colors and fun touches like an art exhibition where the automatic doors part a pair of butt cheeks. Sometimes it's okay just to let an audience experience the unfolding of a story rather than feeling the need to shove them into it.
Available March 31 via Hulu.
(R)
Tetris **1/2
How much suspense can a filmmaker wring out of a premise that seems to consist, for about a third of its running time, of people walking back and forth between rooms to negotiate intellectual-property contracts? Only so much, as it turns out. The real-life story behind Tetris certainly is crazy enough to warrant the story being told: How Henk Rogers (Taron Egerton), a Tokyo-based video-game distributor, came upon the geometric-block puzzle game created by Soviet computer scientist Alexey Pajitnov (Nikita Efremov), and unexpectedly found himself immersed in a high-stakes battle over the rights to the addictive game. The sheer improbability of the scenario—also involving British media mogul Robert Maxwell (Robert Allam, all but purring with corporate villainy behind his fat-suit prosthetics), Nintendo executives and corrupt Soviet bureaucrats—keeps it moving along for a while, with Egerton capturing the not-entirely-healthy determination of Rogers to keep pursuing a deal even in the face of death threats. But even with a playful approach that includes an 8-bit-style synthesizer score, the film starts to get bogged down in the minutiae of who owns what kind of rights in what territories, not to mention the clichés involved in the "workaholic businessman who starts neglecting his family." There's apparently a graphic-novel version of this story, and I might very well read the hell out of it; as a movie, it's not the kind of thing that will keep playing in your head when it's no longer in front of your eyes.
Available March 31 via Apple TV+.
(R)
A Thousand and One ***
It took an embarrassingly long time for the significance of the title of writer/director A.V. Rockwell's feature to become clear, but once it did, it snapped into focus everything the story was trying to say about its particular time and place. It opens in mid-1990s New York, where ex-convict Inez (Teyana Taylor) emerges from prison determined to be reunited with her 6-year-old son Terry (Aaron Kingsley Adetola), who has been remanded to foster care. When she abducts him away from a hospital bed, Inez and Terry begin a new life together, ultimately including Inez's old boyfriend Lucky (William Catlett). The narrative ultimately spans more than a decade, with Rockwell including audio cues emphasizing the Giuliani/Bloomberg era of emphasis on "quality of life" policies that promoted gentrification at the expense of communities of color. And that context proves crucial, as the story emphasizes the power of Inez choosing to build a home in their apartment—the dash is missing from their unit number "10-01," hence the title—when it's viewed by others simply as a piece of real estate to be renovated. The characters are a bit thinly sketched beyond Taylor's impressive single-minded ferocity as Inez, and some of the more melodramatic plot developments are ill-advised.. But while the emotion doesn't land as powerfully as it could have, Rockwell still ends up with a strong tale about people caught up in, and trying to end, cycles of disconnection by choosing to be a family.
Available March 31 in theaters.
(R)