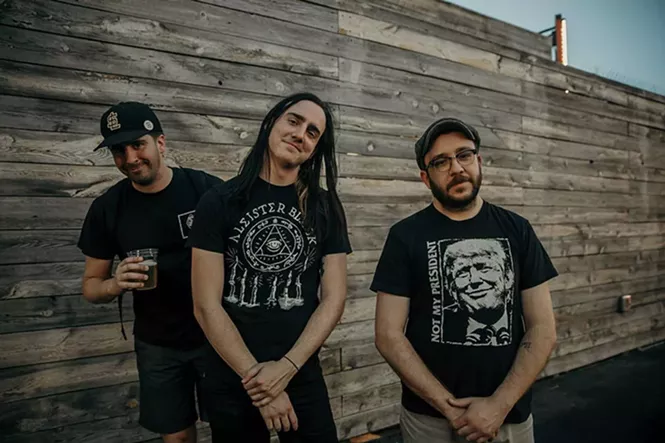 Amber Rose O'Dwyer
Wicked Bears
Wicked Bears: New album Underwater out now
With punk rock as a genre nearing its 50-year mark, many musicians, listeners and critics find themselves asking, "How can one play this style of music and still stay relevant?" If you're Wicked Bears, you answer this question by not worrying about it. Wicked Bears unveiled their latest release,
Underwater
, as their debut with Wiretap Records, and what a release it is. This fast-paced, cheerful and just-plain-fun album is a punktastic entry to the genre. Plus, with the band being Utah natives, we get cool references to SLC in the lyrics. The title track opens up with, "Good evening, Salt Lake City / We are coming to you live from / Underwater!" Punk is alive and well with Wicked Bears, and this album is a must listen for fans of the genre.
Buried Giant: New EP Wild Eyes out now
SLC rock n' rollers Buried Giant released their second EP,
Wild Eyes
, this week and it's got some moments you won't want to miss out on. Pulling up the EP, listeners may be bummed to see that there are only three tracks, but together the songs clock in at over 17 minutes, so there's plenty to vibe to. The title track starts out slow and melodic with cooling effects. As it continues, you're able to jam with soloing guitars and chill drums. This first track has no lyrics, so it's great to put on in the background for reading or studying. The second track continues with much of the same, chill vibes and calming effects, but sounds a bit more jazzy with the drums, piano flourishes and wistful lyrics. Overall, Buried Giant are a great jam band, and this EP is perfect for a rainy day with a book; catch them
live at Lake Effect
on April 4.
Andrew Aguilera: New album Future Views out now
Longtime electronic musician Andrew Aguilera is known for performing in several projects including Mooninite and Angel magic, but this new album is released under his own name, and dives deep into the landscape here in Utah. "
Future Views
is a visual and auditory exploration of partial perspectives of Utah's terrain, created by Katrina Ricks Peterson and Andrew Aguilera," the album's Bandcamp description states. "This work focuses on alternative ways of seeing and knowing Utah's landscape, with an emphasis on the situated, the localized and the up-close." This project is incredibly fascinating and listening through you'll hear an eerie, lush soundscape that's oddly introspective. You won't find any lyrics, but something about the sound really makes you think and contemplate. Read more about the project and listen
here
.