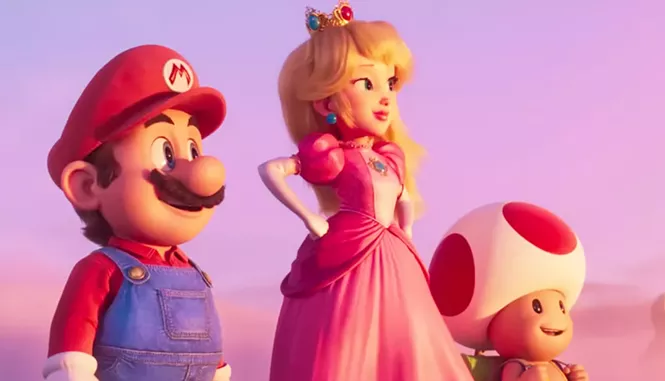 Illumination Entertainment
The Super Mario Bros. Movie
Air **1/2
See
feature review
.
Available April 5 in theaters.
(R)
Paint ***
Full disclosure: When I sat down to watch
Paint
, I was under the vague impression that it was an actual biopic about "everyone can paint" guru Bob Ross. So it's entirely possible that my reaction is connected to the discovery that it was closer to
Walk Hard
than
Pollock
. Owen Wilson plays Carl Nargle, a permed-out, bearded, soft-spoken artist who has spent more than 20 years hosting a wildly popular painting program on Vermont public television. But the arrival of a new artist (Ciara Renée) to host another painting show inspires a rivalry, and brings Carl's creative insecurities to the fore. Writer/director Brit McAdams—a TV veteran making his first feature—leans into the incongruity of the dorky Carl as a ladies' man, perhaps overplaying the idea that "Bob Ross who fucks" is inherently amusing. Fortunately, he's also got a terrific comedic supporting cast—Michaela Watkins, Stephen Root, Wendi McLendon-Covey—and a great sense for how to give a visual gag a twist (like the extremely brief tryst between Watkins and a delivery guy in the back of his truck). While it's not exactly accurate to call it a parody of artist biopics the way
Walk Hard
was, Paint finds a whole bunch of satisfying jokes in one haunted artist pausing to reflect on his whole life.
Available April 7 in theaters.
(R)
Praise This **1/2
Imagine, if you will, a story about a sullen college-age young woman who has a contentious relationship with her father, but finds unexpected satisfaction applying her music-industry aspirations to joining a singing group in need of redemption, and helping them towards a big national competition (if she can avoid conflict with the control-freak group leader). Lemme stop you before you say "
Pitch Perfect
," because this is completely different—in that the singing group is a Black youth gospel choir. Sam (Chloë Bailey) is the young woman in question, brought from L.A. to Atlanta by her father to stay with relatives, and where she connects with the family's "praise team." Director/co-writer Tina Gordon delivers plenty of energy in the musical numbers, and puts together a solid cast, including Anjelika Washington doing great comic-relief work as Sam's earnestly faithful cousin. It's just hard to get past the reality that nearly every beat here echoes something from
Pitch Perfect
. A public challenge for an improvised performance? Check. The protagonist throwing the team for a loop by changing up their performance song? Check. A team dropping out to give our heroes an improbable shot at the finals? Check. As Christian-themed entertainment goes, this delivers a lot more fun and professionalism than most. I was under the impression, however, that one of the commandments was "thou shalt not steal."
Available April 7 via Peacock.
(NR)
The Super Mario Bros. Movie *1/2
Let it be stipulated that, inasmuch as I am not a) a person who has any nostalgic connection to the video games whatsoever, since I've never played any of them, or b) 10 years old, this animated feature exists as squarely in the "Not For Me" category as I could imagine. But even so, isn't there some way to make a movie, even one with video-game roots, feel like an actual movie? The premise here begins with plumber siblings Mario (Chris Pratt) and Luigi (Charlie Day) in real-world New York, struggling to build their business, when they're sucked through a mysterious pipe beneath the Brooklyn sewers. There, the two are separated: Mario into the Mushroom Kingdom led by Princess Peach (Anya Taylor-Joy), and Luigi into the clutches of the nasty Bowser (Jack Black). Donkey Kong (Seth Rogen) joins the quest to defeat Bowser, in a story that includes plenty of sequences meant to duplicate game-play scenarios. Those scenarios just aren't interesting in any way on their own, aside from (I can only speculate) looking the way someone who plays these games thinks they should look. It even works against its own backstory, taking time to show Mario bounding through a construction site in our world, yet somehow not building that ability into why he has skills in the Mushroom Kingdom. A few inspired moments break up the monotony, like Jack Black going full Tenacious D for Bowser's love ballad to Princess Peach, and the incongruously dark attitude of the adorable Lumalee. Beyond the appeal to the core audience, though, there's little to avoid the sense that, when a character shouts out "This is fun!," it's more a plea for encouragement than a statement of fact.
Available April 5 in theaters.
(PG)