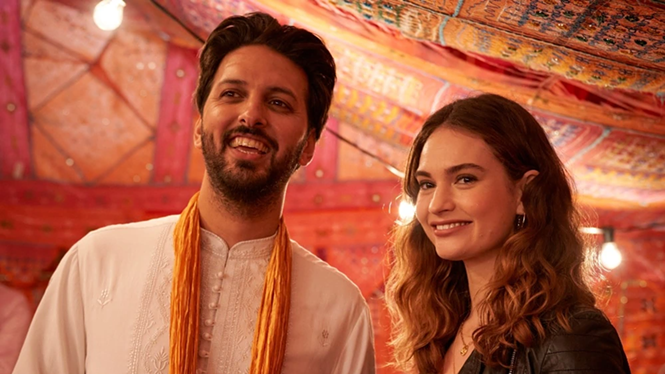 Shout Factory
Shazad Latif and Lily James in What's Love Got to Do With It?
Guardians of the Galaxy Vol. 3 ***1/2
See
feature review
.
Available May 5 in theaters.
(PG-13)
Joyland ***
There's a complexity to the narrative of director/co-writer Saim Sadiq's feature that's not entirely clear from the logline, which focuses on only one half of its central narrative. In contemporary Pakistan, Haider (Ali Junejo) and Mumtaz (Rasti Farooq) are a young married couple whose already non-traditional relationship—she works in a beauty salon, while he is unemployed—gets further complicated when Haider takes a job at a burlesque dance club, and becomes obsessed with transgender dancer Biba (Alina Khan). It would have been easy for Sadiq to center Haider and Biba in yet another tale of someone from a conservative religious culture struggling with queerness, and particularly all the ways Haider is set up as inadequate in his masculinity: long-unemployed, not yet producing children, etc. Fortunately, he gives just as much time to Mumtaz's resistance to the role of expected of her as a woman, with Farooq's performance evoking longings she's not allowed to express. And the story of Haider and Biba does take some interesting turns, particularly with Biba insisting on her own specific personhood, not content to be a fetishized object on Haider's journey of self-awareness. While the story feels a bit over-stretched and sometimes over-literalized about the tragedies of enforced conformity,
Joyland
benefits from a satisfying balance in its presentation.
Available May 5 at Broadway Centre Cinemas.
(NR)
What's Love Got to Do With It? **1/2
If you're making a romantic comedy, and you choose to name-check and specifically ape the structure of
When Harry Met Sally …
, you better be able to come with your "A"-game, which I'm not convinced happens here. Director Shekhar Kapur and screenwriter Jemima Khan introduce us to Zoe (Lily James), a London-based documentary filmmaker who learns that her childhood best friend Kaz (Shazad Latif) is going to find his life partner through the traditional "assisted marriage" methods of his Pakistani heritage, inspiring her to make a movie about the process. What follows promises unique perspectives on the value of romance vs. simple contractual companionship, with James' Zoe offering cynical versions of traditional fairy tales in bedtime stories for her nieces (including, cheekily, the Cinderella story of which James was once a part). And there's some great stuff around the edges, including a pair of buzzword-happy producers of Zoe's movie, and Emma Thompson as Zoe's mother, perpetually exoticizing Kaz's family. But there's a hole at the center in failing to really give the relationship choices of the two central characters a solid rationale, except to presume they keep making dumb choices to avoid being together themselves. The framing device in Zoe's movie of couples talking to camera about how they united doesn't just evoke
When Harry Met Sally…
; it reminds us of the kind of love story we're not really getting.
Available May 5 in theaters.
(PG-13)
Wild Life **1/2
The documentary work to date from the directing team of Elizabeth Chai Vasarhelyi and Jimmy Chin (
Meru
,
Free Solo
,
The Rescue
) has been so consistently terrific that perhaps their latest only feels weak by comparison. As has been true of their previous features, their subject involves daredevils and risk-takers, but this time with a philanthropic twist: It's a profile of the husband-and-wife team of Douglas Tomkins (co-founder of The North Face and the Esprit clothing line) and Kris Tomkins (ex-CEO of Patagonia), and how they set out to use their fortune for preserving wilderness areas in South America. We know from the outset that Douglas died in 2015, and in part this is a portrait of how Kris dealt with that loss and attempted to complete their mutual life's work. But while there's some interesting information both in the basic details of their biographies and the struggles they faced creating these national parks—particularly from Chileans understandably skeptical of wealthy Americans claiming to be helping just out of the goodness of their hearts—
Wild Life
lacks the snap and urgency of previous Vasarhelyi/Chin films, functioning as it does almost entirely in talking-head retrospective. It's ultimately a nice story about decent people trying to do the right thing—and as a movie, it's also mostly just … nice.
Available May 5 in theaters.
(PG-13)