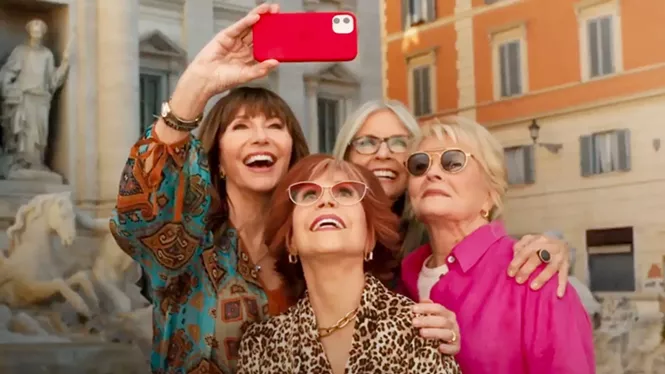 Focus Features
Mary Steenburgen, Jane Fonda, Diane Keaton and Candice Bergen in Book Club: The Next Chapter
BlackBerry ***1/2
See
feature review
.
Available May 12 in theaters.
(R)

Book Club: The Next Chapter **1/2
Never underestimate the power of giving a viewer pretty things to look at, even if the story those backdrops are supporting isn't particularly engaging on its own. This follow-up to the 2018 movie finds the four best-pals—Diane (Diane Keaton), Vivian (Jane Fonda), Carol (Mary Steenburgen) and Sharon (Candice Bergen)—emerging from COVID lockdown and Zoom-only interactions to travel together to Italy, celebrating Vivian's engagement to Arthur (Don Johnson). Lighthearted shenanigans ensue, with the "isn't it hilarious that old women can get horny" nonsense from the original dialed back at least a
bit
, even as the copious wine-drinking remains intact; the alcohol budget for these movies likely exceeds the GDP of several small countries. The narrative threads are all about seizing the moment when you're not sure how many moments you might have left, and that works reasonably well for the interactions between the four stars, and for each of them individually as they're given a chance for their respective lengthy carpe-diem-ish speeches. Mostly, this one works better because watching our protagonists take in the sights of Rome, Venice and Tuscany gives everything a more satisfying sense of escapism, at least until the next heavy-handed double-entendre. They have their dick jokes and tureens of vino, but at least we'll always have Italy.
Available May 12 in theaters.
(PG-13)
Crater ***
What seems at the outset like it might be just a light-hearted kid-venture in the tradition of
The Goonies
eventually reveals itself to be something more melancholy and earnest; think "
Stand By Me
in space." It's set in 2257 on a lunar mining colony, where young Caleb (Isaiah Russell-Bailey) faces being sent to a distant planetary colony after the death of his already-widowed father. So before being forever separated from his best friends—Dylan (Billy Barratt), Borney (Orson Hong) and Marcus (Thomas Boyce)—they enlist new-arrival-from-Earth Addison (Mckenna Grace) to hijack a lunar rover for a road trip to a crater with a special meaning to Caleb's parents. There's a surprising edge to John Griffin's screenplay simply in its attitude towards corporate contracts that create trans-generational debts, and an awareness regarding who gets to leave a ruined Earth behind, and who has to stay behind to help make that travel possible. And while there's room for both playfulness and danger in our heroes' journey, it's also about those characters' emotional wounds, and the shared family traumas that unite them. These young actors are able to carry the weight of a story that takes their struggles seriously, even if those struggles happen to take place on the moon 200 years in the future.
Available May 12 via Disney+.
(PG)
Ketchup Entertainment
Ben Affleck in Hypnotic
Hypnotic **1/2
There's such a fine line between twisty-dumb fun and just plain twisty-dumb, and co-writer/director Robert Rodriguez's conspiracy thriller can't quite end up on the right side of it. Ben Affleck plays Danny Rourke, an Austin, Texas police detective struggling with the aftermath of his daughter's abduction. But when he learns from a psychic (Alice Braga) about the existence of people with powerful abilities to influence other people's minds, he discovers that they could be a key to finding his daughter. What ensues is a pretty ruthlessly tight mix of wild plot developments and action beats, combining bits of everything from
Firestarter
to
Inception
. It's all kind of goofily entertaining for a while, in part thanks to a game cast that includes character-actor stalwarts like William Fichtner and Jackie Earle Haley. Unfortunately, this is the kind of role that doesn't play to Affleck's strengths; when asked to play haunted and intense, he often just seems tired. And by the time all of the pieces of the story are being put together, the parts of it that fall into place with a satisfying click bump into the parts that expect you to have found an emotional connection along the way that just isn't there. The fact that Rodriguez is optimistic enough to set up the prospect for a sequel seems to assume a lot about how much we're invested in what could happen next.
Available May 12 in theaters.
(R)
The Mother **
I can see how it might have been appealing to Jennifer Lopez to take a stab at her own version of
Kill Bill
, but there's a whole lot of road between concept and execution. Lopez plays a nameless ex-U.S. military sniper-turned-hired gun for a pair of arms dealers (Joseph Fiennes and Gael García Bernal) who gives up her newborn daughter for her own safety after turning FBI informant. Twelve years later, the bad guys track down Lopez's daughter, Zoe (Lucy Paez), forcing The Mother to come out of hiding and save her. Director Niki Caro continues to develop the action-director chops she showed off with the Mulan remake with a couple of solidly paced set pieces, and some effective interplay between Lopez and Omari Hardwicke as her FBI handler. But this is a really awkwardly structured narrative, sticking what would be the climax in any other movie of this kind right at the center; it's almost as though it had been built, like
Kill Bill
, to be in two parts. Mostly though, the scenes between Lopez and Paez struggle to capture the protagonist's transition from solitary killer to mom, hoping that a metaphorical parallel involving a mother wolf—and the needle-drop of Kate Bush's "This Woman's Work"—can do a lot of the heavy lifting. What you're left with is a functional genre piece with ambitions for more emotional heft than it's able to deliver.
Available May 12 via Netflix.
(R)
Still: A Michael J. Fox Movie ***1/2
The fundamentally playful spirit of director Davis Guggenheim's approach to profiling actor Michael J. Fox feels like a perfect match for the way the actor approaches his own life, trials and all. While in part it's a full biographical profile of Fox's journey from Canada to Hollywood stardom, it definitely focuses on the here-and-now consequences of his 1991 diagnosis with Parkinson's disease, with scenes addressing his physical therapy regimen and the struggles he faces trying to record the book-on-tape version of his latest memoir. But it's the way Guggenheim deals with the background material, employing a mix of dramatized re-creations and scenes from Fox's movies to capture events—like the grueling pace of Fox's schedule while simultaneously shooting
Back to the Future
and
Family Ties
episodes—with tremendous energy. It's certainly true that Fox's own perspectives add a lot to the story, particularly the fear involved in his post-diagnosis/pre-public statement years when he simultaneously feared for his own health and the future of his career. It helps a lot, though, for all of that stuff to be contained in a movie that's flat-out fun to watch, one that never for a moment suggests feeling sorry for its subject.
Available May 12 via AppleTV+.
(NR)