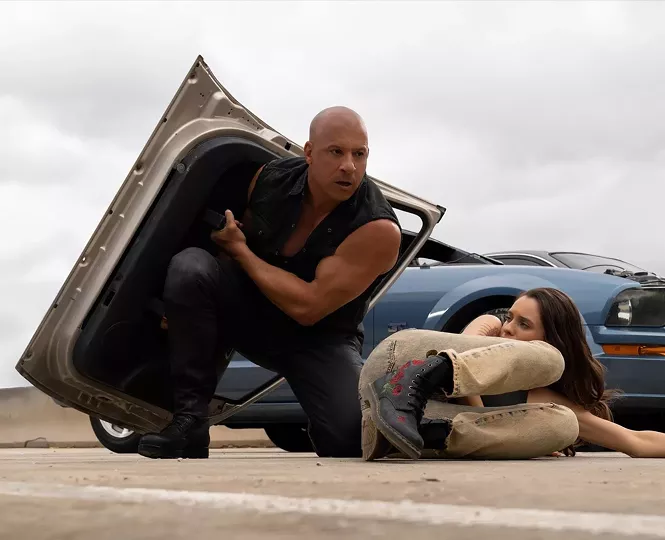 Universal Pictures
Vin Diesel and Daniela Melchior in Fast X
Carmen ***
I won't sit here and pretend that I know Bizet's
Carmen
—or its Prosper Mérimée source material—well enough to evaluate whether even the "inspired by" credit in director Benjamin Millepied's movie is a stretch. I just know that it was generally unique and interesting enough to keep me watching. The modern-day narrative begins with a Mexican woman named Carmen (
Scream
's Melissa Barrera), mourning the recent death of her mother, attempting an undocumented border crossing into the U.S. There's she's rescued by Marine veteran Aidan (Paul Mescal) from possible death at the hands of a vigilante border-watcher, and the two wind up on the lam together headed for Los Angeles. Millepied fills the story with original songs and dance sequences, and he's clearly a director who respects those arts visually with his filmmaking choices. He's also willing to get a little surreal—both in his use of flashbacks, dream sequences and out-of-sequence chronology, and in the compellingly off-kilter performance by Pedro Almodóvar regular Rossy de Palma—while the screenplay provides one of the most chilling lines of anti-immigrant racism I've ever heard. It's too bad that the emotional center isn't stronger, either at conveying Carmen's grief, or understanding how Aidan's PTSD affects his behavior, leaving something that's mostly striking on an aesthetic level. And sometimes, that can be enough.
Available May 19 at Broadway Centre Cinemas.
(R)
Fast X **1/2

The
Fast/Furious
franchise has been around long enough to become self-aware about stuff like the endless refrains of "family" and plot developments like launching into space, but it has also been around long enough that it is now overstuffed with characters and subplots to the point of bursting. Here we get a new villain in Dante Reyes (Jason Momoa), son of the bad guy from 2011's
Fast Five
, who has an overly-convoluted plan for wreaking vengeance upon Dominic Torreto (Vin Diesel) and the gang for causing his dad's death. It's great when we are actually watching Dante put that overly-convoluted plan into action, because Momoa has an absolute blast with his giggling psycho, including chatting about his evil intentions with a pair of corpses that he has
Weekend-at-Bernie's
-ed into a captive audience. But even though director Louis Leterrier (
The Transporter
,
Now You See Me
) keeps the gleefully absurd action beats rolling along like the massive bomb that tumbles through the streets of Rome here, he also has to juggle more than a dozen primary characters—Letty (Michelle Rodriguez), Dom's brother Jakob (John Cena), Roman (Tyrese Gibson), Tej (Chris "Ludacris" Bridges), etc.—in multiple locations. It feels like there are four or five different movies going on at the same time, and that's even before it's clear that we're going to end on a few cliffhangers setting up the
next
movie. These movies can be dumb fun, whenever they remember that dumb fun doesn't need to be quite so complicated.
Available May 19 in theaters.
(PG-13)
Master Gardener **1/2
For nearly 50 years, Paul Schrader has been writing movies about men beset by guilt, shame and trauma—often with devastating results, occasionally not so much. His latest casts Joel Edgerton as Narvel Roth, taciturn resident horticulturist for the elaborate gardens of heiress Norma Haverhill (Sigourney Weaver). When Norma asks Narvel to take on her troubled Black grandniece Maya (Quintessa Swindell) as an apprentice, Narvel is forced to face his own dark history as a one-time enforcer for a white supremacist organization. There's some wonderfully creepy material here involving the relationship between Narvel and Norma, the latter of whom clearly takes advantage of Narvel's need for a safe place, and pretty clearly has some unsavory worldviews of her own. The problems here emerge at the center—in a performance by Edgerton that conveys Narvel's attempt to recreate himself but somehow expects us to take his transformation on faith, and a relationship between Narvel and Maya which reminds us that capturing romantic love is definitely not one of Schrader's strengths. No matter how much time
Master Gardener
spends on Narvel reading his journals to evoke some metaphors comparing gardening to life, it feels thin in its emotional specifics, as though the mere fact of making a movie about whether a violent racist can be redeemed gave it all the necessary thematic weight.
Available May 19 in theaters.
(R)
White Men Can't Jump ***
I'm on record that Woody Harrelson's Billy Hoyle from Ron Shelton's original 1992
White Men Can't Jump
is one of the most brilliantly-conceived movie characters ever, so eliminating that character entirely from a remake intuitively felt like a case of, "Then why bother?" But writers Kenya Barris & Doug Hall and director Calmatic take the bare bones of the original and make it a surprisingly entertaining spin on similar themes of masculine self-sabotage. In Southern California, two basketball players who once had promising careers—Kamal Allen (Sinqua Walls), a blue-chip prospect who never made it to college, and Jeremy Randall (Jack Harlow), a college star beset by knee injuries—decide to team up, first to hustle playground players for cash, then to enter a lucrative amateur tournament. The premise here is only loosely connected to the original's foundation in the lack of respect afforded to a goofy-looking white hoops player, but still gets spiky with its racial tensions and a great bunch of jokes in its script. There's also a strong center in the two main performances, with Harlow providing a satisfying oddball counterpoint to Walls' evocation of hot-tempered self-doubt. It's not at all the same hangout vibe Shelton generally brought to his sports-centric features, but this variation on a theme hits enough funny, smart notes to feel like it can stand on its own.
Available May 19 via Hulu.
(R)