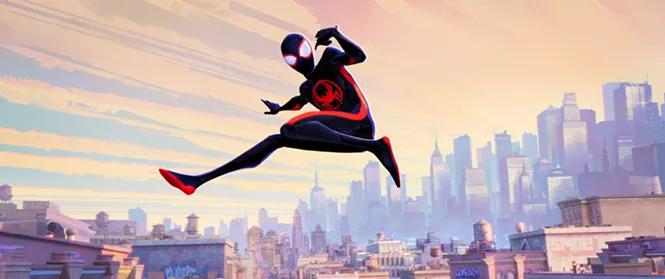 Sony Pictures Animation
Spider-man: Across the Spider-Verse
The Boogeyman ***
From the Department of Two Things Can Both Be True: 1) A movie might be kind of tedious and predictable from a narrative standpoint, and 2) that same movie might show enough style and precision in its directing that it keeps you perked up in your chair. This extremely loose adaptation of a 50-year-old Stephen King short story deals with a family—therapist Will Harper (Chris Messina) and his daughters Sadie (Sophie Thatcher) and Sawyer (Vivien Lyra Blair)—who are still reeling from the recent death of Will's wife when they come under attack from a mysterious supernatural force. It's not exactly innovative at this point to turn a dark monster into a living manifestation of unprocessed grief/trauma; everything from
The Babadook
to the recent
Smile
has trafficked in that territory, and this offers nothing fresh. But director Rob Savage delivers an absolute clinic in visual filmmaking efficiency, over and over again: a backpack hanging from a newel post as a shorthand for someone being in danger; a multi-colored paint footprint as a reminder of where we are in a house's geography; a sharp cut from squealing teenagers at Sadie's door to the awkwardness of their actual gathering. The performances are fine enough—though better in the haunted supporting turns from David Dastmalchian and Marin Ireland as previous Boogeyman targets—not to distract from a movie that's creative enough as a piece of filmmaking to negate its shortcomings as a story.
Available June 2 in theaters.
(PG-13)
Sanctuary ***
See
feature review
.
Available June 2 in theaters.
(R)
Shooting Stars **
There's probably a ceiling for how good an "authorized biography" can be when the superstar driving force behind it is still very much in the public eye. But there's still a fundamental clunkiness to this adaptation of Buzz Bissinger's book co-authored with LeBron James, focusing on the high-school years of LeBron (Marquis "Mookie" Cook) in Akron, Ohio with teammates and close friends Lil Dru Joyce (Stranger Things' Caleb McLaughlin), Sian Cotton (Khalil Everage), Willie McGee (Avery Serell Willis Jr.) and Romeo Travis (2023 NBA lottery prospect Sterling "Scoot" Henderson). The screenplay dutifully hits all the key points in its time frame, including the national celebrity accompanying high-school games playing on ESPN networks, and the compensation controversy that resulted in LeBron's suspension during his senior year, and does a reasonably effective job of showing youths struggling to deal with the bumps in their trajectory towards stardom. Unfortunately, it's rarely more engaging than that, even with solid performances, thanks to an obligatory need to give every non-LeBron player some attention, and some weird choices by director Chris Robinson including smack-talking on-screen captions. If not exactly hagiography, it's at least hagiography adjacent, without the depth to convey the real perils of teenagers finding themselves in the pages of
Sports Illustrated
.
Available June 2 via Peacock.
(PG-13)
Spider-man: Across the Spider-Verse ***1/2
The original 2018
Spider-man: Into the Spider-Verse
was the kind of comic-book adaptation that actually warranted the adjective "original"—a dazzlingly innovative mix of animation styles full of lively, funny, energetic storytelling. The braintrust of Chris Miller and Phil Lord (
The LEGO Movie
) return as co-screenwriters for another thrillingly entertaining ride. Sixteen months after Brooklyn teen Miles Morales (Shameik Moore) became Spider-man on an alternate version of our Earth (and discovered the existence of such alternate versions), he gets an unexpected visit from Spider-Gwen Stacy (Hailee Steinfeld), who has joined a multiversal team of Spider-People dedicated to preserving to snuffing out universe-hopping anomalies. The plot is full of new characters—including Spider-man 2099 Miguel O'Hara (Oscar Isaac) and a new super-villain called The Spot (Jason Schwartzman)—and the voice performances alone would be enough to warrant a recommendation, plus the thumb-in-the-eye it gives to fan-culture obsession with the importance of "canon." But the star here remains a willingness to incorporate whatever stylistic flourish might make for a more fascinating experience: a punk-ish alternate Spider-man (Daniel Kaluuya) designed like the yellowed 2-D pages of a DIY fanzine; an emotional scene in Gwen's bedroom where the color on the walls literally drips; visions of real-world humans when that fits the moment. It's not just that the filmmakers are committed to the idea of bringing a comic-book to life, complete with on-screen sound effects, footnote text and a cliffhanger ending; it's realizing how unlimited the possibilities are for turning a comic-book into an actual movie, full of action, humor and real feeling.
Available June 2 in theaters.
(PG-13)