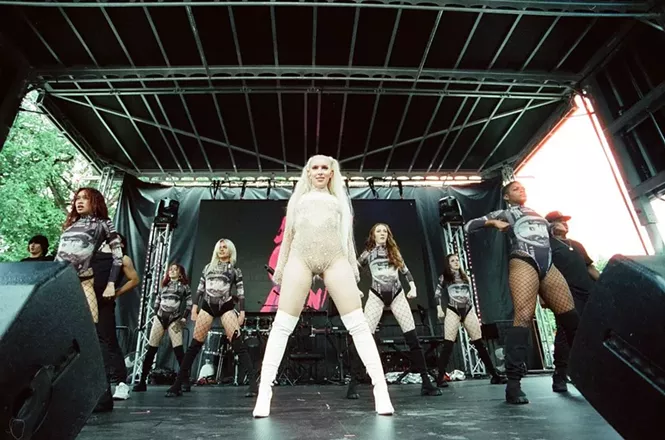 Antonio Huff
Lady Infinity
Lady Infinity: "A Divine Introduction"
SLC pop/R&B artist Lady Infinity makes her introduction into the visual arts world this Saturday with a gallery dedicated to her beautiful art. She's always been musically inclined, but realized she also had a talent with the visual arts, specifically painting. "A Divine Introduction" is about ​​officially launching her name, brand and all works of art. With big things planned for the future, this event is meant to publicly establish the existence of Lady Infinity and her journey. Along with this event comes a new single called "earthquake." "The inspiration from this song comes from literally just having a good time and being confident," she said. The song and the event go hand in hand, meant to be seen/heard as memorable and unique. The all-ages event will feature other works of art from fellow locals and will be held at the Lost Acorn Art Gallery in SLC (752 E. 6th Ave.). Admission is just $7, and tickets
can be found here
in advance, or at the door.
Wildland Firefighters Benefit Concert
You have many options when it comes to celebrating the holiday weekend, but why not head to a show to hear great music, grab a beer and contribute to a worthwhile charity? You can catch The Steel Woods (whose music has been prominently in a little show called Yellowstone) playing to help support the brave folks who help protect SLC from wildfires. Coors Banquet is helping with the event, and they're making sure that for every beer sold in stores and especially at this show, you can support firefighters who put their lives on the line running towards the flames. This 21+ event is $21.50, and doors open at 7 p.m. at The Depot. Grab tickets
here
.
Shows to check out on the City Weekly Store
-Louyah @ Soundwell 9/1
-The Band House @ Garage on Beck 9/1
-Hockey Dad @ Kilby Court 9/2
-Not.Greenday @ Urban Lounge 9/2
-Jack & The Fun Guys @ Garage on Beck 9/2
Be super cool and get City Weekly music news right in your inbox!