Four Counties, One Day
By Ted Scheffler
I'll be covering a lot of ground on my perfect summer's day, so it'll begin with carbo loading at Sill's Café in Layton (335 E. Gentile St., 801-544-4089) where the scones are the size of my head and you can still get an old-fashioned order of S.O.S. By 7:15 a.m., the old-timers are already gathered in big numbers and the parking lot is packed. To work off some of the calories and carbs, my next stop is at Layton's Chapel Park for a vigorous set or two of tennis. The public park has two beautiful, free, hard-surface tennis courts—yours (or mine) for the taking. There's also a lot of room to roam if you brought Fido with you.(152 S. 900 East)

By now, it's warm enough to put the top down on the convertible for the drive to Tooele, where my perfect day includes karting at Miller Motorsports Park (2901 Sheep Lane, Tooele, 435-277-8000, MillerMotorsportsPark.com) with my son Hank—a speed demon. The .89 mile track is one of America's fastest, with subtle-but-thrilling elevation changes and multiple track configurations to keep things interesting. Having worked up a healthy appetite karting in the hot sun, I'll cool off with lunch on the patio at Salt Lake City's downtown Café Trio (680 S. 900 East, 801-533-8746, TrioDining.com). We'll start off with an order of steamed Manila clams and rosemary flatbread for Hank before getting on the outside of Trio's delicious spaghettini carbonara.
My son loves The Monkees and so
The Birds, The Bees & The Monkees
blasts from the car stereo as we head up to
Deer Valley Resort
(Park City, 435-649-1000,
DeerValley.com
) for late-afternoon mountain biking. This is my kind of biking! It's lift-served, so most of the actual biking is downhill or on easy flats. But, with 55 miles of scenic trails and everything from easy to extreme terrain, there's something for everybody at Deer Valley, not to mention mountain biking lessons and rentals.
Since we're already at the resort, we'll take in an evening concert at Deer Valley's Snow Park Lodge amphitheater. First, we'll pick up a Deer Valley gourmet picnic basket (must be ordered in advance), and then settle in on the Snow Park lawn for a show. This summer's concert lineup at Deer Valley ranges from Ben Folds with the Utah Symphony to Jimmy Cliff to Earth, Wind & Fire to B.B. King.
Keepin' It Simple
By Dan Nailen
Everyone assumes the life of a City Weekly music editor is full of rock & roll excess, and they're right, for the most part. But you might find it surprising that my perfect day involves stepping away from all the drug binges and pansexual orgies—provided in exchange for online CD reviews—for some quiet, solo "me time."
When a typical week includes days full of office work and nights stuffing myself in venues with hundreds (or thousands) of loud, boozed-up music fans, having a whole day with no agenda and no people in my face is always a treat. It's a mini-vacation with no long-distance travel required. Friends naturally drop in and out of these "me" days, but I try to stay highly flexible and unscheduled.
As a working professional (of sorts) and adult (chronologically, at least), finding a way to schedule a full day of nothing in particular is hard work in itself. How often can any of us honestly say we have nothing on our daily schedules? No yard work to be done, no chores around the house, no family obligations. Even when your day is full of fun, like dinner parties with friends or the aforementioned drug binges, you're still sacrificing some quality solo time. It's a life full of compromises, and we all just try to find a balance we can live with. My "me time" days help me keep balanced.
A few places and activities do tend to recur when I manage one of these days. I walk to the Park Café (604 E. 1300 South, 801-487-1670) to sit on the patio, suck down streams of coffee and chow on some Michigan Hash, a mix of spuds, veggies, eggs and sausage that never disappoints. When afternoon arrives, I'll hit the Broadway Centre Cinemas (111 E. 300 South, 801-746-0288, SaltLakeFilmSociety.org) or the Tower Theatre (876 E. 900 South, 801-321-0310, SaltLakeFilmSociety.org) for a flick, often enjoying the quiet time in the dark as much as whatever I'm actually watching.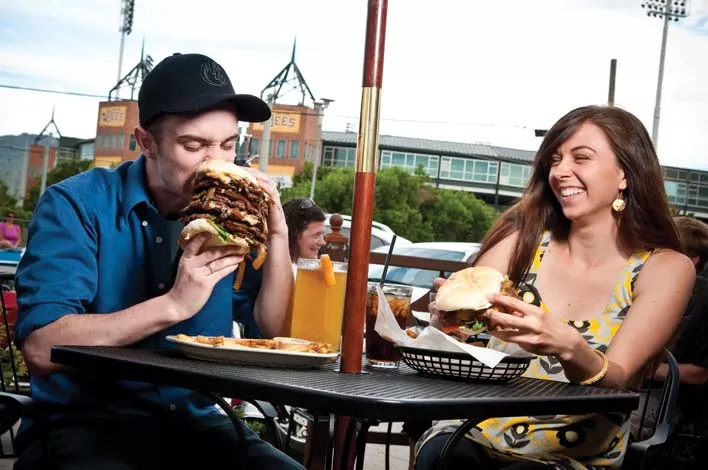 When evening approaches, you'll often find me making my way to a Bees game at
Spring Mobile Ballpark
(77 W. 1300 South, 801-325-2337,
SLBees.com
). I might invite some friends, might not. After a couple hours in one of America's most beautiful minor-league settings, a nightcap is naturally in order. Thankfully, the
Lucky 13
patio (135 W. 1300 South, 801-487-4418) is within stumbling distance, and
Duffy's Tavern
(932 S. Main, 801-355-6401) and
Piper Down
(1492 S. State, 801-468-1492,
PiperDownPub.com
) are within a few blocks. 
And if I've managed to stuff all that Me-driven activity in a day once or twice in a summer, you'll find me toasting myself for a job well done.
Hook, Line & Stinker
By Eric Peterson
A day of ideal summer laziness combines several important elements: stogie-sucking, beer-swilling, summer reading and lazy fishing.
First, books. Be sure to patronize one of your fine local bookeries like the venerable and soon-to-be-relocated Sam Weller's Bookstore (254 S. Main Street, 801-328-2586, SamWellers.com) or The King's English Bookshop (1511 S. 1500 East, KingsEnglish.com). Good lakeside reading might include some Edward Abbey, Cormac McCarthy or Willa Cather—all good authors with the sense to make nature a main character in their writing.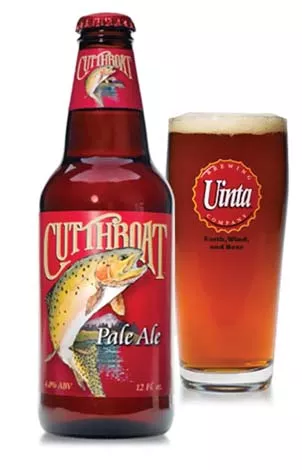 Now, beer. Again, why not go local? Hit up your local Squatters Pub Brewery (147 W. Broadway, Salt Lake City, 801-363-2739; 1900 Park Ave., Park City, 435-649-9868, Squatters.com) for a handy growler of hefeweizen, a perfect summer beer. Then again, a case of the 2010 World Beer Cup award-winning Cutthroat Pale Ale at Uinta Brewing Company (1722 S. Fremont Ave., 801-467-0909, UintaBrewing.com) would be most appropriate for the occasion as well.
Next stop, smokes. Local institution
Jeanie's Smoke Shop
(156 S. State, 801-322-2817) will be out of business July 1, thanks to the taxation of the morality police at the Utah Legislature, so stop by while you can for some screaming cigar deals. Or head to Sandy's
Hungry Trout Cigars
(8634 S. 700 East, 801-566-5178) for some hand-rolled Maduros and Robustos for about $5 and smoke like a real Cuban. Or, try the Nicaraguan bullets for about only $1—think of the mini cigars clenched between Clint Eastwood's teeth in just about any spaghetti western you can name.
Now, really head south. Chug along Interstate 15, stop in Payson and pick up lunch to go, a Big Mo hamburger from the Wee Blu Inn (39 N. Main, 801-465-9071), a tasty two-fister covered in gooey American or Swiss cheese, grilled mushrooms, peppers and veggies. For only $6, this mountainous burger also comes with a hearty serving of paper-bag french fries you can munch on as you continue on down I-15 and fork down to Piute County for a day at Fish Lake.
You've arrived! Now for the best part: Smoke, drink, read, fish and repeat until dark. Stay the night, and you can marvel at a million damned stars reflected off the pristine lake and wake up to repeat the winning formula of the previous day. Or you can head back that night, if necessary. Either way, don't forget to stop for pie and coffee (the coconut cream will knock your socks off) at Mom's Café in Salina (10 E. Main, 435-529-3921), before rolling on home.
Mountain Man
By Jesse Fruhwirth
I like getting hot and sweaty while hiking Utah's highest mountain peaks, but sometimes I want to get hot and sweaty in the mountains while just lying there. Thus, a mountain beach. My perfect day does not involve constructing a picnic, so instead I stop at Great Harvest in Layton (96 N. Main, 801-543-0304, GreatHarvestLayton.com) to pick up delicious sandwiches to be eaten later with sand between my toes.
Next, head to
Anderson Cove
campground in Huntsville (6702 Highway 39, 801-745-3215), where the water from Pineview Reservoir is cold and the mountain views are spectacular. Beach access is only $10 per car. Don't use all your energy swimming, though; save at least enough for great, affordable beers and dinner at
The Oaks
(750 Ogden Canyon Road, 801-394-2421,
TheOaksinOgdenCanyon.com
). Sitting on their shady, creekside patio surrounded by canyon air will help soothe your sun-kissed skin. Finally, on your way back south, take exit 325 in Farmington and head east to the mouth of
Farmington Canyon
(600 N. 100 East). Head up the canyon road just a bit, but turn almost 180 degrees to your right and head up Skyline Road. Just up the incline, you'll see a nice flat area to pull over and watch the sunset over a panorama of Great Salt Lake and Antelope Island—you won't even have to leave the car.
Burgers, Art & A Movie
By Josh Loftin
Our trip to the Sanpete valley starts with coffee for the road from Raw Bean (611 S. West Temple, 801-990-2326) to help survive the drive through Utah County down Interstate 15 until the U.S. 89 exit at Spanish Fork. That historic highway takes us to Mount Pleasant and Spring City.
We reach Mount Pleasant about noon and stop for lunch at the Dairy Freez (1 N. Main, 435-462-2623), a quintessential burger joint known by many locals as "The Sleez." While the menu is extensive, we stick to the basics like burgers, chicken strips and fries. For drinks, however, we all get their speciality, a "Fresh Lime."
After The Sleez, it's back in the car for the five-minute drive to Spring City, where we tour historic houses that have been beautifully restored, often by artists, before heading to the
Spring City Arts Gallery
(79 S. Main, 435-462-9751,
SpringCityArts.com
), which is open from noon to 5 p.m., Wednesday through Saturday. After that, we'll head to
Horseshoe Mountain Pottery
(278 S. Main, 435-462-2708,
HorseshoeMountainPottery.com
) where we have scheduled an appointment with owner Joe Bennion and his wife, Lee, a renowned painter.
After our cultural excursion, we head to the Triangle Lounge in Mount Pleasant (96 W. Main, 435-462-0250) to down a few cold ones until dusk arrives. At that point, we will drive to the other end of town—about a one-minute journey—for a movie at the Basin Drive-in Theater (680 N. State, Mount Pleasant, 435-462-2712). Since the Triangle doesn't have food, we'll park next to a speaker box and go straight to drive-in's grill, which is making hamburgers the same way they have been made for patrons for decades.
After the movies, it's time to head home, unless we decide to make it a weekend. For that, there's plenty of camping in the nearby and many bed-and-breakfasts. Further south in the valley, there is a challenging 18-hole golf course at
Palisade State Park
(2200 Palisade Park Road, Sterling, 435-835-4653), which also has a lake and campground. East into the mountains there is great mountain-biking on the Skyline trail and multiple lakes for fishing. All told, the Sanpete valley—where I spent most of my teenage years—is a pretty perfect escape from the urban grind.
Up in His Grill
Stephen Dark
I buy a one-day fishing license at Smith's (multiple locations, SmithsFoodandDrug.com), load up my portable charcoal grill and fly rod, pick up some Mexican charcoal from Rancho Markets (multiple locations, RanchoMarkets.com)—American coals provide neither flavor nor much heat—and head out to Provo Canyon. As I drive along Interstate 15, I can all but hear the trout snapping at the flies flirting with them above the water.
Six miles up Provo Canyon is
Vivian Park
, acclaimed by local fishermen for its plenitude of trout, ease of access and water quality. Through the park runs the lower Provo River, sourced by Bear Creek Reservoir. Parallel to the river is the Heber Creeper steam-engine track. On the other side of the park is a pond where only children and the handicapped can fish. I've spent many happy hours with my two young girls as they practice casting lines with their spin rods while trying to avoid the draping branches of willows overhead.
I find an unoccupied island in the lower Provo to use as my base of operations, wade out into the crystal-clear water and cast out to the eddies for brown or rainbow trout.
This is the perfect moment of the day. The light catches the line as I stroke it back, hang it in the air above me like a huge question mark, then curl it over the water to pause in the air before dropping to the surface.
I get that heart-tugging pull on the line and slowly work a brown trout out of the water. You are allowed to keep two for consumption. I whack it over the head, take it up to a nearby table, gut it, light a small fire of kindling and add coal, then marinate the fish with a little lemon juice and fresh oregano. While it cooks, I slice up some homemade bread, chug down a cold one and listen to the sounds of the river.
Fed and content, I lie under the shade of a willow tree, and as I slip into a nap, the shadows of the willow wave over my face.
As long as the Heber Creeper doesn't trundle to the end of the line across the way, sounding its horn, I'm guaranteed my best sleep of the week.
Organic Urges
By Austen Diamond

When Saturday rolls around, it's time to play. As the sun peeks over the Wasatch Mountains, Scott and Brian meet me at the
Blue Plate Diner
(2041 South 2100 East, 801-463-1151,
BluePlateDiner.com
), where I connect with my southern roots and dig into some vegetarian biscuits and gravy with coffee. A big breakfast is pivotal for a morning climb up the multi-pitch, yet mellow trad route,
Steort's Ridge
on the Dead Snag Wall in Big Cottonwood Canyon. After soaking in the view from the top, we'll rappel down and make the drive to the
Downtown Farmers Market
(175 E. 400 South, 801-359-5118) just before it closes at 1 p.m. My favorite market farmer, James Haggerty, owner of
Sun River Farms
(141 S. 6000 West, Mendon, 435-787-1182), will banter with us about the joys of farming and what's popping up next before we buy a couple bags of food. Then we bike cruise around town until the pangs of hunger are overwhelming.
We meet more friends at Liberty Park (900 South, 700 East) when the time's right. As far as being "on time," my perfect day isn't about punctuality. We'll grill our fresh-picked veggies, throw the Frisbee around, play some music and chill. After a couple hours, I'm back at my 9th & 9th abode for a cat nap (which aren't just for toddlers) in my hammock if the temperature is right. When I wake up, a gourd of yerbe mate should perk me up enough to get out the door.
After a day like this, I start to get thirsty, so it's down to Desert Edge Brewery (602 S. 500 East, 801-521-8918, DesertEdgeBrewery.com). It's summer, so the light, flavorful Pub Pils matches the season, joined by a salmon and pickled ginger-cucumber slaw sandwich. Then I head to the backyard with Scott for an after-dinner smoke. Pulled out from safe-keeping, the medium-bodied, dark-chocolatey Padron 64 Exclusivo ($12.99) from The Tinder Box (188 E. Winchester, Murray, 801-268-1321, TinderBoxSaltLake.com) makes a smoke-ringed "10." A perfect day wouldn't be complete without some live music, so back downtown we go to The Urban Lounge (241 S. 500 East, 801-746-0557, MySpace.com/TheUrbanLounge), meeting more friends—late-night dancing and overall hedonism ensues. It doesn't matter how late we stay out because Sundays are for sleeping.
Water, Water Everywhere
By Rachel Hanson
For the year and a half that my fiance and I dated, I was in school and had two jobs. In 2009, we lived outside of Utah. So, our first summer as an engaged/married couple is also our first summer together in Utah—and we're making the most of it, before we get old and bored of being around each other.
We drag ourselves out of the house at 7 a.m. on a Saturday, stopping at Cucina Deli (1026 2nd Ave., 801-322-3055, CucinaDeli.com) to grab to-go sandwiches. Before heading north out of town, we detour into Rose Park and stop at the West Side Grind coffee stand in the parking lot of the Fresh Market (140 N. 900 West), where I order one of their unique, delicious coffees—maybe the banana-infused Crazy Monkey—and my fiance, the coffee-hater, indulges in a green tea latte.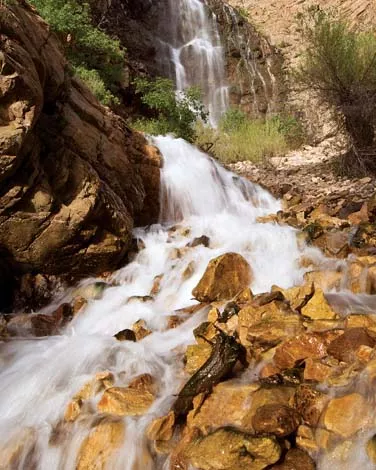 The caffeine and the relative coolness of the early morning help us enjoy the 40-minute drive to Ogden, where we'll hike
Waterfall Canyon
(trailhead at 29th Street), a short but steep hike with a great payoff. The cool mist of the waterfall at the end of the trail rejuvenates us while we enjoy our Cucina sandwiches. Made with the freshest vegetables and best bread in town, they're still delicious after being lugged up the mountain in our backpack. Once we feel refreshed—maybe even a little chilly under the dense trees—we trek downward and hit the road again.
On our way south, we stop at Wisebird Bookery (4850 Harrison Blvd., Ogden, 801-479-8880) and pick out a couple of paperbacks—an Agatha Christie mystery or teen book for me, a fantasy for my husband. Next, we return to Highway 89 and hit up Cherry Hill Water Park (1325 South Main, Kaysville, 801-451-5379, Cherry-Hill.com) for an afternoon on the water slides and lazy river. If we're feeling up to it, we might visit the batting cages or mini-golf course, but a second attractive option is drying off between rides by reading/catching a quick snooze on blankets under the sun on the park's grassy hill. After about four hours, we're sufficiently wrinkly from the water and pink from the sun, so we head back into Salt Lake City.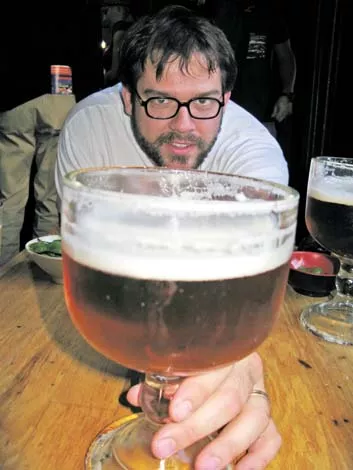 We stop home at around 5:30 to make ourselves presentable before taking TRAX downtown to Gallivan Plaza. We walk to Sicilia Pizza (111 E. 300 South, 801-961-7077, SiciliaPizza.net) for some tasty, custom, personal pizzas, made fresh by owner/chef Amro Herrera. Once our bellies are full, we walk to O'Shucks (22 E. 100 South, 801-596-8600) where we unwind at the bar with schooners of Pabst Blue Ribbon. The beer is the warmest in town, but it goes down quicker that way. Longtime patrons of O'Shucks, we see familiar faces behind and lining the bar, making it the perfect place to relax after a long day.
Freebies & Fresh Air
By Scott Renshaw
Summer days in the Utah valleys can be brutally hot—and especially brutal for parents dealing with bored, sweaty, vacationing kids. But I have a vision of a summer day that keeps the whole family cool without burning a hole in the budget.
Start the day by driving up to Snowbird Ski & Summer Resort (Highway 210, Little Cottonwood Canyon, 801-933-2222, Snowbird.com) in the morning. Temperatures at the mountain resort can be 10-15 degrees lower than on the valley floors, and its lovely trails—including a one-mile, kid-friendly, wheelchair-accessible walk—can provide a great opportunity for exercise and nature watching. For a little extra expense, you can add some thrills to the morning on the Alpine Slide ($8 per adult or older child riding alone, $3 for a 6-years-or-under "lap rider") or the ZipRider ($12 per ride). The Forklift for lunch offers gorgeous views and a reasonably priced kids' menu, but a picnic could lower costs even more.
Of course the kids will want to get wet eventually, but that doesn't mean pricey tickets for water parks or even rec-center pools. Head downtown after lunch, where the Seven Canyons and splash-play areas at Liberty Park (900 South 700 East) are a wonderful spot to get soaked on a summer day—though, not surprisingly, generally a crowded and popular one. And when it's time for a break and a snack, there are plenty of big shade trees for relaxing.
Bring along a change of clothes, because you'll want everyone dry enough to walk inside eventually. Several downtown-area museums and exhibits offer either free admission or special pricing on selected days. At the Gateway, the exhibits at
Clark Planetarium
(110 S. 400 West, 801-456-7827,
ClarkPlanetarium.org
) are always free during operating hours; only tickets for the planetarium's movies will cost you anything. The
Utah Museum of Natural History
(1390 E. Presidents Circle, University of Utah, 801-581-6927,
UMNH.Utah.edu
) offers its "Free Family Monday" the first Monday of every month, with access to all exhibits, and a family of four can visit
Tracy Aviary
(589 E. 1300 South, 801-596-8500,
TracyAviary.org
) for only $16 (less if one of the little ones is 3 or under).
Wheeler Farm
(6351 S. 900 East, 801-264-2241, WheelerFarm.com) is also a freebie, though individual activities like the wagon rides and farm chores have a nominal charge. 
If your itinerary has taken you away from The Gateway (ShopTheGateway.com), head back for your dinner at any of the outside patio locations. If you're visiting on a Thursday in June or July, you could enjoy some free music at the Jazz on the Plaza concerts. But maybe the kids would rather just get another dose of water at the Olympic Legacy Fountain (6 N. Rio Grande St.). They'll dry off—and after this day, your bank account won't be dried up. 
Downtown's Metaphysical Spiral
By Jerre Wroble
When I have pals in town, I know they're expecting a taste of traditional Utah combined with sightseeing and pampering. So, I wake them up early on Sunday morning (yes, they love me for this) and drag them out to see a free performance by a world-class choir: the Mormon Tabernacle Choir at Temple Square (50 W. North Temple, 801-240-4872, LDS.org). Once I convince them that no one will pounce on them at the gate and hypnotize them into Mormonism, they relax and enjoy the 360 voices belting out choral masterpieces each Sunday at 9:30 a.m. In fact, I'd go so far as to say, they're quite impressed. Usually, while they're still in a stupor after the performance, I drag them into the North Visitor's Center to see the 11-foot-tall marble replica of Thorvaldsen's Christus with the universe swirling around in the background. It's quite a metaphysical way to start to the day.
Keeping with the metaphysical theme, next stop is a morning of brunch and mimosas on the patio, followed by tarot cards and book shopping at
The Oasis Cafe/Golden Braid
(151 S. 500 East, 801-322-0404,
OasisCafeSLC.com
). We then visit
Healing Mountain Massage School
(455 S. 300 East, 801-355-6300,
HealingMountain.org
), open 1-5 p.m. on Sunday, for $35 hot stone Swedish massages.
After food, champagne and massage, a strolling siesta is required: we walk to the magnificent (and air-conditioned) Main Library (210 E. 400 South, 801-524-8200, www.SLCPL.lib.ut.us) where we order strong iced coffees from the Salt Lake Roasting Company located in the library's atrium. We find a seat in the atrium's upper floors to take in the dazzling view of downtown Salt Lake City.
After we sufficiently revive ourselves, we make our way to Whole Foods (645 E. 400 South, 801-355-7401, WholeFoodsMarket.com) to buy containers of fresh organic salads, dips and sandwiches, and then make a quick trip to my home fridge to pick up chilled wine that I remembered to buy on Saturday (since liquor stores here are closed on Sundays) at the Utah Wine Store (255 S. 300 East, 801-533-6444). Then, it's off to enjoy a delectable indoor picnic at an evening performance of Salt Lake Acting Company's Saturday's Voyeur (168 W. 500 North, 801-363-7522, SaltLakeActingCompany.com). I wish we could have squeezed in a tram ride at Snowbird, an afternoon drive around Antelope Island, and a Red Butte Garden outdoor concert, but there are only so many hours in a perfect day.