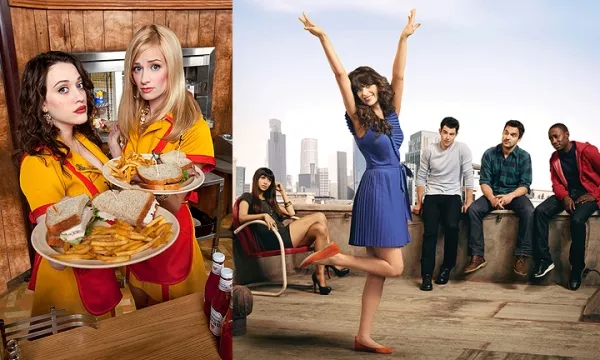 2 Broke Girls
Monday, May 7 (CBS)
Season Finale:
Had high hopes for
2 Broke Girls
when it premiered back in September, but 20 episodes later? There's a "not-so-fresh feeling" joke here somewhere. The Broke Girls (Kat Dennings and Beth Behrs) still have a great rapport, but everything else has fallen apart around it, like the writers just called it Beer:30 when the show was picked up for another year. At least the one-hour season finale has Martha Stewart. … When has that
ever
been uttered as a positive?
New Girl
Tuesday, May 8 (Fox)
Season Finale:
On the other hand, I had no expectations for Zooey Deschanel's
New Girl
, which premiered around the same time as
2 Broke Girls
. The pilot was promising, but subsequent episodes had more extreme swings than a bipolar kitten shooting catnip eight-balls (which you
know
Deschanel's Jess has emblazoned on an adorkable sweater). Then, at the beginning of 2012,
New Girl
finally gelled as an ensemble comedy with hysterically divergent storylines for Nick (Jake Johnson), Winston (Lamorne Morris), Cece (Hannah Simone) and breakout douche Schmidt (Max Greenfield). Hell, even the guest stars (Dermot Mulroney, Phil Hendrie, Jeanne Tripplehorn and Rebecca Reid as Cece's Russian model roommate Nadia) have been killing it. All is forgiven for that iPhone commercial, Zooey.
---

The Rock & Roll Hall of Fame 2012 Induction Ceremony
Saturday, May 5 (HBO)
The big stink this year (besides the annual exclusion of Rush from fans, drummers and LARPers, of course) was Axl Rose's refusal to show up if the rest of the original Guns N' Roses lineup also attended. GNR accepted without him, then ran through some classics with an Axl impersonator—hey, at least it wasn't a hologram. Also performing with far less drama in
this 2 1/2 hour special
are inductees the Red Hot Chili Peppers (best-known guitarist John Frusciante didn't appear, but Anthony Kiedis' ridiculous new mustache did), Kid Rock and The Roots blasting through the hits of inductees the Beastie Boys (sorry, no time for Kid's Mitt Romney pitches) and, for some reason, Green Day pimping their show tunes.

Sherlock
Sunday, May 6 (PBS)
Season Premiere: It's not as visceral and violent as Robert Downey Jr.'s big-screen Sherlock Holmes, but a growing cult of American viewers believe the BBC's subtler Sherlock (set in contemporary London and soon to be ripped off, er, adapted, by CBS stateside) is the better choice—even if they do have to wait almost as long between seasons as moviegoers do between films. Spoiler alert: Holmes (Benedict Cumberbatch) and Dr. Watson (Martin Freeman) weren't killed at the end of Season—sorry, anglophiles, Series—1 in 2010; the first installment of the second run of 90-minute episodes features the already-infamous debut of Irene Adler (Lara Pulver), a high-society dominatrix who also happens to be Holmes' intellectual equal and quite comfortable with nudity. Let's hear it for liberal PBS standards!
The Comedy Awards
Sunday, May 6 (Comedy Central)
While 30 Rock, Curb Your Enthusiasm, Happy Endings, Modern Family and Parks & Recreation are all excellent nominees for Comedy Series, how did they overlook The Client List? It's about Jennifer Love Hewitt dispensing free marital advice to hunky husbands while giving them reasonably priced handjobs—that's lafftainment. And on what planet are Crazy Stupid Love, Midnight in Paris(!) and The Artist(!!) in the same Comedy Film league as Bridesmaids and Horrible Bosses? And as much as The Only TV Column That Matters™ loves Animated Series noms Archer, Family Guy, The Simpsons and South Park, it's going to sting to see first-time-recognized-for-anything gem The Life & Times of Tim lose to one of 'em, especially since HBO just canceled it (again).