Page 2 of 4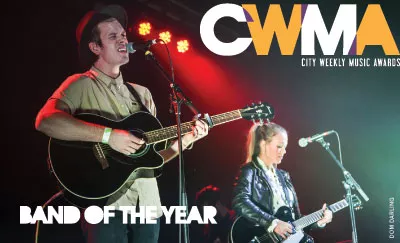 HIGH TIDE
Westward the Tide's energy makes them an unstoppable force.
By Kolbie Stonehocker

Instead of bothering with any preamble when they took the stage at the first of two City Weekly Music Awards band showcases at The Complex, opening band Westward the Tide began their performance with a bang—literally.
Cam Brannelly strode onstage and started hitting his drums so hard that everyone's eyes and ears were hooked as effectively as if a cannon had been fired. Then, violist Jordan Towner joined in by banging on a large floor tom as the rest of the band came out, picked up their instruments and launched into a set that was full of sincere enthusiasm, kinetic energy and sparklingly beautiful moments of flawless vocal harmonies.
The Provo band's spectacular stage presence, undeniable chemistry and the infectious joy with which they play their music made a stunningly strong impression in the showcase, and the judges and the large crowd that came out for the show agreed that they were more than worthy of the Band of the Year title.
"We work really hard on our performance and our show and drilling in our sound, and it was just cool that people noticed it and liked it and they chose us over all of the other amazing bands," says Megan Larsen (who contributes backing vocals, keyboards and one wild tambourine). "We've really been working hard to get where we're at, so it's really awesome to see that that was recognized by people and we stood out from the crowd. It meant a lot to us."
Winning the band portion of the CWMAs is an especially huge milestone for Westward the Tide, considering the fact that the six musicians have been creating music together for barely more than a year. But just as Westward the Tide suddenly announced their arrival on the stage that night, they appeared in the local music scene and immediately struck out in one direction: up.
Westward the Tide was founded by Larsen and Kaitie Forbes—who played music together in high school—as well as Larsen's husband, Jackson (co-lead vocalist/guitarist and main songwriter). The rest of the lineup—Towner, Brannelly and bassist Cole Herrmann—came together almost effortlessly.
"It was meant to happen," Forbes says. "I think we were all in places in our lives where we just needed something more." In November 2012, Westward the Tide—their namesake is a novel by influential Western author Louis L'Amour—officially became a band.
They quickly began attracting a dedicated fanbase as early as their first show—a showcase for new bands at Velour in Provo—which, to Westward the Tide's disbelief, ending up selling out. "Velour was like, 'What the heck?' and we were like, 'What the heck?' " Jackson says. "We didn't even play that good of a set, but we just rallied a bunch of people to get there."
Building off that initial momentum, Westward the Tide released a five-track EP, titled Everything Is—recorded at June Audio in Provo—in April 2013. Just a few months after that, the band began working on their first full-length record, Sorry Soul, which will be released locally at a show at Velour on March 15.
For help creating what they consider to be their true debut, Westward the Tide worked for the first time with a producer, well-known local singer-songwriter and producer Joshua James. Sorry Soul was recorded over two weeks at James' homestead in American Fork, nicknamed Willamette Mountain.
Forbes, Megan and Jackson all speak fondly about working with James, praising his ability to inventively add to their music instead of trying to change it. "We love the music that we made with Joshua, it's been a blast," Jackson says. "And we learned so much from him. We're just excited to release this new stuff."
Compared to their recording of Everything Is—which was put together relatively quickly, in response to fans clamoring for recorded music—Westward the Tide was able to take their time on Sorry Soul. "It was really cool to just be with Joshua and just tinker and really play with the sounds," Jackson says.
The finished album displays the band's maturing sense of songwriting and exploration of deeper subject matter. Everything Is "was very lighthearted and very happy and very surface," Megan says. "And we like it, but this album definitely goes to show the musical abilities and it really delves into that more."
Forbes adds, "It's a lot more personal."
That progression can be heard on the two singles from the album, "Stardust" and "Young Bodies," that Westward the Tide have released. The band isn't afraid to get into thorny territory about addiction in the minimally wrought "Stardust," and "Young Bodies" has an absolute jewel of a chorus that swells the heart: "You and I, we've got young bodies, old souls."
Now, Westward the Tide are ready to strike out into their unknown future as a band with the same amount of energy that ignited the stage of the CWMA showcase. Sorry Soul is more than Westward the Tide's debut album: It's a declaration.
The new album is "more in your face and just going to show, 'Yeah this is us, and we're going to do this,'" Megan says. "And we're serious about it."

WESTWARD THE TIDE ALBUM RELEASE
w/Luna Lune, Young & Old
Velour
135 N. University Ave., Provo
Saturday, March 15, 8:30 p.m.
$8
VelourLive.com

---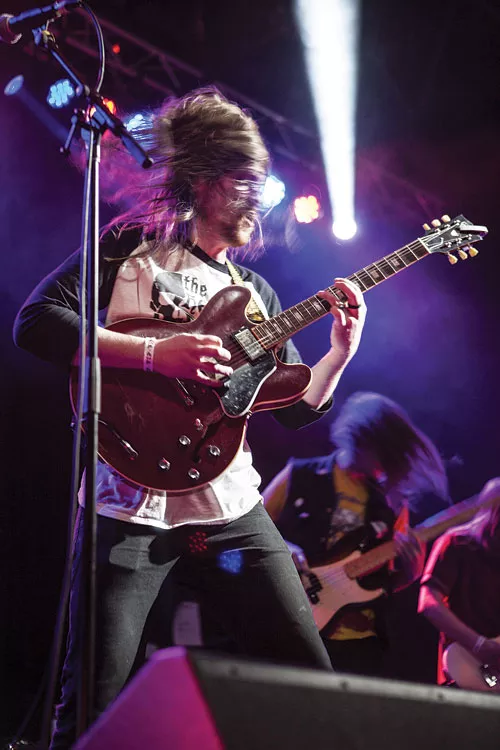 Best Head-Banging Moment
The North Valley
It's surprising there was any stage left to speak of after rock & rollers The North Valley performed at the Feb. 22 band showcase at The Complex. Possibly the most energetic band of the CWMAs, The North Valley channeled the raw power of hell's most bloodthirsty rock gods as they blasted their way through a set that included plenty of gritty howls, muscular guitar riffs and epically longhaired head-banging. All five band members were in constant motion throughout, but trying to take a blurry-free photo of co-lead vocalists Spenny Relyea (guitar) and Dane Sandberg (bass)—who couldn't be contained by his shirt—was damned impossible, like attempting to photograph dual tornadoes. (Kolbie Stonehocker)