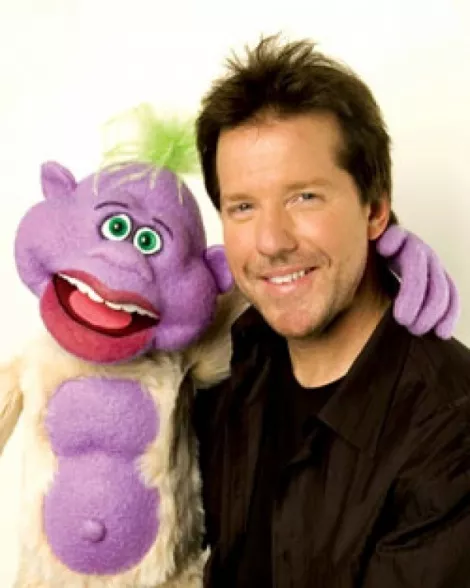 Thursday 10.25 Achmed the Dead Terrorist, Super Melvin and bitter old Walter have plenty to say—but not without a hand strategically stuck up their rear ends. In his latest comedy extravaganza SPARK OF INSANITY, ventriloquist/comedian JEFF DUNHAM's delivers social commentary through the mouths of new and classic characters. Dunham takes the stage—briefcase and all—tonight. Jeff Dunham: Spark of Insanity @ Capitol Theatre, 50 W. 200 South, 7:30 p.m. Tickets: 355-ARTS
• When WARREN MILLER became the Warren Miller, the acclaimed winter-sports filmmaker had to focus on solicited work. However, every once in a while, something unsolicited makes the cut for his annual season-launching installment, as in this year's film PLAYGROUND. Utahns can enjoy the BYU Water Weenie Squad segment, which shows off the team's snow-sledding skills. Utah's best powdery playgrounds are also featured in the film, which showcases the best ski and snowboarders around. Warren Miller's Playground @ Abravanel Hall, 123 S. West Temple, 6 & 9 p.m.; The Eccles Center, 1750 Kearns Blvd., Park City, Oct. 26, 6:30 & 9:30 p.m.; Peery's Egyptian Theater, 2415 Washington Blvd., Ogden, Oct. 27, 3, 6 & 9 p.m., Tickets: 355-ARTS, WarrenMiller.com.
Friday 10.26 Most people know that mainstream news media don't always give the full story. The question that hasn't been explored is: Why do we get such lackluster coverage? CBS News producer Mary Mapes, who most notably broke the Abu Ghraib stories, and The Guardian staff writer Gary Younge will speak at the symposium MISLED BY THE MAINSTREAM: HOW THE MEDIA FAIL TO INFORM. With KUED-TV's Mary Dickson as moderator, the journalists speak about the importance of information and how the public can insist on better news quality. Misled by the Mainstream: How the Media Fail to Inform @ Language & Communications Building, 255 Central Campus Drive, U of U, 581-6888, 1 p.m.
• Too often, kids these days are portrayed as the problem when it comes to social issues, not the solution—unless it's contributing to Baby Boomers' Social Security checks. And while the University of Utah's EXPERIMENTS IN INK IX isn't promising to solve the world's problems, the student-written and -produced event does allow the younger generation's voices to be heard. Issues of class, love and politics are explored. Experiments in Ink IX @ Studio 115, U of U Performing Arts Building, 240 S. 1500 East, Oct. 25-28, 7:30 p.m., Tickets: 581-7100, ExperimentsInInk.com
Saturday 10.27 Ten is a big anniversary year, and the UTAH HUMANITIES BOOK FESTIVAL (formerly the Great Salt Lake Book Festival) is going all out to celebrate. Fifty authors—about half of whom are from out of state—converge on the Main Library for book readings, conversations and writing workshops. Tonight, feminist historian Laurel Thatcher Ulrich discusses her novel Well-Behaved Women Seldom Make History—taking its name from the popular bumper-sticker slogan she coined years ago. Also, Western writer William Kittredge speaks about the impact of his genre on today's culture. The festival runs in conjunction with the St. George Book Festival and other events around the valley. See the Utah Humanities Website for all the details. Bookworms, come out of the closet. Utah Humanities Book Festival @ Main Library, 210 E. 400 South, 524-8200, Oct. 22-27, UtahHumanities.org/BookFestival.htm
Sunday 10.28 It's still almost as hard to picture Tommy Chong without his partner in crime Cheech Martin—from the Cheech & Chong heyday of the 1970s—as it is to imagine him wearing a three-piece suit. But if there's any closer (and better-looking) companion to fill that void, it's his wife and comedienne Shelby Chong. In a "special event" performance, Wiseguys West Valley presents TOMMY CHONG & SHELBY. Chong revisits C&C material and brings back memorable characters from appearances on That '70s Show and Dharma & Greg playing—what else?—a hippie. Tommy Chong & Shelby @ Wiseguys West Valley, 3500 S. 2200 West, West Valley City, 463-2909, 7 & 9 p.m.
Monday 10.29 Lately, the view at 1100 East near 2100 South—boarded-up windows, bulldozers and all—is no pretty picture. But there are a few pretty pictures that can be found on the other side of the street at Sprague Library, where the new work of MARK REGNI is featured beginning today. Having studied art in the finest schools around the country, Regni settled in Utah to continue painting landscapes and seascapes with oils on canvas. Mark Regni: New Work @ Sprague Library, 2131 S. 1100 East, 524-8200, Oct. 29-Dec. 17. Reception: Nov. 8, 6 p.m.
Tuesday 10.30 All right, goblins and ghouls. Among the Halloween dilemmas—Dress up or not? Decorate the house or not?—there's one unifying principle: Everybody loves to be scared. And NIGHTMARE ON 13th is happy to oblige. The largest scary spectacle in the state presents memorable frightening characters from Hollywood to hell. And if you must stay home, check out the Website where you can watch your friends go through the house live! At least, they're live when they go in … Nightmare on 13th haunted house, 300 W. 1300 South, 467-8100, through Oct. 31, NightmareOn13th.com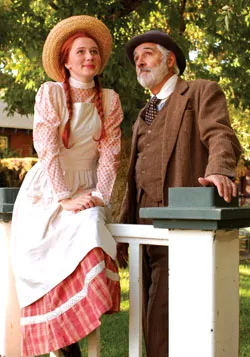 Wednesday 10.31 So, you want a scary story on Halloween? Here's one: You are a female orphan, and you're mistakenly sent to a family that asked for a boy. Wrong kind of scary? Then see Tuesday. The Grand Theatre's production of ANNE OF GREEN GABLES—the musical adaptation of the classic story by Lucy Maud Montgomery, about the lovely red-haired and long-adored orphan, Anne Shirley—certainly isn't the most traditional story to enjoy on a Halloween night. But, for the family, it just might be perfect. Anne of Green Gables @ Grand Theatre, 1575 S. State, 957-3322, Oct. 26-27, Nov. 1-3, Nov. 5-10, 7:30 p.m. The-Grand.org