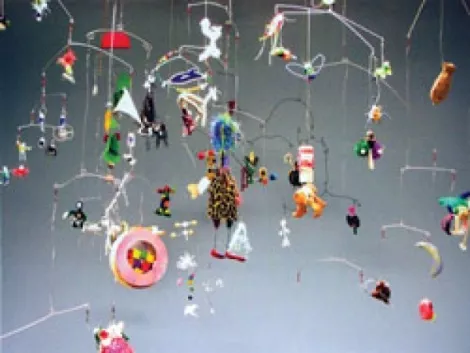 Thursday 9.

20
Common courtesy suggests a handshake when meeting someone. But when your new acquaintance is a dead ringer for mountain-man Jedediah Smith or an American Indian chief, it's understandable if you're left gaping. Midvale City Park hosts the
AMERICAN HERITAGE FESTIVAL
, a living historical timeline featuring authentic encampments and representations of everything from coastal Native Americans to Civil War soldiers. Attend the Buckskinner's Ball on Sept. 22 and don't be surprised if Buffalo Bill asks you to dance.
American Heritage Festival @ Midvale City Park, 445 W. 7500 South, Sept. 20-22, 9 a.m.-7 p.m.; Sept. 23, 9 a.m.-4 p.m. YourHistory.org
Friday 9.

21
When art forms get commercialized, talent often goes unnoticed. Take, for instance, mobiles—now appearing in virtually every nursery where they hang over cribs to entertain infants. But Art Access II Gallery wants to recognize the medium, invented by sculptor Alexander Calder, in its latest exhibition
MOBILITY: KINDRED SPIRITS GROUP STUDENT EXHIBITION
. Artists Lenka Konopasek and Cordell Taylor collaborated with disabled children from the nonprofit Kindred Spirits to create 3-D mobiles in many shapes and sizes—again making the mobile more than a toy.
Mobility: Kindred Spirits Group Student Exhibition @ Art Access II Gallery, 230 S. 500 West, 328-0703, Sept. 21-Oct. 12. Reception: Sept. 21, 6-9 p.m.
• Unless you're a particularly eclectic (or short-attention-span) radio-station surfer, your typical day probably doesn't combine the sounds of Mozart, tango and '80s rock. But there are no boundaries in Ririe-Woodbury Dance Company's season-opening show
FAST FORWARD
. Featuring three world-premiere pieces (by choreographers Larry Keigwin, Andrea Beckham and Charlotte Boye-Christensen) that fuse theater and dance, the production offers a glimpse of what's to come for the rest of the season.
Fast Forward @ Rose Wagner Center, 138 W. 300 South, Sept. 20-22, 7:30 p.m. Tickets: 355-ARTS, ArtTix.org, RirieWoodbury.com
Saturday 9.

22
At the recent Greek Festival, there were no statues of Greek gods lining the festival entrances, nor were there any designated worship areas. Simply put, classical and modern Greek cultures are vastly different. To experience the flavor of ancient Greece, check out the
CLASSICAL GREEK THEATRE FESTIVAL
—where the Pantheon is present and accounted for. The 37th annual festival, presented by the Utah Humanities Council, this year features Euripides'
HELEN
. A pre-show discussion takes place at 8:30 a.m., in case a 9 a.m. showtime isn't early enough for you on a weekend.
Classical Greek Theater Festival: Helen @ University of Utah Performing Arts Building, 240 S. 1500 East, Sept. 22, 23, 29 & 30, 9 a.m. Pre-show discussion: 8:30 a.m. Tickets: 581-7100, KingTix.com
• Sugar House has a secret. While the heart of the neighborhood is being torn down, Hidden Hollow is a treasure few know about. The
LEGEND OF HIDDEN HOLLOW
takes visitors to Sugar House's little-known alcove where history meets art. At the free event, more than 40 "sites" have been created by visual and performing artists as an artistic tribute to the area. See 3-D fantastical Cutthroat trout installed throughout Parely's Creek and a cellist who performs in the water. Also, see how some artists have incorporated their creativity into the six ecosystems found in the area. Alternative-rock band RavenHorse performs after the event.
Legend of Hidden Hollow @ Hidden Hollow Nature Preserve, 2100 S. 1100 East (next to Petco in Sugar House Commons), 673-2974, 3 p.m. BrollyArts.org
Sunday 9.

23
Why be just one of the 38 million viewers watching the
DEW ACTION SPORTS TOUR
on TV when it is so easy to join the audience? After a competitive-bidding process, the third annual tour is making Salt Lake City its fourth of five stops. More than 150 of the world's top athletes in skateboard, BMX and freestyle motocross will compete in the four-day show. Now there are no excuses to be left in the dust.
Dew Action Sports Tour @ EnergySolutions Arena, 301 W. South Temple, Sept. 20-23. DewActionSportsTour.com
Monday 9.

24
Generally speaking, books are simply to be read—but not when artist
JODY PLANT
has anything to do with them. To her, the text from books is the vehicle for inspiration, in many cases driving an ordinary book into something resembling modern origami. At Palmers Gallery, see Plant's new work that takes ordinary objects—books, sticks and other found objects—to an entirely new level.
Jody Plant: New Work @ Palmers Gallery, 378 W. 300 South, Suite 3, 359-4632, Sept. 21-Oct.12. Reception: Sept. 21, 6-9 p.m. PalmersGallery.com
Tuesday 9.

25
It's hard not to see parallels between
GORDON CAMPBELL
's own life and the plot of his debut novel Missing Witness. Campbell, a successful lawyer at a local firm, certainly shares attributes with his book's criminal-attorney protagonist. But did that fictional character spend 25 years waiting to get a book published only to be championed by The King's English's own Betsy Burton to get it published? I think not.
Gordon Campbell @ The King's English, 1511 S. 1500 East, 484-9100, 7 p.m.
Wednesday 9.

26
The
RINGLING BROS. AND BARNUM & BAILEY CIRCUS
is in town, boys and girls, presenting this year's
BELLOBRATION
. See Bello, the comic daredevil with foot-high orange hair, balance on top of a seven-story-high pole and perform alongside exotic animals—many of which you can meet before each show.
Ringling Bros. and Barnum & Bailey: Bellobration @ EnergySolutions Arena, 301 W. South Temple, Sept. 26-Sept. 30. Animal open house 90 minutes before show time. Tickets: 325-SEAT, Ticketmaster.com
cw