Thursday 8.9 If you build it, they will come—and they did. Each year, the Utah Arts Alliance asks local artists to submit proposals for solo and group shows. But with many would-be solo artists and only 12 months in a year, the Alliance's latest show is a six-artists-for-one-exhibit special. The UTAH ARTISTS GROUP EXHIBIT now on display features work by Kristen Eden, Travis Faber, Pamela Kutzen, Nada Meeks, Suzan Rasmussen ("Between Two Fires" is pictured at right) and Lauren W. Zackrison. Utah Artists Group Exhibit @ Utah Arts Alliance, 127 S. Main, 651-3937, through Aug. 31


Friday 8.10 It used to be that to see the "up, up and away" of a balloon festival, you had to travel far, far away (relatively speaking), like to next weekend's Ogden Valley Balloon Festival. Not anymore. The first annual SANDY BALLOON FESTIVAL begins today, featuring live music and events today and tomorrow. On Saturday at 8 p.m., Peter Breinholt performs during the "Balloon Glow." The city's stadium deal may have been fueled with hot air, but at least some of it is being put to good use. Sandy Balloon Festival @ 10000 S. Centennial Parkway, 352-4470, Aug. 10, 7 a.m.; Aug. 11, 7 a.m.; concert & balloon glow, 8 p.m.

Saturday 8.11 Not that you need more persuading to attend the weekly Downtown Farmers' Market at Pioneer Park but today, the Friends of the City Library hosts a MINI USED-BOOK SALE during market hours, 8 a.m.-1 p.m. Now you can add nonfiction, fiction and children's books—all priced at $2 or less—to your usual purchases of fresh fruits, vegetables and other local goods. Mini Used-Book Sale @ Downtown Farmers' Market, Pioneer Park, 300 South 300 West, 8 a.m.-1 p.m. Market runs every Saturday, through Oct. 20. 524-8200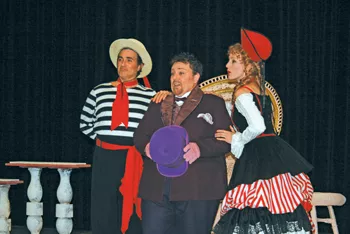 Until the Victorian-era duo of W.S. Gilbert and Arthur Sullivan came along, comic opera—at least intentionally comic opera—was an anomaly. Soon, however, Gilbert's absurd lyrics coupled with Sullivan's memorable melodies made the pair's fanciful operas widely accepted. Along with
The Pirates of Penzance
, Gilbert and Sullivan's
THE GONDOLIERS
is one of the pair's best-known works, and it will be performed as part of the Deer Valley Music Festival.
The Gondoliers @ Deer Valley Resort, 2250 Deer Valley Drive, Park City, Aug. 10-11, 7:30 p.m. Tickets: 533-NOTE

Sunday
8.
12
The spare change you give transients on the street (for food, you hope) is most likely appreciated, but it doesn't go very far. The Wasatch United Front hopes to expand that charitable impulse with the
SALT LAKE COUNTY HOMELESS BENEFIT
. Today, money raised from the event—which features food and art vendors—goes toward helping homeless clients at the Housing Authority of the County of Salt Lake, many of whom are veterans, recovering addicts, victims of domestic violence or children no longer eligible for foster care. That, along with musical guests including The Debi Graham Band, is certainly music to the ears.
Salt Lake County Homeless Benefit @ Gallivan Center, 239 S. Main, 979-4357, noon-9 p.m.
You might think you've grasped a simple definition for abstract art until you see the styles of artists
KIKI GAFFNEY
and
SILVIA POLOTO
under one roof. Julie Nester Gallery features the work of the two artists in the exhibit
OBSERVATIONS
, where each artist explores her observations of the world—Gaffney through large geometric shapes reflecting upon nature, and Poloto through experimentation with transparent layers. Observe the results for yourself.
Observations: New Paintings by Kiki Gaffney and Silvia Poloto @ Julie Nester Gallery, 1755 B Bonanza Drive, Park City, 435-649-7855, Aug. 3-28

Monday
8.
13
In the land of Zion,
CTR SUPERSTAR
has a big job. After all, in the play bearing his name, the crime-fighter must combat evil apostates and help Utah maintain its squeaky-clean reputation. Watch as CTR Superstar (played by Eric Jensen, who also wrote the script) takes on arch nemeses Ethyl Alcohol and Jack Mormon at the Off Broadway Theatre.
CTR Superstar @ Off Broadway Theatre, 272 S. Main, 355-4OBT, through Aug. 18

Tuesday
8.
14
Of the women and for the women—that's Team Sugar's motto—at least every Tuesday night. The all-female amateur team from Park City bike shop White Pine Touring wants women of all ages and abilities to join the
WOMEN-ONLY BIKE RIDES
. Geared for enjoyment and nonthreatening, the rides especially cater to women who are just getting started with mountain biking and who want to enjoy some of the most beautiful trails Park City has to offer. If nothing else, it's a good excuse to leave the house for a few hours. Arrive by 5:30 p.m. for the 6 p.m. departure.
Women Only Bike Rides @ White Pine Touring, 1790 Bonanza Drive, Park City, 435-513-2271, every Tuesday night, through Aug. 28, 6-8 p.m.
Wednesday
8.
15
The smell of manure, quilt competitions … yep, fair season is underway. Still, attending county fairs is a sort of an American requirement, and you can participate today at the
DAVIS COUNTY FAIR
. The fair opens with a watermelon eating contest (5 p.m.) and a petting zoo. Thursday and Friday feature a car show and baby derby, with live entertainment running throughout. See the Davis County Website for all events and times.
Davis County Fair @ Davis County Events Center, 151 S. 1100 West, Farmington, 451-4080, Aug. 15-18, DavisCounty.com