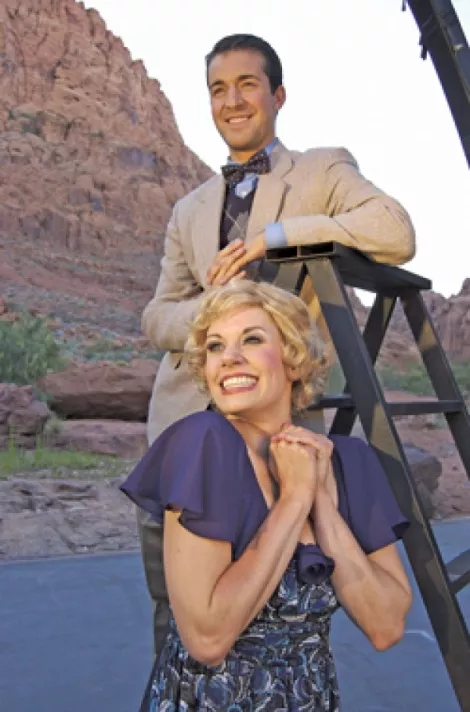 Thursday 8.
30
In the Broadway musical
42nd STREET
, producers want the new show Pretty Lady to become a hit in the midst of the Great Depression. And, as the story goes, the loveable Peggy Sawyer transcends her klutzy audition to become an overnight sensation. Tonight, the Tuacahn Center for the Arts celebrates the opening night of its revival of the 1930s tap-dancing spectacle—and hopes that it, too, will be a hit.
42nd Street @ Tuacahn Center for the Arts, 1100 Tuacahn Drive, Ivins, Aug. 30-Oct. 20. Tickets: 800-746-9882, Tuacahn.org
Friday 8.
31
Asking which is better—the monthly Salt Lake City or
PARK CITY GALLERY STROLL
—is no fair question. But if by "better" one means "more accessible," Park City wins. The stroll—which takes place on the last Friday of the month (as opposed to Salt Lake City's, which is on the third Friday of the month)—begins at the Kimball Art Center. There, you can pick up a map and stroll historic Main Street, as 22 of the 25 galleries are located there—how convenient not to have to range too far in the high altitude. Appetizers and live music complete the experience.
Park City Gallery Stroll @ Kimball Art Center, 638 Park Ave. & Main Street, Park City, 435-649-8882, 6-9 p.m., KimballArt.org/GalleryStroll.htm
• There's the Big Dipper! And the Little Dipper! And … well, that's probably it. As trained as you think your naked eye is, it wouldn't hurt to take a few lessons from a professional. Enjoy
STARGAZING
tonight at Snowbird Resort where local astronomer John Baranca teaches you the names of some lesser-known stars and constellations, and what to look for in the night sky. Then, take a tram ride up 11,000 feet to see the clear skies through high-powered telescopes. In no time you'll be exclaiming, "There's a Jupiter-Antares pair, with Arcturus shining in the Western sky!"
Stargazing @ Cottonwood Room, Snowbird Center, Level 2, Hwy. 210, Little Cottonwood Canyon, 933-2222, 8 p.m.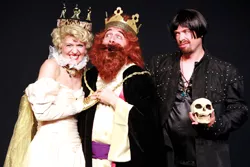 Saturday 9.
1
Did some strange alchemy between a high school English classroom and cafeteria food give rise to a fever dream that became Desert Star Theatre's latest parody? In
SPAMLET: WHERE MYSTERY MEATS COMEDY
, Prince Spamlet, following Shakespearean tradition, battles his uncle for the throne—but not without encountering mystery meat and the wrath of a crazy girlfriend. To eat or not to eat; now that is the question. High school students: Dig in.
Spamlet: Where Mystery Meats Comedy @ Desert Star Theatre, 4861 S. State, 266-2600, Aug. 20-Nov. 10, DesertStar.biz

Sunday 9.
2
Tomorrow is Labor Day, which means no work and a reason to party tonight. Why not make it the
TRANSCENDENTAL BIRTHDAY PARTY
for Sri Krishna, which celebrates the 5,000 years that have passed since the Hindu Lord appeared on Earth to protect his followers and spread his teachings? Maybe it's not your typical night out, but the holiday (similar to Christmas for Christians) provides a place of celebration for worshipers and a place of learning for others. Enjoy the many activities in celebrating the advent, including a musical pageant, dances and a huge feast that you'll want to stick around for.
Transcendental Birthday Party @ Krishna Temple, 8628 S. Main, Spanish Fork, 798-3559, 8 p.m.-midnight
Monday 9.
3
Spend your Labor Day exerting no more energy than it takes to drive and park (or take TRAX) and sit down at Franklin Covey Field to see the
SALT LAKE BEES
play the Las Vegas 51s. Cheer on the Bees in their final regular season home game while drinking beer and eating—and, assuming you're enjoying a paid holiday, reminding yourself that you're earning wages while rooting for the home team. And if you do have to work today, hey, there are always the fireworks for the
FAN APPRECIATION NIGHT
on Saturday.
Salt Lake Bees vs. Las Vegas 51s @ Franklin Covey Field, 77 W. 1300 South, 2:05 p.m. SLBees.com; Sept. 1: Fan Appreciation Night, 7:05 p.m.

Tuesday 9.
4
Long before Sept. 11 became known as an American nightmare (and referred to simply as 9/11), it was the date of the Mountain Meadows Massacre—a violent act that, coincidently, was also carried out in the name of God. But, although 9/11 is still a fresh wound, the massacre is barely acknowledged, especially in a state where many wish to ignore it.
WILL BAGLEY
, author of
Blood of the Prophets: Brigham Young and the Massacre at Mountain Meadows
, speaks in commemoration of the 150th anniversary of the event—and as part of Ken Sanders' monthlong series of events marking its 10th anniversary—tonight.
Will Bagley @ Ken Sanders Rare Books, 268 S. 200 East, 521-3819, 7 p.m.
• Ever since J.K. Rowling's little wizard joined the ranks of Young Adult literature, it became clear that genre labels only go so far. That's why you shouldn't miss
MARGO RABB
during her stop at The King's English tonight, promoting her latest young adult book Cures for Heartbreak. The author of the
Missing Persons
series, Rabb has plenty of work to hook new readers. Besides, what are you going to do now that you've finished the final
Harry Potter
book?
Margo Rabb @ The King's English, 1511 S. 1500 East, 484-9100, 7 p.m.
Wednesday 9.
5
Unlike its similarly titled counterpart at Desert Star Theatre (see Saturday),
MONTY PYTHON'S SPAMALOT
requires little introduction. Based on the 1975 cult-classic film
Monty Python and The Holy Grail
(and taking its name from one line in the movie: "We eat ham and jam and Spam a lot"), Broadway Across America's touring production features all the classic gags—yes, including the coconut trot—in musical form as King Arthur and the Knights of the Round Table go on their quest. Run away!
Monty Python's Spamalot @ Capitol Theatre, 50 W. 200 South, Sept. 4-16. Tickets: 355-ARTS, ArtTix.org
cw