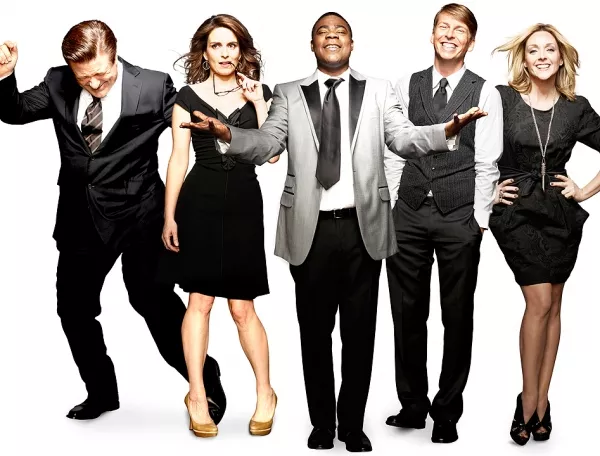 NBC
30 Rock

30 Rock
Thursday, Jan. 31 (NBC)
One-Hour Series Finale: The era of the Weird Comedy is over; look forward to more "broad" fare like The Neighbors and say goodbye to critical darlings like Ben & Kate (just canceled by Fox), Don't Trust the B in Apt. 23 (ditto, ABC), The Office (ending in May) and now 30 Rock, easily the most bizarre of them all. Tina Fey's rapid-fire meta-com somehow survived seven seasons on network television, and so did the quality-unknown show-within-the-show TGS, so, of course, the finale is about both being canceled—and, in the ultimate irony, network-devoted Kenneth (Jack McBrayer) becoming the president of NBC. After this season, it's up to solely Parks & Recreation to fly the network freak flag … oh, and Community, if makes it to Season 5 … or even 4.

Do No Harm
Thursday, Jan. 31 (NBC)
Series Debut: Dr. Jason Cole (Steven Pasquale, Rescue Me) is a successful neurosurgeon who just happens to go on the occasional blackout killing spree—there must be some way to pin this on Obamacare. When nice guy Cole flips into sociopathic alter ego Ian Price at night, he's dangerous, murderous and, yes, way more fun. NBC has been down the Jekyll & Hyde split-personality road before (Christian Slater's My Own Worst Enemy and Nightly Newscaster Brian Williams, to name two … or four), but Do No Harm's mix of mystery and menace glides by so intelligently—and comedically, at times—that you wish it were on cable so Pasquale could really cut loose. On NBC … don't get attached.
Super Bowl XLVII
Sunday, Feb. 3 (CBS)
Football Tournament: We're 13 years (down in back, 2000 believers) into the 21st century—why the hell are we still using Roman numerals? This is Super Bowl 47; refer to it as such, damn it. Yes, The Only TV Column that Matters™ is aware that old-old-school letters lend a certain air of class and dignity to the proceedings, but come on: These are essentially overpaid criminals jacked up on steroids and narcissism putting on a colorful donkey show for millions of addled mouthbreathers who use PeopleOfWalmart.com as a family album; wearing a monocle to a cockfight doesn't make it theatre. Back to the football match: As always, my money's on the Maple Leafs.

Rules of Engagement
Monday, Feb. 4 (CBS)
Season Premiere: Seven seasons—Rules of Engagement cannot be killed, so you might as well learn to live with it. As CBS sitcoms go, Rules is less obnoxiously ubiquitous than The Big Bang Theory, livelier than the running-on-fumes-of-fumes Two & a Half Men, less vagina-obsessed than 2 Broke Girls and definitely skinnier than Mike & Molly. Also, it keeps David Spade too busy to make movies; for that alone, 'Merica should be sending fruit baskets to CBS.
Smash
Tuesday, Feb. 5 (NBC)
Two-Hour Season Premiere: Season 1 of Smash began strong (Music! Lights! Drama! Leotards!), but got a little soapy-loopy in the home stretch (when there are more concurrent affairs than Debra Messing has old-lady scarves, it's probably time to cool it). The new Season 2 showrunners' solution was to fire half of the cast, refocus on the music and bring in a real Broadway diva (Jennifer Hudson) to show Karen (Katharine McPhee) how it's done. Smash 2.0 will also, mercifully, feature other stage productions than 2012's Marilyn Monroe musical (we're led to believe that Bombshell became a massive hit … riiight), as well as more original music—a risky move, since viewers hate songs they've never heard before (just ask Nashville). Could work, could bomb, but at least there's a Will & Grace semi-reunion coming. Faaabuloous!