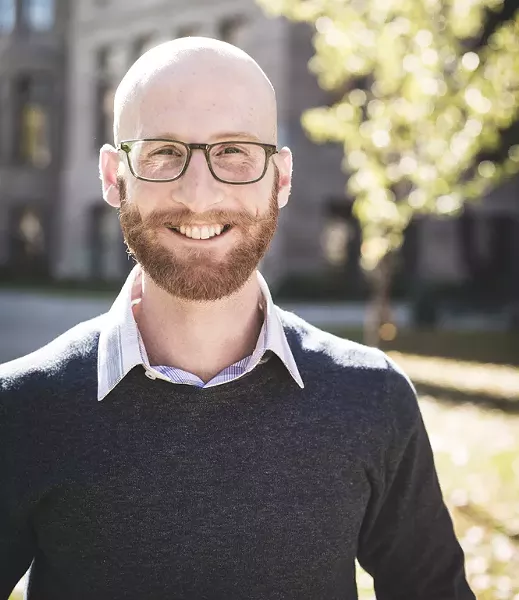 Shortly after the U.S. Supreme Court declined in October 2014 to hear Utah's arguments against same-sex marriage, Derek Kitchen, the named plaintiff who challenged the Beehive State's ban, found himself with a whole lot of free time.
So, spurred by the success of the lawsuit and buoyed with a sense of possibilities, Kitchen announced in February that he intended to run for the District 4 Salt Lake City Council seat.
"I was feeling really energized with the end of our case," Kitchen says. "I felt empowered to put my voice and my energy behind something that I cared about, and I thought that the city council would be a great way to continue that."
Community and political activist Nate Salazar has also announced his intention to seek the District 4 seat, which is being vacated by Luke Garrott, who is running for mayor. [Editor's note: Realtor/Broker Babs De Lay, who is a City Weekly contributor, is also filing to run in District 4.]
At 26 years old, Kitchen would be the city's first politician of the Millennial generation, which is often characterized by its general lack of interest in anything other than smartphones—and, well, smartphones.
Kitchen, though, says he sees many areas where Salt Lake City could improve, including with economic development, access by small businesses to city grants and funding, and a topic that has only recently begun to penetrate the minds of the city's politicians: affordable housing.
The city's current building boom is adding apartments and condominiums at a rapid clip, but Kitchen says none of those units are being designated as affordable or below-market-rate housing—a fact that must change. "Otherwise, we're going to become a very, very expensive city that's exclusive to the rich and, in the name of equality, that's not a good thing," Kitchen says.
Salt Lake City Mayor Ralph Becker has announced an initiative called "5,000 doors" that aims to provide that number of affordable housing units in the next five years. A 2013 study commissioned by the city found that the city already has a deficit of 8,200 affordable-housing units. Nevertheless, Kitchen points out, affordable housing didn't even make the list of the City Council's 2015 priorities.
"We don't have any inclusionary zoning on the books right now in Salt Lake City," Kitchen says, referring to zones in many other cities that stipulate that new developments must contain a certain percentage of affordable units.
In 2012, Kitchen and his partner, Moudi Sbeity, started Laziz Foods, a package-food company that began selling its wares at the Downtown Farmers Market, and now distributes products to Whole Foods Market and other grocery stores.
One area of city government Kitchen is personally concerned with is the Redevelopment Agency. As Kitchen and Sbeity's business has grown, they decided to open a small deli in the Central Ninth neighborhood, near 900 South and 200 West.
The Redevelopment Agency owns several chunks of land in the neighborhood, and Kitchen says his plan to open a deli on some of that land was approved. Kitchen says he secured funding and believed the project would break ground five months ago but, he says, for reasons unknown, the RDA is moving slowly.
"As a business owner, I'm incredibly frustrated with that slow-moving city policy," Kitchen says, noting that the RDA's mission is to combat blight, but that "sitting on properties and preventing them from moving forward is encouraging blight."
D.J. Baxter, executive director of the RDA, says legal review of the project, which includes a mix of retail and housing, and is new territory for the RDA, is behind the reason for the wait.
"That has taken longer than anticipated," Baxter says, noting that the project didn't gain RDA approval until November 2014, and so, under any circumstances, January seemed an ambitious date to break ground. "We certainly bear some of the responsibility on that part."
Kitchen says he hopes to streamline development and perhaps reduce the fees developers must pay to build. But, he says, care must be taken to ensure that the apartment complexes popping up across the city, many of which are dominated by varying color schemes of stucco, are built to lasting standards.
More than anything, though, Kitchen says if he is elected, he's looking forward to working collaboratively with his fellow council members and the community.
"I know what it takes to be a creative decision maker and to collaborate," Kitchen says.
In the lead-up to the Aug. 11 primary election, City Weekly will be publishing candidate profiles on all of the council candidates.