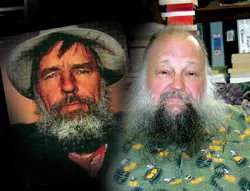 Ken Sanders muses on his friendship with author and essayist Edward Abbey, who died in 1989. The lecture takes place at Westminster College Jewett Center Vieve Gore concert hall on Tuesday, Nov. 13 at 7 p.m. Sanders' reminisces will feature readings from Edward Abbey's literary canon as well as rare video and audio footage of Abbey, including "The Cracking of Glen Canyon Dam."
Why are you finally spilling the beans about Edward Abbey?
Alive, Ed never needed anyone to speak for him, and almost 20 years later, he still doesn't. However, too many who knew too little have had their way for too long. I'd like to introduce the Ed Abbey I knew and loved to a new generation.
Why was Abbey significant in his day?
He was one of the first to articulate our need as a species for wild places and wild things, just for the pure hedonistic and spiritual pleasure of it. Building upon earlier 20th century conservation pioneers like Robert Marshall, Aldo Leopold and the Muries as well as Rachel Carson who gave a clarion wake-up call in Silent Spring, to Wallace Stegner who penned the 1964 Wilderness letter and Wendell Berry who articulated the need and place of humans themselves in the environment. Edward Abbey wrote about freedom and wilderness in a manner not seen before and, sadly, not seen much his since death either.
Why should people continue to care about his work?
The words of Edward Abbey continue to live and resonate with younger generations. Read his 21 books and see for yourself, especially Desert Solitaire. Abbey wrote his master's thesis on the morality of anarchy and violence back in 1950, during the McCarthy era and the Korean War. He urged students to burn their draft cards and protest the war in the '50s! He would go on to develop these themes of freedom, wilderness and anarchy throughout his books. The character of Jack Burns (The Brave Cowboy) first appears in Abbey's first novel, Jonathan Troy, and the character continues to reappear throughout most of Ed's other novels: The Monkey Wrench Gang, Good News, Hayduke Lives!
You've known plenty of authors over the years. What traits or interests did you and Abbey have in common to become friends?
Anarchists? Cigar smokers? River runners? Wilderness lovers? Good taste in literature and women? Abbey actually had numerous circles of friends. They rarely knew one another or interacted. For example, Doug Peacock, the inspiration for the Hayduke character in the Monkey Wrench Gang. I met Doug through Terry Tempest Williams who brought him into town as a grizzly-bear speaker at the Museum of Natural History back in the '70s. Not through Abbey.
Same with Ken Sleight, the inspiration for the Seldom Seen Smith character in MWG. I met Ken, again back in the '70s, down in Green River, where he was shorthanded for a river trip down Desolation and took me along as a boatman, even though I had never rowed my own boat before. I also met other old friends of Abbey's, like John DuPuy the painter and Jack Loeffler independently of Abbey. I can't ever remember Ed introducing me to anyone, other than Earth First! at the cracking of the dam in 1981.
You claim to have monkey-wrenched with Abbey. Without giving too much away before your talk, what exactly did you do?
As my mentor Cactus Ed hisself always said: "Monkey-wrenching should always be done alone … at night … and not spoken of afterwards."
What book should Abbey novices begin with?
Desert Solitaire followed by Slickrock (really a continuation of DS), The Journey Home and his novels The Brave Cowboy, The Monkey Wrench Gang and The Fool's Progress. Desert Solitaire transcends far beyond a mere collection of random essays and has become the very thing that Abbey always dreaded, a classic. Both Desert Solitaire and The Monkey Wrench Gang have each sold over a million copies now. I still keep the R. Crumb illustrated edition of MWG in print. Hell, Ed Abbey is selling more books dead than he ever did alive.
What would you say Abbey's worst qualities were?
Abbey could have a rather infantile sense of humor occasionally, and he was annoyingly popular with women.
What will those who attend your presentation walk away with?
Hopefully, with the video, the audio and the anecdotes, a sense of who Edward Abbey really was. Separating the myth from the legend as it were.
What do you know about the movie The Monkey Wrench Gang that is slated for release in 2008?
It's been under option for 30-plus years now. Catherine Hardwicke is currently the director (she wore one of my R. Crumb MWG T-shirts while in town for Sundance last winter). All we can do is wait and see. I have been promised a part as an extra in the bar scene with Hayduke ("Hello, my name is Hayduke, I'm a hippie"). I have been practicing the part for almost 20 years. I'm ready.
What is your favorite Abbey passage?
If I had to pick one essay or segment, it would be from "The Writer's Credo" in One Life at a Time, Please. But for anyone who doubts Ed Abbey was a serious or good writer, try and take a sentence or paragraph from any of his published books and edit it down. See how far you get.
cw