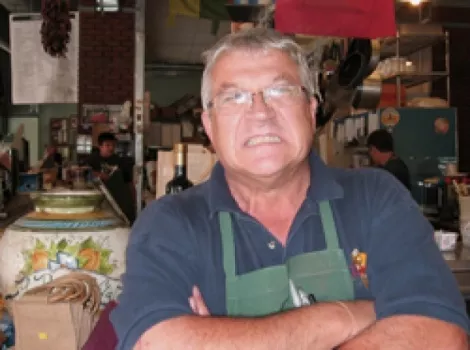 {::INSERTAD::}
Tony Caputo owns Tony Caputo's Market & Deli at 308 W. 300 South (CaputosDeli.com). You can join Caputo in Provence this October to learn to cook with French chefs ("It's really an eat-athon," says Caputo). We asked him about his plans for Pioneer Day.
Do you have Mormon pioneer ancestors?
Yes. On my mother's side.
So you will be celebrating Pioneer Day on July 24?
Yes. With a soccer game. I'm a soccer fan … not necessarily a Real fan. There are three games in the next 10 days. I like Real; it's just I like soccer better.
What are your best memories about Pioneer Day?
Fireworks. When I was a kid, they had fireworks at the fairgrounds because they had stock-car races. All my friends went. We called [the drivers] the "circle burners."
What dish would you create in honor of the pioneers?
I think it'd be a green Jell-O and squid salad. It encompasses both the Mormon and Italian traditions. We'd just steam the squid and set it in the Jell-O, so it is suspended in a sea of green.
Any other thoughts about Pioneer Day?
I think the [Salt Lake] City Council should take a long, hard look at that sky bridge and wonder how in God's name you're going to be able to see fireworks through a sky bridge.
Anything new and delicious in the deli?
We have a guy that came here from Torino whose family has been making salami for 400 years in Italy. His store was awarded the best salami in the Piedmont region by Slow Food. It is Creminelli salami. There are no nitrites, all organic meat, no growth hormones. We're like Costco—you can sample them.
{::INSERTAD::}