BEST OF UTAH 2023
How can you tell when something still matters? Plenty of things linger out of sheer inertia, like Grey's Anatomy, or Republican control of Utah politics, but that doesn't mean people still actually care about them. So, as we creep towards the 40th anniversary of Salt Lake City Weekly, and bring another Best of Utah issue to you, what tells us that it all still matters?
To put it simply: You tell us. You tell us by your participation, by your eagerness to weigh in about the people, places, businesses, artists, food and more that make Utah amazing. In 2022, 8,337 unique voters sent in a total of 163,758 votes in our various readers' choice categories; in 2023, those numbers skyrocketed to 21,543 unique voters and nearly 236,000 total votes. Not only does this provide us with a much larger sample size to rely on for our winners, but it tells us that making your voices heard about these awards is something you care enough about to spend time on voting.
In these pages, you'll find some 550 winners—some of which will tell you how many people love the same things you love, and some of which might guide you to new discoveries that could become new favorites. Like you, we value all the enjoyment and excellence those winners bring to us. But you'll also find in these pages a testament to you, the voters, who continue to let us know that celebrating the Best of Utah matters. Consider this the write-up for one additional award: Our City Weekly readers and Best of Utah voters are also the best.
—Scott Renshaw
Scott Renshaw is City Weekly's longest-tenured editorial staffer, serving as film critic and arts and entertainment editor since the early aughts. He's also written the book Happy Place: Living the Disney Parks Life.

Utah's official state food is the sugar beet; the state snack is Jell-O. For reals! The official state cooking pot is the Dutch oven. Funeral potatoes are no doubt our signature dish. Sounds a little bit quaint and vanilla, right? But "quirky" might be a better word. Utahns are all about outdoor adventure, odd religious customs, comfort food (pastrami burgers, donuts and, of course, fry sauce!) and the art of consuming caffeine cold, or else disguised as hot chocolate. Many of us also have odd fascinations with mommy blogs and survival gear. Yes, we're a mystery inside an enigma, wrapped in Navajo fry bread: We're Utahns! Judge us by our shared obsessions in the following section we like to call: "This Is the Place." And then discover your own crazy cravings.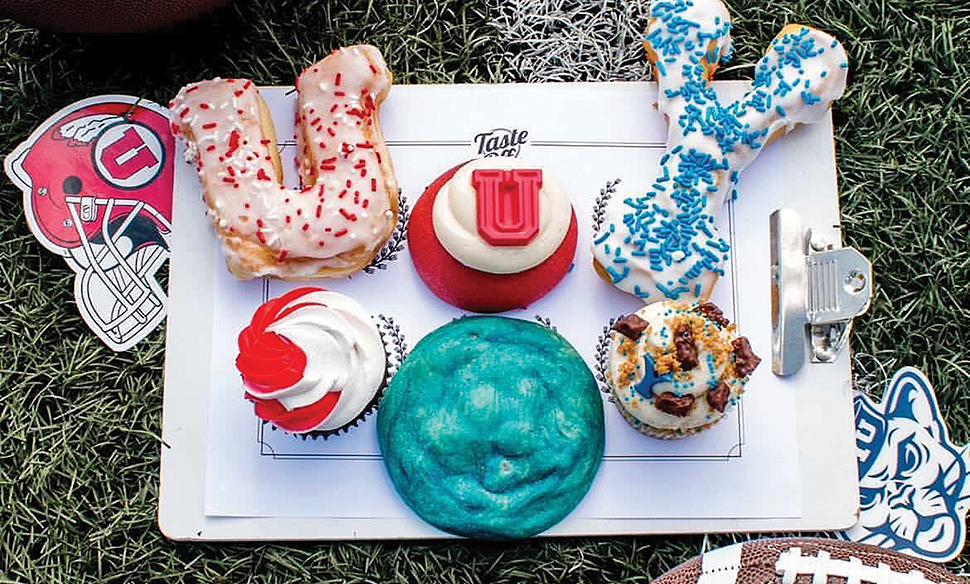 Courtesy photo
Game-day delights at RubySnap Fresh Cookies
Best Chocolate Chip Cookie
RubySnap Fresh Cookies
There are a great many cookies in this world, each with its own special flavor. With so many to choose from, sometimes it's simplest to go with a classic. Thank goodness for RubySnap for supplying us with the "Trudy," an old-fashioned dessert snack gleaned from a family recipe. Keep a glass of milk nearby! 770 S. 300 West, SLC, 801-834-6111, rubysnap.com
2. Chip Cookies
3. Crumbl Cookies
Best All-You-Can-Eat Buffet
Little America Lucky H Buffet
Start your day with Lucky H, fuel your noon with Lucky H, and now, end your day on a high note with Lucky H's dinner buffet. They are turning up the heat in the kitchen and carving out a feast for your senses. All your beloved Little America classics are lined up from primo prime rib to tantalizing turkey. Be sure to save room for some made-from-scratch desserts. The buffet bell is ringing; make your reservation now! 500 S. Main, SLC, 801-596-5700, saltlake.littleamerica.com/lucky-h-buffet
2. Chuck-A-Rama Buffet
3. Snowbasin Resort
Best Brownies
City Cakes & Cafe
Once you say "vegan," most people expect a bland, tasteless product—but this place is the opposite. For more than a decade, they have impressed customers with scratch-made baked goods that are delicious. Their huge kitchen is on display to showcase their artistry and sheer volume of wonderful treats. Their vegan and gluten-free brownies are made with applesauce, leaving them super-moist even before they are frosted with chocolate, raspberry or vanilla vegan buttercream. 1860 S. 300 West, SLC, 801-359-2239; 7009 S. High Tech Drive, Midvale, 801-572-5500; citycakescafe.com
2. Tulie Bakery
3. BYU Creamery on Ninth
Best Cake Bakery
Tulie Bakery
Walk into Tulie, and you feel peace—there's just something about the rows of perfectly frosted cakes, sumptuous French pastries and bags of buttery cookies. Maybe that something is the quality you can taste in each cake crumb and smooth slick of buttercream frosting. Whatever it is, Tulie provides richness and luxury in every sweet bite. 863 E. 700 South, SLC, 801-883-9741; 1510 S. 1500 East, SLC, 801-410-4217; tuliebakery.com
2. Mrs. Backer's Pastry Shop
3. Granite Bakery & Bridal Showcase
Best Cinnamon Rolls
The Dough Lady
While they make cookie dough and dinner bread, the star of this online kitchen is the cinnamon roll, which comes in classic brown sugar as well as other exotic flavors on a rotating menu. The Dough Lady sells frozen packs of homemade goodies to bake at your leisure. You can order and pick them up or find them at select local coffee shops; delivery's also an option. SLC pickup location: 386 N. Redwood Road, Ste. 107, North Salt Lake, doughladyslc.com
2. Sweet V
3. Shirley's Bakery & Café
Best Cupcakes
Sweet Tooth Fairy
Founder Megan Faulkner Brown recalls waking up to the smell of honey and wheat as her mother baked bread every Saturday morning. Just as Brown's mother infused love into each loaf, Brown creates unique cupcake flavors in her kitchen, adding love to every recipe. A Cupcake Wars winner, Brown and her five locations offer her best-selling fresh strawberry cupcake, cake bites, brownies, cookies, Rice Krispies treats and almost anything sweet you can envision. Multiple locations, thesweettoothfairy.com
2. So Cupcake
3. Cravings—Alisha's Cupcakes
Best Dinner Roll
Maddox Ranch House
Nearly every sit-down restaurant has their version of pre-meal bread. Usually it's rolls, so it's hard to stand out as No. 1, but Maddox has the edge. You know as soon as you're seated when you're greeted with the soft, tasty bread morsels that are a perfect precursor to the meal you're about to have. You may want to come for Maddox's famous fried chicken, but you'll stay for the rolls. 1900 S. Hwy. 89, Perry, 435-723-8545, maddoxfinefood.com.
2. The Little America Hotel
3. Kneaders Bakery & Café
Best Dirty Soda Shop
Swig
It's hard to say whether Utah's dirty soda scene is more of a mixologist's mocktail vibe or snow cone-stand-for-adults, but at this stop, you can not only get your fancifully flavored soda fix, but flavored and sparkling waters, plus energy-drink-driven "revivers." A Salt Lake Valley-exclusive, this is the place to pop in for some personalized pop when you need a pick-me-up. Multiple locations, swigdrinks.com
2. Thirst Drinks
3. FiiZ Drinks
Best Family Fun
Hogle Zoo
Thanks to successive reforms, zoos have made notable strides over the years. The best ones no longer foster neglect and shallow gawking, but rather conservation and education. Hogle is a great way to introduce the family to the beautiful creatures that populate this world in a variety of ecosystems. From daily programs and exhibits to playgrounds and a splash pad, everyone will have a full and informative day here. 2600 E. Sunnyside Ave., SLC, 801-584-1700, hoglezoo.org
2. Loveland Living Planet Aquarium
3. Topgolf
Courtesy photo
Schmidt's Pastry Cottagechocolate eclair
Best Eclair
Schmidt's Pastry Cottage
With so many bakeries to choose from across the proverbial beehive, it's not easy to maintain a top spot on the strength of one's confections. But Schmidt's has been in the game for a long time now and, after all these years, their puff pastries still bring the goods. Topped with their signature flower of frosting, their take on the custard-filled dessert is indeed a winner. 5664 S. Redwood Road, Taylorsville, 801-967-9766; 1133 W. South Jordan Parkway, South Jordan, 801-280-7200; schmidtspastry.net
2. Carol's Pastry Shop
3. Éclair French Pastry
Best Emergency Preparedness Store
General Army Navy Outdoor
If there's anything good about a swollen military budget, it's cheap military surplus available for any American, outdoorsy or not. At General Army Navy, you can get everything you need to stay prepared for all things, whether you just like to update a home stash, you live the "van life" or the ex-roommate you don't speak to anymore took off with your nice tent and camp stove after that chaotic camping trip in college. 4974 S. Redwood Road, SLC, 801-966-5556, generalarmynavy.com
2. Smith & Edwards
3. My Patriot Supply
Best Family Fun: Indoor Attraction
Loveland Living Planet Aquarium
It's hard to pursue an interest in marine biology while living in a landlocked state, but there's always something new to explore within the aquatic wonderland of the Loveland Living Planet Aquarium. From their core exhibits like the enormous penguin research station and the otter habitat to their outdoor playground and seasonal events, there's always something fun and educational to experience here. 12033 S. Lone Peak Parkway, Draper, 801-355-3474, livingplanetaquarium.org
2. Clark Planetarium
3. Natural History Museum of Utah
Best Family Fun: Theme Park
Lagoon Amusement Park
Try looking this good when you're 137 years old. Generations of Utahns have found out "what fun is" while screaming over the clickety clack of Lagoon's roller coasters. The park regularly adds fresh attractions, but it still feels unchanged in all the ways that count. Nothing says "it's summertime" in Utah like blasting off on The Rocket, kissing your sweetie at the top of the Ferris wheel, getting drenched on Rattlesnake Rapids or cooling off in the lazy river. 375 N. Lagoon Drive, Farmington, 801-451-8000, lagoonpark.com
2. Evermore Park
3. Cowabunga Bay WaterPark
Best Hobby Shop/Gaming Store
Game Night Games
The pandemic found many of us playing our favorite old board games. But when we wanted to play new ones, we weren't sure which ones would be fun. GNG's staff is happy to crack open a game to show how it's played, or offer a space for you and yours to have a game night at the store. They offer collectible card games, board games, historical games and all the accessories for a fun game night at home. 2148 S. 900 East, Ste. 2, SLC, 801-467-2400, gamenightgames.com
2. The Nerd Store
3. Hastur Games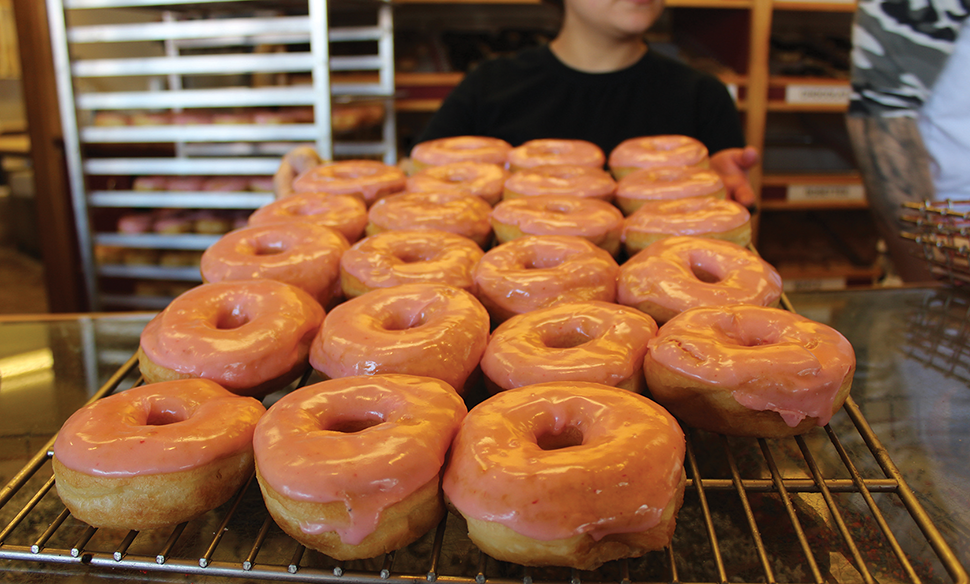 City Weekly file photo
Glazed and suffused: Banbury Cross Donuts
Best Glazed Donut
Banbury Cross Donuts
They cover them with icing. They fill them with jam. They even make fritters and cinnamon rolls. When it comes down to it, though, Banbury rocks the glazed department—and the sooner you discover this for yourself, the better. Handcrafted fresh each day, these sweet treats make for a delectable start to one's day. Locations in SLC, Centerville and Layton, banburycrossdonut.com
2. Fresh Donuts & Deli
3. Lehi Bakery
Best Missionary-Suit Store
Mr. Mac
With nine Utah locations, Mr. Mac has become intertwined with LDS missionaries. Most are on a tight budget, and Mr. Mac accommodates by offering a package deal—a two-pants suit, a pair of quality shoes, four shirts, three ties and a belt—for only $595. The clothing chain was founded in the early 1960s by Fred MacRay "Mac" Christensen who died in 2019 at age 85. Asked by an interviewer how many missionaries he'd outfitted over six decades, Christensen was genuinely stumped. He'd never kept track. Finally, he smiled: "Only the good ones." Nine Utah locations, mrmac.com
2. The Missionary Store
3. Latter Day Suits & Formal Affair
Best Fried Scones
Navajo Hogan
It may be easy to miss, but this South Salt Lake mainstay has been serving delicious frybread since 1989. Large, crisp and puffy, these succulent saucers can be served with cheese, as a dessert of honey butter and cinnamon, or as a component of the traditional Navajo Taco. Unpretentious and filling, the Navajo words shil likan ("it tastes good") are quite apt here. 447 E. 3300 South, SLC, 801-466-2860
2. Sill's Café
3. Jeremiah's Restaurant
Best Fudge
Hatch Family Chocolates
Hatch Family Chocolate is where fudge dreams come true. Using a recipe that's been passed down for generations, Hatch's rich and creamy fudge features a unique chocolate flavor. You can choose plain or with walnuts. When you savor their fudge, you're not just eating dessert—you're experiencing a sweet Latin beat that'll make your taste buds dance the cha-cha. 376 E. 8th Ave., Ste. A, SLC, 801-532-4912, hatchfamilychocolates.com
2. Chocolate Covered Wagon
3. Homestead Resort
Best Funeral Potatoes
Garage on Beck
For Garage on Beck to win this award after experiencing a devastating fire on Oct. 21 makes it sadly ironic. But owners hope to bring the popular roadhouse back, so we'll keep our fingers crossed that we will soon be enjoing this Midwestern marvel that's loaded with creamy, cheesy goodness and the heartiness of hash browns. If you feel inclined, donate to the staff relief fund at gofundme.com/f/garage-on-beck-fire-relief-fund. 1199 N. Beck St., SLC, 801- 521-3904, garageonbeck.com
2. Tradition
3. Wasatch Brew Pub
Best Hot Chocolate
Hatch Family Chocolates
For the hot chocolate obsessed, Utah is blessed that Hatch has perfected a drink fit for the gods. Far from the powder mixes used by other purveyors, Hatch's proprietary process involves steaming a blend of solid chocolates (you can choose milk or dark chocolate), resulting in a rich, creamy, velvety cup of heaven with an ideal texture—not too thick or thin. It can even be made vegan, or frozen, for gosh sakes! 376 E. 8th Ave. Ste. A, SLC, 801-532-4912, hatchfamilychocolates.com
2. Sweet Lake Biscuits & Limeade
3. Ritual Chocolate
Courtesy photo
Nothing beats a swirl of Normal Ice Cream.
Best Ice Cream Shop
Normal Ice Cream
Ever since Normal Ice Cream first manifested itself as a chrome airstream van inside Trolley Square, Alexa Norlin and her team have worked wonders in the medium of soft serve. Sophisticated flavors like ube, olive oil and that decadent dulcey dip have become the norm at Normal, and it's a perfect pit stop for ice cream fans with discerning palates. 169 E. 900 South, SLC, 801-696-4556, normal.club
2. Leatherby's Family Creamery
3. Monkeywrench
Best Milkshake
Iceberg Drive Inn
A local tradition for more than 60 years now, Iceberg built its reputation on burgers and onion rings but, most of all, on its shakes. From grasshopper and Reese's to black raspberry and pistachio, there are flavors to suit every taste. Thick and towering above the rim, these daunting dairy treats are best enjoyed with others. Multiple locations, icebergdriveinn.com
2. Nielsen's Frozen Custard
3. Monkeywrench
Best Ice Cream Sundae
Leatherby's Family Creamery
Many popular ice cream joints are content to just let their menu stagnate, but Leatherby's keeps things interesting. Sure, they've got some solid favorites like Traci's Peanut Butter Cup or Amy's Hot Fudge Brownie, but Leatherby's is no stranger to adding new sundaes that feature churros and cookie butter to the mix. Whether it's an old favorite or a new indulgence, you can pretty much guarantee you'll find something you like at Leatherby's. Multiple locations, leatherbys.com
2. Handel's Homemade Ice Cream
3. Normal Ice Cream
Best Kid-Friendly Restaurant
Leatherby's Family Creamery
Nothing appeals to younger diners quite like a mountainous Leatherby's sundae or a gooey basket of cheese fries. Watching kids of all ages light up as colorful heaps of ice cream, hot fudge, marshmallow and caramel pool on the saucer never really gets old. On top of their kid-friendly menu and wide variety of ice cream sundaes, Leatherby's casual soda-shop vibes are a welcome sight for visitors of all ages. Multiple locations, leatherbys.com
2. Nielsen's Frozen Custard
3. Maria's Méxican Grill
Best National Chain Guilty Pleasure: Burger
In-N-Out Burger
Utah diners tend to go a bit crazy when a new fast-food chain arrives within our borders, but few of them have deserved the hype as much as In-N-Out Burger. No matter where you are in the state–or Western United States, for that matter–a Double Double from In-N-Out is going to make you happy. The quality and consistency you get here are leagues above its fast-food counterparts. Multiple locations, in-n-out.com
2. Five Guys
3. Shake Shack Fashion Place
Best Muffin
The Greenery Restaurant at the Rainbow Gardens Center
Eating at The Greenery is an experience in itself: First, you drive up to the gardens center at the mouth of beautiful Ogden Canyon. Then, you enter a greenery-adorned restaurant, one that seems unchanged over time. Everything on the menu is a comfort, but the muffins are not to be missed. You'll get lost in the sweet, soft pillows that are the famous Mormon Muffins. And they're served with honey butter! 1875 Valley Drive, Ogden, 801-392-1777, rainbowgardens.com
2. Vosen's Bread Paradise
3. Red Moose Coffee Co.
Best National Chain Guilty Pleasure: Sandwich
Chick-fil-A
Chick-fil-A is as dependable as the clock on your computer. The breading's texture and amount are as well-distributed as if a grandmother dipped it. The buttery bun is always soft and fresh, and the sauces range from honey mustard to barbecue to Polynesian. Despite numerous controversies and boycott attempts, the 2022 American Customer Satisfaction Index found that Chick-fil-A remained the country's favorite fast-food chain for the eighth consecutive year. Multiple locations, chick-fil-a.com
2. Jersey Mike's Subs
3 Firehouse Subs Millcreek
Courtesy photo
Pie Fight: Home of the best fruit pies
Best Fruit Pie
Pie Fight
Pie Fight's No. 1 spot on this list is not just a victory for this beloved 9th & 9th neighborhood bakery, but it's a victory for all of us who want more than a syrupy sweet filling in our pie. The Pie Fight team has popularized nuance and sophistication in their hand pies, and each one is a special exploration of what a dessert can be. 937 E. 900 South, SLC, 385-528-1184, thepiefight.com
2. Pie Party
3. Flake Pie Co.
Best Non-Alcoholic Cocktails
Laurel Brasserie & Bar
The soberwave continues to wash over SLC, and now you can get a fine-crafted mocktail in as fine and fancy a setting as any cocktail-drinker. At The Grand America, Laurel Brasserie & Bar offers a variety of inspired zero proof bevs—among them a tamarind ginger spritz, a zingy strawberry and mint shrub and elevated teas and lemonades. 555 S. Main, SLC, 801-258-6708, laurelslc.com
2. Urban Hill
3. Evo Hotel Crown Bar
Best Peanut Butter Cookie
RubySnap Fresh Cookies
Hardly an amateur in this field, RubySnap has concocted a truly delightful take on the peanut butter cookie with the "Penelope." A mound of moist, buttery goodness partially dipped in milk chocolate, just try not to eat the whole thing. You will discover your self-control to be less robust than originally thought. 770 S. 300 West, SLC, 801-834-6111, rubysnap.com
2. Picnic Café
3. Crumbl Cookies
Best Cream Pie
Flake Pie Co.
Flake Pie Co. has changed the rules of pie eating. While it used to require buying two or three 9-inch pies to accommodate everyone's taste, Flake now offers personal-size pies in 4-inch disposable foil tins. Now, everyone can choose a flavor-preference all the time. Flavors loom large in classics like pumpkin and cherry and more innovative ones, such as chocolate meets caramel and cookie dough. 1665 Towne Center Drive, Ste. 3, South Jordan, 385-342-2620; 471 E. St George Blvd., St George, 435-628-2056; flakepie.com
2. Left Fork Grill
3. Pie Fight
Best Meat Pie
Fillings & Emulsions
Though Fillings & Emulsions has made a name for itself through its creative desserts, locals know that their savory meat pies are worthy of the Best of Utah mantle. It's all about the buttery crust that Chef Diaz and his team have perfected. Come for the jewel-toned macarons, but stay for the savory Cubano meat pie and leave happy. 1475 S. Main, SLC, 385-229-4228; 1980 W. 3500 South, West Valley City, 385-549-1167; fillingsandemulsions.com
2. Crust Club
3. The Dough Miner
Best Remote Workspace
Publik Coffee Roasters
Publik, the quintessential workspace oasis, is where productivity meets artisanal charm. The coffee shop is a harmony of caffeinated creativity, where the aroma of freshly roasted coffee beans harmonizes with the gentle hum of focused minds. Owner Missy Greis believes in planet-over-profit, which we love. With its sleek design, private rooms and spaces (including a large event space), abundant natural light and an ambiance that whispers "genius at work," Publik is a perfect remote work hangout. Multiple locations, publikcoffee.com
2. Old Cuss Cafe
3. Kiln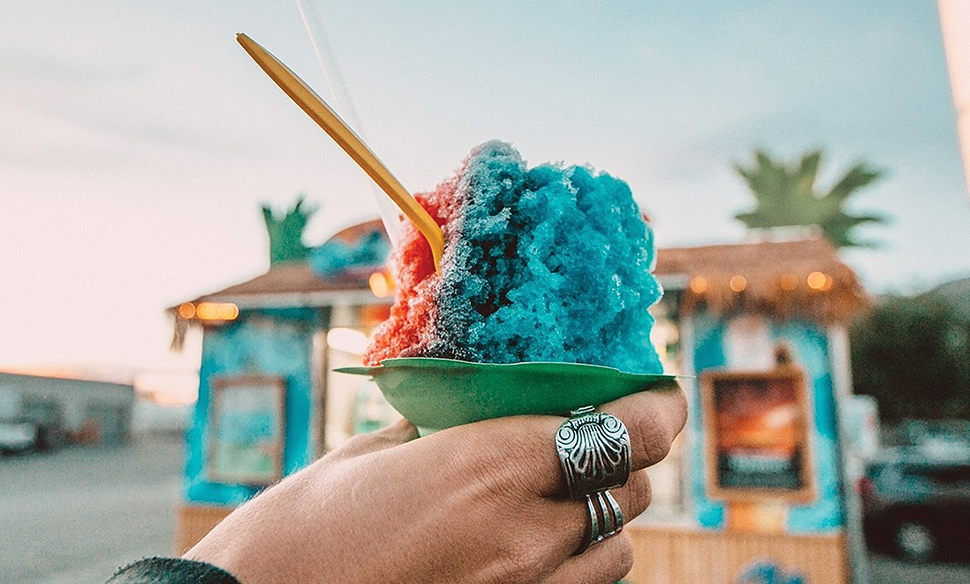 Courtesy photo
A snow cone above all others: Hokulia Shave Ice
Best Snow Cone
Hokulia Shave Ice
Save your Delta SkyMiles and head to the nearest Hokulia for your Hawaiian sno-cone fix. Drench their extra-smooth shave ice in 50 flavors, from cotton candy to strawberry daiquiri, then scoop Farr's ice cream into the creamy core. Be warned that even the smallest size ("Short Board") can refuel two people. Sadly, Hokulia is only open between Memorial Day and Labor Day. Multiple locations, hokuliashaveice.com
2. Bahama Buck's
3. Icy Mountain
Best Returned Missionary First Stop to Eat
Purple Turtle
Since 1968, the Purple Turtle has been serving old-fashioned burgers, sandwiches, fish, chicken and ice cream in their uniquely low-key manner. Often providing a first job for its youthful personnel, this eatery provides an appealingly relaxed atmosphere for those reconnecting with home turf. For the elder or sister seeking their bearings, few things say "welcome home" quite like a testudinal sign in a Tyrian hue. 85 E. State Road, Pleasant Grove, 801-785-2444, purpleturtlediner.com
2. The Other Place Restaurant
3. Crown Burgers
Best Social-Media Follow for Kid-Friendly Activities
Hogle Zoo
Hogle Zoo's Instagram page is an animal-forward photo stream that's clever in highlighting upcoming events for kids (and adults, too, such as with events like Brewlights). Hogle's also good at reminding the community about notable "days" (think: World Gorilla Day and International Red Panda Day), while giving birthday greetings to animal residents. Also on Facebook, X, TikTok and other sites, Hogle's IG page is truly delightful. Kudos to the social media managers there; you do good. 2600 E. Sunnyside Ave., SLC, 801-584-1700, hoglezoo.org, IG: @hoglezoo
2. SLCMoms
3. Utahs Adventure Family
Best Social-Media Momstagram
Jane
Jane Williamson is the Utah mom (as she puts it) whose Insta-feed is a river of self-deprecating seasonal and topical posts. With more than 550K followers, Jane offers up a jolly satire on Utah moms and the influencer life. Doing flips off her bed and schlepping boxes of products around her house, her physical comedy alone will bring a smile to many a harried Utah mom. Instagram.com/jane
2. Utahfunwithkids
3. Salome Andrea
Best Summer Camp
Girl Scouts Camps of Utah
Utah is very lucky to have two fantastic camps (Cloud Rim, off Guardsman Pass, and Trefoil, behind Bridal Veil Falls in Provo Canyon) open to girls of all ages, whereas many other states have closed their camps and have been forced to sell off properties due to increased costs. Cloud Rim is a lake experience by the shore of Brimhall Lake which opened in 1937, and Trefoil is a horseback-riding camp. Both sell out every year. 445 E. 4500 South, Ste. 125, SLC, 801-265-8472, gsutah.org
2. Wheeler Farm
3. Rock Camp SLC
Best Utah Heritage Site
This Is the Place Heritage Park
Taking pains to represent both the role of Latter-day Saint pioneers and the land's existing Native American residents, This Is the Place attempts to tell the stories of the varied stakeholders in the Utahn experience. While the set pieces will catch the eyes and ears of attendees, it's the park's large cast of cosplayers who make history come alive as prospectors, train operators, even pharmacists (who'll tell you all about 19th-century diseases). Hey, realism counts! 2601 E. Sunnyside Ave., SLC, 801-582-1847, thisistheplace.org
2. International Peace Gardens
3. Cove Fort
Best Utah Small Town
Torrey
You could drive past it in a blink, but despite its size, this artsy town of 259 people is home to nonprofit publisher Torrey House Press, art galleries, shops and music festivals like Fort Desolation. Did we mention its proximity to Capitol Reef? Camp at one of Torrey's charming campsites or hotels, then drive just a few minutes down the road to ancient petroglyphs, hidden-gem hikes and lots of red rock. torreyutah.com
2. Huntsville, Utah
3. Kanab
Best Utah Swear Word
"Mike Lee"
The essence of the "Utah swear" is clear: using words that are not offensive on their face in such a way that you know they represent something truly vulgar. In that sense, the undistinguished gentleman serving as the senior senator from Utah warrants being equated with an obscenity. Thanks to Lee's cozying up to the treasonous former POTUS and repeatedly stomping all over the principles of the Constitution he claims to hold so dear, his name deserves to be invoked when talking about some motherflipping bullspit. Twitter @BasedMikeLee
2. Heck
3. Frick
Best Wedding DJ
Richie Steadman
The mastermind behind Utah's Best Wedding DJ is not just a DJ, but a radio producer, actor and self-proclaimed "good times" ambassador. With his eclectic skills and a knack for nimble adaptability, he transforms each event into an unforgettable experience. He's our maestro of merriment, spinning humor into any unexpected hiccups to keep the party pulsating. With Richie T on the decks, he is not just spinning wedding tunes, he's spinning love stories. bestdjinutah.com
2. DJ Erockalypse
3. DJ Justin Hollister
Best Wedding Planner
Pierpont Place
We all want that perfect spot for a wedding, and once one is found, the search begins for flowers, food and DJs—even though such DIY efforts often court disaster. With an event as important as a wedding, it's best to leave it to the pros. Not only does Pierpont Place offer a versatile venue in downtown SLC but their Premier Event Services can plan, design and coordinate events, either at Pierpont Place or offsite locations. 163 W. Pierpont Ave., SLC, 801-200-3113, pierpontplace.com
2. Michelle Leo Events
3. Belle Bodas Events
Best White Bread Sandwich
Village Baker
We all know that wheat bread is better for us in the long run, but we also can't undervalue the impact that two thick slices of white bread have on a sandwich's quality. Village Baker's white bread can be used for each of their signature sandwiches, and its pillowy softness conjures up the healing powers of every after-school sandwich that got us through childhood. Multiple locations, villagebakerfood.com
2. Grove Market and Deli
3. Sweet Hazel & Co.
What Did We Miss?
Best City Festival
Taylorsville Dayzz
Local fairs are a great chance to experience big fun on a scale that doesn't feel intimidating. While readers rallied behind Brigham City Peach Days, Midvale Harvest Days and even Pleasant Grove's Strawberry Days, Taylorsville Dayzz garnered the most cheers on the applause meter. For 27 years, Taylorsville has provided a weekend of family-friendly entertainment, combining a parade, carnival rides, a petting zoo, live music from tribute bands, food booths, fireworks and more. Valley Regional Park, 5135 S. 2700 West, Taylorsville, taylorsvilledayzz.com
Best Excuse for an Elastic Waistband
Chubby Baker
"Our passion for baking is often fueled by a love of food," proclaims Chubby Baker's Insta-worthy website. The City Weekly staff's passion for their delicately sweet Thai Young Coconut and tantalizingly tart Passionfruit Cheesecake donuts is resulting in a lot more elastic waistbands being sported during press meetings. Pro tip: If it's your turn to buy, order a baker's dozen so the crew doesn't notice one donut missing when you arrive. 317 E. 900 South, SLC, 801-946-4491; 1167 S. State, Orem, 385-226-1669; chubby-baker.com
Media, People & Politics
Arts & Entertainment
Goods & Services
Dishes
Drinks
Restaurants & Nightlife