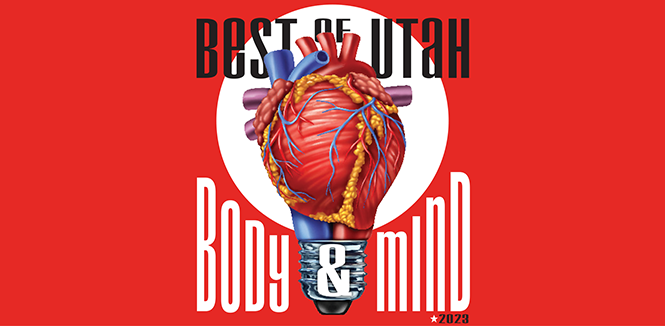 What's Changed?
A perk of working on the Best of Utah Body and Mind is learning about the top providers of care in our area. This year, we've even more to think about as we've increased the award categories to more than 150 (up from around 100 last year). This year, some 7,000 voters cast ballots for 3,500 businesses and individuals. In all, 45,000 votes were cast. We summarized the first-, second- and third-place winners in four sections: medical/dental, complementary/alternative, beauty and fitness. We also asked: "What Did We Miss?" and we've included those suggestions by voters as well.
Have you observed any changes in the health and wellness fields since COVID? Some complain about long waits to see their doc or to get a call back from them. Others don't like the price hikes for procedures and items not covered by insurance.
But there are other trends as well. For example, it's no longer that unusual to see people masking up before they go into crowded stores or an airport terminal. They tend to be older folks like me trying to avoid catching the latest bug, COVID or otherwise. Or maybe we just don't want to give you the bug we have! Or maybe we don't like the way we look. (Thankfully, there are many pros in the upcoming Beauty section who can help with that.)
Beyond masking, I'm noticing that vaccinations for many ailments are now being given by pharmacy techs—no doctor's appointment needed. And many vaccines are covered by insurance, so no payment is required. I guess that's good news for those who believe in vaccinating.
Meanwhile, technology has marched on, hasn't it? Scheduling apps have nearly put medical receptionists out of a job. It is nice to make appointments online but not so nice if you need to ask a basic question about your visit.
I also like being able to view my lab results and even see X-rays online as soon as they're available, often before my primary care doctor has seen them. My dentist now takes digital X-rays and can point to real-time issues. Even in the ER, they can now roll in a portable X-ray device to look at minor breaks and sprains (don't ask me how I know).
In terms of fitness, there's truly a gym and studio out there with your name on it. And so many are state of the art, offering strength and conditioning, yoga, climbing walls and cycling to music. No matter your age or condition, you're welcome to show up and feel the burn.
And what about beauty? Can you see it morphing into wellness before your eyes? The menu of options to choose from these days is almost mind-boggling: CBD facials, chemical peels, fillers, dermaplaning, IV drips, vitamin and hormone shots and oxygen bars. Dentists and even physicians have caught on and are adding aesthetician and med-spa care to their services.
Alas, most aesthetician/med-spa services are not covered by insurance, but wouldn't it be grand if they were? And gym memberships as well? They're all components of what make us look and feel healthy, and sadly, the costs are prohibitive for many. Oh well, there's always jogging around Liberty Park—and applying a honey and avocado facial when we get home!
By putting our health and well-being first, everything else in life becomes easier. Many thanks to those providers who make our best life possible, and congratulations to all the 2023 winners!
Jerre Wroble
Body & Mind Editor
Body & Mind contributors: Katharine Biele, Carolyn Campbell, Aimee L. Cook, Thomas Crone, Babs De Lay, Wes Long, Cat Palmer, Michael Saltas, Connor Sanders and Megan Wagstaff
Editor's note: Not all awards have 2nd and 3rd place winners.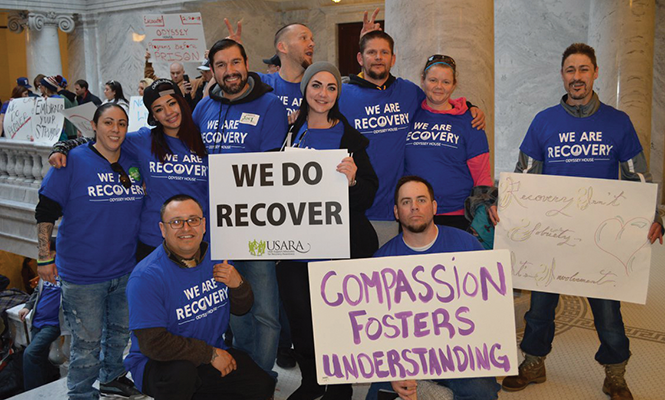 Courtesy Photo
Odyssey House
Medical & Dental
Best Addiction Recovery
Odyssey House of Utah
You should look at the graph showing Odyssey House's success rate compared to others. It's stunning. Let's talk drug addiction. The path to sobriety is long and hard. Some people don't make it, but for those who do—and there are many—their lives have been changed forever. One client says he is six years sober, he left mid-way and it was hard. "I use everything I learned about my behavior and have changed my whole life around. Thank you, Odyssey staff."
344 E. 100 South, SLC, 801-322-3222,
odysseyhouse.org
2. Fit to Recover
3. The Other Side Academy
Best Allergist
Eric C. Chenworth DO
Dr. Chenworth may not wear a skintight Superman outfit, but his patients think he's a hero anyway. Whether your allergy is brought on by environmental factors (pollen, mold, animal dander, household chemicals and such), medications and foods (peanuts, tree nuts, wheat, soy, shellfish, etc.), or even insect stings, this allergist-immunologist is known for being extremely detail oriented, a good problem solver and very patient in designing treatments for those suffering from allergies and asthma. One patient stated, "His thoroughness of explanation for any concern I expressed, or a specific allergy, is unmatched—I've never experienced such a genuine doctor."
Wasatch Allergy and Asthma, 13348 S. Market Center Drive, No. 220, Riverton, 385-290-1289,
wasatchallergy.com
2. Jonathan Olsen DO, Granger Medical Clinic
3. Rafael (Ray) Firszt MD, Tanner Clinic
Best Bariatric Surgery
University of Utah Hospital Bariatric Surgery Program
For those who don't know, bariatric surgery—which includes lap banding, sleeve gastrectomy, gastric bypass and BPD-DS procedures—is performed on the stomach and or intestines to induce weight loss. Bypass surgeries are generally irreversible but are lifesaving for so many who suffer from chronic obesity (100 pounds or more overweight). Dr. Eric Volckmann is the director of the U of U's Bariatric Surgery Program, where he specializes in minimally invasive upper gastrointestinal procedures and bariatric surgery. Start the process of discovery on the website, which is educational about the different procedures, body mass index, how to qualify for weight loss surgery and finding out if it's right for you.
50 N. Medical Drive, SLC, 801-587-3856,
healthcare.utah.edu/bariatricsurgery
2. Bariatric Medicine Institute
3. Rocky Mountain Associated Physicians
Best Dermatologist
David Smart MD
Doctors with this specialty treat ailments manifested by your skin suit, from acne and itchy rashes to moles and warts that change shapes or sizes, hair loss, scaly patches and dry skin. Dr. Smart can also provide treatment plans for wrinkles, scars, leg veins and skin spots but you have to pick up the 2,000-pound phone and make an appointment. Actually, everyone should see a dermatologist for an annual checkup, especially if you have fair skin. One patient reported, "[Dr. Smart] takes time to understand...never seems in a rush, is never pushy about procedures and genuinely cares about his patients." Unlike some docs, you can book a free consultation to discuss your skin health with Dr. Smart; he is accepting new patients.
Smart Skin Dermatology, 3200 W. Clubhouse Drive, Ste. 100, Lehi, 385-273-3376,
smartskindermatology.com
Tied for 2nd Place:
2. Christopher Hansen MD, University of Utah Health Dermatology
2. Christopher Hull MD, University of Utah Hospital
3. Lana Thanh Ngoc Pho MD, Intermountain Salt Lake Clinic
Best Dermatology Practice
University of Utah Health Dermatology
Perhaps one reason the U's dermatology practice took first place is because of their same-day clinic that treats rashes, blisters and other urgent skin conditions. Their traditional clinic sees folks for ongoing acne, skin tags, stubborn dandruff, nail disorders, hair loss, mild skin diseases characterized by small lesions and annual full-body checks. They encourage you to call or come in the moment you notice any changes in your skin suit. Their stable of doctors, PAs and RNs gets rave reviews—not just for accessibility but for the quality ongoing care they provide.
University Hospital, Clinic 28, 50 N. Medical Drive, SLC, 801-581-2955,
healthcare.utah.edu/dermatology
2. Swinyer-Woseth Dermatology
3. Smart Skin Dermatology
Best Doctor of Internal Medicine
Matthew Bryan MD
Internal medicine doctors are primary care providers who treat adults and are trained to solve diagnostic problems, manage long-term illnesses and help patients with chronic conditions. With his practice focus on transgender medicine, HIV prevention (PrEP), HIV treatment and overall LGBTQ+ health, Dr. Bryan fills an important niche in the community. Patients rave about the quality of care they receive, rating him five out of five stars, with one saying, "He is truly a rare gem in the medical profession" and another proclaiming him the "finest doctor I have ever dealt with in all of my 84 years!"
Intermountain Salt Lake Clinic, 389 S. 900 East, SLC, 385-282-2600,
intermountainhealthcare.org/find-a-doctor/b/bryan-matthew-t/
2. M. Jason Penrod MD, University of Utah Hospital Internal Medicine
3. Lisa Kuwahara MD, Intermountain Avenues Internal Medicine
Best Ear, Nose & Throat Physician
Marshall E. Smith MD, FACS
Professor of otolaryngology (big word!) and head and neck surgery at the U of U and medical director of the Voice Disorders Center, Dr. Smith is not just a teacher and investigator, but a researcher and clinician who treats patients (including children) dealing with voice, airway and swallowing disorders. He provides care at eight clinic locations for chronic hoarseness, vocal nodules/polyps, spasmodic dysphonia, vocal fold paralysis, singers with voice problems and more.
Multiple locations,
intermountainhealthcare.org/find--doctor/Marshall-E-Smith-MD-1154411783
Or visit: healthcare.utah.edu/find-a-doctor/marshall-e-smith
2. Tykie Skedros MD, Mountain West ENT
3. John R Bennett MD, Ear Nose & Throat Hearing Center
Best Colonoscopy
Granite Peaks Gastroenterology
The CDC recommends regular screenings for colon cancer beginning at age 45. If no signs of cancer (such as precancerous polyps in the colon or rectum) are seen, then you won't need to return for 10 years. But if polyps or other risk factors are found, your doctor might want you screened more frequently. When the time comes to be screened, Granite Peaks, with two locations, is a favorite. Here, a crew of physicians, PAs and nurse practitioners stand ready to help make the process as comfortable as possible, from instructing you on how to prepare for the procedure to getting ready for the anesthesia. It's over before you know it, and you're on your way home, feeling like you did your body a big favor. And you did: The screening saves lives.
Locations in Sandy and Lehi, 801-619-9000,
granitepeaksgi.com
2. Intermountain Medical Center
3. University of Utah Hospital
Best Family Medicine Physician
Rachel Goossen MD
Dr. Goossen is convinced that epic communication is the magic that turns simple physician-patient encounters into a harmonious relationship. Ensuring every patient's voice is heard, her ultimate quest revolves around lifestyle transformations to ward off and heal chronic conditions. Her approach of holistic health is the artful masterpiece of keeping mind, body and spirit in harmonious balance.
U of U Health Sugar House Health Center, 1280 E. Stringham Ave., SLC, 801-213-8841,
healthcare.utah.edu/find-a-doctor/rachel-goossen
2. Katherine W. Munt MD, Granger Medical Holladay Clinic
3. Rebecca J. Levine MD, Intermountain Jordan River Family Medicine
Niki Chan
Foothill Family Clinic in Salt Lake City, Cottonwood Heights and Draper
Best Family Practice Clinic
Foothill Family Clinic
With its three locations, Foothill Family Clinic reigns supreme in putting patients first. Get ready to surf through a treasure trove of useful and enlightening resources, all crafted to make your life healthier and happier. The team of dedicated professionals work tirelessly to provide top-notch healthcare, plus, there is handy onsite lab and radiology services, along with trendy telehealth and video appointments.
Locations in Salt Lake City, Cottonwood Heights and Draper;
foothillfamilyclinic.com
2. Martindale Clinic
3. Granger Medical Clinic
Best Gastroenterologist
PJ Pedersen MD
Diving into the fascinating field of endoscopic procedures, Dr. Pedersen thrives on providing patients with exceptional care and extraordinary outcomes. Patients appreciate his caring nature and ability to listen, empathize and come up with the best course of action to treat GI maladies such as inflammatory bowel disease, celiac disease and liver disease.
Utah Gastroenterology, locations in Draper and Millcreek,
gialliance.com/pj-pedersen-slc-ut
2. Laura Pace MD, PhD, Metrodora Institute
3. R. Kyle Barnett MD, Granite Peaks Gastroenterology
Best General Surgeon
Ellen H. Morrow MD, FACS
A skilled general surgeon, Dr. Morrow graduated from Stanford U Medical School and studied minimally invasive surgery at the University of Washington. She's experienced in esophageal surgery and laparoscopic procedures for disorders of the upper GI tract, such as reflux, paraesophageal hernias and achalasia. She's also certified in bariatric (weight loss) surgery. Performing foregut, bariatric and general surgery at the U of U and Veterans Hospital, she's been called "a miracle worker" by one of her patients.
University of Utah Sugar House Center, 1280 E. Stringham Ave., SLC, 801-581-2000,
md.com/doctor/ellen-morrow-md
2. Megan Grunander MD, FACS, Ogden Clinic
3. Teresa Reading, MD, Intermountain Avenues Specialty Clinic
Best Geriatric Physician
Amy Cowan MD
After growing up on the Oregon Coast and attending medical school in Hawaii, Dr. Cowan completed an internal medicine residency in Portland followed by a fellowship in geriatric medicine at the University of Utah. Her clinical practice is at the Veterans Affairs Medical Center, and she's an assistant professor at the U of U. "Dr. Cowan really cares about our vets, as well as the house staff and all of the people that work at the V.A. We are very lucky to have her," says one Facebook commenter.
Veterans Affairs Medical Center, 500 Foothill Drive, SLC, 801-582-1565,
va.gov
2. Timothy Farrell MD, University of Utah Health Geriatric Care
Best Hospice Care
Solstice Home Health, Hospice and Palliative Care
Solstice enhances the quality of end-of-life care through a combination of in-patient medical services, including therapeutic touch, pet therapy, aroma therapy, massage and music therapy. For example, Solstice facilitated a father's greatest wish—to spend his last days at home. "We are grateful for the highest quality care they provided our family," says his daughter. If you have a loved one nearing the end of life, don't hesitate to contact Solstice.
1250 E. 3900 South, Ste. 301, Millcreek, 801-485-1035,
solsticehc.com
2. Canyon Home Care & Hospice
3. Hospice for Utah
Best Hospital
University of Utah Medical Center
Opening its doors in 1965, the U of U Medical Center is a major regional health care center and teaching hospital—not just for Utahns but for those living in Nevada, Idaho, Wyoming, Montana and western Colorado—known for specialties such as cardiology, geriatrics, gynecology, pediatrics, rheumatology, pulmonology, neurology, oncology, orthopedics and ophthalmology. There are five hospitals, 12 community clinics and six schools and colleges operating under its banner. It's staffed by more than 23,000 employees, including 1,400 board-certified physicians as well as PAs, nurses and assistants.
50 N. Medical Drive, SLC, 801-581-2745,
healthcare.utah.edu/hospital
2. Intermountain Medical Center
3. Primary Children's Hospital
Best Independent Pharmacy
Jolley's Gift & Floral
Opened in 1954, this neighborhood drugstore (just west of Westminster College) is a rare compounding pharmacy that makes medications on site. These compounds can be types of injections, eye drops and infusions that must be created in a sterile environment. They also make non-sterile compounds such as creams, capsules and suppositories that the big chains don't make in-store. While waiting for your prescription, you can sit in a full-body massage chair and eavesdrop on the banter of longtime employees. Best of all, it's a gift store with cards, jewelry and cute seasonal items that will make you smile. You can also get flu shots, pneumonia and shingles injections there anytime.
1676 E. 1300 South, SLC, 801-582-1600,
jolleyspharmacy.com
2. University Pharmacy
3. Meier's Pharmacy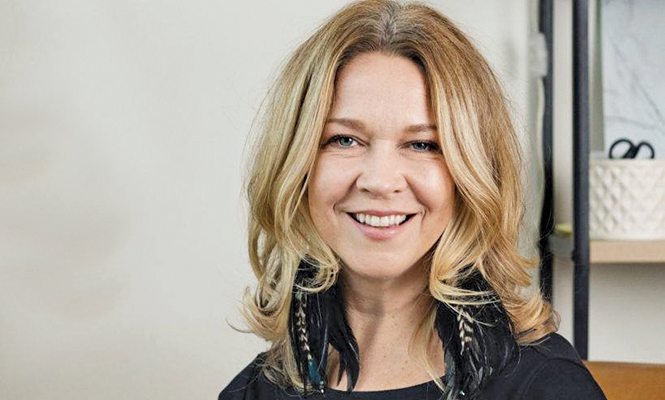 Courtesy Photo
Candace Curzon LCSW, co-owner of Ketamine Therapy SLC at Therapeutic Alternatives
Best Ketamine Clinic
Ketamine Therapy at Therapeutic Alternatives
What if your brain could heal itself from PTSD, depression, anxiety, addiction, OCD and chronic pain by creating new neural pathways? With ketamine therapy, anything is possible. Over a one-hour session, ketamine is administered via injection or IV while the patient is supervised by a licensed professional. Although 6-10 treatments may be recommended, some people feel instant relief after just one session. A single intramuscular injection is $299 (infusion is $400), and insurance does not cover the treatment.
Locations in Salt Lake City and West Jordan, 385-685-1410,
ktherapyslc.com
2. Rising Health Specialty Clinic
Tied for 3rd Place:
3. Empathetix Millcreek office
3. Summit Ketamine Therapy
Best Men's Health Clinic
Prestige Men's Health
Unless you're Ponce de León, we all know aging is inevitable. But Dr. Joshua Schmidt at Prestige believes that your body's response to it doesn't have to be. Since 2015, Dr. Schmidt has helped men feel younger with hormonal therapy. Low testosterone treatments at Prestige are affordable and easy to start, plus Dr. Schmidt loves to answer questions, his patients say. This may be as close to the fountain of youth that you, or Ponce, can get.
4381 S. Highland Drive, Holladay, 801-695-4311,
prestigemenshealth.com
Tied for 2nd Place:
2. Cameron Wellness and Spa
2. Empathetix
3. Wasatch Medical Clinic
Best Mental Health Treatment Center
Odyssey House of Utah
Odyssey House is Utah's largest and most comprehensive addiction program. Their adult residential substance-abuse program has helped tens of thousands nationwide. Odyssey's mental health therapists are trained to work with depression, anxiety, mood disorders, trauma, and other issues. "It's a place of learning and growth.," says one client. "It gives you a second chance at life if you're willing to step up and take it."
344 E. 100 South, SLC, 801-322-3222,
odysseyhouse.org
2. Huntsman Mental Health Institute (University Neuropsychiatric Institute)
3. Utah Center for Evidence-Based Treatment
Best Neurologist
Safdar A. Ansari MD
Dr. Ansari not only oversees students' transition from the classroom to the 23-bed, state-of-the-art neurocritical care unit at the University of Utah, but he also serves as the medical director of the TeleNeurology program. His poise and kindness while helping patients who have suffered strokes or traumatic brain injuries bring comfort to the afflicted and set a high standard for neurology students, interns and fellows completing their residency at the U of U.
University of Utah Hospital, 50 Medical Drive North, SLC, 801-581-2121,
healthcare.utah.edu
2. Alyssa Lettich MD, Intermountain Neurosciences Institute
3. Dorothy L. Williams MD PhD, U of U Imaging and Neurosciences Center
Best Neuropsychologist
Julien Smith Ph.D.
With more than 30 years of experience in the health care field, Dr. Smith was previously director of the Primary Children's Hospital Department of Neuropsychology and continues as an affiliated staff member after entering private practice in 2010. She provides pediatric and adolescent neuropsychological consultation and assessment services for those with known or suspected neurological injury and neurodevelopmental disorders such as traumatic brain injury, chronic medical conditions, developmental delays and autism disorder.
Wasatch Pediatric Neuropsychology, 231 E. 400 South, Ste. 335, SLC, 801-363-1189,
kidsnneuropsych.com
2. Stephen Trapp, PhD, Metrodora
Best Nurse Practitioner
Mindee Kunkel RN, PNP
A U of U College of Nursing alumna, Mindee Kunkel specializes in pediatric orthopedic surgery, working in Salt Lake, Riverton and Layton. She works directly with young patients and their parents to ensure they get great care and that they understand doctors' orders. Her patients are dealing with anything from simple broken bones to those with childhood diseases like Legg-Calve-Perthes disease. Both parents and kids love her knowledge, patience and professionalism along with her big smiles.
Primary Children's Hospital, 100 N. Mario Capecchi Drive, SLC, 801-662-3645,
intermountainhealthcare.org/find-a-doctor/Mindee-P-Kunkel-NP-1316122849
2. Elizabeth Cardenas DNP, Solstice Medical Group and Fortis College faculty
3. Austin Francom APRN, Summit Primary Care and Clinical Services
Best Registered Nurse
Stephanie Goodwin RN
Stephanie M. Goodwin graduated with a nursing degree from Southern Utah University and now works for Primary Children's Hospital Emergency Department where she's one of the first responders for patients admitted to the ER. In a typically high-stress, fast-paced environment, she works to identify medical issues, determine severity and provide support, all while tempering her medical skills with compassion for the young patients entrusted to her care.
Primary Children's Hospital Emergency Department, 100 Mario Capecchi Drive, SLC, 801-662-1234,
intermountainhealthcare.org
2. Olivia Cobb RN, Solstice Home Health, Hospice & Palliative Care
3. Erika Reichman APRN, University of Utah Hospital
Best In-Home Nursing Care
Solstice Home Health, Hospice & Palliative Care
Responsive around the clock, 24/7, Solstice has a long history of working within our community to help their clients interact with physicians, NPs and PAs. If you have been diagnosed with a chronic life-limiting medical condition, Solstice's palliative team works with you to improve your quality of life, from the time of your diagnosis through the final stages of life. They help those with heart failure as well as pulmonary disease, cancer, dementia and Parkinson's. Reviewers gush about the care their medical personnel and social workers give to each person they see.
1250 E. 3900 South, No. 301, Millcreek, 801-485-1035,
solsticehc.com
2. Elite Home Health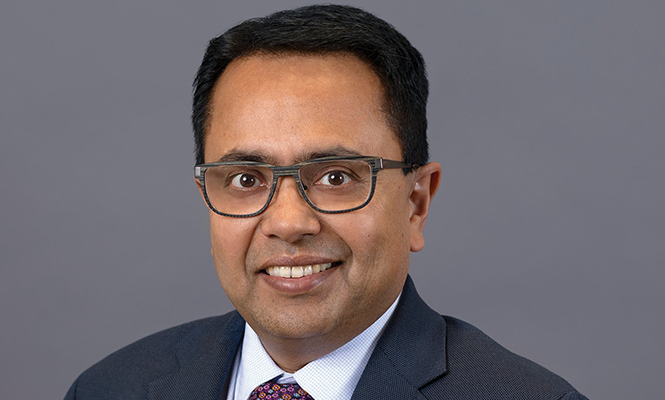 Courtesy Photo
Oncologist Neeraj Agarwal MD, Huntsman Cancer Institute
Best Oncologist
Neeraj Agarwal MD, FASCO
Dr. Agarwal is a decorated researcher and a leader in the field of genitourinary (prostate, kidney and bladder) cancers. His dedication to fighting cancer with proven strategies—having written more than 385 peer-reviewed articles and book chapters—is astounding. Patients appreciate his calming bedside manner and devotion to conveying what to expect in treatment as well as the science behind his recommendations.
Huntsman Cancer Institute, 2000 Circle of Hope Drive, Ste, 1950, SLC, 801-587-7000,
healthcare.utah.edu
2. Mark K. Dodson MD, University of Utah Hospital
3. Kirstyn E. Brownson MD, Huntsman Cancer Institute
Best Pain Clinic
University of Utah Health Pain Management Center
Treating the whole person and not just their pains and symptoms is the gold standard for pain management. First, you have an evaluation that includes a full physical and psychological assessment of what ails you. After looking at your records, they may recommend more tests to pinpoint the cause of your pain so the team can create a tailored treatment plan for your condition and degree of pain, your needs and your physical objectives. They also offer behavioral medicine by licensed clinical psychologists to teach patients strategies to manage or cope with pain.
615 Arapeen Drive, No.100, SLC, 801-581-7246,
healthcare.utah.edu/paincenter
2. Earth Center Acupuncture
3. Pinyon Physical Therapy
Best Physician Assistant
Shalia Hartvigsen PA-C
Physician assistants are the cornerstone of the medical field, fostering care for millions of patients across the country. It might surprise you to learn your primary care provider is a PA and not a doctor. Shalia Hartvigsen trained in clinics and operating rooms across the state under excellent plastic surgeons, including Dr. Ward of Ward MD. She takes pride in being able to meet the needs of her patients regardless of language barriers, having volunteered as a Spanish medical interpreter for the underserved at a community clinic in Salt Lake City.
Ward MD, multiple locations,
wardmd.com
2. Jasmin Charles MS, PA-C, University of Utah Hospital
3. Madeline Grainger PA, Martindale Clinic
Courtesy Photo
Plastic surgeonP. Daniel Ward MD
Best Plastic Surgeon—Cosmetic/Reconstruction
P. Daniel Ward MD
"A natural result without obvious signs of surgery is our ultimate cosmetic goal," is what Dr. Ward and his team strive for with each patient. A double-board certified facial plastic surgeon, Dr. Ward possesses a blend of artistry and medical expertise that have ranked him among the top 1% of physicians in patient satisfaction, according to his website. Whether you need a rhinoplasty, facelift, blepharoplasty, reconstruction after skin cancer removal or facial trauma or treatment for facial paralysis, Dr. Ward is passionate about providing the best clinical care to his patients.
Ward MD, multiple locations,
wardmd.com
2. Bethany Powers MD, Ward MD
3. Jeremy (Jerry) Chidester MD, The Plastics Clinic & Spa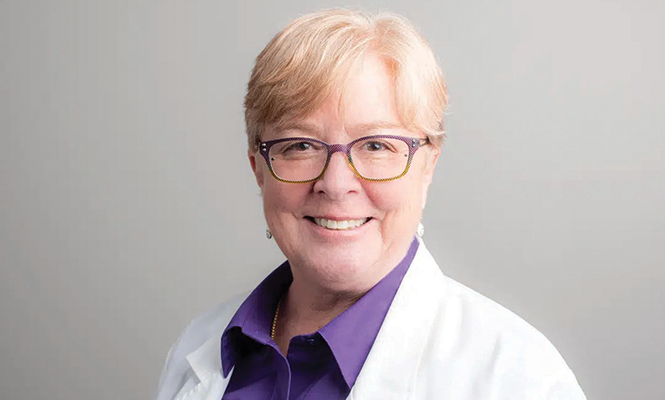 Courtesy Photo
Lucinda Bateman MD, medical director of the Bateman Horne Center
Best Long-Hauler COVID Care
Bateman Horne Center
This nonprofit is dedicated to research for folks suffering from Long Haulers Syndrome. They are actively recruiting people to test nutritional supplements and different clinical studies or trials. In addition, they are working to identify biomarkers, diagnostic measures and treatments for myalgic encephalomyelitis/chronic fatigue syndrome, long COVID and fibromyalgia. They've set up a registry where you can securely sign up to determine if you are eligible to participate. The founder and medical director, Dr. Lucinda Bateman, is recognized worldwide as an expert and treatment of ME/CFS and related comorbidities and is known locally as one of the few specialists in her field.
24 S. 1100 East, No. 205, SLC, 801-359-7404,
batemanhornecenter.org
2. Terra Care SLC
3. Cameron Wellness and Spa
Best Transgender Health Care
The University of Utah Health Transgender Health Program
Despite political controversy over trans rights in this country and Utah, there's still a place you can go for counseling, hormone therapy, gender affirmation surgery, voice therapy, hair reduction and pelvic floor rehabilitation. Adolescents can receive gender management and support (GeMS), including behavioral health, nutrition wellness, family planning and coordinated care. Utah law now prohibits hormone therapy and puberty blockers as treatment for gender dysphoria for anyone under the age of 18 who did not have a documented gender dysphoria diagnosis prior to January 28, 2023. But for minors with a diagnosis prior to that date, there may be a pathway to receive gender-affirming hormone therapy and puberty blockers.
801-213-2195,
healthcare.utah.edu/transgender-health
2. Ward MD Facial Plastic Surgery
3. Martindale Clinic
Best Psychiatrist
Daniel Inouye MD
"Dr. Dan" is a psychiatry specialist with more than eight years of experience in medicine. After graduating from Harvard Medical School in 2014, he completed an adult psychiatry residency at UCLA. Patient reviews express appreciation for his in-depth knowledge of mental health, postpartum issues, and empathic attitude. Says one, "I've learned more about my diagnoses, medications, and underlying conditions that other mental health professionals never took the time to investigate."
Utah Psychiatric Clinic, 12221 S. 900 East, Draper, 801-592-2002,
postpartumutah.com
2. Stamatios Dentino MD, University of Utah Hospital
3. Kirk Simon MD, Primary Children's Medical Center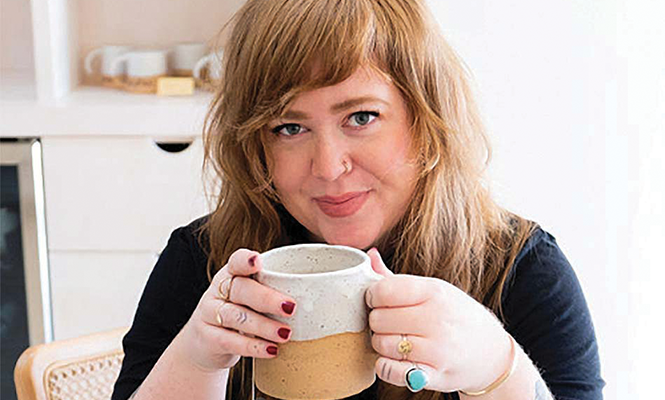 Courtesy Photo
Caroline Pegram LCSW, Topaz Healing
Best Psychotherapist/ Counselor
Caroline Pegram LCSW
The owner of Topaz Healing, Caroline Pegram is a licensed clinical social worker and trauma sensitive yoga facilitator. Her approach centers on the mind-body connection, nervous system awareness and healing from trauma. She works with those who have experienced domestic violence, PTSD, grief, eating disorders, emotional disturbance and family conflict. Patient reviews describe her as professional, respectful and mindful "I learned how to have self-worth and confidence, set healthy boundaries and work through my trauma," says one.
Topaz Healing, 515 S. 700 East, Ste. 2D, SLC, 801-613-1270,
topazhealing.com
2. Sarah Windes CMHC, Therapy Alliance
3. Kimberly Applewhite, Psy.D., Utah Center for Evidence-Based Treatment
Best Pulmonologist
Krishna M. Sundar MD
If erratic sleep patterns leave you trudging through the day with all the vigor of a somnambulist, then consider what Dr. Sundar can do to help. As medical director of the U's Sleep-Wake Center—board-certified in sleep medicine, pulmonary disease, critical care and internal medicine—Dr. Sundar's kind and knowledgeable manner will soon have you breathing easier.
University of Utah Health Sleep-Wake Center, 375 S. Chipeta Way, No. A200, SLC, 801-581-2016,
healthcare.utah.edu
2. Lara Hardman MD, Intermountain Memorial Clinic
3. Sikandar Ansari MD, University of Utah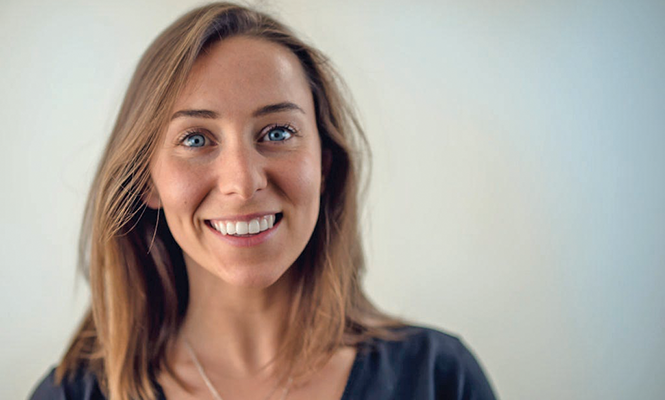 Courtesy Photo
Hayden James RDN, with Satiate Nutrition
Best Registered Dietitian Nutritionist
Hayden James RDN, CSSD, CD, CDCES
James is not just a registered dietician nutritionist. As a runner, climber and skier, she understands "the demands of balancing athletic pursuits with life." It's not about getting skinny. She is about getting your best self to be healthy and fit. She founded Satiate Nutrition to help anyone from the novice to the pro athlete. Eating has become a complicated task in a world of mixed messages. Now you can be guided to good health and an active lifestyle.
Satiate Nutrition,
satiatenutrition.com
2. Davin Lau MS, RD, CSCS, Fit to Recover
3. James C. Miller MS, RDN, CGP, University of Utah Health Comprehensive Weight Management
Best Retirement Community
Summit Vista
As Utah's first "life plan community," this is senior living with a tiered-care option. Not only do they offer quality-built independent living apartments but also access to higher levels of care (including assisted living, skilled nursing and memory care) should they be needed. With the Gardner Co. and Solamere Capital as investors, there's a local touch involved that makes a difference.
3390 W. Signal Peak Drive, Taylorsville, 801-758-3138,
summitvista.com
2. South Jordan View Retirement Community
3. Legacy Village of Sugar House
Best Rural Utah Medical Center
Central Valley Medical Center
Known to locals as CVMC, this small rural hospital owned by Juab County was built in the 1950s and has grown to a nonprofit healthcare system providing a wide range of medical services to those living in central Utah. With multiple clinic locations, integrated surgical suites, and a women's health and birthing center, they also offer all the usual things you think of with a hospital—like an ER department, radiology, labs, respiratory therapy and more. Folks come from Payson, Jericho, Scipio and even from larger cities like Gunnison and Delta because of the reputation of the medical staff.
48 W. 1500 North, Nephi, 435-623-3000,
centralvalleymedicalcenter.com
2. Northpointe Medical Park, Tooele
3. Canyon View Medical, Spanish Fork
Best Urgent Care
University of Utah Health Urgent Care
Hardly does getting ill comply with your busy schedule. When you're under the weather and your regular doctor can't get you in for an immediate appointment, urgent care is your best bet. With nine locations open all day plus weekends and evenings, University of Utah Health Urgent Care treats illnesses from flus and fevers to earaches, nausea, allergic reactions, bites, minor cuts and fractures. No appointment needed—just get yourself there and they'll take care of what ails you.
Multiple locations,
healthcare.utah.edu/primarycare/urgent
2. Granger Medical Clinic Urgent Care
3. Medallus Urgent Care
Best Urologist
Peter A. Caputo MD
Dr. Caputo is a urology specialist affiliated with St. Mark's Hospital and Lone Peak Hospital. He graduated from Westminster College, then completed a doctorate at Temple University, a residency at the University of Texas, and a fellowship at the Cleveland Clinic. Many positive client reviews commend Dr. Caputo for his congenial bedside manner, thorough explanations and answers to questions as well as his surgical skills that often achieve pain-free results.
Summit Urology Group, 4252 S. Highland Drive., Ste. 200, Holladay, 801-993-1800,
summiturologygroup.com
2. Bogdana Schmidt MD, MPH, Huntsman Cancer Institute
3. William B. Warner MD, Granger Obstetrics & Gynecology
Courtesy Photo
Pinyon Physical Therapy
Best Spine Center / Best Dry Needling
Pinyon Physical Therapy
Whether you're recovering from a back or spine injury or hoping to improve your tennis game, physical therapy can help you maximize your body's potential. And perhaps no treatment is more targeted to muscle performance than dry needling, which focuses on trigger points to increase range of motion and function. Sarah McNurlin is a certified Functional Dry Needling® practitioner who combines dry needling with manual therapy and therapeutic exercise for a comprehensive approach to spinal and muscular mobility. In fact, she's so effective, she's had clients fly in from out of state for sessions.
515 S. 700 East, Ste. 2D, SLC, 385-202-6198,
pinyonpt.com
Best Spine Center runners up
Tied for 2nd Place:
2. Anthony Simone DC, Doctor Tony Chiro Clinic
2. Michael Cerami DC, Utah Sports and Wellness
3. Suzanne Cronin DC, Salt Lake Chiropractic
Best Dry Needling runners up
2. Reborn Pelvic Health & Wellness
3. Mountain Land Therapy
Best Orthopedic Rehab
TOSH (The Orthopedic Specialty Hospital)
Founded in 1991, TOSH is a 100,000-square-foot facility with 36 patient rooms, 10 surgery suites, a research laboratory, a pool, a weight and exercise room, and a rehabilitation center. TOSH provides surgical and non-surgical care for patients dealing with bone, tendon, ligament and muscle issues. From sports injuries to total joint replacement, TOSH providers employ a collaborative approach, working together on treatment options to help patients understand their condition and choose the best treatment plan.
5848 S. 300 East, Murray, 801-314-4100,
intermountainhealthcare.org/locations/the-orthopedic-specialty-hospital
2. Primary Children's Hospital
3. Pinyon Physical Therapy
Best Orthopedic Surgeon
Daniel Gibbs MD
Specializing in nonoperative, minimally invasive, arthroscopic techniques, Dr. Gibbs is that guy when it comes to knee, hip and shoulder surgery. A repeat Best Orthopedic Surgeon winner, his patients say his care is only getting better. Dr. Gibbs has worked with elite athletes, including the LA Dodgers and University of Southern California football team, among others, and brings the same level of mindfulness and diligence to his work now. One patient said Dr. Gibbs gave her a second wind in her 70s after her "miserable" knees had deteriorated from running marathons as a young lass. "I am able to walk four miles a day, play golf twice a week ... and engage regularly with kids, grandkids and great grandkids," she said. "Life is good!"
Heiden Orthopedics, multiple locations, 435-6158-822,
heidenortho.com
2. Joshua M. Hickman MD, Mountain Orthopaedics
Tied for 3rd Place:
3. Joel Turtle MD, University of Utah Hospital
3. Christopher E. Pelt MD, Injury Clinic at the University of Utah Health Orthopaedic Center
Best Physical Therapist
Susan McLaughlin PT
Susan is a four-time BAM winner—what can we say that has not already been said? Her back story is inspiring! The testimonies on her website speak for themselves. As McLaughlin says on her website, "Getting out of pain has many paths. Our work together will be a journey. I will be more like the guide or facilitator, as you take the steps toward change. This is not a one-session 'quick fix'; this is a collaboration of me with you, and you with your body." If you like that approach, you'll love working with McLaughlin.
Align Integration and Movement, 1817 S. Main, Ste. 10, SLC, 801-859-4142,
alignforhealth.com
2. Sarah McNurlin PT, DPT, Pinyon Physical Therapy
3. Betty DeLass PT, DPT, Reborn Pelvic Health & Wellness
Courtesy Photo
Reborn Pelvic Health & Wellness
Best Physical Therapy Clinic
Reborn Pelvic Health & Wellness
There is something called "vagina magicians" that we now want to find out about because it sounds so dang cool! Reborn is not "let's just put a band-aid over the issue," but they determine why symptoms are occurring and use a whole-body approach to heal pelvic issues. That is why patients love them! Folks describe their process as "life-changing." They treat everything from bowel and bladder dysfunction to pelvic pain, pregnancy and postpartum.
Locations in West Jordan and Provo, 801-216-3117,
rebornphw.com
2. Pinyon Physical Therapy
3. TOSH Physical Therapy, Murray
Best Sports Medicine Clinic
University of Utah Health Sports Medicine
With providers at the U of U Health Orthopaedic Center and throughout the Salt Lake Valley, the U's sports medicine care is comprehensive and interdisciplinary, and includes trainers, sports medicine doctors, physical therapists, wellness coaches, orthopaedic surgeons, dietitians and researchers. They address wellness, injury and prevention, treatment and recovery, and performance. This "team" approach has helped athletes from the U of U, Real Salt Lake and Salt Lake Bees and at numerous high schools and community events. If it works for them, it can work for you!
Multiple locations, 801-587-2222,
healthcare.utah.edu/sports-medicine
2. Heiden Orthopedics
3. Granger Medical Alta View Sports Medicine
Best Midwife
Adrienne Brown CPM
After giving birth to her own baby with the help of a midwife, Adrienne Brown decided to focus on women's health and studied at the Maternidad La Luz midwifery school in El Paso, Texas, graduating in 2003. She's attended over 1,000 deliveries and staunchly encourages women to work with a midwife—whether birthing at home or in the hospital—to ensure the safest delivery possible. Midwives don't just help women with pregnancy and childbirth—many also assist with newborn care and postpartum health. Her patients rave about her empathy and strength.
Wasatch Midwifery & Wellness, 6440 S. Wasatch Blvd., Ste. 140, Holladay, 385-237-1568,
wasatchmidwifery.com
2. Eve German CPM, LM , MSM, The Birth Center
Tied for 3rd Place:
3. Christine Larson, CPM LDEM, Olive Branch Midwifery
3. Gloria Moore CPM LDEM, Bearth Midwifery
Courtesy Photo
Wasatch Midwifery & Wellness birthing tub
Best Midwifery/ Birthing Center
Wasatch Midwifery & Wellness
This nationally accredited center provides women along the Wasatch Front the option to give birth at home with the help of a midwife. In addition, Wasatch Midwifery offers a birthing center that's not only safe and welcoming but one that clients say feels more like a spa with a large free-standing tub, birth balls and stools, hanging yoga slings and yummy soft spa robes and high-end linens. Clients can enjoy a relaxing stay prior to, during and after giving birth until discharged by the staff. They welcome doulas, family members and support people to assist in labor.
Wasatch Midwifery & Wellness, 6440 S. Wasatch Blvd., Ste. 140, Holladay, 385-237-1568,
wasatchmidwifery.com
2. The Birth Center, Murray
3. Birth Journey Midwifery, Murray
Best Pediatrician
Suzanne Holbrook MD
She is "Dr. Suzy" to many! A U of U Medical School alumna, she's board-certified to practice pediatrics since 1993. Exploration of various philosophies of medical practice is fundamental to who she is. She considers pushing her own boundaries and her understanding of healing as her core mission. She has learned through and healed using pediatric medicine, neonatology, cranio-sacral therapy and an ongoing exploration of functional medicine.
Sunnyside Pediatrics, 24 S. 1100 East, Ste. 301, SLC, 801-521-2640,
sunnysidepeds.com/suzanne-holbrook-md
2. Jennifer Cox MD, Sunnyside Pediatrics
Tied for 3rd Place:
3. Jenifer Sandvig MD, Wasatch Pediatrics, Millcreek
3. Rachel Baar MD, Intermountain Internal Memorial Clinic Pediatrics
Best Pre natal Care
Wasatch Midwifery & Wellness
Before delivery, clients are seen in the office and, for those who choose home birth, there is one at-home visit. In addition, the midwife is on-call, 24 hours a day, 365 days a year, to attend to any pregnancy-related questions, emergencies and extra visits that may be needed. "Their prenatal care was personalized and non-invasive. I knew they cared about my child and me," says one patient. "Each person I interacted with was kind, professional, and knowledgeable."
6440 S. Wasatch Blvd., Ste. 140, Holladay, 385-237-1568,
wasatchmidwifery.com
2. University of Utah SUPeRAD (Substance Use in Pregnancy Recovery Addiction Dependence) Clinic
3. The Birth Center, Murray
Best Obstetrician-Gynecologist
Abby J. Watson MD
After earning a medical degree from University of Nebraska School of Medicine in 2011, Dr. Watson did an OB-GYN residency at the U of U. Now, a dozen years later, Dr. Watson specializes in obstetrics, gynecology, women's health, endometriosis, LGBTQ and transgender health. Her patients give her high marks: "Dr. Watson is amazing! Very compassionate, thorough, and patient. Never makes me feel rushed through an appointment, no matter how many questions I have. She takes time to thoroughly explain and answer questions to ensure I feel comfortable and understand. Couldn't ask for a better OB-GYN."
Madsen Health Center, 555 S. Foothill Blvd., SLC, 801-581-8000,
healthcare.utah.edu/find-a-doctor/abby-watson
2. Rebecca L. Ponder MD, Intermountain Obstetrics & Gynecology, Murray
Tied for 3rd Place:
3. Hanele Laine MD, Intermountain Avenues Women's Center
3. Jason L. Johnson MD, St. Mark's Obstetrics & Gynecology Associates
Best Women's Health Clinic
Planned Parenthood Association of Utah
We could write something quippy about Planned Parenthood, but right now the issues surrounding women's health are too important to speak of lightly. With eight health centers in Utah from Logan to St. George, Planned Parenthood provides essential sexual and reproductive health care services, including abortions up to 18 weeks—for now anyway. A temporary restraining order currently blocks the implementation of Utah's "trigger law" that would ban abortion in Utah. While that case is awaiting a decision, a new Utah law was passed in 2023 that bans abortion clinics. That law is also being challenged in court. Through it all, PPAU has fought the good fight to defend a woman's right to choose, believing as it does that sexual and reproductive health are basic human rights, and access to health care should be available to all. Their doors remain open.
Multiple locations, book appointments at 1-800-230-7526,
plannedparenthood.org/planned-parenthood-utah
2. Reborn Pelvic Health & Wellness
3. Martindale Clinic
Best Wellness Podcast
Odyssey House Journals
Hosted by veteran SLC news anchor Randall Carlisle, Odyssey House Journals details his road to recovery from alcohol addiction. His guests range from other recovering drug or alcohol addicts to the treatment workers who help them, sharing more than 90 inspiring 30-minute stories detailing the journey from rock bottom to a renewed outlook on substance-free life. It's the very raw, very real version of Chicken Soup for the Soul you didn't know you needed.
soundcloud.com/odysseyhousejournals
2. Naomi Haigh, The Modern Psychic Podcast
3. Mountain Land Physical Therapy Podcasts
Best Dental Implant Clinic
Oral & Maxillofacial Surgeons of Utah
Simply, dental implants help to restore your ability to chew with a secondary bonus of restoring your appearance. It can help preserve the health of the surrounding bone and gums and keep your jawbone from shrinking due to bone loss. These surgeons have offices in Pleasant View, Bountiful, Layton and Ogden and offer a full scope of oral and maxillofacial surgery with various expertise in installing implants, removing wisdom teeth and diagnosing and treating facial pain, facial injuries, bone grafting, corrective jaw surgery, facial fractures, facial cosmetic and lip repositioning.
Multiple locations,
omsofutah.com
2. Stubbs Dental Implant Center
3. The Dental Spa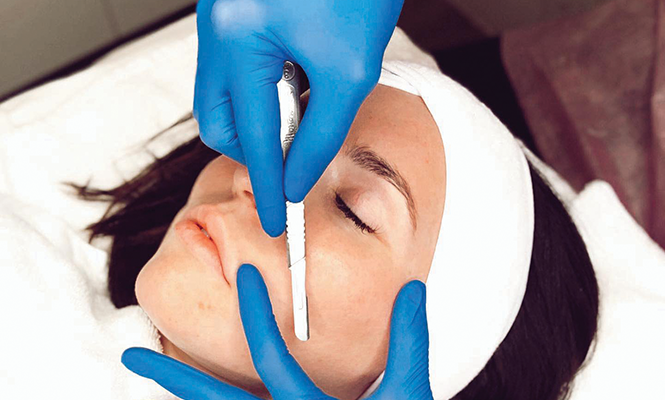 Courtesy Photo
Dental Spa's dermaplane facial
Best Dental Practice
The Dental Spa
Get ready to dazzle the world with your pearly whites. The top-notch cosmetic and restorative dental services offered at The Dental Spa will take your oral health and smile game to a whole new level. But there's more—indulge in their spa treatments at the Facial Lounge for the ultimate pampering experience. Say hello to a stunning smile and a rejuvenated you.
620 E. 2100 South, SLC, 801-466-6645,
thedentalspa.com
Tied for 2nd Place:
2. Foothill Dental
2. Stubbs Dental Implant Center
Tied for 3rd Place:
3. City Creek Dental
3. Mirci Dental
Best Dentist/Best General Dentist
Kirkland Graham DDS
With more than 20 years of experience in private practice, Dr. Graham works hard to keep your smile looking its best, offering preventative care for healthy teeth while also specializing in cosmetic enhancements, general upkeep of your teeth's wellbeing, sleep apnea solutions as well as restorative treatments.
The Dental Spa, 620 E. 2100 South, SLC, 801-466-6645,
thedentalspa.com
2. Miranda Okubo DDS, Creek Road Dental Care
3. David Babcock DMD, Bluffdale Dental Family Dentistry
Best Invisalign Provider
The Dental Spa
Anyone who's ever had traditional braces or retainers can agree that Invisalign clear aligners may be the best advancement in the dental industry since Novocain. But we posit there's one team in town that makes Invisalign even better—The Dental Spa. From complimentary eye masks and mini massages to a la carte facials and cosmetic injections, a perfect smile is just the beginning when you book your Invisalign appointment with Dr. Graham and his team of dental hygienists and licensed master aestheticians.
620 E. 2100 South, SLC, 801-466-6645,
thedentalspa.com
2. Wasatch Dental
3. Graham Orthodontics
Best Oral Surgeon
Adam McCormick DDS, FACS
Just as he did in 2021 to win this position, Dr. McCormick provided unmatched oral surgery in the eyes of Utahns in 2022. Dr. McCormick operates an efficient office and won't waste your time by having you wait around, his patients said. But that doesn't mean care ends when you walk out the door. It's not uncommon for Dr. McCormick to call and check on patients hours after a procedure to check in. Dr. McCormick had shared his talent and kind heart on humanitarian trips to Honduras, China, Mexico and Ecuador.
Oral & Maxillofacial Surgeons of Utah, multiple locations, 801-779-0506,
omsofutah.com
Tied for 2nd Place:
2. Dustin Hopkin DDS, Hopkin Oral Surgery
2. Jason G. Chandler DMD, MS, Oral & Maxillofacial Surgeons of Utah
3. AJ Stosich DDS, MD, Aspire Surgical
Courtesy Photo
Orthodontist Michael Richards DDS
Best Orthodontist
Michael Richards DDS
Dr. Richards is not to be confused with the actor who plays Cosmo Kramer on Seinfeld, the one who once accused his pal, Jerry, of being a rabid "anti-dentite." Dr. Richards may share his name with the actor, but he's one of the most talented dental magicians around—bringing artistic creativity into his orthodontic work. Dr. Richards and his staff strive to make every appointment a rewarding experience. It's a warm atmosphere to walk into, his patients say. One patient mentioned her dog was sick at an appointment and, a few days later, she received a card signed by the entire staff. He excels at giving patients confidence in their smiles.
Michael Richards Orthodontics, 2455 E. Parleys Way, No. 100, SLC, 801-581-9300,
michaelrichardsorthodontics.com
2. Spencer Johnson, Johnson Elite Orthodontics
3. John Graham, Graham Orthodontics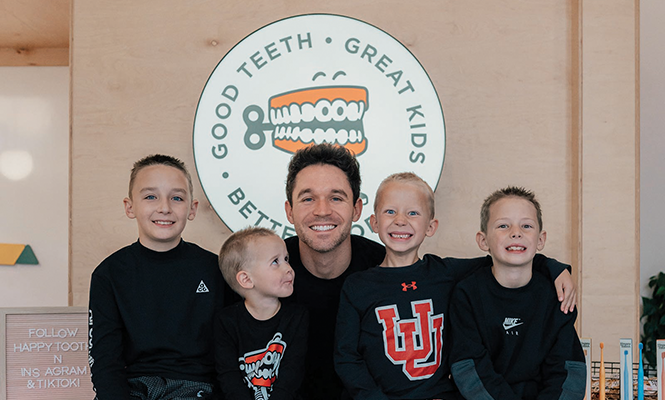 Courtesy Photo
Pediatric dentist Tyler Hanks DMD
Best Pediatric Dentist
Tyler Hanks DMD, MPH
Dr. Tyler Hanks started out as a pediatric dental assistant in 2010 and eventually completed 10 years of dental school training (two of them to become a specialist in children's dentistry). Happy Tooth Pediatric Dentistry is his dream practice. The office is full of bright colors, child-size furniture, play spaces, private exam rooms and even a basketball room to make dental visits a positive experience. Parents and patients appreciate the calm, reassuring explanations and gentle treatment that both the dentist and staff provide.
Happy Tooth Pediatric Dentistry, 2453 E. 3300 South, Ste. 101, Millcreek, 801-410-0165,
happytoothslc.com
2. Cameron Quayle DDS, Mountain View Pediatric Dentistry
3. Debbie Graham DDS, East Bench Pediatric Dentistry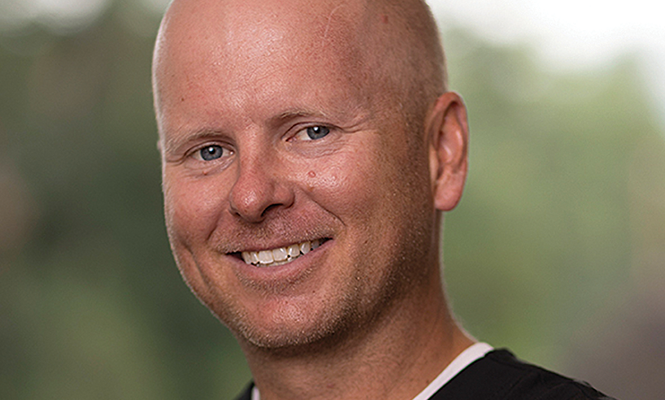 Courtesy Photo
Periodontist Robert Wood DMD
Best Periodontist
Robert Wood DMD
Think of Dr. Wood as a gum specialist who undertook years of additional training to provide periodontal and implant care. He has gathered a great team of assistants and hygienists where they do diagnostics and cleaning, scaling, oral cancer screening, implants and dentures, gum and bone grafting, crown lengthening, cosmetic gingival surgery. And for the pain averse, they offer nitrous-oxide sedation.
Utah Implants and Periodontics, 77 S. 700 East, No. 260, SLC, 801-609-3343,
saltlakecityperio.com
2. Dan Thunell DMD, Wasatch Periodontics
Courtesy Photo
Hoopes Visionpre-op exam room
Best LASIK Center
Hoopes Vision
LASIK (laser-assisted in situ-keratomileusis) uses a laser to permanently change the shape of your cornea—that clear covering in front of the eye. LASIK has been around since 1974, and Dr. Phillip Hoopes, who started his practice in Kansas City but returned to his native Utah to open Hoopes Vision, has been offering it here since 2000. Named one of America's Top Ophthalmologists by the Consumers' Research Counsel of America several years in a row, Hoopes and his staff help people to throw away their glasses. They also help with cataracts and are dedicated to researching new devices and procedures in eye medicine. The clinic offers free VIP exams and consultations to help you with your vision problems and corrections.
11820 S. State, Draper, 801-568-0200,
hoopesvision.com
2. Moran Eye Center
3. Davis Vision Center
Best Local Optical Shop
Image Eyes Optical
Family-owned and -operated, Image Eyes Optical isn't your typical eyeglass store—it's like having an honest-to-a-fault friend who will tell you if your frames are less than flattering. In fact, co-founder Kris Witzel says, "If someone tries a pair of frames that don't fit, we won't sell them. We just won't. It's never about the quick sale." Featuring dozens of top designers and hundreds of pairs of glasses, there is bound to be a fabulous pair uniquely suited to your style at IEO.
Multiple locations,
imageeyesoptical.com
2. The Spectacle
3. Moran Eye Center
Best Ophthalmologist/Eye Surgeon
Griffin Jardine MD
Who's ever heard of a child looking forward to a doctor's appointment? Well, the parents of Dr. Jardine's patients say his humor and gentle manner have done just that—kids look forward to coming back. "[Dr. Jardine] had so many tricks up his sleeve to get my son to cooperate ... He went as far as using my phone to take pictures of my son's eyes to help me visualize exactly what he was talking about," one patient said. While Dr. Jardine's reputation of working in pediatrics is nothing short of sparkling, he also specializes in treating eye diseases like cataracts and glaucoma in adults.
Moran Eye Center, 65 Mario Capecchi Drive, SLC, 801-581-2121,
healthcare.utah.edu
2. Nick Mamalis MD, Moran Eye Center
3. Oliver L. Yeh MD, Intermountain Salt Lake Clinic
Best Optometrist
Dix Pettey OD
This year's winner stands out because of the way he treats patients. "Dr. Pettey speaks to you like he is talking to a friend he wants to help," one patient wrote. The optometrist never seems rushed and has a special ability to synthesize complex scientific terms into language a layperson can easily understand. Dr. Pettey won't let a patient walk away without explaining every option for treatment they have available to them, and patients say he's quick to report test results and provide referrals.
Moran Eye Center, 65 Mario Capecchi Drive, SLC, 801-581-2352,
healthcare.utah.edu/find-a-doctor/dix-pettey
2. Brenden White OD, InVision Eye Health
3. Rich H. Humpherys OD, Family Vision Care
Best Podiatrist
Tied for 1st Place: Robert Church DPM
Is it putting your best foot forward or putting your best feet forward when two doctors tie for 1st place for best podiatrist? During your lifetime, for those who are able-bodied, it's likely that you'll walk approximately 115,000 miles. That's like circling the globe on foot over four times. Originally from Oklahoma, board-certified podiatrist Robert Church, DPM, is proud to bring high-quality care to the communities of Sugar House, West Jordan and downtown Salt Lake City at Advanced Foot & Ankle Center. Patients say he is "very professional, informative and kind."
Advanced Foot & Ankle Center, multiple locations,
afacutah.com
Courtesy Photo
Podiatrist Clark Larsen DPM
Tied for 1st Place: Clark Larsen DPM
Tied for first place for Best Podiatrist? Who knew that feet were so popular? More sensory nerve endings are found in the soles of your feet per square centimeter than any other part of your body. An investment in your feet is an investment in your quality of life. Dr. Larsen is a third-generation podiatrist; his grandfather started the practice in 1947, his father joined the practice in 1968 and Dr. Clark Larsen joined the practice in 2006. We think that is pretty neat. We hear that, "if all people were like Dr. Larsen, the world would be a better place."
Rocky Mountain Foot & Ankle, 5801 S. Fashion Blvd., Murray, 801-261-1391,
rockymtnfootandankle.com
Tied for 2nd Place:
2. Jesse Riley DPM, Summit Foot & Ankle
2. Jason Dickerson DPM, Heiden Orthopedics
Tied for 3rd Place:
3. Richard Seegmiller DPM, Advanced Foot & Ankle Center
3. Selina Sekulic DPM, Final Kick Ankle & Foot Clinic
Best Arch Support/Orthotics
Wasatch Foot & Ankle Institute
As bipeds, we literally put a lot of pressure on our feet, so they deserve custom support! To put your best foot forward, head to Wasatch Foot & Ankle Institute, where their priority is feet first. Using Footmaxx software, your podiatrist takes 3D images to create a precise map and then custom build your orthotics to help your body achieve proper alignment, support the ankles and reduce stress and strain. Book your appointment and kick up your heels, relief is just an insole away!
Multiple locations,
wasatchfai.com
2. KURU Footwear
3. The Good Feet Store
Medical & Dental:
What Did We Miss?
Best Cardiologist
Jared D. Miller MD
This doctor is all "heart," boasting some remarkable credentials, having studied at Washington University School of Medicine in St. Louis, with a residency at Stanford University Medical Center and a fellowship in cardiovascular disease from Johns Hopkins Hospital. That equals a world-class background, of course, but his friendly, calm demeanor and knowledgeable staff only add to the experience of being his patient. One patient/reviewer notes that he "was incredibly kind, thorough and listened to me describe my problem. Once finished, he did an amazing job explaining to me about why I experienced some of my symptoms, as well as giving me tips and solutions."
Intermountain Medical Center, 5121 S. Cottonwood St., Murray, 801-507-4384;
intermountainhealthcare.org/find-a-doctor/m/miller-jared-d
2. Ronald Brown MD, Granger Medical Clinic
Best Migraine Help
Ruth Kennedy FNP
Warning! Warning! You're about to get one of those debilitating headaches. Are you ready for nausea and throbbing light sensitivity? Ruth Kennedy may be able to help. She is a nurse practitioner who's been there herself, which started her on a journey to help others. Maybe you don't want to take the many medications purporting to cure a migraine. Kennedy provides acute rescue for headache patients with nerve blocks and IV therapy.
Foothill Family Clinic, 2295 S. Foothill Drive, SLC, 801-486-3021,
foothillfamilyclinic.com/physician/ruth-kennedy-np
Best Rheumatologist
Seung Yoon Celine Lee MD
A board-certified rheumatologist (with additional expertise and board certifications in internal medicine and dermatology), Dr. Lee says that her mantra has "been finding the root cause of the problem and helping my patients to achieve and maintain true health as a whole, rather than just fixing a disease." Her experience treating inflammatory or autoimmune conditions such as rheumatoid arthritis comes through two-decades-and-change of professional work in SLC, Los Angeles, Philadelphia and her native South Korea.
Lotus Rheumatology and Wellness Clinic, 166 E. 5900 South, Unit B111, SLC, 801-509-5722,
https://lotusrheumatology.com
2. Pankhuri Gupta MD, Cottonwood Medical Clinic Rheumatology
Best Endodontist
S. Ryan Facer DDS
Endodontics is a dental specialty that treats dental pulp; these providers do root canals, implants and deal with traumatic dental injuries. Welcome to the endodontic nirvana of Utah, where Dr. Facer and his team of experts utilize experience, cutting-edge techniques and tech that'll have your mouth restored and beautified. Have an emergency? The team is on call 24/7 knowing that addressing an issue quickly is the best route to a successful outcome.
Greater Endodontics, 5334 S. Woodrow St., No. 201, Murray, 801-942-8686,
greaterendodontics.com
Best Experiential Therapist
Aimee Clements-Hadfield LCSW, CET2
Mental health matters more than ever, and Clements-Hadfield specializes in trauma, addiction, burnout, codependency, family conflict and more. She is trained in trauma treatment and has experience working with combat veterans and abuse survivors with severe PTSD, mood disorders and substance abuse. She's a certified experiential therapist, which means your therapy sessions might involve less talking about your problems than in talk therapy and a whole lot of creative activities that quickly show your brain that it can trust what your heart knows. In this way, you can embody the life you're longing to live. She currently has a waitlist (she is the best after all).
314 W. 300 South, SLC,
meetmonarch.com/therapist/aimee-clements-hadfield-lcsw-cet2-cflep-utah-experiential-therapist-salt-lake-city-ut
Best Assisted Living/ Memory Care
Sunridge Assisted Living and Memory Care
The goal of this provider is to "create and provide a safe home-like environment for each of our residents and 'Super Caregivers' who work at their three facilities. They like to deliver "wow" experiences by being responsible, compassionate and catering to individual needs. Renters get three squares a day, weekly housekeeping and laundry, life-enhancing activities, RN services and cable TV. Reviewers agree that their fees are reasonable and that they don't have any hidden fees. If you're the one in charge of finding assisted living/memory care for a loved one, make sure to visit one of their locations.
Located in Layton, Roy and West Jordan,
sunridgeassistedliving.com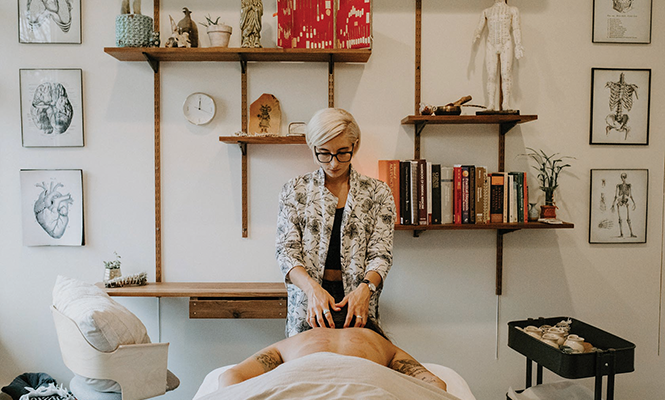 Courtesy Photo
Amanda Valenti, LAc, MSTOM
Complementary /Alternative
Best Acupuncture Clinic
Valenti Acupuncture
Even if you suffer from trypanophobia (fear of needles), you can take comfort knowing that the hair-thin single-use disposable needles utilized by this centuries-old technique help with so many ailments, maybe even your phobia! Sessions with one of the well-trained practitioners here can also include herbal medicine and supplement recommendations, Tuina bodywork, moxibustion and fire cupping. If you broke something skiing or boarding, have trouble sleeping, suffer from ongoing anxiety or have given up on Western medicine, make an appointment for an evaluation.
1760 S. 1100 East, SLC, 435-315-2616,
valentiacupunture.com
2. SLC Qi Community Acupuncture
3. Wasatch Community Acupuncture
Best Acupuncturist/Doctor of Chinese Medicine
Amanda Valenti LAc, MSTOM
Amanda Valenti attended the four-year master's program at what is now the Pacific College of Health & Science in San Diego, California. There, she completed 3,600 hours of academic and clinical practice to earn a master's in traditional Oriental medicine. She's not just known for her big brain by her associates but for her keen talents in treating sports injuries, rehabilitation and easing suffering from ongoing illnesses (including cancer). Her online reviews are 5-star, all mentioning her compassion in bringing health and wellness to our community. She's so much in demand, she's not accepting new patients, but she has an incredible team of associates who can attend to your health concerns.
Valenti Acupuncture, 1760 S. 1100 East, SLC, 435-315-2616,
valentiacupunture.com
2. Rebecca Conde LAc, Dipl Ac., MSAOM, Earth Center Acupuncture
3. Mallory Berge LAc, MSTOM, Flow Acupuncture
Best Ayurveda Practitioner
Meghan Hays
Most people know Ayurveda as an assessment of three doshas: vata, pitta and kapha. We all have our own combination of these functional "humors" that can be brought into balance by proper diet, lifestyle and mindset for our individual doshas. At its core, Ayurveda isn't a singular form of healing but a holistic practice. And Meghan Hays has taken this truth to heart. Not only does she hold several Ayurveda certifications (including medical ayurvedic specialist) and offer consultations, cleansings and products, but she is also a certified yoga instructor, Reiki master, Pilates instructor and personal trainer, to name a few. If you're looking to go beyond improving your physical health to improving all aspects of wellness, don't hesitate to make an appointment.
Meghan Hays Ayurveda, 2461 Stringham Ave., No. 105C, SLC, 385-258-3766,
meghanhays.com
2. Maria Radloff
3. Bonnie Wallace
Best Childbirth Education
Birthsmarter
When founder Ashley Brichter gave birth for the first time in 2014, she'd had experience with hundreds of families working as a doula and birth educator. But when the birth didn't go as she hoped it would, Brichter found herself questioning everything she learned as a doula, a childbirth educator and a parent. That gave rise to Birthsmarter, "a community and digital platform imparting practical wisdom and guidance to the next generation of families." It's thus far been utilized by families in 41 states and five countries. The program offers classes, parenting education, birth plans, doulas and everything you need from pregnancy to birth to beyond, online and in-person.
IG: @birthsmarter,
birthsmarter.com
Best Doula
Robynne Carter
Doula is derived from a Greek word meaning "a woman who serves," and doulas provide emotional, informational and sometimes physical support for people who are pregnant. Carter has 25 years of experience in helping women give birth plus she teaches at the University of Utah Medical Center. One review said, "Robynne has a special gift that enables her to intuitively know what each woman needs during each stage of her pregnancy." Carter, having attended over 700 births, offers a free 30-minute consultation, two prenatal preparation visits in the home and presence during labor/birth and follow up with unlimited contact during the entire term.
Birth Learning, 801-550-6088,
birthlearning.com
2. Meagan Heaton, Tiny Blessings Doula Services
3. Beth Hardy, Heart Tones Birth Services
Best Chiropractor
Brett Grant DC
Suffering from back pains that are cramping your style? Meet Dr. Grant—the master vanquisher of bodily aches and certified chiropractic wizard. He specializes in crafting tailor-made treatment therapy sessions, so you can ditch the complaints and sashay back to your fabulous, pain-free life.
Regenerative Heath & Wellness, 2189 E. 3300 South, SLC, 385-308-0333,
chiropractorsaltlake.com
2. Suzanne Cronin DC, Salt Lake Chiropractic
3. Anthony Simone, Doctor Tony Chiro Clinic
Courtesy Photo
Mindful Living Wellness Center
Best Float Tank
Mindful Living Wellness Center
It might have been that the easy-going chorus of Modest Mouse's "Float On" was composed after spending time in a float tank. After all, one hour in the tank at Mindful Living Wellness Center is said to help replicate R.E.M. sleep, taking you to a state of meditative relaxation. And for couples looking for a new way to connect, float tanks are large enough to accommodate two adults. Extend your session onto the massage table or try infrared therapy with Himalayan salt. 1592 S. 1100 East, SLC, 385-528-0581, mindfullivingwellnesscenter.com
2. Float Spa 19
3. True REST Float Spa
Best Halotherapy (Salt Cave)
The Salt Cave at Synchronicities Wellness & Retreat Center
Surrounded by Himalayan salt bricks with 5 inches of superfine sand underfoot, a session in the Salt Cave offers a unique and deeply therapeutic experience to help support respiratory health and reduce stress. Explore on your own or book a guided experience like crystal meditation, breathwork or a sound bath. While most experiences are for adults only, children can reap respiratory benefits at the family-friendly 9:30 a.m. daily session.
9419 S. Union Square, Ste. C, Sandy, 801-888-7344,
saltcaveslc.com
2. Purify Wellness Center, Pleasant Grove
3. Pain Free Acupuncture, Millcreek
Best Herbalist
Josh Williams
Williams is known by many as a plant sorcerer, an established author/teacher and "priest of the green realm." He's also a practitioner who connects with plant spirits to create magic and medicine for those who want a deeper connection with the natural world. He has studied through the lenses of traditional Chinese medicine, ayurveda and Western Vitalist traditions, and his remedies are created by hand for each individual client. He offers several free courses on plant medicine, Green Animism and journeying with plant spirits—with or without drumming. Or you can pay $39 for a virtual class on the medicine, magic and ritual of smoking herbs. If you're intrigued by all the above, sign up for Williams' Spiritual Herbalism Course to be taught online in the summer of 2023.
The Green Arte,
thegreenarte.com
2. Rebecca Conde LAc
3. Rachel Silverstone LAc, DTCM
Best Hyperbaric Oxygen Therapy
Rising Health Specialty Clinic
Most of us associate hyperbaric oxygen therapy with SCUBA divers who need the treatment after surfacing too quickly, but it has a wide array of applications including to support blood and tissue damaged by injury, infection or certain types of exposure. If you're interested in exploring a pure oxygen, elevated pressure environment to help boost your white blood cells and collagen, request a free consultation with an expert at Rising Health via phone or on their website.
1660 E. Murray Holladay Road, Holladay, 801-419-0705,
risinghealthspecialty.com
2. LDS Hospital Hyperbaric Medicine Center
3. Utah Sports and Wellness
Best Hypnotherapist
Joesephine Lawrence CHt
This practitioner's journey led her to ikigai, the Japanese word for "reason for being" or purpose. Her purpose is to help others find their own ikigai. Hypnotherapy can assist clients with such issues as abandonment, breathing and healing, death or loss, fears/phobias and dreams, overeating, self-image and past trauma. This isn't the old black-and-white movie version of a "hypnotist" swinging a watch back and forth in front of your eyes. This process delves into the unconscious mind to find the root of problems and make suggestions to bring about positive changes. Does it work? Call for a free 15-minute consultation to see if holistic healing is right for you. Lawrence is a certified hypnotherapist and a member of the Hypnotherapists Union local 472 (AFLCIO). Patients note how kind she is and how peaceful her sessions are, with great results.
1007 E. 900 South, SLC, 801-215-9262,
hypnoclarityslc.com
2. Katie Wininger ABH, LMT
Tied for 3rd Place:
3. Brandi Sweet ACHT, LCSW
3. Morgan Lulu CCHT
Best Integrative Medicine Practice
Cameron Wellness and Spa
During medical school and residency, Dr. Todd Cameron envisioned a practice that included naturopathic and specialty medical services combined. In 1997, he founded Cameron Wellness Center to offer individuals positive healthcare choices through natural treatment alternatives. Patients say that the staff is caring, friendly and knowledgeable, offering tools to build a healthy immune system. "Where typical Western medicine fails, Dr. Cameron's clinic provides solutions that work," says a patient.
3378 S. 2300 East, Millcreek, 801-486-4226,
cameronwellnessandspa.com
2. Terra Care SLC
3. Utah Natural Medicine
Best Kinesiology Practitioner
Bre Dumke Helfrich MS
Kinesiology is the study of how the body moves, and perhaps nobody appreciates body movement as much as somebody whose body couldn't move as intended. This is what happened to Bre Dumke Helfrich after a mountaineering accident that threatened to limit her physical prowess, but in the ultimate lemons-to-lemonade move, she found recovery—and her career—through Pilates. A self-proclaimed "movement nerd," Dumke Helfrich specializes in the Gyrotronic® Method and Gyrokinesis® with virtual classes held every Wednesday afternoon.
Movement Design Lab, 244 W. 300 North, SLC, 801-831-4391,
movementdesignlab.com
2. Jim Quist MS, LAT, ATC, Slope Recovery
3. Shawn Postma NMD, Rising Health Specialty Clinic
Best Life Coach
Lyn Christian, SoulSalt
Lyn Christian is in the business of courage. As a speaker, master certified life and business coach, and founder of Soul Salt Inc., she is a facilitator of career reinvention. Client reviews state that Christian has the unique ability to guide others through the difficult transition of changing careers and shining a light on how to thrive when overwhelmed with personal challenges and issues. Among her techniques are one-to-one coaching, online courses and intense bootcamps.
801-463-5239,
soulsalt.com
2. Rachelle Ballard
3. Bailey Nielson
Courtesy Photo
Healing Mountain Massage School
Best Massage School
Healing Mountain Massage School
Looking to unlock your magic touch? Healing Mountain Massage School trains some of the best therapists in the biz and offers flexible classes to fit your schedule. Choose from two campus locations offering small class size, high exam pass rates and high post-grad job placement. Their accredited program teaches more than a dozen massage therapies and techniques, and enrollment comes with lots of free extras like coverage for state licensing and exam fees, massage supplies and more.
Locations in Salt Lake City and Orem,
healingmountain.edu
2. Myotherapy College of Utah
3. Renaissance College Massage Program
Best Massage Therapist
Martina McBride LMT
If there is one word to describe Desert Mountain Massage owner Martina McBride, it's "intuitive." With a knack for finding knots and relieving tension, touch is second nature to her. What's more, McBride is trained to work with those who've experienced trauma with 40 hours of sexual assault advocacy training from the Rape Recovery Center, helping clients through the healing touch of massage. In fact, she specializes in relief for survivors of physical and sexual abuse.
Desert Mountain Massage, 1100 E. 1760 South, Ste. 3, SLC, 801-694-5434,
desertmountainmassagetherapy.com
2. Derrek Draper
3. Katie Wininger, Midvalley Massage and Hypnotherapy
Best Natural Health Store/Best Supplement Shop
Dave's Health & Nutrition
The name Dave is synonymous with supplements and nutrition among Salt Lake locals. Serving the community for more than 27 years, owner and practitioner Dave Card offers his custom herbal formulas alongside nearly 20,000 hand-selected nutritional formulas, homeopathic remedies and supplements, plus over 100,000 crystals and stones. If it sounds overwhelming, let Dave be your guide. Book a one-on-one consultation in-person or via phone for just $25. A certified homeopath and natural herbalist, he's helped over 10,000 clients find improved wellbeing.
880 E. 3900 South, Millcreek, 801-268-3000,
daveshealth.com
Best Natural Health Store runners up
2. Good Earth Markets
3. Greenthread Apothecary
Best Supplement Shop runners up
2. Shirlyn's Natural Foods
3. Melanie's Health & Nutrition
Best Natural IV Drip Therapy
FIKA Infusion + Wellness
FIKA is made up of a team of needle-welding ER nurses, wellness professionals and endurance athletes dedicated to helping you feel your absolute best, one drip at a time. Whether you're in need of an intravenous immunity boost, a hangover remedy that actually works, anti-aging support from the inside out, a potent punch for PMS, a migraine mediator or an effective way to alleviate altitude sickness (here's lookin' at you, East Coasters), there's a customized IV infusion for you. And while we definitely recommend their cozy vibe (think fuzzy blankets and chaise lounges), they're happy to do house visits, too.
Multiple locations,
fikainfusion.com
2. Cameron Wellness and Spa
3. Utah Natural Medicine
Courtesy Photo
Todd Cameron, naturopathic medical doctor
Best Naturopath
Todd Cameron ND
A first-place winner in several past Body and Mind issues, Dr. Todd Cameron, is a naturopathic physician with 25-plus years of experience providing alternative medicine for conditions such as PMS, menopause, pain syndromes, chronic fatigue, fibromyalgia, colds, migraines and more. He offers cutting-edge therapies and services, including IV therapy, bioidentical hormone replacement therapy (BHRT), platelet-rich plasma (PRP) injections and pain management. Patient reviews often state he successfully treated their symptoms after other options failed.
Cameron Wellness & Spa, 3378 S. 2300 East, SLC, 801-486-4226,
cameronwellnessandspa.com
2. Amanda Lucero, ND, Gateway Emerging Technologies Clinic
3. Rachel Burnett ND, MSAC, Utah Natural Medicine
Best Nutrition Health Coach
Savannah Lavenstein IIN-CHC, RYT
Having healed her longtime struggle with an eating disorder through clinical treatment, nutritional counselor Lavenstein now focuses on clients' disordered eating and eating disorders. Clients say Lavenstein moves beyond providing a diet to literally help facilitate lifestyle changes. "Savannah taught me how to stop cravings and feel satisfied," says one client. Lavenstein works with clients' goals to release weight, create sustainable eating styles for medical conditions and heal body-image relationships.
Evergreen Healing, 1760 S. 1100 East, No. 3, SLC, 719-510-0401,
evergreen-healing.com
2. Hayden James, RDN
3. Sinead Urwin
Best Psychic
Jo'Anne Smith
Smith says she lives her passion by providing psychic medium services to help others connect with loved ones who've passed on. She is known for her "Spirit Connections"—group meetings where Smith interacts with the audience and gives personal readings to guests. The readings often relate to a deceased family member or friend and bring closure to message recipients. In addition, she spends time working on women's issues and causes, suicide prevention and self-improvement events. She also hosts well-attended events like a Spirit Connection fun bus to Wendover (she won't guarantee she can read your poker hand!) and makes presentations at local hotels and community centers. Book a session online.
saltlakemedium.com
2. Jennafer Martin
Tied for 3rd Place:
3. Betty Pegues
3. Ross Gigliotti
Best Reiki Practitioner
Meghan Hays
Reiki translates to "universal life energy," and practitioners direct this energy to their clients through their hands and intentional mindset. The goal is to improve the balance and flow of your own energy to support the healing you seek. Happy clients of Hays have mentioned this has brought on meditative states, stimulated their immune systems and helped them recover from serious injuries and surgeries by "healing from the inside out." As a practitioner of Ayurvedic medicine, she helps clients of all ages and backgrounds by using herbal medicine, energetic body work, diet, massage, yoga, meditation and education.
2641 Stringham Ave., No. 105C, SLC, 385-258-3766,
meghanhays.com
2. Stella Trincado
3. Jessica Florez, ISound Institute
Best Sound Bath
Dancing Cranes Imports
Mark your calendar for the second Saturday and Sunday of every month for Dancing Cranes Imports' soothing sound bath, an hour-long meditation featuring a medley of singing bowls, chimes, drums and more. Bring your own mat, pillows/bolsters and blankets for this inward journey and hauntingly healing experience, and don't forget to come early (or leave time afterward) to gaze at the koi pond or wander around the shop for crystals, candles and other curiosities.
673 E. Simpson Ave., SLC, 801-486-1129,
dancingcranesimports.com
2. ISound Institute
Tied for 3rd Place:
3. Awaken Studios and Retreats
3. Salt Lake Power Yoga
Best Weight-Loss Clinic
Comprehensive Weight Management
With the CDC estimating that 41% of Americans over the age of 20 are obese, it's no wonder the demand for weight-loss products, services and education in the U.S. has generated a $3.8 billion industry. Yet, because it is a complex illness, no one seems to have found the magic bullet. The medical team at the U of U takes a broader approach to the problem, with a program that encompasses cardiology, endocrinology, sleep, psychology, hepatology, exercise therapy and dietitians. They offer both surgical (bariatric) and non-surgical treatments, such as weight-loss medication, gastric balloon, behavioral therapy and stress management, among others. Why starve yourself and risk developing a long-term eating disorder plus gaining all the weight back? This team approach might hold the answer for you.
University of Utah Health Weight Management Program, Sugar House Health Center, 1280 E. Stringham Ave., SLC, 801-587-3856,
healthcare.utah.edu/weight-management
2. Laser Lipo of Utah
3. SLC Med Spa
Courtesy Photo
Terra Care SLC
Best Wellness Center
Terra Care SLC
The collective home of many Best of Utah Body and Mind award winners like Valenti Acupuncture, Evergreen Healing and Desert Mountain Massage, Terra Care is your one-stop shop for all things well being. Whether you're looking for body work, medical aesthetics, Pilates, nutritional counseling or traditional Chinese medicine, this serene space is ready to welcome you with open-minded arms.
1760 S. 1100 East, No. 3, SLC, 435-315-2616,
terracareslc.com
2. Trolley Healing Hub
3. Cameron Wellness & Spa
Complementary/ Alternative Medicine:
What Did We Miss?
Best Breathwork Facilitator
Katy Marie
An NLP, hypnotherapist and breathwork facilitator, Katy Marie works with those who are simply looking for a more-centered work/home life, as well as those who're recovering from traumatic experiences. She employs meditation, music, dance and drumming as ways for her clients to find balance, calm, power and energy.
instagram.com/hellokatymarie
Best Birth Photographer
Lauren Radcliffe, La Luna Birth Photography and Film
Lauren Radcliffe began her passion for birth photography following the delivery of her son, August, at a birth center in 2020. Radcliffe documents the intense, empowering and momentous event of childbirth. She provides fully edited images in both color and black and white within three weeks of your birth. Her passion is documenting the birthing process and with as genuine and gentle an approach as possible. lalunabirth.com
Best Joint Salvation
Sarah Jensen LMT
Joints—it's hard to live with 'em but try living without 'em! (Well, you could try, but you'd truly be a couch potato.) If you have an injured ankle, knee, hip, shoulder—or one that's starting to deteriorate—Sarah Jensen's deep-tissue massages work wonders, as she confidently presses into the nooks and crannies of joints where no massage hands have gone before. Not only can she help alleviate arthritic pain and stiffness, but she may be able to buy you more time before you need to consider joint replacement. If you've already had joint-replacement surgery, weekly sessions with Jensen can enhance your recovery by helping reduce inflammation and scar tissue and help you regain a full range of motion.
Soft Hands Medical Massage, Midvale, 385-549-9366,
softhandsmedical.wixsite.com/website
Courtesy Photo
Skin Spa Utah acne treatment
Beauty & Wellness
Best Acne Treatment
Skin Spa Utah
One of few clinics in Utah to be a certified Face Reality Advanced Acne Specialist, Skin Spa Utah has a proven track record (98%) in clearing stubborn acne. See a licensed master aesthetician who takes a less invasive approach to skin health than the average dermatologist, steering clear of prescription drugs that come with harsh side effects, and instead offering holistic solutions that work like facials, enzyme therapy, supplements and acne-safe skincare products.
6298 S. 900 East, Ste. C, Murray, 801-792-7994,
skinspautah.com
2. Form Derm Spa
3. Always Smooth Waxing Studio
Best Aesthetician
Kimee Hummel
If you've ever wished your acne would disappear, consider licensed master aesthetician Kimee Hummel a magician for your complexion. You'll find her at Skin Spa Utah, voted Best Acne Treatment Center and boasting a 98% improvement rate when it comes to banishing blemishes. In addition, Hummel is an expert at microblading, permanent cosmetics, non-surgical face-lifts, hydrafacials, GENEO, DMK paramedical skin revision, dermaplaning and more.
Skin Spa Utah, 6298 S. 900 East, Ste. C, Murray, 801-792-7994,
skinspautah.com
2. Milly Aponte, Always Smooth Waxing Studio
3. Daphne Garcia, Form Derm Spa
Best Aesthetician School
NIMA Institute and Spa
A career in aesthetics is rewarding but to get the most bang for your tuition buck, training in medical aesthetics is a must. Fortunately, in-demand treatments like cosmetic injections, Vampire Facials™, laser hair removal, photofacials, chemical peels and microblading are par for the course at NIMA. Whether you're just starting your aesthetics education or are already a licensed professional looking to accelerate your career, NIMA has a class for you.
10714 S. River Front Parkway, South Jordan, 844-899-6462,
nima.edu
2. Skinworks School of Advanced Skincare
3. Cameo College of Essential Beauty
Best CoolSculpting
Haus of Aesthetics
If you want the most popular non-surgical fat reduction treatment, book an appointment at the most popular full-service medical spa, Haus of Aesthetics. Not only did Haus of Aesthetics rank 1st in Best of Utah, they're also in the top 25 CoolSculpting® providers in the nation. A CoolSculpting Elite treatment allows you to eliminate double the fat cells in less time under the expertise of a specialist who is also an Allergan CoolSculpting national trainer with more than 10 years of experience.
705 E. 900 South, No. 100, SLC, 801-997-8199,
houseofaestheticsslc.com
2. Form Derm Spa
3. 22 Spa MD
Best Day Spa/ Best Natural Makeup Retailer
The Kura Door
The moment you step inside this Japanese-inspired day spa, The Kura Door transforms you with its tranquil vibes and unique treatments like traditional Ofuro baths, stone and shiatsu massages, manicures with ginger and seaweed or facials with hibiscus enzyme masks and manuka honey. Arrive early or linger after your appointment wrapped in a cozy kimono while you enjoy the sauna, tearoom and meditation space. And to continue pampering beyond your visit, stock up on Arcona and Naturopathica products in the gift shop.
1136 E. Third Ave., SLC, 801-364-2400,
thekuradoor.com
Best Day Spa runners up
2. Sego Lily Spa
3. Basalt Day Spa
Best Organic/Natural Makeup Retailer runners up
2. Mountainside Spa, Massage & Facials
3. Always Smooth Waxing Studio
Courtesy Photo
Eyebrow specialistAusha Anderson
Best Eyebrow Specialist
Ausha Anderson
It's easy to mistake Anderson as a model instead of owner of The Ruhe' Collective, and that's a good thing. Practicing the aesthetics she preaches, from permanent jewelry to permanent cosmetics, her claim to facial fame is all in the brows. Try brow lamination if you're a commitment-phobe or Anderson's most popular ombre technique for long-lasting results. Per her own advice, the best indicator of an eyebrow specialist is their "healed" work, so scroll through her Insta to get pumped for your appointment.
The Ruhe' Collective, 7632 S. Main, Midvale, 801-867-3521, IG: artistryaestheticsbyausha
2. Milly Aponte
3. Liz Christensen
Best Eyelash Extensions
Pineapple Express Aesthetics
Picky about your lashes? Callie Buttars at Pineapple Express Aesthetics has you covered. From subtle lash tints to luscious lashes with mega volume or even glitter and charms, there are myriad ways to make your peepers pop to suit your unique style. Speaking of unique, you won't find an ounce of snobbery or pretentiousness in her south valley spa. Buttars is the definition of a down-to-earth BFF who's stoked to see you every time you walk through her door.
2469 Fort Union Blvd., Ste. 106F, Cottonwood Heights, 385-977-9345, pineapple-express-aesthetics.square.site
2. Lemons Esthetics
3. Arlani Integrative Medicine & Medspa
Courtesy Photo
Before, left, and after at Lunatic Fringe Hair Salon
Best Hair Salon
Lunatic Fringe
With over 20 years of expertise, it wouldn't be Best of Utah without a nod to Lunatic Fringe. Maybe it's their signature Stress-Relieving Shampoo, maybe it's their dimensional colors and timeless yet on-trend cuts, but we can't get enough of what this arsenal of talented stylists are serving up. With five Utah locations, it's fair to say their cosmetology creations play a definitive role in the evolution of Utah's casserole-meets-couture culture.
Multiple locations,
lunaticfringesalon.com
2. Landis Lifestyle Salon
3. Sugarhouse Parlour Hairdressing
Best Injections and Fillers
Beauty Lab + Laser
If this medical spa sounds familiar, it may be because it's the brainchild of Real Housewives of Salt Lake City's Heather Gay and bestie/business partner Andrea Robinson. But what you really should know about Beauty Lab + Laser is that its Mini Lip Plump® is a cult-fave. We've all seen a pout that's more puffy than pillowy and the injection experts at Beauty Lab know the sweet spot. Lip flip? Check. Botox? Duh. Cheekbone pop? Of course! Kybella? Anywhere you want it. If nearly 3,000 positive Google reviews can't convince you, we don't know what will.
Multiple locations,
beautylablaser.com
2. Form Derm Spa
3. Arlani Integrative Medicine & Medspa
Best Makeup Consultant
Marisa Rose
Marisa Rose Makeup Photo Hair specializes in bridal and event makeup, along with commercial work. A skilled hair stylist, aesthetician and photographer, Rose reveals your natural beauty without looking overdone. One client writes that her makeup looks "are gorgeous, and any bride would be lucky to be in her hands for their big day." She also hosts a beauty blog and recommends beauty products on her Instagram.
marisarosemph.com
2. Cherisa Burbage
3. Reese Stockman
Best Medical Spa/ Best Hair Restoration/ Best Laser Hair Removal
Form Derm Spa/Ward MD
When it comes to hair, most people fall into two groups: wanting more of it or wanting to get rid of it for good! Whichever side you're on, Form Derm Spa/Ward MD has the perfect solution, offering both surgical and non-surgical hair restoration services and permanent laser hair removal. Headed by Dr. Ward, a double-board certified plastic surgeon and tenured adjunct associate professor at the University of Utah School of Medicine, the state's Best Medical Spa has three locations along the Wasatch Front offering state-of-the-art treatments to help you look flawless from head to toe.
Multiple locations,
formdermspa.com, wardmd.com
Best Medical Spa runners up
2. Haus of Aesthetics
3. 22 Spa MD
Best Hair Restoration runners up
2. Utah Facial Plastics & UFP Aesthetics
3. Imago Medical Spa
Best Laser Hair Removal runners up
2. Beauty Lab + Laser
3. Elase Medical Spas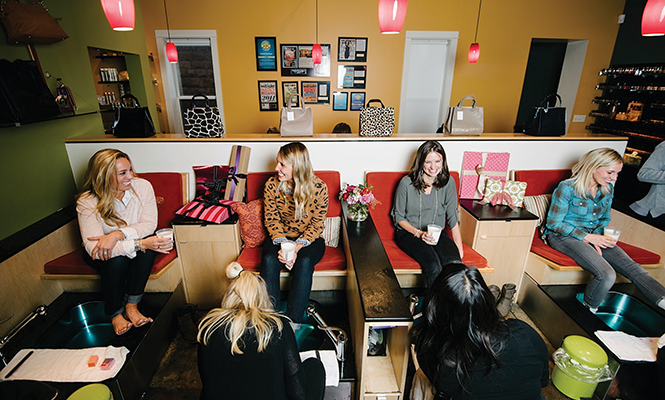 Courtesy Photo
Nailed! mani/pedi services
Best Manicures/Pedicures
Nailed!
Utah's favorite nail salon specializes in acrylic-free mani/pedis at great prices. With a massive selection of traditional and gel polishes and a spacious Highland Drive location that's bright, airy and spotlessly clean, Nailed! is the ideal salon for a girls night, pedi-party or bachelorette bash. Plus, their nail techs and aestheticians are super-efficient, making it easy to squeeze in a manicure over your lunch break. Or, spend the afternoon and add on a facial, wax and brow tint.
3369 Highland Drive, Millcreek, 801-532-6245,
nailedboutique.com
2. Crow Nail Studio
3. The Nail & Hair Room
Best Facial/Best Waxing Salon
Always Smooth Waxing Studio
75% painless waxing? Sign us up! Always Smooth guarantees nearly painless hair removal using soy-based, 100% botanical wax and even offers a numbing cream for the particularly pain prone. Land a last-minute date? They're open late (8:30 p.m. most nights) if you need to be hairless in a hurry. For a unique experience, book the deep pore waxing facial to remove impurities and dead skin cells with warm charcoal wax.
5665 S. Redwood Road, Ste. No. 4, Taylorsville, 801-871-5467,
alwayssmooth.co
Best Facial runners up
2. The Kura Door
3. Skin Spa Utah
Best Waxing Salon runners up
2. Empire Body Waxing SLC
3. Pineapple Express Aesthetics
Best Tattoo Removal
Daphne Garcia
Master aesthetician and laser specialist Daphne Garcia can't quite turn back time, but she comes awfully close with her top-notch tattoo removal skills using PicoWay laser. In fact, there isn't much Garcia can't laser away, from bad ink to body hair and everything in between. Think spider veins, wrinkles, fine lines, acne scars—if you don't want it, she can erase it. Visit Garcia at Form Derm Spa's Cottonwood Heights location at the mouth of Big Cottonwood Canyon.
Form Derm Spa, 6322 S. 3000 East, Cottonwood Heights, 801-513-3223,
formdermspa.com
2. Ero Edge
3. Skinworks School of Advanced Skincare
Best Wigs for Chemo Patients
Head Covers by Joni
Medical News Today reports that in the U.S., 1 in 2 women and 1 in 3 men will develop cancer in their lifetimes. Although we've made many strides in treating and even curing some cancers, the healing path is still laced with poisonous concoctions that have massive side effects, the most well-known being hair loss. Joni carries many brands of caps, wigs and hairpieces for men and women. The shop has helped hundreds of people recapture their confidence as they strive to beat cancer. It's also there for those who've suffered hair loss due to other ailments.
By appointment only: 2286 E. 3300 South, Millcreek, 801-467-5665,
headcoversbyjoni.com
2. Creative Wigs & Hair Replacement
3. Lynne's Wig Boutique
Beauty & Wellness:
What Did We Miss?
Best Permanent Cosmetics Education
National Permanent Cosmetics Academy
Their mission is to provide every student with quality education to prepare them for a successful career in the field of permanent cosmetics. If you are looking to train with one of the best microblading artists in the nation (and the longest course), look no further! We love their inviting all-inclusive atmosphere. When people are looking for permanent makeup, they want quality and NPCA delivers. These courses will help your career and improve your confidence in what you offer. If you're looking for great instruction, a beautiful studio, and the best instructor, get over to NPCA!
2150 S. Main, Ste. 105, South Salt Lake, 801-810-6722,
npcacademysalon.com
Best Permanent Makeup Beauty Shop
Ero Edge
Here is your one-stop shop for all your beauty needs: teeth whitening, brow treatments, lash lifts, microblading, chemical peels, waxing, Botox, lip enhancements, booty enhancements, cosmetic tattoos and more! With its warm and inviting atmosphere, Eros helps others achieve their goals of loving themselves and feeling beautiful. We really love that they have staff members who knew ASL (American sign language)—such a cool inclusive team of people! 274 E. 900 South, SLC, 801-252-5221, eroedge.com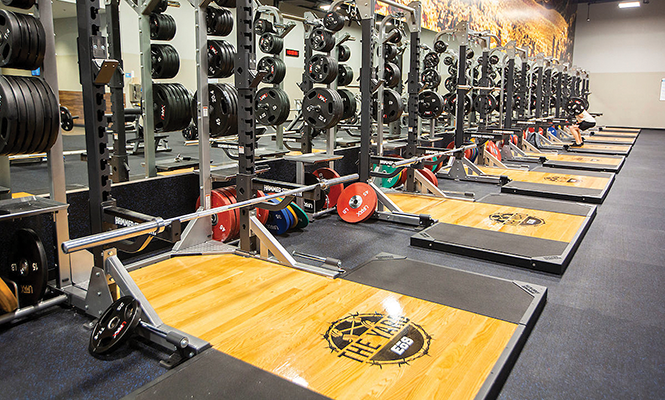 Courtesy Photo
EõS Fitness, open 24 hours
Fitness
Best 24-Hour Fitness Gym
ES Fitness
So, you may have noticed that national franchises and chains don't often make the cut in our Best of Utah editions. However, ES provides one of the key features of a chain, which is a big, ol' batch of "open" hours, and that's why our voters rated them first place. This round-the-clock gym, with valley locations in Sandy, Murray, West Jordan, Taylorsville and Salt Lake City—offers class sessions, weights and lifting gear, cardio equipment and even turf training zones. And the Sandy location's recovery room, called The Tank, features an "active recovery space with professional-grade stretch tables, percussion massagers and compression boots." Top-flight stuff, folks.
Multiple locations,
eosfitness.com
Best Acroyoga Classes
Root to Rise Studio
The offerings of this studio are many and varied. You can practice yoga, of course, in several forms. Or you can train in the circus/aerial arts. Or you can level up and become a teacher through in-house training programs. Though the staff and many of the regulars are fit as fiddles, Root to Rise wants anyone and everyone to feel welcome on their first visit, the first of what will hopefully become a lifelong practice.
160 N. Station Pkwy., Farmington, 801-451-5443,
roottorisestudio.com
2. Kalypto Arts
3. Woven Heart Yoga & Thai Massage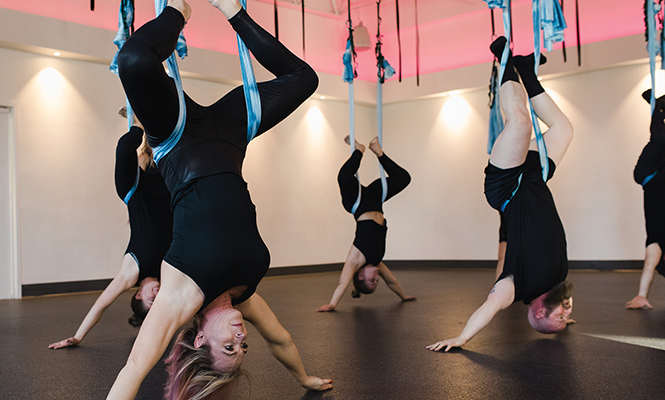 Courtesy Photo
Awaken Studios & Retreats aerial silks classes
Best Aerial Silks Classes
Awaken Studios & Retreats
Aerial silks come from a French circus school in the 1950s that became popular as performance art by Cirque du Soleil. Awaken Studios offers a three-day free trial where you'll learn gravity-defying movements with simply a long piece of silk. "Awaken your potential"' is the motto for this facility, and they can help you learn yoga, Pilates, aerial fitness, barre, TRX, WYLD and circuit training. Their five-star reviews by clients note how the staff genuinely cares about your fitness and want you to have fun learning the ropes (silks).
6168 S. 1300 East, Murray, 801-906-1911,
awaken-studios.com
2. Onyx Pole & Aerial Fitness Studio
3. The Salt Mine SLC
Courtesy Photo
The Bar Method Salt Lake City—Sugar House
Best Barre Fitness Studio
The Bar Method Salt Lake City–Sugarhouse
The core value of this group is simple: They exist to equip and empower people of any age, body type, and ability to pursue the strongest, healthiest version of themselves. They do this through a highly efficient, total-body workout that builds a person's physical and mental strength. Instructors help members focus on small, pulsing movements to help align themselves and connect with and build their core. This is done mainly with isometric exercises and movements derived from the dance arts—namely ballet. Combine classic ballet movements with yoga and Pilates, resistance bands, hand weights and exercise balls, and you get the Barre method. The Bar Method's founder, Burr Leonard, discovered how this workout transformed her body and worked with physical therapists to create a safe method of exercise.
1057 E. 2100 South, SLC, 801-485-4227,
barmethod.com
2. Awaken Studios and Retreats
3. Pure Barre
Best Beginner Yoga Classes
Salt Lake Power Yoga
With a beautiful mountain view, Salt Lake Power Yoga is a center for healing, transformation, growth, and power. Client reviews highlight the friendly, knowledgeable instructors, congenial atmosphere and SLPY's community involvement. Fun events include free yoga at the Capitol and yoga on the RSL pitch. SLPY is Salt Lake's first hot yoga studio offering Hot Power Vinyasa Yoga Classes for beginners through advanced levels. They also provide certified yoga teacher training, retreats, and other events.
250 E. 300 South, Ste. 200, SLC, 801-468-9642,
saltlakepoweryoga.com
2. Centered City Yoga
3. Seek Studio
Best Bootcamp / Best Privately Owned (Non-Chain) Gym
Fit to Recover
In 2015, Ian Acker started Fit to Recover so a group of friends could support each other in sobriety through exercise and fellowship. Today, more than 450 people in recovery from substance abuse disorders visit Fit to Recover to connect and seek balance through fitness, nutrition, creative arts and community service. Fit to Recover recently received a $25,000 grant from Power Forward Utah
(powerforwardutah.com) to provide scholarships for people in recovery.
1331 and 1335 Major St., SLC, 801-410-8988,
Fit2Recover.org
Best Privately Owned (Non-Chain) Gym runners up
2. SLC Strength and Conditioning
3. Xcel Fitness
Best Boutique Studio
Awaken Studios & Retreats
Utah's leader in boutique fitness, Awaken Studios boasts a host of reasons for membership, from onsite childcare to workouts that include Pilates, barre, hot yoga, aerial fitness, TRX and more. A studio built around the idea of process, Awaken sells three-month memberships, so that new clients are immediately put on-track for regular drop-ins. Clean, bright and equipped with classic tools and the latest/greatest bits of gym paraphernalia, Awaken creates a solid blend of old-school and new-school classes and techniques.
6168 S. 1300 East, Murray, 801-906-1911,
awaken-studios.com/retreats
2. Brickyard Boxing & Conditioning
3. Rebel House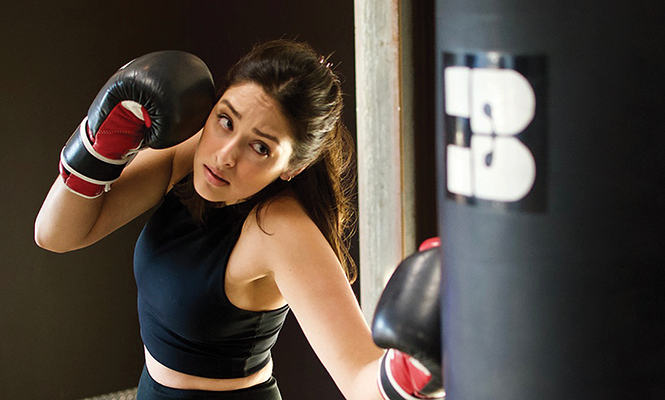 Courtesy Photo
Brickyard Boxing & Conditioning
Best Boxing Club/ Best Kickboxing/ Best Circuit Training
Brickyard Boxing & Conditioning
That Brickyard Boxing takes the win in multiple categories shows that the place isn't just about the sport of boxing. Not that that component sport isn't at the core of this facility. Heavy bags, speed bags and other accoutrements of the sweet science are all over the place, but kickboxing and cross-training are in play here, too, with trainers that are both supportive and able to give a push for when that's needed. The state-of-the-art studio unites old-school training methods with smart, innovative techniques.
1227 E. 3300 South, SLC, 801-558-2558,
brickyardboxing.com
Best Boxing Club runners up
2. Rebel House
3. TITLE Boxing Club Cottonwood Heights
Best Kickboxing runners up
2. SLC Muay Thai
3. Ultimate Combat Training Center
Best Circuit Training runners up
2. Seek Studio
3. Awaken Studios & Retreats
Best Community Swimming Pool/ Best Public Rec Center
Cottonwood Heights Recreation Center
The pride of Cottonwood Heights is its terrific public rec center that's open seven days a week for indoor and outdoor fitness for the entire family. Choose from activities like adult pickleball, figure skating, lap swimming, open plunges, racquetball and wallyball, indoor track, a basketball gym, group fitness classes and so much more. You can join for three months or a year, and there are different prices for residents and non-residents alike. This is one of the most popular taxpayer-funded rec centers in all of Utah. Props to their board of trustees for keeping a tight rein on funds and addressing fitness trends people are after.
7500 S. 2700 East, Cottonwood Heights, 801-943-3190,
cottonwoodheights.com
Best Community Swimming Pool runners up
2. Murray Park
3. Steiner Aquatic Center
Best Public Rec Center runners up
2. Steiner Aquatic Center
3. Northwest Recreation Center
Best CrossFit Gym
Salt Lake City CrossFit
The good folks at Salt Lake City CrossFit are aware of what first-timers might be wondering, as their first FAQ item begins: "I am scared." From there, the gym reminds you that no matter your condition when arriving on Day 1, you'll be a lot better off by your second session. And so on. And so on. A fully equipped facility, City CrossFit has expert trainers, class schedules slated for different day parts and a drop-in policy that allows practitioners from all over to find a welcoming home in SLC.
619 S. 600 West, SLC, 385-252-1933,
slccrossfit.com
2. BrickwallFit
3. Ute CrossFit
Best Fitness/Aerobics Class Instructor
Kaili Aiono-Alvarez
Your first class is free, so we decided to sign up and go take a boxing class! Bring a friend and get sweaty! You may feel as graceful as a giraffe on roller skates, but you will get the hang of it, and everyone is friendly! No, we will not divulge whose face we were imagining while punching the bags! The Utah legislative session is over, after all! It felt nice that you can be at any level and fit right in. We love that Aiono-Alvarez is a renaissance woman as a boxing instructor, hip-hop dancer, rapper and mom to a toddler—living her best life. Brickyard Boxing & Conditioning, 1227 E. 3300 South, Ste. G & H, SLC, 801-558-2558,
brickyardboxing.com
2. Naomi Pacheco, CHVRCH Cycle
3. Emily Nelson, High Fitness
Best Gymnastics Training (Adults)
Utah Xtreme Cheer
Gymnastics is one of the oldest recorded sports, practiced by ancient Greek competitors more than 2,000 years ago. The largest gymnastics competition was held at the 1896 Olympics. Since that time, millions have grown to love the sport, not only to observe but to participate in. With 10,000 square feet of gym space, UXC has two full-size spring floors, along with a 30-foot tumble track and many other tumbling mats. They offer adult tumbling and stunting classes, and you can practice your moves at their open gym on Monday through Wednesday nights for only $5 a night—an awesome deal!
8531 S. 700 West, Unit D, Sandy, 801-635-6573,
utahxtremecheer.com
Courtesy Photo
The Little Gym of Salt Lake City
Best Gymnastics Training (Kids)
The Little Gym of Salt Lake City
In 1976, 14-year-old Nadia Comaneci captivated the world when she earned three perfect 10 scores at the Olympic Games. Since then, Olympic gymnasts had only one goal—to achieve a perfect 10. The scoring model was changed in 2006. Now, Olympic competitors can only get a perfect 10 in their dreams. They can at least dare to dream at the Little Gym of Salt Lake City, a premiere enrichment and physical development center for kids 4 months through 12 years old. An introductory class here is just $20.
1400 Foothill Drive, No. 250, SLC, 801-876-5323,
thelittlegym.com
2. Olympus Gymnastics, South Jordan
3. Elite Gymnastics Academy, Ogden
Best Kids' Fitness Programs
The Little Gym of Salt Lake City
This gym for tots (four months through 12) embraces a proprietary philosophy begun in 1976 in Bellevue, Washington, called "Three-Dimensional Learning," in which physical activity is a conduit for nurturing your whole child in three holistic dimensions: Brain Boost! Get Moving! And Citizen Kid! For the brain, they nurture listening skills, imagination, concentration and decision making. For the body, they help tots develop strength, balance, flexibility, agility and coordination. Citizen instructions include promoting sharing, teamwork, cooperation and leadership. Who knows what kind of strengths future athletes will have gained from this training.
1400 Foothill Drive, No. 250, SLC, 801-876-5323,
thelittlegym.com/nesaltlakecityut
2. Gracie Barra Sandy Brazilian Jiu Jitsu
3. Mountain Yoga
Best Spin Classes / Best High-Intensity Interval Training
Torrent Cycle
The reviews are in, and Salt Lake City loves Torrent! Torrent believes fitness should be fun. From all the reviews we've read, their participants are having so much fun! Torrent Cycle is Salt Lake City's premier indoor rhythm-based cycling studio featuring high-intensity indoor cycling workouts (the Torrent 45 is their signature 45-minute high-intensity workout). Led by a staff of 40 instructors, these full-body classes challenge both the body and the mind.
Locations in downtown SLC and Sugar House, 801-876-5425,
torrentcycle.com
Best Spin Classes runners up
2. Rebel House
3. Rideologie
Best High Intensity Interval Training runners up
2. CHVRCH Cycle
3. Rebel House
Best Hot Yoga
Mountain Yoga Sandy
The word "yoga" comes from the Sanskrit word yuj, which means "to unite." The practice (according to Yogapedia) aims to create a union of the body, mind and spirit as well as between the individual self and universal consciousness. Utahns have embraced this practice in droves and now have a center in Sandy to flock to. Mountain Yoga offers heated (and unheated) classes for all levels of students regardless of age, flexibility and experience. But most if not all their instructors prefer heated as they claim it can help them lose weight, heal injuries, increase focus, relax and much more.
9343 S. 1300 East, Sandy, 801-501-9642,
mountainyogasandy.com
2. Salt Lake Power Yoga
3. Bikram Yoga SLC
Best Martial Arts Instructor
Lei Shao Long
Shifu Lei is the head instructor and owner of Shao Long Academy, with over 35 years of experience in martial arts. His fans are legion and positive testimonials abound. "Lei is an amazing instructor, patient and kind," says one. "He breaks the movements down in a way that I can understand, he explains the purpose of each movement. This gives me a great visual and helps me to recall the movements when I practice at home."
Shao Long Academy of Chinese Martial Arts, Kung Fu & Tai Chi, 6980 S. 400 West, No. 3, Midvale, 801-829-7426,
shaolongacademy.com
2. Duayne Bowers, Gracie Barra Sandy Brazilian Jiu Jitsu
3. John McKean, Combat Arts Strength & Conditioning
Courtesy Photo
Shao Long Academy of Chinese Martial Arts, Kung Fu & Tai Chi
Best Martial Arts School
Shao Long Academy of Chinese Martial Arts, Kung Fu & Tai Chi
If you are serious about learning Wudang, Shaolin, and Sanda skills, Shao Long is where you need to be. The environment that Shao Long has created is genuine. The instruction is authentic and technically unparalleled with a well-structured and supportive community. It's an admirable school that offers the best of traditional Chinese martial arts training. You can request and hire them to do an authentic Lion Dance for special occasions. Children (above age 8) and adults are welcome.
6980 S. 400 West, No. 3, Midvale, 801-829-7426,
shaolongacademy.com
2. Gracie Barra
3. SLC Muay Thai
Best Qi Gong Instruction/ Best Tai Chi Instruction
Shao Long Academy of Chinese Martial Arts, Kung Fu & Tai Chi
This is the real thing, or as real as it gets without Bruce Lee or Jackie Chen. The academy teaches both the Chinese martial arts and the gentler and ancient practice of Tai Chi. You feel immediately welcome into a world with a Chinese temple and a family atmosphere. Shao Long even performed a Lion Dance for one of their customer's weddings.
6980 S. 400 West, No. 3, Midvale, 801-829-7426,
shaolongacademy.com
Best Qi Gong Instruction runners up
2. Mountain Yoga
3. Scott White, Qigong & Tai Chi Salt Lake City
Best Tai Chi Instruction runners up
2. Scott White, Qigong & Tai Chi Salt Lake City
3. Toni Lock, Mountain Yoga
Best Personal Trainer / Best Fitness Influencer (Social Media)
Dan Cooney
Influencer marketing is now bigger than ever. As much as 78% of marketers prefer using Instagram posts to other content formats. Cooney is no stranger to being recognized as the "Best in Utah"! He swept these categories, and it is well deserved. He is making waves in Utah, and we love to see that! He is the co-founder of Torrent with husband Mike Barney. Cooney practices what he preaches. As a personal trainer, he follows the same regimen of dedication and discipline that you do! We love the positive attitude and all-around inclusiveness on his social media! Cooney just turned 40, and we loved the three things that he says make for a better day: no screen time at the beginning or end of his day plus a gratitude journal.
Torrent Cycle, multiple locations, 801-876-5425,
torrentcycle.com, IG @dcracooney
Best Personal Trainer runners up
Tied for 2nd Place:
2. Greg Schell, BrickwallFit
2. Mike Barney, Torrent Cycle
Tied for 3rd Place:
3. Meredith Clark, Fitness With Meredith LLC
3. Naomi Pacheco, CHVRCH Cycle
Best Fitness Influencer (Social Media) runners up
2. Meredith Clark IG @fitnesswithmeredith
3. Emily Nelson, High Fitness co-founder IG @highfitnessemily
Best Pilates Studio
Peak 45
What is Peak 45, you ask? Well, first a little about Pilates. As one of the world's most popular exercise programs, it was created by Joseph Pilates, who opened his first studio in New York in 1923, employing an apparatus called a "Reformer." About 20 years ago, a Pilates instructor named Sebastien Lagree developed a complementary fitness program that uses a platform called a Megaformer—one that emphasizes circuit training and more intense cardio than Pilates, all while working several muscle groups at once—and, like Pilates, it's low impact. Readers voted Peak 45 as Best Pilates Studio but in reality, Peak 45 is an exciting evolution of Pilates. Opening their doors in Utah in 2017, they have three (soon to be four) locations in Utah. They welcome newcomers and will show you the ropes. The instructors are empowering, motivating, entertaining and kind—all while kicking your butt. You can try out an unlimited pass for $59.
Multiple locations,
peak-45.com
2. Awaken Studios & Retreats
3. The Body Lab Utah
Courtesy Photo
Onyx Pole & Aerial Fitness Studio
Best Pole Fitness Studio
Onyx Pole & Aerial Fitness Studio
A bit of trivia: You may remember The Real Housewives of Salt Lake City filmed an episode here. Onyx has won this award multiple times, and we can see why. Truly the best part of Onyx is how inclusive and accepting they are of all bodies, people and skill levels. Onyx offers affordable drop-in pricing, a 10-punch pass, a one-week trial and unlimited memberships. If you want creative bachelorette or other private parties, consider Onyx. They welcome all genders, age 14 and up.
8385 S. Allen St. (540 West), No. 114, Sandy, 801-652-9575,
dancesaltlake.com
2. The Salt Mine SLC
3. La Bombe Pole Fitness
Best Rock-Climbing Wall
The Front Climbing Club
Formerly The Body Shop, this was one of the very first commercial climbing gyms in the country. Since 1989, The Front has helped to ignite and foster a climbing community in Utah and has created innovative spaces that maximize indoor and outdoor climbing experiences. Open seven days a week in three locations (Ogden, downtown SLC and Murray), wannabe climbers, veteran mountaineers and rock-jocks can learn basics or simply train in a climate-controlled environment. Plus, group events here are a ton of fun! Fees are monthly with student and military discounts. Each location has a great gear shop, TRX training, Cycle Cross, Power Building and unlimited yoga classes.
Multiple locations, 866-662-3529,
thefrontclimbingclub.com
2. Momentum Indoor Climbing
3. Bouldering Project, Salt Lake
Best Senior Fitness Programs
Age Performance
Boomers, seniors and the like can get age-empowered training here to elevate their physical well-being and enhance their speed, power, mobility and flexibility. This gym—located in the space above Hub & Spoke restaurant—is dedicated to personalized training programs for all ages and abilities. The trainers work with state-of-the-art Keiser machines that are gentle on joints and operate quietly. Schedule a free consultation to determine your fitness needs and goals.
1291 S. 1100 East, SLC, 801-467-6554,
ageperformance.com
2. Thunder Fitness Training
3. Brickyard Boxing & Conditioning
Best Ski/Snowboard School
Brighton Resort
On a recent blizzardy day at Brighton, the parking lot had plenty of vacant spaces and lift lines were nowhere to be found. An unusual sight for most mountain resorts, it made sense here. Winning Best Ski & Snowboard School for several years running, Brighton's biggest crowd is arguably groms under the age of 10. Because cold and wet make for a miserable kid, it was no surprise the resort was empty on this particularly stormy day, but when the flakes stop falling, families arrive in droves to pass down the legacy of legendary powder to the littles.
8302 S. Brighton Loop Road, Brighton, 801-532-4731,
brightonresort.com
2. Wasatch Adaptive Sports
3. Alf Engen Ski School
Best Trampoline Park
Get Air Trampoline Park
Get Air has protocols to help ensure guests of all ages have a safe time, from "grip socks" to ensuring kids are supervised and only allowed in certain areas or on certain equipment depending on their age and size. There are daily deals, family nights, military discounts, group rates, coupons and gift cards. Their LinkedIn profile states the company "manages more than 65 of the nation's biggest and best trampoline parks. ... In the past five years Get Air has grown into a recognizable national brand."
Two locations in Murray and Kaysville, 801-656-0238,
getairsports.com
2. Airborne Trampoline Park
Best Weight-Training Instruction
Salt Lake City CrossFit
Combined with aerobic exercise, weight training is key to increasing strength and muscle tone, building muscle mass, making fat disappear and improving bone density. Salt Lake City CrossFit takes all of those objectives into consideration when designing their "workout of the day." The 60-minute group class is taught by experienced trainers who take you through a warm-up, a skill, followed by strength and conditioning exercises—all in a motivating, controlled and safe environment. If you're new to CrossFit, start out with their Foundation program and work with a personal trainer for a few sessions to learn the mechanics of weightlifting.
619 S. 600 West, SLC, 385-252-1933,
slccrossfit.com
2. Brickyard Boxing & Conditioning
3. Awaken Studios and Retreats
Best Yoga Instructor
Kevin Carrington
Kevin Carrington is one of the OGs at Awaken Studios, helping owners Jenna and Joe open the yoga studio in 2016. Since his part-time gig started, he's risen like a tree pose to become the general manager, constantly finding new ways to build and support the community. "My mission has always been to connect with as many people as possible. I truly believe that is what creates a fulfilling life." Along with being a certified yoga instructor, Kevin offers cycling, group fitness, TRX, Pilates and reiki energy classes.
Awaken Studios and Retreats, 6168 S. 1300 East, Murray, 801-906-1911,
awaken-studios.com
2. Dillion Chase, Salt Lake Power Yoga
3. Chelsie Booker, Rebel House
Courtesy Photo
Salt Lake Power Yoga
Best Yoga Studio/ Best Yoga Teacher Training
Salt Lake Power Yoga
Located in the heart of downtown, Salt Lake Power Yoga offers panoramic views of the city skyline and Wasatch Range. They offer heated PowerFlow classes, workshops and top-tier teacher training programs, garnering them their first-place wins. To get a taste of what the city's best yoga studio has to offer, sign up for two weeks of unlimited yoga for just $39.
250 E. 300 South, SLC, 801-468-9642,
saltlakepoweryoga.com
Best Yoga Studio runners up
2. Awaken Studios and Retreats
3. Seek Studio
Best Yoga Teacher Training runners up
2. Awaken Studios and Retreats
3. Yoga Assets
Fitness:
What Did We Miss?
Best Prenatal Yoga
Destiny S. Lake / Destiny S. Olsen dba Shauntea
Pregnancy is nothing to take for granted and, since you're carrying a future child, you want to be sure both you and the baby are good. Destiny Olsen established Shauntea in 2012 to take mindfulness and movement to a new, healthy level. She is a birth and postpartum doula who also teaches prenatal yoga. "I've helped many families grow—whether it is through adoption, surrogacy or pregnancy," she says on her website. "I believe everyone deserves to grow their family how they choose, and I am here to help you achieve that."
787 E. Harrison Ave., SLC, 801-361-9785,
shaunteahealthandwellness.com
Best Golf Fitness Specialist
Mitchell Cook
As a corporate wellness manager and director of fitness, Mitchell Cook is the best of the best to upgrade your physical wellness and golf game. He got a degree in kinesiology, a master's in clinical exercise physiology and is certified in strength and conditioning. Cook is goal oriented and will help you create a customized training plan that will help you cut that slice and straighten that hook. He's a strong believer of establishing an open mind for lifelong happiness and health, and lives by the daily mantra of "Better Never Stops." He also believes in "No cookie-cutter plan, no one size fits all" and he'll create workouts for you that are either self-guided or supervised.
Epic Fitness, 3065 S. Imperial St., SLC, 385-270-9077,
epicfitness.biz
Best Strength Trainer
Liz Myers
As owner/operator of Mountain Edge Performance, Myers wants her clients to feel the limits of aging as lightly as possible, believing "that age is just a number. I'm passionate about educating people on how they can put tools and habits into place to feel good while continuing to push limits as they age." So, whether you're an elite amateur athlete looking to level up, a person hoping to begin a fitness journey or someone dealing with the year-over-year challenge of staying fit into midlife and beyond, Myers can find a workout and fitness program that works for you.
Mountain Edge Performance,
mtnedgeperformance.com