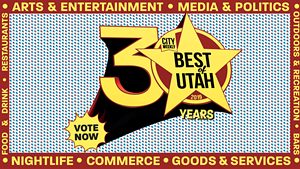 City Weekly's 30th Annual Best of Utah is here!
For 30 years City Weekly readers' and staff have voted on their favorite people, places and activities in the Beehive State. Do you have a favorite boutique whose wares make you feel like a million bucks? How about a barber that brings out your dapper side or a pastry that rocks your world?
Sound off, and let everyone know they're the best.
Voting ends: Monday, September 2
To get started, fill our this simple survey. You MUST vote in at least 10 categories to make sure your vote counts.