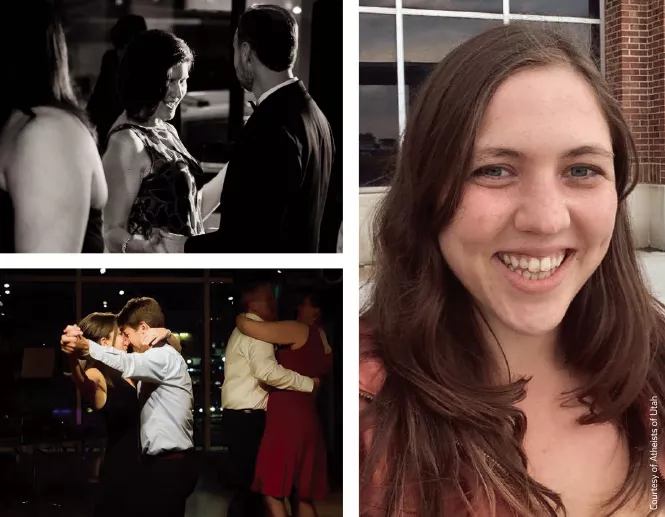 Living openly as an atheist in a state known largely for its religious inclination ain't easy. Think of that South Park song, "The Lonely Jew on Christmas." Just ask Felicia Entwistle, president of Atheists of Utah. Far from meeting in darkened rooms wearing cloaks and chanting, the nonprofit she heads is an active member of the community, staging weekly socials and supporting causes like Adopt-a-Highway and the Utah Food Bank. On Saturday, February 27, the group hosts its annual gala at the Salt Lake Hardware Building (105 N. 400 West). Make sure to bid, bid, bid in the silent auction.
What is the reality of being an atheist in Salt Lake City?
There are some people that give you weird looks. I'll tell people that I'm an atheist for whatever reason, and they'll say, "What does that mean?" I respond that I don't believe in any gods, and they'll ask, "Not Jesus?" I just smile and go, "Yeah, not any of it." More than anything, you get people who are either sad for you or angry with you. When we're at events, I don't really get a lot of hate, but you do get people, like the missionaries, who think that you're an atheist because you've never heard the good word.
Sounds a lot like telling a lesbian she just hasn't found 'the right man.'
Yeah, it's the exact same kind of thing! Many atheists, not all, consider themselves skeptics. Meaning they demand proof of something though the scientific method before they can believe anything, really. The amount of evidence required is directly proportional to the claim being made, so they generally have investigated the God claims—the big ones—and there's just nothing there to support belief.
What is it that you hope to accomplish with the upcoming gala?
The gala is a fundraising event for our nonprofit, which is dedicated to the separation of church and state, the education of the public in nonbelief and providing a community for nonbelievers—especially in this state, where a lot of people lose everything when they lose their belief. We have a lot of people whose families don't speak to them anymore, kids who have been kicked out of their homes and people who lose their jobs.
Is there a special atheist dress code for the gala?
Naked is preferred! [Laughs] This is formal event, so we are recommending formal attire.
You plan on donating the proceeds from the silent auction to Planned Parenthood on behalf of Gov. Herbert. What was the genesis of that idea?
That Gary Herbert has consistently used his religion and his personal beliefs on morality to block people's rights. He's trying to take away women's access to health care—and everyone's access to sexual health care—because Planned Parenthood serves everyone. It's very tongue-in-cheek. The genesis of the idea was that he gets to keep making decisions like this for all Utahns; I think we could make a little decision in his honor.
Your move, Gov. Feelgood...