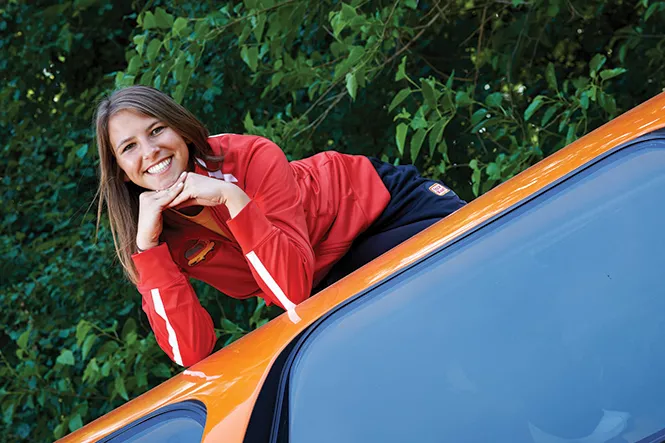 Let's be frank. The humble hot dog, even with its mystery meats, fillers and nitrates, remains a guilty pleasure few can resist. Coming to town to plant a subconscious street-meat craving is Molle Klein, aka Mustard Molle, and her sidekick, Ketchup Kelly. You'll spot them downtown Jan. 18-25 driving the 27-foot-long hot dog on wheels known as the Wienermobile. It's a long tradition, with the first Oscar Mayer hot-dog vehicle making an appearance in 1936. Now, at 11 feet high, with a fiberglass hot dog and bun mounted on a Chevy W4 series chassis, powered by a V-8, 6.0-liter engine, the Wienermobile is a tribute to culinary-inspired engineering. Check out the hot-dog shaped dashboard, ketchup and mustard colored seats, gull-wing door with retractable step, removable bun-roof, official wiener jingle horn and a smiling front grill. Klein says they drive the rig throughout the country, on average 500 miles per week. They're not a food truck, though, so don't expect to be chowin' down on a free hot dog. You will, however, be gifted with a "Wiener Whistle," something you may not have known you needed until now. To determine their whereabouts, download the Wienermobile app at Google Play or the App Store.
What are the challenges of piloting the Wienermobile?
It's probably finding a parking space that's big enough for the Wienermobile. The Wienermobile is our vehicle for a year, and we drive it all across the country. We like to say that we "haul buns" on the road, but we do abide by all traffic laws.
How does it navigate in the snow?
We received extensive training on how to drive the Wienermobile in all conditions at "Hot Dog High" in Madison, Wis. We look like a "chili" dog in the snow sometimes.
How many parking places does it need?
We are a 27-foot-long hot dog, so we take up around four spaces. We always abide by all traffic laws so if that requires us to plug multiple meters, we are sure to do so.
Have you ever caught flak from animal-rights groups or militant dietitians who decry the popularity of hot dogs?
Frankfully, most people are absolutely thrilled to see the Wienermobile.
How did you become a "hotdogger"?
Each hotdogger's story is a little bit different. We have both held this position for six months and we "relish" every moment! Oscar Mayer looks for recent college graduates for this position that have great people skills and a willingness to travel. Thousands of college graduates apply every year for this distinguished position so we are lucky enough to say that we "cut the mustard!"