Dave Jones is both a chef and partner at Log Haven Restaurant, an iconic log mansion in Millcreek Canyon and one of the most romantic restaurant settings in Utah. Jones' inspired concoctions prepared with local, organic ingredients have earned Log Haven local and national recognition year after year. With a warm, genuine personality and smile, Jones' enthusiasm for his craft is infectious. He took City Weekly on a tour of foodie-friendly kitchen store Sur la Table in The Gateway (10 N. Rio Grande St., Salt Lake City, 801-456-0280, SurLaTable.com), and highlighted 10 cooking tools that no aspiring chef should be without.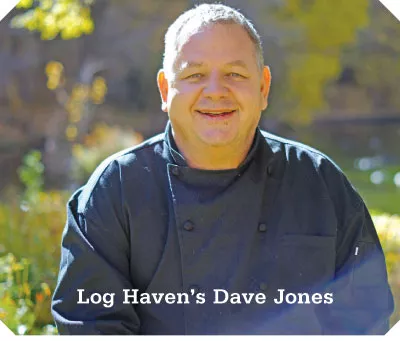 KitchenAid food processor: From slice to shred, pulse to puree, this multi-use appliance does it all and saves you time and labor. "In kitchens, these things are golden," Jones says. "It's for everything. They're durable, they've got good motors in them, they're time-tested."
Immersion blender: When you're making a creamy, bisque-type soup, an immersion blender (also called a stick blender) is incredibly handy and a "killer tool," Jones says. Just dunk the end straight into your pot and blend away. "I think that [the immersion blender] is one of the best inventions in the last 20 years to come into the kitchen. For general purposes, that's the way to go, because it's just in and out."
Microplane: This razor-sharp tool is used for zesting and finely shredding hard cheeses, like Parmesan. "These things are awesome," Jones says. "There are different levels of coarseness, too," depending on what ingredient you're working with.
Mandoline: With interchangeable blades, a mandoline makes it easy to do a variety of cuts in a fraction of the time usually required. With a mandoline, "You get the super-fine juliennes, pommes frites, waffle cuts—all that good stuff," Jones says.
Y peeler: Peeling potatoes, carrots, cucumbers and even fruit is no longer an arduous chore with a Y peeler. "This type of peeler is awesome," Jones says. "I prefer them more than [traditional peelers]—you have more control over them."
8-inch chef knife: The true multipurpose tool, a quality, sharp knife will last a lifetime if cared for correctly. "Chef knives are the workhorse in the kitchen," Jones says.
Splatter screen: Sauteing is a technique that can be used to create delicious food, but splattering grease can create a mess, stained clothes and sometimes even dangerous burns. "My wife loves these," Jones says, because they keep oil from getting "all over walls and stove and into the air."
Citrus juicer: Go for a sturdy metal model, Jones says, not a flimsy plastic version. Create your own lemonade, limeade or even margaritas with ease. From limes to oranges, "these things literally get all the juice out," Jones says.
Pepper grinder: Instead of buying stale, already-ground pepper from the grocery store, grind your own at home for full flavor. "Fresh ground pepper is important," Jones says. "A good pepper grinder is worth its weight in gold."
Masticating electric juicer: A masticating juicer—which crushes food with an internal gear or auger instead of tiny blades—will allow you to make your own soy milk, wheatgrass juice, almond milk, and vegetable and fruit juices in your own kitchen, while maintaining the beneficial antioxidants and fiber in your ingredients. Centrifugal models—which use centrifugal force to strain food by flinging it against a fine screen—are messy. "I have [a centrifugal juicer] at home, and it's a pain in the butt. It clogs up quick," Jones says. They also heat the juice, breaking down nutrients. "We do a lot of vegetable juice in the kitchen. In my world, doing everything from fresh vegetables … to fresh vegetable stock, beurre blanc and all that stuff, it's critical. And then when you're making stocks and whatnot, even your discard is good to throw into stocks as well, so you're utilizing 100 percent of what you have going in there."