Salt Lake City's municipal election will be held on Nov. 21, delayed from its typical perch by the inconveniently timed resignation of Congressman Chris Stewart, which triggered a special election calendar to replace him. Gerrymandering all-but-ensures that Stewart's successor will be the Republican nominee—nice to meet you ... Celeste Maloy?—but the local races for mayor and City Council are anything but settled.
District 2 Councilperson Alejandro Puy will skate unopposed to January, but three of his fellow incumbents are defending their seats against challengers. And Mayor Erin Mendenhall is seeking a second term after spending her first dealing with the COVID-19 pandemic, but she'll have to go through former mayor Rocky Anderson and community advocate Michael Valentine to get there.
City Weekly reached out to each city candidate and asked them to describe themselves to voters, name a favorite Salt Lake City restaurant, summarize their top priorities if elected to office and answer their choice of a list of questions on: homelessness and housing; transportation; water and air quality; and the city's aspirations around professional and Olympic sports. District 6 challenger Jack Bellows was the only candidate who failed to respond after multiple requests. Answers were received by email and edited for length and clarity.

SALT LAKE CITY MAYORAL RACE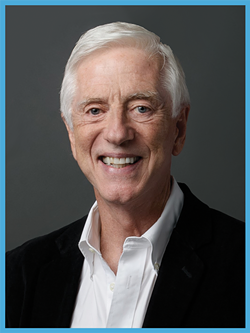 Ross C. "Rocky" Anderson
Neighborhood: East Central/University
Restaurant: Cucina
Website: rocky4mayor.com
In my profession, my service on several nonprofit boards and my personal life, I've been guided by values of service to others and a commitment to excellence. I'm the best candidate for mayor because I know how to set ambitious, sustainable, community-building goals and, working collaboratively, to get critical things done.
We will eliminate all homeless encampments by providing a sanctioned camp located away from residential areas (e.g., Wingpointe), with case management workers to transition each person to treatment and/or housing. The mayor, making token efforts, has opposed it, resulting in continued misery for residents, businesses and homeless people alike.
Police raids and destruction of unsheltered people's property, when no alternatives are available, must end. I'd eliminate unsanctioned encampments, benefiting residents and businesses, too, by providing a remote, sanctioned place with toilets, showers and meals, where people can find stability and work with case managers toward jobs, treatment and housing.
I oppose expansion of Interstate 15 for many of the same reasons I successfully fought against the initial, illegal, environmentally damaging Legacy Highway. Expansion of highways leads to a devastating cycle of more traffic, more sprawl, more highways, more pollution and increasing isolation and health problems. Mass transit must be a priority.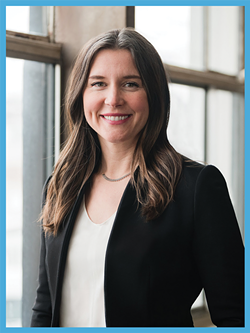 Erin Mendenhall (Incumbent)
Neighborhood: East Liberty Park/9th & 9th
Restaurant: RocTaco and Mazza
Website: erinmendenhall.com
I'm a mom, an air-quality advocate and the mayor of Salt Lake City. I led the city through the pandemic, earthquakes, windstorm and flooding—all while taking historic steps on air quality, crime reduction and police reform and making unprecedented affordable housing investments. We've made these strides by building partnerships, not by demonizing our should-be allies.
The city needs more green space, trees, economic vitality and energy through 60 new acres of the Green Loop downtown. We will keep the pedal to the metal on more deeply affordable housing creation and continue growing ours and our partners' investments in supportive services for our unhoused neighbors.
During my administration, the city has set a course for net-100% renewable energy by 2030 and offered free bus passes to all SLCSD kids and teachers—plus more bus services and with more than 200 upgraded bus stops—and required city-funded buildings to be emission-free. We've expanded the Via west-side rideshare service, doubled annual tree plantings, created an ebike rebate program and dedicated 13 billion gallons of water, annually, to the Great Salt Lake.
The Bees only open Smith's Ballpark 70 days a year—it should be a hub of activity 365 days a year. The $100 million fund supporting the Ballpark neighborhood will be incredible. Salt Lake City is a major-league city. Done right, MLB, the NHL, and the Olympics can be massive economic and community drivers.
Michael Valentine
Neighborhood: Downtown
Restaurant: Balabé Senegalese Cuisine and Curry Fried Chicken
Website: mayorvalentine.com
I'm a community organizer, small business owner and filmmaker. I'm the most progressive candidate in the race, offering real solutions to every issue our city faces. I'm the best candidate because I am running to serve the public—not myself, not a career.
Salt Lake City must end homelessness now. I'm the best candidate on this issue by a mile as I have personally been homeless and understand it on a personal level. I would immediately declare a state of emergency, ban abatements, set up sanctioned camping for everyone on the streets and move people into long-term housing.
We need to be putting money into expanding public transportation. Expanding the interstate is unsustainable and studies have shown it doesn't actually alleviate traffic in the long run. It also will destroy countless homes and neighborhoods. It's a stupid idea that I will fight against at every level.
I support Sierra Utah's lawsuit against the state over their inaction to protect the Great Salt Lake. The lake needs to be given personhood status so it can be protected. I also support the EPA stepping in and declaring the lake an environmental disaster. We need to raise water levels aggressively.

CITY COUNCIL DISTRICT 4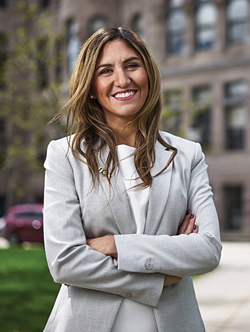 Ana Valdemoros (Incumbent)
Neighborhood: Downtown
Restaurant: Franklin Ave. Cocktails & Kitchen
Website: ana4council.com
With an urban planning education and decades of community-building, I'm the ideal choice for Salt Lake City. Over 23 years, I've actively shaped our community through master plans, local businesses and community collaborations, while understanding diverse needs. I've tirelessly defended and represented District 4, which emerged from the COVID-19 pandemic stronger than any other downtown nationwide.
Addressing the housing crisis is paramount. My extensive education and decades of community development experience equip me to act effectively and methodically. As chairperson of the city's Redevelopment Agency (RDA), I shifted focus to invest in affordable homeownership and family-size housing, ensuring a holistic solution that helps residents build wealth while accelerating housing progress.
Changes in how the city addresses unsanctioned camping are crucial. I recently allocated $500,000 for secure outdoor spaces, emphasizing dignity with amenities like bathrooms. Additionally, I established the Community Health Access Team, which in under a year saved over 100 police calls by providing specialized, compassionate responses, thereby enhancing all-around community well-being.
I strongly oppose highway widening and the expansion of Interstate 15. These projects displace communities, worsen our housing crisis and harm air quality. I believe in prioritizing mass transit and fostering green, efficient and transit-oriented cities. My city planning and transit experience informs this commitment to sustainable, walkable and bike-friendly urban development.
Clayton Scrivner
Neighborhood: East Central
Restaurant: Tulie Bakery
Website: clayton4council.com
My name is Clayton, I'm a local dad, public servant and your neighbor.
I believe the infusion of big interest money in city council races (up 400% in just a decade or so) has changed the way the job is approached. I want to shift that focus back to "People First."
Sadly, we are realizing the impact of largely monolithic growth in our city—an affordability crisis. When we are adding new residents exponentially, but looking to close seven schools, we are unbalanced. We can do better at incentivizing diverse housing types and demanding more community benefit—like livability and affordability—from our growth.
Interstate expansion is not a long-term solution. It would further the east/west divisions and would be harmful to the environment.
Let's instead invest in a free, frequent and faster regional mass transit network in this state. Future generations will praise us for it.
I believe in diverse housing types in all ZIP codes as a salve to our affordability crisis. My concerns would center around prevention of dirt speculation (when people market upzoning as a get-rich quick scheme) and the tearing down of historic structures only to build unaffordable density as outcomes.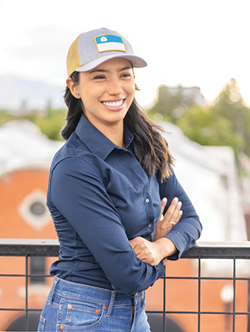 Eva Lopez Chavez
Neighborhood: East Central
Restaurant: La Cevicheria
Website: evaforcouncil.com
An early memory of mine was watching people with authority making decisions with real consequences for my family and neighbors. I have mastered our municipal process, red tape and civic engagement. I want to continue showing up for my community as an experienced and connected policy maker.
Day 1, I will be collaborating on creating a counter-displacement strategy. It is top priority to preserve communities in the district that are in danger of being priced out or re-developed out. The city's Thriving in Place studies will offer data and insight to inform specific policies.
As a renter, multi-family housing is a personal priority of mine. District 4 is home to the most diverse zoning codes in the city and even with the incredible growth we are experiencing, density can look and feel like the community it exists in.
As an athlete, I am excited to preserve the Ballpark stadium as a community asset. The ShePlays all-women's sports facility concept is timely as we creatively build upon a legacy of sports. I want to ensure that community benefit and neighborhood-driven concepts are prioritized in the decision-making process.

CITY COUNCIL DISTRICT 6
Editor's note: Responses from District 6 candidate Jack Bellows were not received by our deadline.
James Alfandre
Neighborhood: Sugar House-Bonneville Hills
Restaurant: Nomad East
Website: jamesalfandre.com
I'm a husband and father to five active kids. I'm an avid outdoorsman, a youth sports coach, local business owner, award-winning urban designer, housing expert and economic development professional. I'm the best candidate because of my professional experience, expertise and track record of creative, impactful solutions that help neighborhoods grow gracefully and thoughtfully.
We need more gentle-density housing options in our neighborhoods. Many current residents can't find appropriate housing, and our teachers, police officers and community service providers—along with future generations—depend on our commitment. But it has to be thoughtfully done—appropriately sized, located and designed to fit into historic neighborhoods, where applicable.
I will work to invest heavily in complete streets so walking, biking or rolling to daily needs is just as easy and efficient as driving. My kids walk, bike and ride the UTA bus to school, but their safety is still a big worry. Investing in mass transit is very important.
To save the Great Salt Lake, we must work with state leaders to address agricultural and industrial water use. We also need to incentivize xeriscaping and native plantings and invest in infrastructure that preserves water and saves money.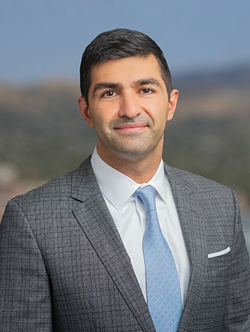 Taymour Semnani
Neighborhood: Sugar House-Wasatch Hollow
Restaurant: Caputo's Market & Deli
Website URL: taymourforslc.com
I am the only candidate born and raised in Salt Lake City. I'm also the only candidate who put my particularized policy positions in writing, so voters can know what they are voting for, beyond just a smile and handshake. I believe that makes me the most transparent candidate in the race.
I want to expand public transit, make it safer for people to get out and walk and bike, and help people live, work and play much closer to home. Pedestrian safety is the foundation to this effort, because mass adoption only happens if people feel safe.
The city has limited levers on air and water quality, so we should make the most of the authority we have. Walkability and bikeability are low-hanging fruit, so I will focus on pedestrian safety to encourage people to walk and bike. Regarding water, we should broaden incentives brokered by Utah Water Savers.
I am always concerned with the rental housing supply, so land uses that involve housing near the Trax lines would make a lot of sense.
I am cautiously curious about the prospect of a Major League Baseball team. I would like to learn more about what success would look like.
Dan Dugan (Incumbent)
Neighborhood: East Bench
Restaurant: Mazza
Website: votefordugan.com
I'm a 20-year Navy veteran dedicated to serving my community. I have a proven record of leadership and delivering for District 6.
My motivation is to take care of our people and planet and work so all residents have access to a healthy, safe, affordable and quality community.
The city is working with the state and county on actions for the homeless—sanctioned camping and deeply affordable housing. We must also focus on keeping people in their homes through rental assistance programs. My understanding of the issues and relationship with other government entities will keep things moving efficiently.
I do not support the expansion of Interstate 15. Increasing the number of lanes will only increase the number of cars on the road.
I'm in favor of our expansion of the FrontRunner system and would support increasing our Bus Rapid Transit (BRT) system and incentivizing its use.
To improve air quality, I'm currently working with other government entities on increasing our public transportation network—its frequency and modifying the fare structure—and separately incentivizing the use of ebikes. As for water, I'm prepared to restrict nonresidential outdoor water use and increase incentives for more natural- scaping of residential lawns.

CITY COUNCIL DISTRICT 7
Molly Jones
Neighborhood: Sugar House
Restaurant: Bar Nohm
Website: molly.vote
I am a Utah native raised by a conservative family, but I was also the senior director of public policy in the Berkeley (California) Mayor's Office. I'm a certified project manager, teacher and small business owner. I intend to use all of these skills to help the residents of District 7.
Sugar House needs an advocate; someone to fight for our residents, small businesses, better infrastructure, reasonable development and to answer the phone when you call. I am fully committed to helping our district be the best it can possibly be.
We should not be displacing houses with a wider freeway. Instead, we should be investing heavily in public transportation, bicycle infrastructure and the 15-minute city mentality.
Sugar House is in a state of evolution and growth. How we plan on handling this change is what matters. With more people moving into our city, gentle-density housing allows us to create more affordable housing while simultaneously preserving our neighborhoods and not overcrowding them.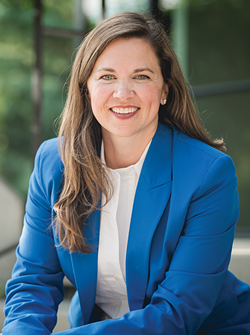 Sarah Young (Incumbent)
Neighborhood: Sugar House
Restaurant: Millie's Burgers
Website: sarahforslc.com
With 20 years experience in local and state education, I am driven by innovation and progress. As a Sugar House resident and parent, I am committed to driving transformative change in our city. My vision and practical experience make me the ideal leader to shape our future together.
To tackle affordable housing, I'll prioritize requiring developers to include 3-plus bedroom family units in their projects. This is essential to accommodate the needs of larger families and promote inclusivity in our community. My election will expedite this priority, ensuring more efficient progress in addressing our housing challenges.
It is essential that we make changes in our response to unsanctioned camping. Prioritizing investment in heart, housing, healthcare and legal support is crucial. Prevention efforts—including increasing the three-day eviction timeline and building affordable housing with larger units, as per our "Thriving in Place" plan—must be emphasized to address this issue effectively.
Preserving the Great Salt Lake and ensuring clean air are vital for our children's future. To achieve this, I'll prioritize the use of non-potable water for public land irrigation, promote water-efficient appliances and incentivize xeriscaping. Educational campaigns like "Slow the Flow" and supporting water conservation gardens will raise awareness and help safeguard our precious resources.

CITY COUNCIL DISTRICT 2
Editor's note: Incumbent councilperson Alejandro Puy is unopposed in District 2. Puy was invited to comment on his record and goals, and district residents can find more information at his website.
Alejandro Puy
Neighborhood: Fairpark
Restaurant: La Frontera and Hook & Ladder Co.
Campaign website: alejandropuy.com
City Weekly: Looking back on your first term, what accomplishments are you most proud of?
City Councilmember Alejandro Puy: Bringing City Council meetings to the west side, every year; gaining support for record funding to west-side open space; funding train information screens to assist commuters with possible blockages at rail crossings; and helping improve relationships with the county and the state to bring resources to our community.
CW: What do you intend to work on during your second term?
AP: I'm pursuing additional funding for complete streets—or streets that are safe for all users—and working toward smarter, more comprehensive growth that focuses on housing for families, gentle density and affordability in all areas of our city.
We need to get more west-side residents voting and making noise about the issues we face. Register at vote.utah.gov.

Survey Says
Here's a not-so-secret secret about political polling: it's all made up. Back before the internet, when everyone used landlines, it was slightly less made up, and there are still a lot of serious polling firms that put a lot of effort into making as educated a guess as possible. But that's all it ever was, ever is and ever will be—a guess.
We thought it would be fun to see what City Weekly readers are thinking in the lead-up to November. So we sent the most un-scientific of polls out and invited folks to chime in. Here's what 189 respondents said—which to reiterate should not be taken as indicative of, well, anything. (But we'll for sure be bragging if our results are anything near the final tally)